November, 8, 2010
11/08/10
2:38
PM ET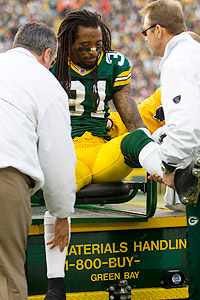 Jeff Hanisch/US PresswireAl Harris and Lovie Smith go back to their days in Tampa.
LAKE FOREST, Ill. -- In the event the Bears are looking to add depth at the cornerback position, head coach Lovie Smith won't need to do much homework on recently released veteran
Al Harris
.
"I am familiar with Al Harris," Smith said Monday. "Al and I started together back in Tampa a long time ago. He's a good football player. He'll land somewhere."
Harris, a sixth-round draft choice of the Buccaneers in 1997, spent his rookie season on the Tampa practice squad while Smith was coaching the Bucs linebackers under former head coach Tony Dungy. After being cut by Tampa at the end of the following summer, Harris, 35, went on to enjoy 12 productive seasons with the Eagles and Packers.
Green Bay released Harris Monday after failing to activate the veteran off the physically unable to perform list. Harris suffered a torn ACL in his left knee in November 2009, but has been practicing since Oct. 19.
The Bears currently carry six cornerbacks on the 53-man roster: starters
Charles Tillman
and
Tim Jennings
; nickel back
D.J. Moore
and reserves
Zack Bowman
,
Corey Graham
and rookie
Joshua Moore
.
Bowman has missed the last two games with a sprained right foot, but appears close to returning to practice.
"I'm very happy with it [the depth at cornerback]," Smith said. "You mention a guy like Corey Graham, all he does is everything we ask him to do. He hasn't had an opportunity to get many other plays besides special teams right now, but yes, we are pleased with our depth for our football team.
"That is one of the storylines that goes unnoticed a little bit: our depth. We don't have a lot of injuries, [but] getting a player like
Major Wright
back into the mix a little bit yesterday -- we didn't get him as many reps as we would have liked -- but getting him back involved [is key]. Hopefully we can get Zack there [back on the field] and get some guys to choose from."
July, 7, 2010
7/07/10
8:25
AM ET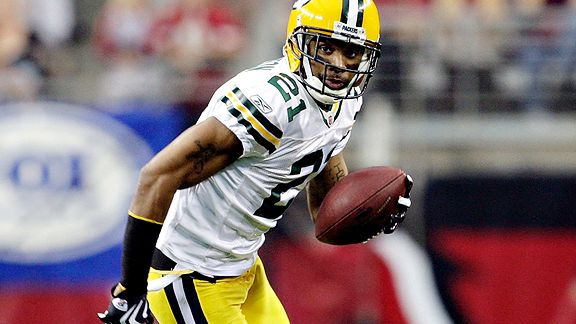 Jamie Squire/Getty ImagesA new offseason workout plan should make reigning defensive player of the year Charles Woodson even more dangerous.
Thanks for stopping in to check out Day 2 of our series on the NFC North, in which we tap the brains of beat reporters around the division to get the skinny on their teams.
We took a
look at the Vikings
on Tuesday with Minneapolis Star-Tribune reporter Judd Zulgad.
We move onto Green Bay today with
Milwaukee Journal-Sentinel Packers reporter Greg Bedard
.
Five things the Packers need to worry about
1. Special teams:
The Packers claim they will improve on special teams this season, and that should happen almost by default. But will this group improve simply through better coaching (with the same staff)? The unit needs to cut down on penalties. The Packers continue to go the cheap route at punter, and neither option has kicked in so much as an exhibition game. Indications are that
Mason Crosby
is still suffering a confidence problem.
2. Depth at outside linebacker:
The Packers should be fine with
Brad Jones
at left outside linebacker, although he needs to show enough to keep double teams off
Clay Matthews
. The real worry is behind them. If Jones or Matthews is injured, the Packers have zero depth. That's not a good thing at a crucial position in the 3-4.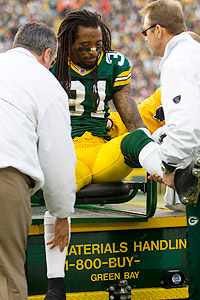 Jeff Hanisch/US PresswireHow cornerback Al Harris recovers from an injured knee will be crucial for the Packers.
3. Al Harris' health:
The Packers put a lot of money into cornerback with Harris,
Charles Woodson
and
Tramon Williams
. The group -- if intact -- should be one of the league's best. But if Harris isn't the same player after knee surgery,
Pat Lee
or
Brandon Underwood
will need to be better.
4. Offensive line slow out of the gates:
The Packers are notorious for getting off to slow and sloppy starts on the offensive line under coach
James Campen
. That can't happen anymore. If it does, it could torpedo the season, like it nearly did last season.
5. Overall team mindset:
For whatever reason, the 2009 Packers got full of themselves, and their performances suffered. Just ask Woodson about the mindset going into the Cardinals playoff game. This team plays better with an edge and its backs against the wall. The Packers have to find a way to handle all the Super Bowl hype better. On the flip side, the Packers, starting with general manager Ted Thompson, look like they're getting a bit tight [due to the Super Bowl hype]. That stance has a tendency to filter down to the players, and negatively affect the on-field product. The Packers need to find a way to strike the right balance.
Five things not to worry about
1. Donald Driver's age:
Driver's play tailed off toward the end of last season, but offseason scopes on his knees should help immensely. The Packers are a better offense with Driver, 35, in the mix. Nobody else can do the dirty work he does.
2. Left guard:
Incumbent
Daryn Colledge
is a lot better than Packers fans (and some of the coaches) want to give him credit for. Does he need to be more consistent? Yes. But he might be the best left guard in the division.
Jason Spitz
should be ready to compete for the job as well.
3. Whether Bryan Bulaga plays:
The Packers drafted Bulaga in the first round with a year down the road in mind. He's not ready to unseat
Chad Clifton
, and Bulaga has never played guard before. Bulaga needs to just concentrate on learning left tackle because at some point Clifton won't be able to answer the bell.
4. Defensive line depth:
Whether the troubled
Johnny Jolly
is on the Packers' roster at the start of training camp, the club still has more than enough depth between
Ryan Pickett
,
B.J. Raji
,
Cullen Jenkins
,
Mike Neal
,
C.J. Wilson
, and, perhaps,
Justin Harrell
.
5. Charles Woodson slowing down:
The reigning NFL defensive player of the year, Woodson looks like he's ready for a repeat after taking part in an offseason routine for the first time that used boxing. The leader of the Packers' defense, Woodson should make even more plays this season with a healthy supporting cast around him.