Chicago Bears:

Albert Haynesworth
July, 12, 2011
7/12/11
3:12
PM ET
Perhaps it's recent reports about the NFL and former union inching closer to agreement on a new collective bargaining agreement.
Maybe there's just nothing else left to discuss.
Either way, while perusing today's mailbag, it was clear that most Bears fans have turned their attention to free agency, most notably receiver
Plaxico Burress
. So let's get right to it.
[+] Enlarge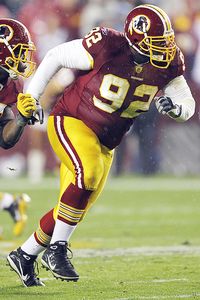 AP Photo/Paul SpinelliAlbert Haynesworth would carry a steep price and considering all his off-field baggage, is he even worth it?
Q: What do you guys think of Albert Haynesworth to the Bears? We have been missing the up front push since Tank Johnson left. I love free agents with a chip, plus single coverage for Julius Peppers. We need some attitude back in the Chi. -- Terry (Kalamazoo, Mich.)
A:
I like your thinking here, Terry. I covered the AFC South for a few years and got a chance to watch Haynesworth play twice a year. When motivated, he's a beast for sure. But let's be realistic about this: The Redskins won't release Haynesworth -- who signed a $100 million contract in 2009 -- anytime soon. The best chance for landing Haynesworth would come from a trade, but my guess is the price would be pretty steep. Besides that, it's been reported that Haynesworth could miss some time at training camp because his misdemeanor sexual abuse trial is scheduled to start on Aug. 23. I'm not sure the Bears would want to deal with that type of distraction, and based on Haynesworth's history, there could be more. Just last year, Haynesworth reportedly dealt with multiple lawsuits from an exotic dancer, a bank, and a man injured in a car accident, not to mention his numerous run-ins with Redskins officials. Redskins coach Mike Shanahan suspended Haynesworth for the last four games of last season for conduct detrimental to the team. So my gut tells me that although he'd be a nice addition, the Bears won't try to trade for Haynesworth. Excuse the bad grammar here, but Lovie Smith don't do drama.
Q: Do you think the Bears will try and acquire another possession wide receiver? -- Ryan (Chicago)
A:
Ryan, by "possession" receiver, I take that to mean a big target to complement the club's current group of wideouts. I could see that happening. At the same time, it wouldn't surprise me if the Bears didn't do anything to address the position. Clearly, there's a need for more weaponry in Jay Cutler's arsenal. But the problem is the team has to find a player that fits the system of offensive coordinator Mike Martz. Countless times we've seen players dominate the league playing for one team, only to join another in free agency and produce mediocre performances. That player didn't all of a sudden become an average Joe. He just didn't fit as well with the new team. So that's something the Bears will strongly consider when pondering whether to bring in new talent at the position. Bears coach Lovie Smith has indicated the team will look to add a veteran to the position somehow in free agency. But I'm not sure Smith is thinking along the lines of some of the big-name receivers currently on the market.
Q: I understand the experts saying that Plaxico Burress couldn't fit in a Martz offense. But so what, and who cares? Plaxico is undeniably a good wide receiver. The Bears need him only to be that on third-and-long and short to draw attention away from Devin Hester, Johnny Knox, or Earl Bennett so that we can pick up a first down. I think Martz could fit him into the "system" with no problem, and he can once again become a threat. What do you think? -- El Capitan Beam (Chicago)
A:
I like him only if the price is right. But even then, it might be more of a risk than I could stomach. I agree with you that Burress was a talented receiver when we last saw him on the field. Is he still that? I don't know. Time off undoubtedly erodes talent. You said the Bears only need Burress to perform on third down, and I also agree with that thought. But Burress' skill set, in my opinion, minimizes his viability in Martz's scheme. Burress isn't the explosive route runner that Martz covets, and he's not a speedy deep threat, which I think limits him in terms of the routes the team would call for him. So if I'm a defensive player, and I see Burress lined up in the slot across from me, I'm thinking there are just a few routes he could run. That situation would lead to predictability on Chicago's offense. So really, Burress wouldn't necessarily be drawing any attention away from the other receivers, and that defeats the purpose in my opinion.
Q: Is there any chance the Bears will actually address the obvious needs of the team? If they don't know let me help them out. The Bears need a No. 1 receiver: Vincent Jackson and/or Santonio Holmes would be ideal. They don't want Braylon Edwards, but I would even take him over not signing anyone. They also need cornerback help. Can we please sign Nnamdi Ashomugha? We need him or someone like him to cover the Greg Jennings and Sidney Rices of the world. Antonio Cromartie would also be an improvement. There is no way anyone can tell me we don't need these players. So why not sign them? That's what legitimate franchises do. It's about time the Bears started acting like one. -- Walter (Roanoke, Va.)
A:
You said quite a bit there, Walter. To be succinct, the answer is yes. They'll explore all the needs, and make acquisitions accordingly. Remember, this team made it to the NFC Championship game last season, and it's clear the franchise doesn't want to take a step back. In addition, the Bears have plenty of money to play with in free agency. General manager Jerry Angelo and Lovie Smith just need the green light from ownership to spend it, and I could definitely see that happening. What I don't see is this team going after Nnamdi Ashomugha. He'll likely sign a blockbuster deal. The Bears already have quite a bit invested on the defensive side of the ball, and I doubt they'd give another defensive player Julius Peppers type of money.
[+] Enlarge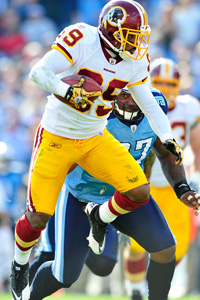 Grant Halverson/Getty ImagesSantana Moss likely would be a good fit in Mike Martz's system.
Q: Is there a chance that the Bears sign a big-name wide receiver or even a big-name free agent once the lockout ends? -- Eric Ritacco Jr. (Aurora, Ill.)
A:
Is
Santana Moss
a big enough name for you? He's not often mentioned with some of the other receivers out there. But Moss fits Martz's scheme, is coming off a career season, and he won't break the bank. At the end of the day, though, Eric, players win games, not names. I think sometimes we get too fixated on big names, when really it's more about finding the right mix of players who fit what you're trying to do offensively and defensively.
Q: With Earl Bennett and Matt Forte needing new contracts soon, Johnny Knox needing a new contract at the end of the 2012 season as well as a few players on defense, will the Bears be able to re-sign their young talent and hold onto players like Devin Hester and Chris Williams, who may be underachieving at their positions? -- Mills (Matteson, Ill.)
A:
Theoretically, they could Mills. As it stands now, the Bears have less than $80 million committed to salaries for the 2011 season, and from everything I hear, the salary cap -- once there's a new CBA -- would be in the neighborhood of $120 to $130 million. So I don't really see money as being a huge issue. As far as underachieving goes, I disagree with you on Hester. As for Williams, yes he's underperforming. But his base salaries for the next two seasons (nearly $1.1 million for 2011 and $1 million for 2012) aren't prohibitive.
Q: Corey Wootton has better speed and quickness to get around the edge, but Israel Idonije put up career numbers last season. So who do you believe will earn the starting role opposite Peppers?
A:
I'm putting my money on Idonije. After years of moonlighting at other positions, Idonije was finally given a chance to focus on one position and responded masterfully. Idonije tied for the team lead in sacks (eight), forced fumbles (three) and tied for second in quarterback pressures (nine), in addition to ranking second amongst the defensive line in tackles (46). With yet another year to focus on the intricacies of his position, Idonije will likely see even more improvement in his second year as the full-time starter. Wootton, meanwhile, is still very raw. One of the biggest knocks on Wootton is his tendency to play with his pad level too high. Well, that's something preached at the earliest stages of football, and something Wootton still has to master before he can seriously challenge for the starting job. In addition to his speed and quickness, one thing Wootton has on his side is intensity. But he still has to harness the fundamentals before he can fully unleash it. A year in an official offseason program would have really helped Wootton.
May, 18, 2010
5/18/10
8:49
AM ET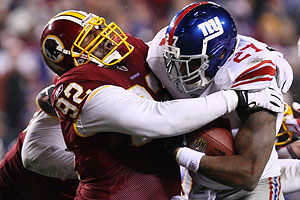 Win McNamee/Getty ImagesAlbert Haynesworth has grown frustrated with the Redskins' defensive scheme.
Q: With the Washington Redskins' Albert Haynesworth asking to be traded, wanting to be in a 4-3 defense, and already having been paid $32 million out of the guaranteed $41 million, do you see the Chicago Bears pulling the trigger? No one would run up the middle with Tommie Harris and Haynesworth for years to come. Thanks for your response. -- Ryan G., Chicago
A:
Ryan, I would say the odds of adding Haynesworth are slim at best. Jerry Angelo talked openly this offseason about ending the practice of trading away future high draft picks in exchange for veterans (
Jay Cutler
and
Gaines Adams
). If the Redskins let Haynesworth go for anything less than a first-round choice, they will end up paying $32 million for four sacks -- Haynesworth had 37 tackles and four sacks in 2009. I realize Washington hasn't always been the model of fiscal responsibility, but that would be insane even for Dan Snyder. Let me also mention since pocketing all that money in the last 15 months, Haynesworth sulked and complained about former Redskins defensive coordinator Greg Blache, produced little during his first season in Washington, skipped offseason workouts and failed to show up for a pair of voluntary minicamps. Sounds like quite a guy. The Redskins are changing up their defensive scheme because they want to win. What a novel concept. Maybe Haynesworth, who already got paid a boatload of money, should be more concerned about helping the team rather than his own selfish interests. I'd pull the trigger if I knew the Bears were getting the 2008 version of Haynesworth, but the 2010 version raises a multitude of red flags.
Q: I saw recently the Bears' receiving corps is being ranked, or better, projected as the 23rd best in the league. I'm trying to figure out how much my Bears bias is effecting how irritated I am by that. Where would you rank the Bears' receiving corps going in to the year? I'm saying 15 to 17 depending on how everything shakes out. -- Kenny D., Chicago
A: Here is why Bears receivers don't get much respect nationally. When you take
Greg Olsen
(60 catches) out of the equation, not a single receiver caught 60 passes last season.
Devin Hester
, long anointed the No. 1 wideout by the coaching staff, tied for 42nd in the NFL with 57 receptions. On top of that, 23 players had at least 1,000 yards receiving in 2009, while Hester checked in at No. 46 with 757. Overall, the Bears finished 17th in team receiving yards, in front of Baltimore and Miami, which added
Anquan Boldin
and
Brandon Marshall
, respectively. Without a proven top target, it's difficult to place this group in the top half of the league, or even the top 20. That being said,
Devin Aromashodu
,
Johnny Knox
and
Earl Bennett
all showed promise last season. It stands to reason their play will only improve under new offensive coordinator Mike Martz, who places a higher emphasis on the passing game than the Bears did in the past. But right now we're only speculating when it pertains to how good this group can be. Despite all the enthusiasm coming out of Halas Hall about these receivers, there's simply no hard numbers to back it up. Don't be irritated Kenny, be pleasantly surprised if/when these guys exceed your expectations.
Q: What's up, JD. I know the Bears are sipping the "We-don't-need-another-offensive-guard kool aid," but a guy like Deuce Lutui from Arizona seems like he may need a new home. What's your take on him? -- TD, Cal City
A: Actually, I think the Bears would pursue a veteran guard if the right one becomes available. At last check, Lutui still hadn't signed his $1.759 million tender, although he's expected to do so before the June 15 deadline. Arizona probably would be interested in dealing Lutui, especially after adding veteran guard
Alan Faneca
. Plus, it sounds like Lutui hasn't done himself any favors by skipping the Cardinals' offseason workouts. However, trading and releasing a guy are two separate issues, and I don't know if Arizona would just let Lutui go. It may be worth holding on to Lutui, even in a reserve role, if teams are unwilling to offer any decent compensation via trade.
Rob Sims
only netted a fifth-round pick, what is Lutui worth? Are the Cardinals better off just keeping the disgruntled guard? Do the Bears like Lutui enough to give him a multi-year deal? All questions worth considering as we move closer to training camp.
Q: I keep hearing (almost daily so far this off-season) about Greg Olsen fitting into Mike Martz's offense. It seems to me I heard that Martz comes from the Don Coryell coaching tree, and I'm old enough to remember a Hall of Famer that played tight end for Coryell in San Diego name Kellen Winslow. Am I correct? If so, how hard would it be for Martz to dust off some of those old plays? --JD, Terre Haute, Ind.
A: Your memory is accurate. Under the direction of Coryell, Winslow turned in three monster seasons: 1980, 1981 and 1983. In those three years, Winslow averaged approximately 88 catches, 1,179 yards and nine touchdowns from the tight end position. He is the perfect blueprint for what this offense can do for a pass-catching tight end. Martz is a very intelligent person, so I'm sure he'll dust off similar plays for Olsen. Whether or not Olsen can execute and produce like Winslow, that's another story entirely. Martz has the reputation for being tough on certain players during practice, and I get the feeling Olsen is going to fall into that category. Sometimes people just need to be pushed to reach their full potential. If Martz pushes the right buttoms and Olsen even slighly resembles Winslow, the Bears' offense will be much improved.
Q: Jeff, the only thing keeping me sane last year were special teams. Do you think the Bears can be special again this year on special teams. Sorry in advance for my corny play on words. -- Elliot, Wheeling, Ill.
A: Absolutely. Since Dave Toub arrived in 2004, special teams has been the one of the Bears' biggest strengths. Although the Bears lost a few quality special teams contributors during the offseason (
Adrian Peterson
,
Jamar Williams
and
Darrell McClover
), most of the core remains intact. The coverage units should be led by emerging star
Tim Shaw
, who recorded 30 special teams tackles last season, and
Corey Graham
, second with 23 stops on special teams. The Bears were extremely effective on kickoff return in 2009, as both Johnny Knox and
Danieal Manning
ranked in the top 10 in return yardage -- Knox second, Manning eighth -- while
Robbie Gould
continues to be one of the most accurate kickers in the league. Bringing
Pisa Tinoisamoa
back into the mix gives the Bears another potential multi-phase contributor, along with
Nick Roach
,
Israel Idonije
,
Garrett Wolfe
and
Craig Steltz
. On the flip side, if the Bears are truly committed to Devin Hester returning punts, he needs to do better than 7.8 yards per return.
Brad Maynard
also saw his number of punts downed inside the 20 drop from 40 to 26, albeit the veteran punted the ball 19 fewer times in 2009 compared to 2008.