Chicago Bears:

Aldon Smith
November, 28, 2012
11/28/12
1:31
PM ET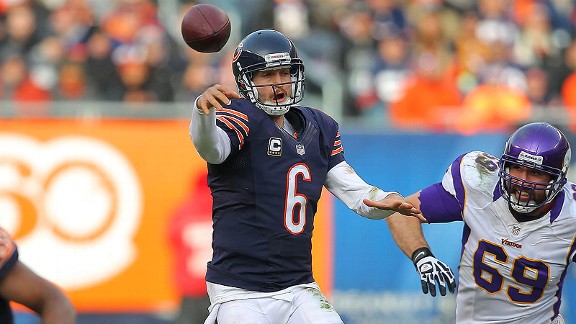 Dennis Wierzbicki/US PresswireDoes Chicago Bears quarterback Jay Cutler have a case for being in the MVP conversation? The numbers don't necessarily back it up.
The
Chicago Bears
have a 13-2 record in
Jay Cutler
's past 15 starts.
They have a 1-6 record in the games he has missed during that time.
That has to make Cutler a prime candidate for MVP Watch, right? His presence must mean everything for the Bears. We all know quarterbacks are usually the most important players on their teams. And we've all heard about what a gunslinger Cutler can be with that strong arm and defiant nature.
"MVP! MVP! MVP!"
Now comes the hard part: proving Cutler is indeed such a key player for the Bears.
Let's take a closer look at the Bears' 1-6 record without him.
That record includes a defeat at San Francisco this season. Cutler wasn't going to stop
Aldon Smith
from getting 5.5 sacks. He wasn't going to stop
Colin Kaepernick
from lighting up the Bears' defense. He wasn't going to win a game the Bears lost 32-7 without him.
Cutler missed the final six games last season, five of them losses. Running back
Matt Forte
missed the final three-plus games. Having Cutler available probably would have enabled the Bears to finish better, but Chicago wasn't going to win at its usual clip without Forte. Lots of starting quarterbacks improve their teams' chances for winning relative to what a backup would provide. That doesn't make them MVP candidates.
The one game Chicago won without Cutler during the 1-6 stretch in question came during Week 17 last season, against Minnesota. The Bears picked off three passes from Joe Webb and Christian Ponder, returning one for a touchdown.
In 2010, the Bears won the lone game Cutler missed, defeating a horrendous Carolina team on its way to winning the
Cam Newton
sweepstakes. Bears backup
Todd Collins
threw four picks in that game. Forte carried 22 times for 166 yards. The Bears won 23-6.
Doesn't exactly enhance those MVP credentials for Cutler, does it?
Neither do the stats.
Cutler ranks 20th in Total QBR at 50.4 this season; 50 is average.
Tom Brady
is in the low 80s. Pro Bowl-caliber quarterbacks usually score in the mid-60s or higher. Cutler ranks a distant third
among NFC North quarterbacks
by this measure. He isn't all that far ahead of Minnesota's
Christian Ponder
(47.7).
Cutler ranks 26th in NFL passer rating at 81.1, which is below the 86.9 figure covering every pass thrown in the league this season. He has 13 touchdowns and 11 interceptions.
But Cutler comes through in the clutch, right? Yes and no.
Cutler has a 92.9 QBR score (out of 100) on 16 fourth-quarter plays when the score was within eight points. That ranks second to MVP Watch leader
Peyton Manning
and right ahead of St. Louis'
Sam Bradford
. That's fine, but all 16 of those plays were against the Rams and Panthers. Cutler completed 10 of 14 passes with no touchdowns. He also rushed twice for 20 yards in those situations.
To further explore the clutch theory, I filtered ESPN's charting database for higher-leverage situations, defined as those when play results have above-average impact on win probability.
It's a more complicated way to measure what the vernacular calls clutch situations, but the math is sound. Ten years of charting information says teams are either more or less likely to win based on the results for each play. Some situations are more pivotal than others.
Cutler's QBR score falls to 44.4 with two touchdowns, five picks and 14 sacks in higher-leverage situations, meaning situations when the stakes were above average. That compares to a 63.3 QBR score with four touchdowns, one pick and nine sacks in lower-leverage situations.
Overall, Cutler has three touchdowns, six picks and a 47.0 QBR score in one-score games, defined as those when the margin is within eight points.
Perhaps someone else can build the MVP case for Cutler. I'd like to hear it.
November, 20, 2012
11/20/12
12:58
AM ET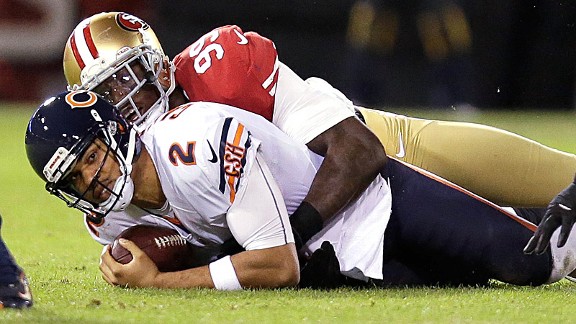 Marcio Jose Sanchez/AP PhotoNiners linebacker Aldon Smith recorded 5.5 sacks of Bears quarterback Jason Campbell on Monday night.
SAN FRANCISCO --
San Francisco 49ers
outside linebacker
Aldon Smith
terrorized the
Chicago Bears
offensive line for a career high 5.5 sacks and seven quarterback hits Monday night, the most sacks the Bears have allowed to a single player since former
Green Bay Packers
defender
Kabeer Gbaja-Biamila
recorded four sacks in a game at the end of the 2004 regular season.
Niners right defensive tackle
Justin Smith
also had 0.5 sacks and three quarterback hits in the game.
"I have a thing for night games," Aldon Smith said. "I love playing at night. I love the lights."

November, 19, 2012
11/19/12
10:43
PM ET
SAN FRANCISCO -- The
Chicago Bears
extended their run of futility at Candlestick Park,
losing their eighth straight
at the venue on Monday night in embarrassing fashion, 32-7.
With quarterback
Jay Cutler
missing the trip as he recovers from a concussion, backup
Jason Campbell
filled in ineffectively, and suffered five sacks behind poor protection in addition to throwing two interceptions to finish with a passer rating of 52.7.


The defense couldn't bail out the offense, either.
Although the defense had saved the offense seemingly countless times already this season, the turnover finally dried up for Chicago's takeaway-happy unit. The loss marked the first time all season the Bears defense failed to force a turnover.
What it means:
The team's 7-1 start certainly brought optimism about its prospects for the season, but the Bears gave up their NFC North lead with Monday's loss and now sit behind the
Green Bay Packers
with upcoming matchups against Minnesota and Seattle, both 6-4. Having lost now to all three opponents they've faced with winning records (Packers, Texans and 49ers), Monday night's slaughter might have provided somewhat of a reality check for the Bears.
It's apparent they're probably not be the contender they thought they were just weeks ago. But at the same time, the Bears can certainly develop into that. The fact is that the teams that advance deep into the playoffs typically start peaking near the end of November and into December.
So the harsh dose of reality force fed to the Bears by the 49ers on Monday can either derail the club's season or serve as the catalyst it needs moving into crunch time. Only the Bears can determine how they'll respond from this.
OL woes:
Perhaps Campbell should have pulled a Cutler and barked at the offensive line, bumped some of them or something to motivate the unit, considering the way it performed in giving up five sacks against the 49ers. As usual, offensive tackles
J'Marcus Webb
and
Gabe Carimi
served as the most egregious offenders up front. The former seemed confused by San Francisco's twists and the latter once fell flat on his behind when
Aldon Smith
bull rushed right through him on the way to a sack.
The loss to the Texans last week marked the first time the offensive line finished a game without giving up a sack. The unit has now given up 33 sacks with six games remaining, after allowing 49 in 2011.
Timely signing:
It certainly appeared to be the case when Campbell took a hard shot from
Ahmad Brooks
that left him on the turf momentarily writhing in pain. Largely because of shoddy protection along the offensive line, Campbell suffered four sacks and appeared to be on track to be replaced in the lineup by veteran
Josh McCown
, who was just signed on Tuesday.
Because there was a penalty on the play, Campbell was able to recover on the sideline and re-enter the game. But the Bears came extremely close to needing to play McCown.
Marshall smothered:
Prior to the matchup with the 49ers, none of Chicago's opponents fully committed to shutting down receiver
Brandon Marshall
. The 49ers did, however, and the tactic worked so well it eliminated a huge chunk of the Bears' passing game by taking out Marshall. Defended by double teams and coverage rolled to him most of the night, Marshall didn't make his first catch until the 10:47 mark of the third quarter.
Marshall hauled in a 13-yard touchdown for his second reception of the night, which also gave Chicago its first points of the night with 3:43 remaining in the third quarter. But by then, San Francisco had already jumped out to a 27-0 lead.
Marshall came into the game averaging 7.4 receptions and 100.4 yards, and left having caught two passes for 21 yards and a TD.
Shoddy safety play:
Inconsistency at the safety position seemed to be a hallmark of Chicago defense in recent years, before the team appeared to correct the problem with solid play through the first nine games from
Chris Conte
and
Major Wright
. That didn't last, however, as San Francisco exploited Wright and Conte on Monday night by threatening them for most of the night with tight end
Vernon Davis
, who caught six passes for 83 yards and a TD.
On several occasions, Davis broke free in Chicago's secondary, running wide open with either Conte or Wright chasing only to be overthrown or missed by Kaepernick.
Dating back to last season Conte and Wright had started 15 games together coming into Monday night, holding opposing quarterback's to a passer rating of 63.7 with the duo combining for eight interceptions over that span.
Kaepernick finished with 243 yards through the air and a passer rating of 133.1 and tossed a pair of TDs.
What's next:
The Bears take Tuesday off, before returning to practice on Wednesday in preparation for Sunday's game at Soldier Field against the
Minnesota Vikings
. Focus is key coming off a loss like this with a short week to prepare.