Chicago Bears:

Alec Ogletree
April, 25, 2013
4/25/13
12:44
PM ET
Draft day is here, and the Chicago Bears are hours away from being on the clock with the 20th overall pick in the first round (assuming they don't trade down). Who would our Bears writers take if they were running the war room at Halas Hall?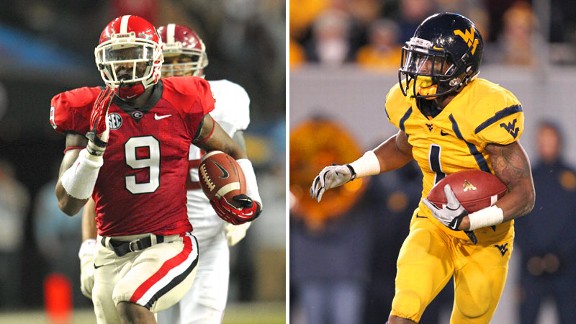 USA TODAY SportsAlec Ogletree and Tavon Austin are two of the best athletes in the draft.
Michael C. Wright: Tavon Austin, WR, West Virginia
He added three offensive linemen in free agency, including starters
Jermon Bushrod
and
Matt Slauson
, and a pair of starting linebackers in
James Anderson
and
D.J. Williams
, while also addressing the rotation along the defensive line.
Now it's time for Bears general manager Phil Emery to bring in a difference maker on offense at one of the skill positions with the 20th pick for quarterback
Jay Cutler
or for the possibility of a future without him.
If he's there, I'd take West Virginia's Tavon Austin at 20. Tennessee's
Cordarrelle Patterson
works too, or perhaps one of the top tight ends in either Notre Dame's
Tyler Eifert
or Stanford's
Zach Ertz
, provided the Bears don't trade down. This draft class is deep enough at other positions such as the offensive line (center in particular), linebacker, defensive line and cornerback for the Bears to add an immediate contributor in the later rounds.
With a first-round pick, you want an impactful player for 2013, not one expected to play a key role a year or two down the road (see 2012 first rounder
Shea McClellin
).
The offensive line appears to be set for the most part, with training-camp competition expected to decide one or two of the other spots. Linebacker is set (even though all the starters' deals are up after 2013, it's important to remember contracts can always be extended). So is the defensive line. More than likely, any addition at these positions just provides depth.
With Cutler going into the final year of his contract, there's no guarantee the team will re-sign him beyond 2013. So by selecting a dynamic skill-position player, the Bears give Cutler a better chance to succeed and earn a lucrative contract extension. If Cutler isn't the quarterback moving forward, the team has at least stocked the offense with enough talent for the next guy to achieve at least a moderate level of success.
Jeff Dickerson: Alec Ogletree, LB, Georgia
In hindsight, the Bears probably wish they finished 6-10 last season instead of 10-6.
In a draft loaded with offensive talent in the top-15 picks, the Bears sit at No. 20, and probably out of the running the land one of the four tackles or two guards projected to come off the board earlier.
If the Bears were in the top 15, my choice would be easy: Alabama right tackle
D.J. Fluker
. To steal a phrase from Mike Singletary, "I want winners." But alas, the buzz is that Fluker will be long gone by the time the Bears go on the clock.
If that is indeed the case, the Bears might at the very least consider Syracuse OL
Justin Pugh
, Oregon OL
Kyle Long
or Florida State OT
Menelik Watson
. I believe the Bears view Pugh, whom the club just put through a private workout, as draftable somewhere between 20-50, but it's tough to pinpoint the exact spot. The Bears also took a closer look at Long in recent weeks, and some predict he's a sleeper first-round pick.

But there could be better value at linebacker or cornerback.
Washington's
Desmond Trufant
would be a worthy first-round choice for the Bears, although a couple of teams might be looking to move up a few spots to grab him. However, the Bears did work out several mid-round cornerbacks, so perhaps the club could wait until later to address the position.
Same with linebacker.
But the dilemma could come down to choosing between Trufant or Georgia linebacker Alec Ogletree. I just can't wrap my mind around
Manti Te'o
at No. 20. Maybe I'll end up being wrong, but at least it'll be an honest swing and miss.
Trufant comes from a football family and seems to have it all together from a maturity and off-the-field standpoint.
Ogletree is a high-end athlete who has had off-the-field issues.
I'll always predict the Bears to select the superior athlete. In this case that's probably Ogletree.
Now, with all that being said, let's hope Emery finds a way to trade the pick.
March, 20, 2013
3/20/13
7:09
PM ET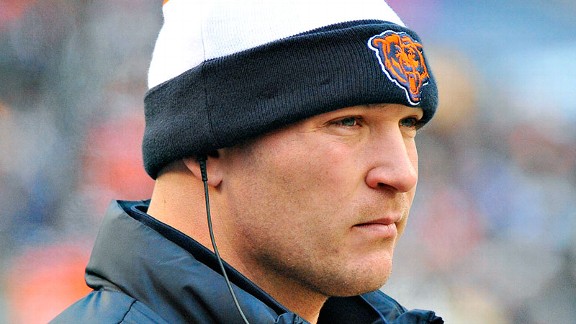 Rob Grabowski/USA TODAY SportsThe Chicago Bears and Brian Urlacher failed to reach an agreement on a new contract.
PHOENIX -- The
Chicago Bears
' chairman wanted
Brian Urlacher
back
in 2013
. So
did the Bears' coaching staff
. So why did the team announce Wednesday evening that it was
unable to reach a contract agreement with Urlacher
, presumably ending his 13-year tenure with the team?
Let's go back to the place
we started this conversation in January
. If there were ever a time to make a clean break from a franchise player, it's during the kind of transition the Bears are experiencing. The arrival of new coach Marc Trestman, and the breakup of a defensive scheme that extended back almost a decade, provided a logical and relatively controversy-free departure point for an icon in the twilight of his career.
The way I see it, if you're going to have a transition year, you might as well pile on as many of the changes as you can for the foreseeable future. A "transition year" doesn't necessarily have to be a "rebuilding year," but the Bears were already going to be dealing with change in 2013. The faster you deal with it, the quicker you can move forward.
If anything, I've been surprised at how far the Bears took this process. I envisioned them emerging from their pre-combine organizational meetings and informing Urlacher they would be moving on. Clearly, however, Trestman and his staff got a look at the Bears' depth -- or lack thereof -- and realized there could be some short-term pain associated with Urlacher's departure. Earlier Wednesday, I wondered if Trestman wanted Urlacher back to serve as a quasi-mediator between the new coaching staff and the locker room upon which he held a solid grip.
Coaches, of course, are trained to value today and tomorrow -- not next year and beyond. It's the job of the Bears' front office, and especially general manger Phil Emery, to consider the bigger picture. And it's clear, no matter what might be said publicly, that the Bears wanted to jump-start the process of rebuilding a linebacker corps that has remained largely intact for years.
How do you navigate the complex issue of nudging out a franchise icon who still wants to play, while also juggling the short-term desires of the coaching staff and the wishes -- detached or otherwise -- of ownership? You make an offer that you're pretty sure will be refused.
I'm not a mind-reader. I can't tell you for sure that Emery followed that a strategy that has been used many other times in NFL history. But the outside clues sure do suggest it. Urlacher, in fact, told
Vaughn McClure of the Chicago Tribune
that he received a take-it-or-leave-it one-year contract offer worth a maximum of $2 million.
You and I might agree that's a reasonable value for a middle linebacker with a balky knee and 13 NFL seasons of wear on his body. But it represented about a 75 percent pay cut from Urlacher's 2012 compensation, a drop that few Hall of Fame players would agree to. Urlacher
told the Tribune it was "a slap in the face."
For context, consider that the
Baltimore Ravens
paid now-retired middle linebacker
Ray Lewis
$4.95 million to play his 17th and final season in 2012.
And before you bring it up, let's not blame the Bears' tight salary-cap situation for this decision. Urlacher's cap figure wouldn't have been any more than $2 million in 2013 under that offer. If they wanted, the Bears could have used any number of salary cap tricks to maintain that figure while offering Urlacher more cash. They didn't. They wanted him back only on the terms of a clearance sale -- if at all.
Let's be clear: There will be short-term pain that will follow this decision. The Bears must replace not only Urlacher but also strong-side linebacker
Nick Roach
, who signed with the
Oakland Raiders
, at the same time.
In a best-case scenario, the Bears will open the season with one of the draft's top middle linebackers -- perhaps Georgia's Alec Ogletree or even Notre Dame's Manti Te'o -- in the starting lineup. It might take several offseasons to reassemble a credible group of starting linebackers.
In the end, the Bears had ignored this pending transition long enough. Ideally, they would have had an heir on the roster already to take Urlacher's job. Now, they have an urgency that no NFL team prefers. But if not now, when? The urgency would only increase.
March, 7, 2013
3/07/13
3:20
PM ET
By the end of this offseason, it's quite possible that we'll set an NFC North blog record for discussions about inside linebackers. The
Chicago Bears
need a long-term replacement for
Brian Urlacher
, the
Minnesota Vikings
' starter (
Jasper Brinkley
) is a pending free agent, the
Green Bay Packers
might be looking for help at inside linebacker, and the draft's most recognizable name is Notre Dame linebacker
Manti Te'o
.
To that end, it's worth noting where the inside linebacker class stands, at least in the eyes of ESPN analysts Mel Kiper Jr. and Todd McShay. Kiper Jr. updated his list of the five best players

at each position this week, while McShay released his third mock draft.
McShay had two inside linebackers in his mock: Georgia's
Alec Ogletree
to the
New Orleans Saints
at No. 15 and Te'o to the
Baltimore Ravens
at No. 32. Kiper's top five, on the other hand, looks this way:
Te'o
Ogletree
LSU's Kevin Minter
Florida's Jonathan Bostic
North Carolina's Kevin Reddick
Ogletree is considered the most talented inside linebacker in the draft, but has experienced two significant off-field issues in the past year, a drug suspension and a drunken-driving arrest. Obviously, Kiper Jr. thinks those issues will hurt him more than McShay does. Minter didn't impress teams at the NFL scouting combine with his time of 4.81 in the 40-yard dash at 246 pounds.
It makes you wonder if one of our teams would have a chance to draft a top-five inside linebacker in the bottom half of the second round. These assessments will change once again now that pro days have begun, but that's where things stand at the moment.
February, 24, 2013
2/24/13
9:12
PM ET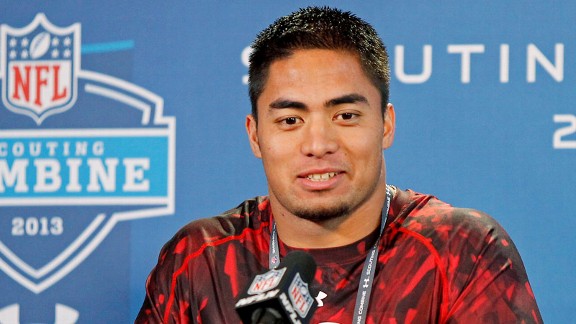 Pat Lovell/USA TODAY SportsOff the field issues aside, Manti Te'o may not be best fit for Bears.
INDIANAPOLIS -- Although the name
Manti Te'o
generates buzz among some
Chicago Bears
fans, it's not likely the team will risk the odds of him turning out to be a first-round dud.
With franchise stalwart
Brian Urlacher
set to enter free agency, there seems to be a sense of urgency to find an heir apparent at the middle linebacker position. But two personnel evaluators believe there might be better options at the position for the Bears at No. 20.
General manager Phil Emery was asked at the NFL Combine whether Urlacher's pending free-agent status could affect the team's decision making in April when the team goes on the clock in the first round of the draft or next month in free agency.
"The qualities (Urlacher) brings, probably you say when you fill the roster how many linebackers we have has an impact," Emery said. "But right now where we're at in the process, we're here to look at really good players and see if they fit."
February, 10, 2013
2/10/13
1:51
PM ET
Let's follow up on
this week's post
on the possibility of the
Chicago Bears
drafting Notre Dame linebacker
Manti Te'o
. As we noted, ESPN analyst Todd McShay projected the Bears taking him at No. 20 overall after both he and Kiper had him rated as a top-5 prospect last month.
McShay landed where I think most people in the NFL will: The well-publicized hoax story involving Te'o and a person he thought was his girlfriend won't play a leading role in his draft status. More relevant, McShay said, are questions about whether Te'o projects as a top-flight prospect.
"He's a very good player," McShay said in the video. "That's obvious. I don't think he's an elite top-5, top-10 talent. He's not a
Patrick Willis
. He's not a
Luke Kuechly
."
Kiper suggested that Te'o's time in the 40-yard dash, assuming he runs one at the NFL scouting combine later this month, will hold the key to his status. But both Kiper and McShay suggested that Georgia's
Alec Ogletree
could wind up being viewed a better pro prospect by draft day.