Chicago Bears:

Anquan Boldin
November, 1, 2013
11/01/13
12:00
PM ET
On the day former
Chicago Bears
coach Lovie Smith got the job, he said that one of his priorities was to beat the
Green Bay Packers
.
First-year Bears coach Marc Trestman made no such promises about this rivalry, but it goes without saying that he's eager to end Chicago's six-game losing streak to the Packers.
The last time Chicago beat Green Bay was on Sept. 27, 2010, on "Monday Night Football." The teams meet again in prime time Monday night at Lambeau Field.
ESPN.com's Packers reporter Rob Demovsky and Bears reporter Michael C. Wright break down the matchup.
Rob Demovsky:
We all know how much Smith wanted to beat the Packers. He stated as much the day he got the head coaching job. What has Trestman's approach to this rivalry been like?
Wright
: Rob, my man, you know that rivalries have to cut both ways in terms of wins and losses for it to be truly considered a rivalry. Counting the postseason, the Bears have lost six in a row and nine of the last 11. So, if anything, this is more Green Bay dominance than a rivalry. But the interesting thing about Trestman is he's a guy who likes to compartmentalize everything. He looks at today rather than the past or the future. So while it sounds cliché, Trestman is looking at the Packers as just another opponent on the schedule. That's just the way Trestman likes to operate, and I think for him it sort of makes things easier.
I keep looking at Green Bay's sack numbers, and I'm a little surprised the club is still in the top 10 in sacks with
Clay Matthews
out the last three games and other key members of the defense missing time. What is Dom Capers doing over there schematically to keep up the production?
Demovsky:
I figured when Matthews broke his thumb, Capers would have to blitz like crazy. Now, he's picked his spots, but he hasn't gone blitz-happy like I thought he might. However, he has been sending different pass-rushers to keep offenses off guard. One game, against the
Baltimore Ravens
, linebacker
A.J. Hawk
came a bunch and sacked
Joe Flacco
three times. Also, they've finally found a defensive lineman with some rush ability in second-year pro
Mike Daniels
. Three of his team-leading four sacks have come in the past two games.
As long as we're on the topic of quarterbacks, in 2011, backup
Josh McCown
played a halfway decent game against the Packers on Christmas at Lambeau Field, but he threw a couple of interceptions. What do you expect from him this time around as he starts in place of the injured
Jay Cutler
?
[+] Enlarge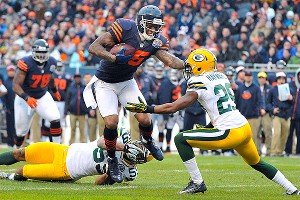 Rob Grabowski/USA TODAY SportsThe Packers have limited Brandon Marshall to 8 catches for 80 yards in their past two meetings.
Wright
: Believe it or not, I expect little to no drop-off from McCown in this game. The biggest difference between now and then is that in 2011, McCown joined the team in November, fresh from a stint as a high school football coach in North Carolina, and four weeks later became the starter. So he basically came in cold and still played relatively well. This time around, McCown has become immersed in the offense from the ground level, when Trestman first came on board, and even had some input as the team constructed the scheme. In fact, during the offseason, McCown was holding film sessions with all the club's new additions to teach everyone the new offense. So he's got complete mastery of the offense just like Cutler, which is why McCown came in against the Redskins and the offense didn't miss a beat. Obviously, McCown doesn't possess Cutler's arm strength. But he'll make up for that deficiency with anticipation. I'm quite sure the Bears won't scale down the offense to accommodate McCown at all, because they don't need to. So I expect McCown to play well. I'm just not sure Chicago's offense can keep up with Green Bay's in what I expect to be a high-scoring game.
Speaking of high scoring, the Packers put up 44 points on the
Minnesota Vikings
. How is Green Bay handling the preparation process for the Bears?
Demovsky
: Well, they certainly don't have as much time as the Bears do, considering the Bears are coming off their bye week. But the Packers have gotten themselves into a rhythm. They've won four in a row after their 1-2 start and look like a different team than they did the first three weeks of the season. Mike McCarthy probably doesn't get enough credit nationally, but show me another coach who has stared injuries in the face and hasn't blinked. What other team could lose playmakers like
Randall Cobb
,
James Jones
,
Jermichael Finley
and Matthews and still keep winning? That's a testament to the program he has established here. You can argue with some of his in-game coaching decisions, but you can do that with every coach. What you can't question, though, is the team's preparation.
The Bears, obviously, have had their share of injuries, too, losing Cutler and linebacker
Lance Briggs
. What's a bigger loss -- Cutler to the offense or Briggs to the defense?
Wright
: Well, Cutler's replacement is a veteran in McCown who has plenty of experience and a ton of weapons surrounding him on offense, while rookie
Khaseem Greene
will likely fill in for Briggs on a bad defense that will also feature rookie
Jon Bostic
in the middle. From my vantage point, losing Briggs is much more significant. The Bears have already proved to be horrible against the run (ranked 25th), and that issue certainly won't improve with two rookies at linebacker and a defensive line decimated by injury. It's also worth noting that Briggs made all the defensive calls and served as somewhat of a coach on the field for Bostic. Given that Green Bay seems to be running the ball so well, the current situation with Chicago's front seven could be devastating.
Now that the Packers are running the ball so well, how has that changed the way the offense is called? It seems Green Bay runs well regardless of which running back they line up in the backfield.
Demovsky
: It's remarkable -- and even a bit stunning -- to see
Aaron Rodgers
check out of a pass play and in to a run play at the line of scrimmage. That kind of thing hasn't happened around here in a long, long time -- probably not since
Ahman Green
was piling up 1,000-yard seasons nearly a decade ago. Teams no longer can sit back in a Cover-2 look and dare the Packers to run. Because guess what? The Packers can finally do it. It also has given the receivers more one-on-one opportunities, so it's helped the passing game, too. Right now, this offense almost looks unstoppable.
If the Packers keep playing like this, they might be tough to catch in the NFC North. What are the Bears' prospects for staying in the NFC North race until Cutler and Briggs return?
Wright:
To me, this game is the measuring stick for making that determination. But I'm not really confident about Chicago's chances, and that has more to do with the team's struggling defense than Cutler's absence. There have been conflicting statements made about Cutler's recovery time frame. Some teammates think he'll be ready to return by the time the Bears face Detroit on Nov. 4, while Trestman said the plan is to stick to the minimum four-week time frame prescribed by the doctors. Either way, if the Bears lose to the Lions you can kiss their prospects for the playoffs goodbye. The Bears might be able to afford a loss to the Packers because they'll face them again on Dec. 29. But a sweep by the Lions kills Chicago's chances to me because just from what we've seen so far, it appears one of the wild cards will come out of the NFC North with the other coming from the NFC West. Obviously it's too early to predict that, but that's the way things seem to be shaking out.
Without two of his top receivers and tight end Finley, Rogers still hit 83 percent of his passes against the Vikings. Is that success a product of the system, a bad Minnesota defense, or is Rodgers just that good at this point?
Demovsky
: The more I see other quarterbacks play, the more I'm convinced it's Rodgers. For example, seldom-used receiver
Jarrett Boykin
makes his first NFL start two weeks ago against the
Cleveland Browns
, and he ends up with eight catches for 103 yards and a touchdown. How many catches do you think he would have had if he were playing for the Browns that day? Their quarterback,
Brandon Weeden
, completed only 17-of-42 passes. That's not to minimize what Boykin did or what players like
Jordy Nelson
do week in and week out, but Rodgers is special, and special players elevate the play of those around them. Look at what
Greg Jennings
has done since he left for the Vikings. Now tell me the quarterback doesn't make the receiver, not vice versa.
Speaking of receivers, other than
Anquan Boldin
, who lit up the Packers in the opener at San Francisco, they've done a solid job shutting down other team's No. 1 receivers -- most recently Jennings and Cincinnati's
A.J. Green
. How do you think the Bears will try to get
Brandon Marshall
involved against what has been a pretty good Packers secondary?
Wright
: This question brings me back to the 2012 massacre at Lambeau Field on Sept. 13. The Packers bracketed Marshall with two-man coverage, and the Bears struggled tremendously. Shoot, cornerback
Tramon Williams
caught as many of Cutler's passes as Marshall, who finished the game with two grabs for 24 yards. Obviously, this offensive coaching staff is a lot different than last year's group. So the Bears will go into this game with a lot more answers for that coverage. I definitely see McCown leaning on Marshall and trying to get him involved as early as possible, but the only way he'll be able to do that is for the Bears to establish the rushing attack with
Matt Forte
so the quarterback can operate off play action. When the Bears go to Marshall early, expect to see a lot of short passes that will enable the receiver to gain some yardage after the catch.
Over the years, Green Bay has been pretty successful at limiting the impact of return man
Devin Hester
. So I was a little shocked to see the Packers give up a kickoff return for a touchdown to
Cordarrelle Patterson
. As you probably know, Hester is coming off a pretty strong return game against the Redskins. Do you think the Packers fix the problems they encountered last week, and minimize Hester's impact?
Demovsky
: Part of the Packers' problem on special teams has been that all the injuries have created a trickle-down effect. Here's what I mean: On the kickoff coverage until they gave up the 109-yard return to Patterson, they lined up six rookies, two of whom weren't even on the opening day roster. The Packers always have feared Hester, as they should, and in various games in recent years have shown they'd almost rather kick the ball out of bounds than give him any return opportunities. He's one of those special players who make rivalry games so entertaining.
March, 9, 2010
3/09/10
12:19
PM ET
[+] Enlarge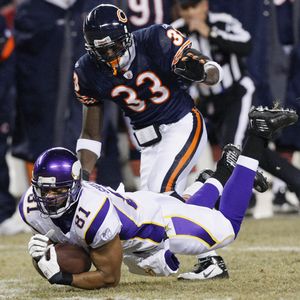 AP Photo/Charles Rex ArbogastCharles Tillman is part of a shallow Bears secondary.
JD, I've heard you talk up Zack Bowman on the radio the last few weeks, why the love? I thought he was an average cornerback at best, who got exposed by top receivers like Detroit's Calvin Johnson. Are the Bears looking to upgrade the corner position? -- Dwight, Countryside, Ill.


Dwight, let's remember Bowman played in only one game as a rookie, so last year was really his first taste of live NFL action. The Bears had 13 total interceptions in 2009, six of those were by Bowman, who actually dropped a couple easy picks during the season. Not only that, Bowman proved to be an above average open field tackler, making 56 solo stops along with 19 assists. You're right, he did struggle against elite guys like Johnson and Larry Fitzgerald, but I'm willing to bet Bowman will be much more confident against those top tier wideouts in 2010. We constantly complain how the Bears lack playmakers in the secondary, well, Bowman is a playmaker. He still needs to stay healthy, but the fact Bowman was active for all 16 games last season is a positive sign. To answer your other question, yes, the Bears do need to add another cornerback to the mix. After Bowman and Charles Tillman, they're lacking quality depth at that spot, since it's unclear if Lovie Smith feels he can depend on Nathan Vasher, D.J. Moore or Corey Graham.


I saw Darren Sharper had minor knee surgery this offseason, but I still want him in a Bears uniform. What does Jerry Angelo have to do to get him? -- Laurence, Kankakee, Ill.


Darren Sharper is a smart guy. He understands the importance of creating as much leverage as possible in the free agent market. But look at the facts, Sharper wasn't very good playing safety in a Cover 2 defense during the end of his tenure in Minnesota.


"Playing in the style that I played in at Minnesota last year [Leslie Frazier's version of the Cover 2] I was more of a protector, as far as being a guy that kept everything in front of us to try and prevent a big play," Sharper said during the Super Bowl. "I think [New Orleans defensive coordinator] Gregg Williams' style of defense allows me to be a playmaker and trust my instincts, to attack the football."

"It's two different worlds … last year compared to this year."
Sharper would be better off if he stayed in New Orleans … and so would the Bears.
It's a crowded backfield now that Chester Taylor signed with the Bears. Who will be the other running backs after Taylor and Matt Forte? -- Tim, Prospect Heights, Ill.
Adrian Peterson is an unrestricted free agent, so he's out of the picture -- especially after losing reps to Kahlil Bell last season. If it weren't for a season-ending injury in that final preseason game, Kevin Jones probably would've been cut last summer. He seems to be in real danger of being released after the addition of Taylor. If the Bears decide to keep three running backs, it may come down to Bell or Garrett Wolfe. Before you start packing Wolfe's bags, remember he's an excellent special teams player, which plays a big role in who does and does not stick on the roster. Or the Bears could decide to retain all four backs. Either way, I'm sure we'll be paying close attention to the Bears backfield this summer in Bourbonnais.

Everyone can agree that even with these great new additions, the Bears have some major holes to fill (offensive line, safety, etc.). But what still baffles me is why they would go and invest in a prime time quarterback like Jay Cutler, and not give him anything more than a mediocre, work-in-progress receiving corps. Any chance they grab a true No. 1 WR before next season? -- B. Figgins, Houston
Probably not, because those guys are tough to find. Anquan Boldin was already dealt to Baltimore, and the Broncos gave Brandon Marshall a first-round tender (the Bears don't have a 2010 first round pick), so those two are off the board. Please don't bring up Terrell Owens, that's the last thing the Bears need. However, I would not be opposed to adding a middle-tier veteran receiver like Mike Furrey or Josh Reed, with the hope being somebody with experience could help the younger players better digest Mike Martz's complicated playbook. It's okay that the Bears are high on Johnny Knox, Devin Aromashodu and Devin Hester, but I'd still like to have at least one veteran. I understand the Bears made a mistake by signing Marty Booker and Brandon Lloyd back in 2008, but why should that scare them off bringing in an experienced receiver? Just don't bring in bad ones like Booker and Lloyd.

What's the Bears record going to be now that they added Julius Peppers and Chester Taylor? -- Peter, Long Grove, Ill.

Considering I got assassinated last spring when I picked the Bears to go 9-7, I'm going to hold off giving any concrete predictions. Look, the Bears can be good if: Jay Cutler bounces back; Peppers produces double-digit sacks; Tommie Harris plays like a Pro Bowler; Brian Urlacher stays healthy; the safety situation gets rectified; Lance Briggs keeps up his outstanding play; the receivers take that next step; Olin Kreutz recovers from offseason surgery; the offensive line improves and the coaching staff meshes well with each other. Those are a lot of question marks, but every NFL team has its issues at this time of the year. Let's wait and see what further moves the Bears make in free agency, and what pieces they add in the draft, before we start projecting any records. All I can say right now, is Minnesota and Green Bay are likely ahead of the Bears. What happens over the next two months will determine if that order changes.
March, 4, 2010
3/04/10
9:16
AM ET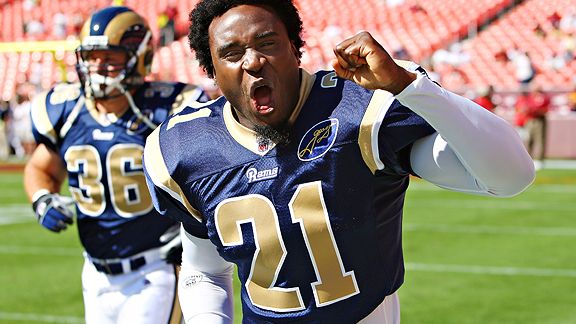 G. Newman Lowrance/Getty ImagesSt. Louis Rams safety O.J. Atogwe has 19 interceptions in five NFL seasons.
CHICAGO -- We've seen some big names potentially linked to the
Chicago Bears
in the last few days, and even though it's unlikely most will end up in Chicago, here are two more intriguing possibilities recently in the news.
O.J. Atogwe, FS, St. Louis Rams: Just because the Rams are reportedly considering placing the lowest possible tender on Atogwe [right of first refusal] doesn't mean St. Louis wants to lose their star safety. However, it would make it much easier for other teams to offer Atogwe a contract [a deal the Rams could match], since the tender in question does not require any compensation in return. For the Bears, this is significant, because right now they don't have a first- or second-round pick in the 2010 draft. Atogwe has 19 interceptions in only five seasons, and is the ideal type of playmaker the Bears are looking for at free safety. There likely would be a bunch of teams interested in making a bid for Atogwe, but can a team as bad as the Rams really afford to let one of their few good players go?

[+] Enlarge

Christian Petersen/Getty ImagesWill the Bears take another look at Arizona's Anquan Boldin this offseason?

Anquan Boldin, WR, Arizona Cardinals: Here we go again with Boldin. Mike Lombardi of the National Football Post reported Wednesday that Arizona is looking for a third-round pick in exchange for Boldin. The caveat being, of course, any team that signs Boldin must pony up huge dough in a new contract. The Bears were in draft day discussions with the Cardinals last year for Boldin, they have a third-round pick, and they have plenty of money to spend. Not to mention, despite all this rhetoric about not needing to add a veteran wide receiver, it might be a good idea to add at least one experienced body to that meeting room, since word has it Mike Martz's formation sheet is more complex than advanced calculus. And that's just the formation sheet. Wait until the Bears get around to actually putting out the playbook.If the Cardinals are seriously asking for a third-round pick, isn't Boldin worth investigating for a second consecutive year?
November, 8, 2009
11/08/09
3:25
PM ET
CHICAGO -- Who needs Anquan Boldin when you have Larry Fitzgerald?


With the Arizona Cardinals minus one star receiver, Fitzgerald stepped up to the tune of nine catches for 123 yards and a pair of touchdowns. Whether it was Charles Tillman or Zack Bowman, Fitzgerald proved nearly impossible to cover, routinely making difficult receptions look easy in Arizona's 41-21 win over the Bears.


"He has powerful hands," Bowman said. "I saw one on the sidelines that he caught against Tillman, and Charles had perfect coverage against him. Just an excellent catch. You win some, you lose some."


Sadly, the Chicago Bears were mostly on the losing end. Quarterback Kurt Warner threw for five touchdowns, while directing the Arizona offense to 438 net yards. To make matters worse, the Cardinals converted a nauseating 57 percent (8 of 14) of their third-down attempts.


"We didn't play good football today," Danieal Manning said. "We just didn't play football."


The only negative for Arizona might be its decision to not play Boldin, who had some choice words for the organization after the game in the Cardinals' locker room. Boldin had reinjured his sprained right ankle in last week's 34-21 loss to Carolina, but had hoped to be able to play against the Bears.


"I didn't make the decision," Boldin said. "If I had made the decision, I would have been playing. When I came back in [from pregame warm-ups], all of my stuff was out of my locker. It wasn't the field [playing surface] or anything like that. That's the best I've felt in three weeks.


"Nobody was man enough to come to me and tell me what was the situation. I would have felt better had somebody been man enough to walk up to me and tell me what the situation was, but I had to walk back in the locker room and find all of my stuff gone."
November, 8, 2009
11/08/09
8:54
AM ET
November, 8, 2009
11/08/09
8:10
AM ET
CHICAGO -- Arizona wide receiver Anquan Boldin is on the field for pregame warm-ups, and reportedly will play against the Bears. Boldin spent time doing some forwards and backwards joggings, then paused briefly for an on-field chat with Bears wide out Devin Hester. Boldin the resumed testing out his injured ankle with a variety of different stretching exercises.
Hester is also expected to start today despite missing two days of practice with an ankle injury. Hester ran through his usual pregame routine of catching passes from Bears quarterback Jay Cutler.
November, 6, 2009
11/06/09
8:39
AM ET
LAKE FOREST, Ill. -- Reports out of Arizona indicate Cardinals wide receiver Anquan Boldin is planning to test his injured ankle during a pregame workout Sunday at Soldier Field. Considering that Boldin is known for playing through pain, it would not be a surprise to see him start against the Bears.


In fact, certain members of the Bears' defense would actually prefer to face Boldin on Sunday.


"I'm not the kind of guy that goes out and wishes that you're [without a top player] when you play against us," linebacker Lance Briggs said. "I believe in you lining up your best against ours so [that way] there are no excuses when the game is over."


Rookie receiver Juaquin Iglesias has been playing the role of Boldin this week on the scout team, so it's a good bet Coach Lovie Smith expects the Cardinals to have both Boldin and Larry Fitzgerald at their disposal.
But if the unexpected occurs and Boldin is inactive, the Cardinals can still turn to Steve Breaston and Jerheme Urban.


"Boldin has been injured a little bit, so Breaston has stepped up," Smith said. "They have a four-receiver package they like a lot, so going to a three [receiver package] wouldn't be a huge adjustment for them. It would hurt them a little bit, but they'll keep going."
November, 5, 2009
11/05/09
11:58
AM ET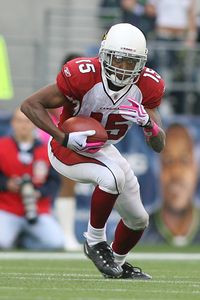 Tom Hauck/Getty Images
In the shadow of teammates Anquan Boldin and Larry Fitzgerald, Steve Breaston caught 77 passes for 1,006 yards last season.
LAKE FOREST, Ill. -- With Anquan Boldin's status a mystery for Sunday, Arizona may lean heavily on wide receiver Steve Breaston, who despite playing third fiddle to Boldin and Larry Fitzgerald, still caught 77 passes for 1,006 yards last season.


Charles Tillman likely will shadow Fitzgerald on Sunday, leaving second-year cornerback Zack Bowman to cover Boldin or Breaston.


"I got a little bit of history with Steve," Bowman said before Thursday's practice. "I played against Steve in college in the Alamo Bowl (Nebraska vs. Michigan in 2005). We've seen each other before, but I expect Boldin to play. He's a tough guy."


Bowman actually had one of his best collegiate games against Breaston and the Wolverines. He recorded an interception and broke up a Nebraska bowl-record five passes.


"I went up against him [Breaston], but I went up against Jason Avant more," Bowman recalled. "But I remember Steve, he was one of those break-out guys. He got the ball in his hands, and everybody just stopped to see what he was going to do."


Breaston is fourth on the Cardinals with 30 receptions for 400 yards this season.