Chicago Bears:

Bears hire Marc Trestman
January, 16, 2013
1/16/13
11:31
AM ET
Let's quickly summarize Phil Emery's first 11 1/2 months as the
Chicago Bears
' general manager:
For the modest sum of two third-round draft picks, Emery acquired one of the NFL's best and most enigmatic wide receivers. Brandon Marshall rewarded the decision with a career year and last weekend was named a first-team All-Pro.

[+] Enlarge

AP Photo/Nam Y. HuhChicago Bears general manager Phil Emery is doing things his way.

He fired coach Lovie Smith after a 10-6 season, unconcerned about the level of difficulty in finding a coach better than the one who built an 81-63 regular-season record in nine seasons.

As Smith's replacement, Emery hired a one-time NFL wunderkind who has been out of the league for eight years and coaching in the CFL for five. As we discussed earlier, Marc Trestman is a courageous choice who will either be a monstrous home run or a fall-on-your-face strikeout.
The English language offers us plenty of words to describe Emery's tenure. I'll choose "bold." Emery was a longtime scout and spent time
as a conditioning coach at the Naval Academy
, but he has shed all stereotypes that go along with that background. Anyone who thought he would take a cautious, by-the-book approach, has been proved wrong.
Emery has certainly displayed the work ethic of a career grinder, interviewing at least 13 candidates in two weeks and stunning them with his preparation and thorough approach. Asked in a news conference earlier this month about the Bears' offensive line, he spoke for about 10 minutes and used nearly 2,500 words to explain why he didn't sign or draft additional depth.
His thought process, however, can clearly take alternative paths. I've talked to some NFL people who have been predicting a Trestman-like hire for Emery. They have suggested he is much more aggressive than people realize, completely secure in his informed judgments and totally unconcerned about initial public reaction. Based on what we know about Emery and Trestman, it's quite possible that the Bears' new power duo connected on a professorial level that matched their unique personalities.
What it also speaks to, I think, is an approach I first heard voiced by former
Minnesota Vikings
coach Brad Childress. (And no, there are no further comparisons to be made here.) Shortly after he was hired in 2006, Childress said he would make all important decisions with the idea that he was unlikely to get a second chance if he failed. If he was going to go down, Childress wanted to go down knowing he had done what he thought was right.
Emery is following a similar approach. Chances are that this is the one an only general manager job he'll ever have. Recycled general managers in the NFL are rare. His decisions and moves haven't always been predictable, but they are ones he has clear conviction on. Emery isn't looking to extend his time on the job with safe decisions. He's trying to do his job and is willing to reach out of the box to do so.
January, 16, 2013
1/16/13
11:18
AM ET
As we've discussed, the
Chicago Bears
retained most of former coach Lovie Smith's assistants to give their new coach the option of keeping them as part of his new regime. The Bears did allow special-teams coordinator Dave Toub to depart for the
Kansas City Chiefs
, and it appears new coach Marc Trestman at least will bring in new offensive coaches, as well.
ESPN's Adam Schefter
has already reported Trestman's first hire: Former
New Orleans Saints
assistant Aaron Kromer as offensive coordinator/offensive line. Kromer and Trestman worked together on the
Oakland Raiders
' staff in 2001 and 2002, and their respective backgrounds suggest that Trestman will call the plays in 2013. It also means that Mike Tice, the Bears' offensive coordinator in 2012 and offensive line coach in 2010 and 2011, will be looking for a new position.
On the other hand, you wonder if Trestman would consider keeping defensive coordinator Rod Marinelli and the rest of the Bears' respected defensive staff. That decision will be based in part on whether Trestman wants to continue the "Tampa 2" framework that Smith brought to the Bears in 2004 and that has been well coordinated by Marinelli since 2010.
Hopefully Trestman will shed some light on that possibility during a news conference scheduled for 11 a.m. ET on Thursday.
January, 16, 2013
1/16/13
8:24
AM ET
In the middle of a cold January night, the
Chicago Bears
hit a brilliant home run. Either that, or they struck out wildly. I just don't see much gray area in their
decision to hire Marc Trestman
as their next head coach, a man who was once a hot coaching candidate but was so thoroughly rejected by NFL teams that he fled to the CFL five years ago.
The Bears were so excited about hiring Trestman as their next head coach that they announced it in a press release issued at 4:07 a.m. local time. His arrival is either a stroke of genius for general manager Phil Emery, who clearly sought an offensive guru for this role, or a classic case of overthinking a process in hopes of finding the perfect candidate in an imperfect world.
There was a time when Trestman was the Mike McCoy of the NFL -- the league's top young offensive assistant with an impressive résumé of success who seemed destined for a head coach's job. That time, quite frankly, was more than two decades ago and predates the teen years of most players on the Bears' roster.
[+] Enlarge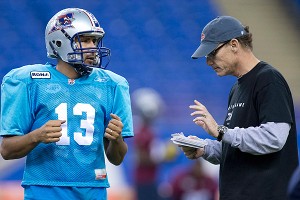 AP Photo/The Canadian Press, Paul ChiassonMarc Trestman led the Montreal Alouettes to three appearances in the Grey Cup, including consecutive championships in 2009 and 2010.
Trestman's offenses were explosive and innovative and loved by the quarterbacks who ran them. In recent days,
some of those quarterbacks have advanced the cause
of a coach they feel was unfairly passed over. We've heard from Rich Gannon and Steve Young, among others. They've spoken of Trestman's work with them, along with his success in developing a long list of other quarterbacks that include Bernie Kosar, Jake Plummer and Scott Mitchell. And Trestman's biggest benefactor might be former Hall of Fame coach Bud Grant, who hired him with the
Minnesota Vikings
in the mid-1980s.
You would be excused for a double-take after reading those names. Grant retired for good in 1985. Kosar has been out of the NFL for 17 years. Young's last season with Trestman was 1996. Mitchell last played in 2001. Today's NFL players probably view Gannon, the league's MVP in 2002, as a television analyst more than a contemporary.
In an industry in which teams are always looking for the next great head coach, Trestman was passed over repeatedly and without fail. His NFL success dates back to a long-gone era in a fast-moving league.
So in my view, Emery has either plucked a savant with exceptional ability to adapt over time or he has hired a relic based on a profile -- smart, innovative with head-coaching success -- whose window closed a long time ago.
As we noted earlier this week
, men of Trestman's age (57) almost never get a chance to be a first-time NFL head coach. Fair or not, general managers and owners value recent success and surely connect it to understanding the latest trends in the league.
Trestman's run as an NFL assistant began in 1985 -- when Bears quarterback
Jay Cutler
was 2 years old -- and ended around 2002. His last NFL job, before he returned to the college ranks and later moved to the CFL's Montreal Alouettes, was in 2004. Eight years is a long time to be away from the day-to-day workings of an industry.
To be clear, that alone doesn't make Trestman a bad hire or even over the hill. It means he is unique relative to the way NFL teams have typically done business in recent years, and it's why I think his chances to be a brutal strikeout are just as high as the possibility that he is a monster home run.
Living in Minnesota for the past 13 years, I can't tell you how many people I've heard speak reverentially about Trestman, a native of the Minneapolis suburb of St. Louis Park who played at the University of Minnesota. Those people range from Grant to Gannon to people Trestman went to high school with. They all believe he is a brilliant offensive strategist and quarterback guru, one whose professorial and quiet demeanor perhaps clouded the view of NFL teams who questioned his ability to command a room and lead an entire team. His name has been championed for every head-coach opening the Vikings and the University of Minnesota have had since I've lived here, and yet he has never received serious interest.
In terms of profile, Trestman fits everything you would imagine a general manager such as Emery would want. He has previous success in developing quarterbacks and has the capacity to elevate Cutler's game if the quarterback buys in. His ego is small enough, by all accounts, to trust the front office with all personnel moves. He was humble enough to take a CFL job and good enough to win two Grey Cups in the process.
But any skepticism is completely understandable. That previous NFL success is in many cases decades old, with schemes whose popularity have waned and with quarterbacks who haven't played in a long time. His success in Canada is better than the alternative, but the CFL is undeniably a different game at a lower level of competition with players of dissimilar mindsets than those in the NFL.
Without question, hiring Marc Trestman was a courageous decision. There are plenty of people who consider it brilliant and decades in the making. The bottom line, however, is that most of the NFL rendered its judgment on him -- right or wrong, fair or otherwise -- a long time ago. Are the Bears smarter than everyone else? We'll soon find out.