Chicago Bears:

Bernard Berrian
July, 6, 2010
7/06/10
8:45
AM ET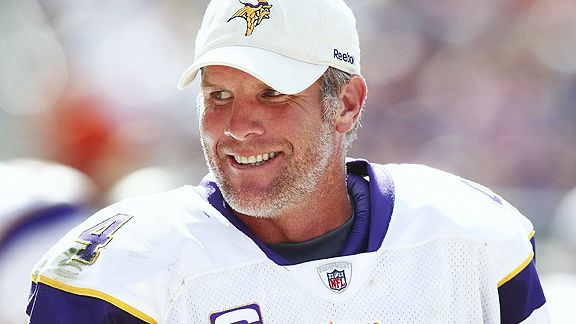 Joe Robbins/Getty ImagesAs usual, Brett Favre's decision on his future controls the Vikings' offseason headlines.
Intel on the
Chicago Bears
opponents creeps its way onto the blog today, which marks the beginning of a four-day look at the NFC North.
Talking to reporters who regularly cover Chicago's divisional opponents, we asked each of them to thoroughly break down the teams they cover, providing both strengths and weaknesses.
We kick off the series with the
Minnesota Vikings
by asking
Judd Zulgad of the Minneapolis Star-Tribune
for five concerns his team faces this season, in addition to five issues the team shouldn't have to worry about:
Five things the Vikings need to worry about
1. Brett Favre:
We all think it's 99 percent certain he's coming back. But until he is officially back, that's got to be No. 1 on the list. As it is, he's not gonna be there at the start of camp.
[+] Enlarge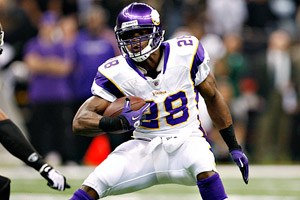 Matt Stamey/US PresswireAdrian Peterson's fumbling problems are a concern for the Vikings.
2. Adrian Peterson:
It's been well documented that he's had problems holding on to the football, and that's a killer. He skipped mandatory minicamp to be at "Adrian Peterson Day", and didn't take part in offseason activities with the team. That's not a huge deal, but somewhere along the line he needs to address this issue and the fumbling. Teams are targeting the football when he carries it.
3. Finding Chester Taylor's replacement:
Taylor wasn't a starter, but he is a huge loss. The fact they lost him in the division hurts even more. He played a ton on third down, and took a load off Peterson. Peterson still isn't great at pass protection. So on third downs in two-minute situations Chester [Taylor] was used a lot. That security blanket is now gone, and it's definitely a concern.
4. Safeties Madieu Williams and Tyrell Johnson:
Williams, who they paid a lot in free agency, and Johnson, who was in his first year as a starter last season, didn't exactly perform up to par. They need to take a step up, or the Vikings need to give serious consideration to a guy like
Jamarca Sanford
. The safeties lacked aggressiveness at times. The game in Chicago, when the Vikings played the Bears,
Jay Cutler
bowled over Williams, which was definitely embarrassing. The safeties need to take a step forward.
5. Cornerbacks Cedric Griffin and Antoine Winfield:
Griffin tore an ACL in overtime of the NFC Championship game, and Winfield missed six games, and was severely hampered by a broken foot last season. The Vikings signed
Lito Sheppard
, and my assessment is Griffin might not be ready to start the season. So health of the cornerbacks is a concern. They need at least one of those guys to be ready this season.
Five things not to worry about
[+] Enlarge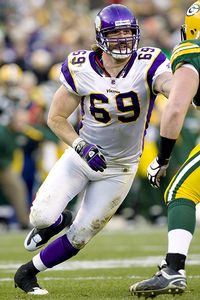 Jeff Hanisch/US PresswireJared Allen has 29 sacks in two seasons with the Vikings.
1. Jared Allen:
He had 14½ sacks last season, which was his second season with the Vikings. He's had 29 sacks over the past two seasons. Statistically, he's an elite pass-rushing right end. That's been huge because the Vikings haven't had that for so many years. He plays so many snaps and rarely comes out, it's really a luxury to have him because they don't really have to worry about that position.
2. The availability of DTs Kevin Williams and Pat Williams:
That [Star Caps] case has been tied up for so long, it looks like there's no way this thing gets to court again until after the season. There shouldn't be a lot of concern about them missing time. The Vikings don't have a lot of concern about those two guys being suspended.
3. Sidney Rice:
It's a little bit of a wildcard, but physically, he looked like he made huge strides last season. He had 83 receptions and eight touchdowns. Even if Favre doesn't return, Rice has pretty much established himself as potentially an elite receiver. Sure, the Vikings have
Bernard Berrian
. But Rice looks like the team's top receiver now.
4. Ryan Longwell:
This isn't a sexy one, but Longwell has more than proven himself as far as placekicking goes. He's just incredibly consistent. He made 26 of 28 field goals and 54 of 55 extra points. The Vikings have the luxury of not having to worry about a field-goal kicker, and that's a nice thing to have. It's worth mentioning that Longwell is entering the final season of his contract. It's unclear whether he will be back after this season.
5. Linebackers Chad Greenway and Ben Leber:
They are about as steady as it gets. Both have been consistent at their positions, and both are entering what looks to be the last year of their contracts. Greenway has gotten nothing but better as he has progressed. There's some question about when middle linebacker
E.J. Henderson
will return from his broken left femur. So the stability of at least having so much consistency on the outside is important.
December, 17, 2009
12/17/09
2:02
PM ET
LAKE FOREST, Ill. -- On Wednesday,
Devin Hester
hinted at future changes that will sweep through Halas Hall. On Thursday, Bears linebacker
Lance Briggs
openly discussed prior changes made by the front office since the 2006 Super Bowl season.
"You miss some of those guys when you don't have them, and sometimes you realize what you have when it's not there anymore, or what you could of had when it's not there anymore," Briggs said. "There are things that I do miss about some of those players ... even guys like
Ian Scott
,
Mike Brown
,
Chris Harris
,
Thomas Jones
...
John Tait
...
Ruben Brown
... I can go down the line.
"The thing is, you know in football nothing lasts forever, and who's to say if those guys were with us today that we would be successful.
"You think about a (former defensive coordinator) Ron Rivera, you think about a lot of these guys that were here."
Briggs wasn't the only veteran to cite former teammates while discussing a third consecutive sub-par season. Bears tight end
Desmond Clark
echoed the sentiments made by Briggs, and even added a few of his own names to the growing list of ex-Bears.
"You look back at some of those players who aren't here, three of them pop out right now," Clark said. "You look at Thomas Jones,
Muhsin Muhammad
and
Bernard Berrian
. Three of our big-time playmakers that were here. You look at a guy like John Tait ... who was a big part of the offensive line. Ruben Brown, who was a big part of the offensive line.
"Those five guys right there, were a big part of this team, and leaders on this team. When you take that into account, we have a whole different make-up. We're just not playing as well as we played in 2006 as a unit."
However, defensive end
Adewale Ogunleye
shot down the theory, refusing to blame the team struggles on poor personnel decisions made the past three years.
"Me and Lance, we don't agree on everything," Ogunleye said. "Every year you've got a different opportunity, and a different chance to win. Definitely, we are missing some guys from this year. I don't even look in the past, if we had Brian [Urlacher], if Pisa [Tinoisamoa] would have stayed healthy, what would that have done for our defense. We don't know. But to look back, and to think about guys on other teams and think about what they would have done for us, I don't think that's a great way to think."