Chicago Bears:

Bill Belichick
August, 27, 2014
Aug 27
2:30
PM ET
The first half of this team's
schedule
fits that description, considering the Bears play five of their first seven outings on the road against the 49ers, Jets, Panthers, Falcons and Patriots. If the Bears go into their Nov. 2 bye relatively healthy with a record of at least .500, the rest of the schedule sets up nicely, with just three road games remaining and the rest set for the frigid winter conditions at Soldier Field, a definite home-field advantage during the latter portion of the season.
Complete Bears season preview
.
December, 8, 2010
12/08/10
4:11
PM ET
LAKE FOREST, Ill. -- Personal milestones mean little in the grand scheme of things, but it's interesting to note Mike Martz has lost four straight times to Bill Belichick and the
New England Patriots
.
The string of bad luck for Martz began Feb. 3, 2002 when the Patriots upset the heavily favored
St. Louis Rams
20-17 to win Super Bowl XXXVI. Martz's offense, however, performed fairly well and racked up 427 total yards, but the Rams turned the ball over three times.
Kurt Warner
threw two interceptions, while
Marshall Faulk
was held to 76 yards on only 17 carries.
[+] Enlarge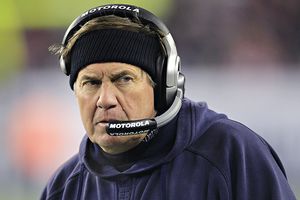 AP Photo/Charles KrupaPatriots coach Bill Belichick has had success against Mike Martz-coached teams.
"We had a protection error, we had a receiver slip and fall on a slant, and we fumbled right before the half, and they got 17 points off of those three turnovers," Martz said. "They were a great team, obviously. I'm not taking anything away from that. But for us in that game, it was about turning the ball over like we did that gave them those great opportunities that affected the outcome more than anything else."
Martz went on to lose to Belichick in 2004 (40-22), 2006 (Patriots 28, Lions 21) and 2008 (Patriots 30, 49ers 21). The former head coach and current offensive coordinator will try and snap that streak when the Bears (9-3) battle the Patriots (10-2) Sunday at Soldier Field.
"The thing about Bill, and this is something we try to do on offense, first of all, he's been there so long, there's an aura of discipline that he demands out of those guys, where we're trying to get to," Martz said. "I say eliminate mistakes, get better every week. They're that way every week because it's ingrained there.
"And when they bring somebody in, they have to buy into that. They're very, very disciplined. Never see them out of position. They adjust extremely well, and they just don't make mistakes. And that gives you the best chance to win. So that's the best compliment you can give somebody, I think. Those guys are tuned into what they're doing, and they just don't make errors."
For his part, Belichick -- 173-99 lifetime in New England with three Super Bowl titles -- speaks highly of Martz, who despite the Bears being ranked No. 29 in total offense, has made significant strides toward improving the unit the past five weeks.
"We always have trouble against Mike," Belichick said. "He does a great job with the formations, the personnel groupings. His passing concepts are very difficult to defend. If you stop one, then that opens up something else. They complement each other well. Of course, it all goes through the quarterback.
"When a quarterback like
Jay Cutler
is making the kind of decisions and has the throwing accuracy that he's displayed, and then in addition to that, makes plays that he's covered on defensively, he's able to break you down with his legs and the scrambles, either to run or to buy more time and let the receivers get open. That's another element to the game that is difficult to defend and just stresses your defense even more."
Belichick added: "I think Mike does a great job. He's a hard guy to defend. His teams are always very creative, and they give you a lot of things to worry about, and again, their plays complement each other. If you're stopping one thing, you're probably not going to be able to stop the play that he has that goes with it. You never feel safe when you're playing Mike's offense. They're one play away from a big, explosive play."
Similar to the Bears' offense, the Patriots' defense ranks near the bottom on many statistical categories, including total defense (No. 31) and passing defense (No. 31). Still, with Belichick calling the shots, the Pats' defense poses certain unique challenges every single season.
"He'll study everything that you've done, take it apart, piece-by-piece," Martz said. "He'll identify what your strengths are, and he'll try to eliminate your strengths. And he won't do anything to radically change his defense, but he will make you adjust. There's no question, he will make you adjust."
Although Martz clearly respects Belichick, he scoffed when a reporter asked if the Patriots coach had somehow gotten inside the Martz's head.
"Oh, God, no," Martz said. You've got to be kidding me. C'mon, serious? I've beaten him, too. I went up there on Sunday night and beat him, too. Same year [2001], remember? In fact, after that game, I said this is a Super Bowl team, and I think they were 6-5 or something. I don't remember what it was. But oh God, no. They're just a good team. No. I don't think like that or live like that, I'm sorry, I hate to disappoint you, but those things just don't happen to me. I guess I'm screwed up. That stuff doesn't happen to me."
December, 8, 2010
12/08/10
11:30
AM ET
By
Steven Krasner
| ESPNChicago.com
FOXBOROUGH, Mass. -- The platitudes were flowing as New England coach Bill Belichick talked Wednesday about the Patriots' next opponent, the Chicago Bears.
Chicago's offense, defense, special teams and coaching staff all were praised by Belichick, whose Pats (10-2) will visit the Bears (9-3) at Soldier Field on Sunday.
Read the entire story
.
March, 3, 2010
3/03/10
2:44
PM ET
CHICAGO -- With
Chicago Bears
tight end
Greg Olsen
rumored to be on the trading block, we decided to try and find a solid potential suitor for Olsen's services: the
New England Patriots
.
Our ESPNBoston.com colleague Mike Reiss offered up some unique insight on why the Pats may be interested in Olsen.

The Patriots are likely losing tight end Benjamin Watson to free agency. Watson was a first-round choice for the Pats back in 2004, and it seems like he's looking for a fresh start. Veteran Chris Baker is more proficient as a blocker, so New England would benefit from somebody who can make an impact in the passing game. The Patriots do primarily use a three-receiver set, but the addition of someone like Olsen could open up many more opportunities.

Bill Belichick always takes a scouting trip down South every season, so it would not surprise me if Belichick has already pulled out his notes on Olsen coming out of Miami in 2007. Plus, if the Bears are looking for a second-round pick as compensation for Olsen, the Patriots have three choices this year in round No. 2.