Chicago Bears:

Bill Cowher
January, 9, 2013
1/09/13
12:06
PM ET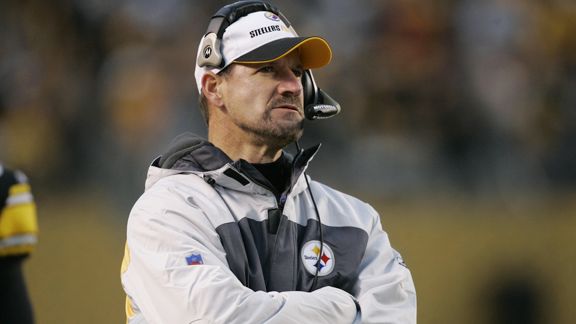 Jason Cohn/Icon SMIBill Cowher led the Steelers to the playoffs nine times during his 15 years in Pittsburgh.
Former
Pittsburgh Steelers
coach Bill Cowher expressed a desire Tuesday to return to the coaching ranks,
according to Newsday
, but added he hadn't been contacted by any of the teams around the league in the market for head coaches.

On Wednesday, however, the Pittsburgh Post-Gazette reported Cowher, 55, had been contacted by "several" teams over the last few weeks. The report also cited a source saying that Cowher doesn't want to return to coaching for another "4-5" years.
Naturally, Cowher's revelation Tuesday sparked interest locally, with the
Chicago Bears
in the midst of a search to replace Lovie Smith as head coach. The coach responded with a "yeah" when asked whether he planned at some point to return to the sidelines as a head coach.
Asked whether he was tempted by any of the current head coaching vacancies or contacted by teams about them, Cowher, an analyst on CBS, said, "No, no, no, no."
January, 9, 2013
1/09/13
9:50
AM ET
By
ESPN.com news services
Former Pittsburgh Steelers coach Bill Cowher told Newsday on Tuesday he wants to coach again at some point.
Read the entire story.
December, 31, 2012
12/31/12
2:41
PM ET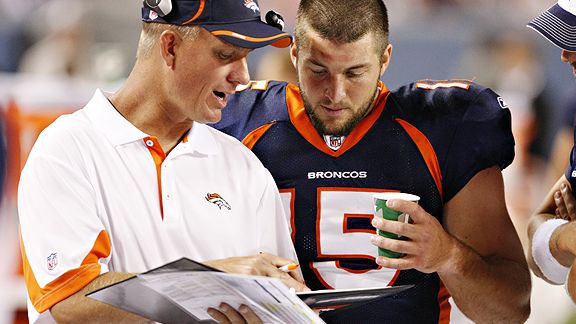 Eric Lars Bakke/AP PhotoThe Bears have already asked for permission to talk with Denver offensive coordinator Mike McCoy, a source told ESPN's Adam Schefter.
LAKE FOREST, Ill. -- The
Chicago Bears
announced Monday their decision to go a different direction at the head coaching position, thus ending Lovie Smith's tenure with the club after nine seasons.
Immediately, speculation begins regarding potential Smith successors. Offensive-minded coach? Defensive-minded coach? Nobody knows. Even when general manager Phil Emery speaks Tuesday morning, it's unlikely he'll shed any real light on the club's plans entering this coaching search.
The speedy decision to fire Smith indicates Emery might already know what he wants in a new coach.
Bears quarterback
Jay Cutler
declined to divulge his preference in coaches Monday during "The Jay Cutler Show" on ESPN 1000.
"I've had both (offensive and defensive head coaches)," Cutler said. "There's pluses and minuses to argue each case. I'm not going to give a preference on what I want, what I don't want because I don't really know at this point. I trust Phil and management and George (McCaskey) and those guys to make the best call. They're going to get the best possible head coach and assistant coaches and coordinators they can. So you've got to trust in that."
Chances are the Bears won't look in the direction of former Broncos head coach and current Patriots offensive coordinator Josh McDaniels, who has been linked to the Chicago job and has a past with Cutler. When McDaniels took over as head coach at Denver, he played a role in facilitating Cutler's trade to the Bears.
"That would be awkward," Cutler said. "He's a good coach, and I think it was interesting how it unfolded in Denver. It's in the past. I'm sure he's going to get a shot at it with all the vacancies this year, and how well they've done in New England."
Here's a list of 16 potential candidates for Bears coach:
January, 26, 2010
1/26/10
4:52
PM ET
Q:I've had a couple of frustrating years watching football, being a Notre Dame fan and a Bears fan. I can't believe how bad our defense has been in Chicago. Do you think it's time to look in a different direction on defense other than running the Tampa 2? It seems to me teams have figured it out and we are too ignorant to see that. -- Josh Perando, Baltimore


[+] Enlarge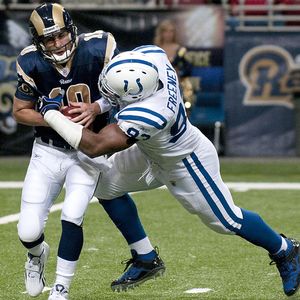 Scott Rovak/US PresswireAn effective cover 2 defense is a lot easier to run when you have a ferocious pass rusher such as the Colts' Dwight Freeney.
A: Indianapolis should prove to everybody that certain elements of the Cover 2 defense still work when the front four is able to pressure the quarterback. That's what separates a team like the Colts from the Bears. Indianapolis starts Dwight Freeney (13.5 sacks) and Robert Mathis (9.5 sacks) at defensive end, whereas the Bears have struggled to apply constant pressure up front for the past three seasons. It also doesn't hurt that the Colts have a huge playmaking safety in Antoine Bethea (four interceptions), while Lovie Smith has endlessly shuffled players in and out of the safety.


Smith is accurate when he talks about the scheme still being sound, but you must have the proper personnel on the field for it to operate properly. Isn't that the basic definition of coaching? Are the Bears putting their players in the best position to succeed on defense? Many would say no, and that's tough to argue.


Q: Doug Plank? Why is his name not being mentioned/highlighted/screamed when talking about the open Bears defensive coordinator position? -- Michael, Orange County, Calif.


A: Although Plank was a successful head coach in the Arena Football League, he was only an assistant defensive backs coach with the Jets. Going from that rank to NFL defensive coordinator seems like a pretty big jump, especially since Plank was just fired by Rex Ryan. It's also tough to say if Plank has any knowledge of the system Smith runs here in Chicago, because obviously, that's going to play a huge role in who gets the job. Plank was a great player in Chicago, but I view him as a long shot to join this Bears coaching staff.


Q: So I read a while ago that Brian Billick was on the list for possible offensive coordinators. What is going on with that now? Is he still on the list? -- Joel, West Hartford, Conn.


A: Billick would be a major coup for the Bears, but he probably is waiting for a head-coaching opportunity somewhere in the future. I can't say for sure, but perhaps the idea of leaving a secure television gig for the Bears isn't all that appealing to the former Ravens head coach. Billick is also fairly close with Ron Turner, so who knows what he really thinks about the Bears' organization? On the other hand, Billick did work with Bears offensive line coach Mike Tice in Minnesota, and knows the offensive personnel because of his work in the media. Again, it's probably a long shot, but if Billick was actually interested, the Bears would be foolish to pass him up.


Q: Why not make a push for Bill Cowher? I had heard it was rumored he wanted the job. Lovie can fire all of the coordinators he wants, but his ineffectiveness, and "safe" play-calling (go for it once on fourth down please!) is what continually has hampered the Bears. -- Mark Milbourn, Tucson, Ariz.


A: Obviously, Cowher is out of the equation for 2010. There is no chance the Bears pay the remaining two years left on Smith's deal, then sign Cowher to a monster contract -- especially since there could be a work stoppage in 2011. However, Cowher would be a strong candidate to take over next year if Smith gets fired, but that's a long way off. Think of it this way; the Bears can't even find coordinators for 2010, do you really think they've planned ahead for a possible hire in 2011?


Q: With a couple of the Bears' defensive ends becoming free agents this year, do you believe it would be wise for to pursue Aaron Kampman? I think he a quality end in a 4-3 scheme, he rushes the passer well and is equally impressive in run defense. Not to mention he could fill a leadership role on the defensive line, which if you ask me, we have been lacking. -- David Janklow, Lacey, Wa.


A: This is a tricky subject on many levels. First, Kampman is recovering from a torn anterior cruciate ligament, so he could theoretically wait until he's fully recovered to sign a deal, which may not be until the summer. It would make sense from a financial standpoint for Kampman to show teams he's healthy before accepting any sort of contract.


Secondly, Green Bay may still choose to apply the franchise tag to Kampman, which would take the Bears out of the running. Now, let's say (1) Kampman is not tagged, and (2) fully recovers from the ACL injury in time for training camp, then yes, he would be a guy to target. It was obvious last season Kampman is not cut out to be an outside linebacker in a 3-4 defense, but he recorded a combined 37 sacks the previous three years playing end in a 4-3.


The Bears desperately need someone to rush the passer, and Kampman has a proven track record of success in that department. However, since 2010 will probably be an uncapped year, it's impossible to predict what kind of price Kampman will demand on the open market if healthy. But to answer your question, I think Kampman would be a major upgrade for the Bears' defense, and should be pursued if available.
December, 2, 2009
12/02/09
5:13
PM ET
LAKE FOREST, Ill. -- Contrary to a prior report, the Bears have not reached out to anybody associated with former Steeler's coach Bill Cowher, according to ESPN's John Clayton.
"Literally about two minutes ago I was just talking to someone about this in the Bill Cowher camp," Clayton said during an appearance with the Afternoon Saloon on ESPN 1000. "That is 100 percent inaccurate. No reaching out to Bill Cowher and no reaching out to Bill Cowher representatives, friends or anything of that nature."
"Bill has made it known that he doesn't want to affect any current coach, whether it is an interim coach or a head coach, who is under a contract until the end of the season," Clayton said. "He wants to be true to all the coaches that are currently coaching. There is no contact or illusion of a contact … but I will tell you this factually, he is interested in two jobs: one being the
Chicago Bears
, and the other being the
Houston Texans
. Both would have to open for that to happen but he is interested. But in the end there hasn't been anything that has happened that would give him any indication that he would be contacted."
November, 24, 2009
11/24/09
3:51
PM ET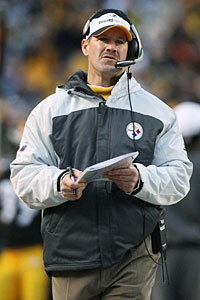 Jason Bridge/US PresswireBill Cowher should be one of the most sought-after coaches during the offseason.
Could another famous mustache be patrolling the sidelines at Soldier Field next season?


An unnamed source told the NFL Network the Bears and Houston Texanswould excite Bill Cowher, the former Pittsburgh Steelerscoach and current CBS television analyst. Two sources close to Cowher told the NFL Network they believe he is more ready now than at any time since retiring after the 2006 season to return to coaching, but he will remain very selective about his next move.


Cowher has reportedly made it known he will not make a decision on a team until after the season out of respect for coaches, such as Lovie Smith, who are not out of a job yet, and Cowher's current employer, CBS.


Cowher, who went 149-90-1 in 15 seasons as the Steelers' coach and won a Super Bowl after the 2005 season, is expected to command as much as $10 million a year.


The report also said the Carolina Panthers likely will make a run at Cowher, who lives in Raleigh, N.C., if they fire John Fox.