Chicago Bears:

Brad Jones
September, 10, 2012
9/10/12
5:48
PM ET
After the Green Bay Packers' 30-22 loss to the San Francisco 49ers, here are three issues that merit further examination:
ESPN.com

Results were inconclusive, at best, on the Packers' primary offseason thrust. On the positive side, press box statistics show their pass rush got to 49ers quarterback Alex Smith for four sacks and two other post-throw hits. Linebacker Clay Matthews was credited with 2.5 sacks and defensive back Charles Woodson got the other 1.5. And two of Smith's biggest throws -- 29 yards to tight end Vernon Davis and 14 yards for a touchdown to Randy Moss -- were the fault of busted coverages. Smith threw plenty of quick-release passes, but in the end he had enough time to connect on nearly three-quarters of his throws. So to me it was a mixed bag. And for what it's worth, the Packers were blitzing heavily for a good portion of the game to ratchet up their pressure. They sent at least one extra rusher on 10 of Smith's first 21 dropbacks, according to ESPN Stats & Information. Woodson insisted the Packers' pass defense is "nowhere close to where it was last year" and said he liked the energy he saw. We'll see.

Tight end Jermichael Finley was targeted a team-high 11 times and caught seven passes for 47 yards and a score. He also had one clear drop, another that could have been called one if you're a tough grader and a third play where he had enough trouble controlling the ball that the 49ers challenged the ruling of a completion. Afterwards, it was interesting to note how Finley responded when asked about the Packers "dropping" their first game. He misunderstood the question and belied his insistence that he isn't going to mourn drops this season. Here's what he said: "I thought about it all last year. I let it stress me. But this year, a drop is a drop. An interception is an interception, and we've got to move on from it. And go to the next play."

If there was any doubt before, it's clear now: Veteran Donald Driver ranks no better than fifth on the Packers' receiver depth chart. He doesn't play on special teams, so the blunt truth was that he was active Sunday for insurance purposes. He didn't play until the final three snaps of the game, when starter Greg Jennings waved himself off the field. Before that, Driver did not get a snap. As we noted Sunday, second-year receiver Randall Cobb was a key part of the primary set the Packers used Sunday: Four receivers with Cobb lined up, initially, in the backfield. They used a variation of that formation on 31 of their 61 plays. Still, I actually think it makes sense to keep Driver on the roster as injury protection. If the Packers lose Jennings, Cobb, Jordy Nelson or James Jones, they could plug in Driver and not lose any formational versatility. Without him, they would be limited to three-receiver sets if someone were injured. It's worth a September roster spot.
And here is one issue I still don't get:
Who did officials initially believe had committed an illegal block on Cobb's 75-yard punt return? I hope it was linebacker Brad Jones, whose block seemed questionable at best, and not linebacker Terrell Manning -- who blatantly hit Anthony Dixon in the back. The officials eventually picked up the flag, allowing the touchdown to stand. Such plays aren't reviewable, but Manning's illegal block was clear and undeniable. For the sake of the integrity of this replacement experiment, I hope they simply missed it altogether and didn't actually judge Manning's block to be legal upon further consideration.
July, 7, 2010
7/07/10
8:25
AM ET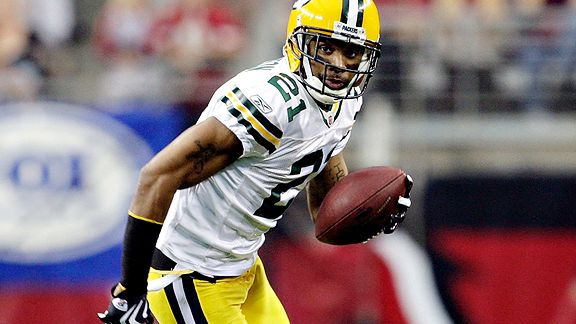 Jamie Squire/Getty ImagesA new offseason workout plan should make reigning defensive player of the year Charles Woodson even more dangerous.
Thanks for stopping in to check out Day 2 of our series on the NFC North, in which we tap the brains of beat reporters around the division to get the skinny on their teams.
We took a
look at the Vikings
on Tuesday with Minneapolis Star-Tribune reporter Judd Zulgad.
We move onto Green Bay today with
Milwaukee Journal-Sentinel Packers reporter Greg Bedard
.
Five things the Packers need to worry about
1. Special teams:
The Packers claim they will improve on special teams this season, and that should happen almost by default. But will this group improve simply through better coaching (with the same staff)? The unit needs to cut down on penalties. The Packers continue to go the cheap route at punter, and neither option has kicked in so much as an exhibition game. Indications are that
Mason Crosby
is still suffering a confidence problem.
2. Depth at outside linebacker:
The Packers should be fine with
Brad Jones
at left outside linebacker, although he needs to show enough to keep double teams off
Clay Matthews
. The real worry is behind them. If Jones or Matthews is injured, the Packers have zero depth. That's not a good thing at a crucial position in the 3-4.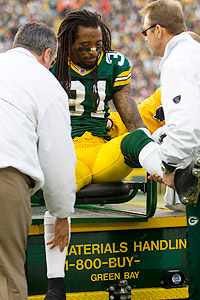 Jeff Hanisch/US PresswireHow cornerback Al Harris recovers from an injured knee will be crucial for the Packers.
3. Al Harris' health:
The Packers put a lot of money into cornerback with Harris,
Charles Woodson
and
Tramon Williams
. The group -- if intact -- should be one of the league's best. But if Harris isn't the same player after knee surgery,
Pat Lee
or
Brandon Underwood
will need to be better.
4. Offensive line slow out of the gates:
The Packers are notorious for getting off to slow and sloppy starts on the offensive line under coach
James Campen
. That can't happen anymore. If it does, it could torpedo the season, like it nearly did last season.
5. Overall team mindset:
For whatever reason, the 2009 Packers got full of themselves, and their performances suffered. Just ask Woodson about the mindset going into the Cardinals playoff game. This team plays better with an edge and its backs against the wall. The Packers have to find a way to handle all the Super Bowl hype better. On the flip side, the Packers, starting with general manager Ted Thompson, look like they're getting a bit tight [due to the Super Bowl hype]. That stance has a tendency to filter down to the players, and negatively affect the on-field product. The Packers need to find a way to strike the right balance.
Five things not to worry about
1. Donald Driver's age:
Driver's play tailed off toward the end of last season, but offseason scopes on his knees should help immensely. The Packers are a better offense with Driver, 35, in the mix. Nobody else can do the dirty work he does.
2. Left guard:
Incumbent
Daryn Colledge
is a lot better than Packers fans (and some of the coaches) want to give him credit for. Does he need to be more consistent? Yes. But he might be the best left guard in the division.
Jason Spitz
should be ready to compete for the job as well.
3. Whether Bryan Bulaga plays:
The Packers drafted Bulaga in the first round with a year down the road in mind. He's not ready to unseat
Chad Clifton
, and Bulaga has never played guard before. Bulaga needs to just concentrate on learning left tackle because at some point Clifton won't be able to answer the bell.
4. Defensive line depth:
Whether the troubled
Johnny Jolly
is on the Packers' roster at the start of training camp, the club still has more than enough depth between
Ryan Pickett
,
B.J. Raji
,
Cullen Jenkins
,
Mike Neal
,
C.J. Wilson
, and, perhaps,
Justin Harrell
.
5. Charles Woodson slowing down:
The reigning NFL defensive player of the year, Woodson looks like he's ready for a repeat after taking part in an offseason routine for the first time that used boxing. The leader of the Packers' defense, Woodson should make even more plays this season with a healthy supporting cast around him.