Chicago Bears:

Brian Robison
November, 26, 2012
11/26/12
3:19
PM ET
After the Chicago Bears' 28-10 victory over the Minnesota Vikings, here are three issues that merit further examination:
ESPN.com

Sunday represented quarterback Jay Cutler in all his glory. We saw him express anger at the offensive line for an early breakdown and to the sideline for getting a play in too slowly. We saw him stiff-arm and then get penalized for taunting Vikings cornerback A.J. Jefferson on a scramble. But despite that mistake and his overspilled emotion, we saw clear evidence of the calming influence Cutler can have on this team. It's no fluke that he's won 13 of his past 15 starts. Cutler got some good-natured attention for tying left tackle J'Marcus Webb's shoelace in the huddle, but I thought Cutler's importance displayed most clearly in the production and positivity of receiver Brandon Marshall. Cutler clearly knows how to keep this otherwise mercurial player happy. Sunday, he targeted him on more than half of his throws -- 17 of 31. The next most-active Bears receiver saw four passes. Marshall's implicit trust in Cutler as a quarterback and on-field caretaker has been one of the more unusual trends to emerge from the Bears' season.

It was hard not to flash back to the saga of former Bears offensive lineman Chris Williams when Gabe Carimi was forced into emergency duty at right guard. Williams, the Bears' first-round draft pick in 2008, wound up at left guard in 2010 and never played his intended position again. Carimi, the Bears' first-round pick in 2011, was benched this season from the right tackle position. According to Pro Football Focus, Carimi did not allow a pressure in 32 snaps Sunday and blocked well against the run. I don't see Carimi as the Bears' long-term right guard unless Lance Louis' knee injury is more serious than believed. And it's hard to imagine current right tackle Jonathan Scott, a career backup with four teams, as a longer-term answer. But Sunday was an unabashedly positive development for Carimi, who performed functionally in a surprise role one week after a national embarrassment. We haven't heard the last of him, I'm sure.

Let's not just single out Carimi for the improved protection Cutler received. Remember, the Bears played a portion of this game without either of their starting guards, Louis and Chris Spencer. Still, Cutler was sacked or under duress on only five of his 36 dropbacks (13.9 percent). Entering the game, he was sacked on 23 percent of his dropbacks. Vikings defensive ends Jared Allen and Brian Robison entered the game with a combined 12.5 sacks, but each were limited to one quarterback hit. For as much criticism as the Bears' pass protection took after the Monday night disaster against the San Francisco 49ers, they deserve praise for plugging the holes quickly.
And here is one issue I still don't get:
Five starters suffered injuries that required them to miss the rest of the game. But are any of them serious? We don't know yet, and coach Lovie Smith didn't offer much insight during his Monday meeting with reporters. Tailback Matt Forte (ankle) appeared to be limping significantly as he departed the field, and Louis' knee surely bent at an awkward angle when Allen blindsided him on an interception return. The biggest loss would probably be cornerback Charles Tillman (ankle), but indications Sunday were that Tillman was held out mostly for precautionary reasons.
November, 7, 2012
11/07/12
11:23
AM ET
»
NFC Midseason Teams
:
East
|
West
|
North
|
South
»
AFC
:
East
|
West
|
North
|
South
We've posted an All-NFC North team after every season since we started this blog five seasons ago. (Links:
2011
,
2010
,
2009
,
2008
.)
Below, you'll find our first attempt at a midseason division team. As always, its composition is a blend of advice I've received from football professionals, my own eyes and consultations with some media services I respect. (For those interested, here is
Pro Football Focus' All-NFC North team from last week.
)
As we've learned in past years, there isn't always a direct correlation between individual frequency and team success. If there were, the
Minnesota Vikings
-- who sit in third place here in Week 10 -- wouldn't have a division-high eight players on this team.
Many of the choices are obvious and/or self-explanatory. Here are some thoughts on the more difficult decisions:
October, 18, 2012
10/18/12
10:02
AM ET
We're Black and Blue All Over:
After a tough and physical game last Sunday at Lincoln Financial Field, the Detroit Lions have begun preparations for Monday night's game against the Chicago Bears with only two healthy cornerbacks.

The Lions aren't required to issue an injury report until Thursday at 4 p.m. ET, but as
Dave Birkett of the Detroit Free Press
notes, rookie Bill Bentley (shoulder) and veteran Jacob Lacey (concussion) appeared to sit out Wednesday's practice. Both players didn't return after suffering their injuries against the Eagles. That left veteran Chris Houston and rookie Jonte Green as the only healthy cornerbacks on the 53-man roster.
Fellow rookie Chris Greenwood was activated from the physically unable to perform (PUP) list this week but hasn't yet been added to the 53-man roster. It would be asking a lot for him to be ready to play Monday night.
The Bears aren't expected to have their full arsenal of receivers Monday night because of Alshon Jeffery's fractured hand, as
ESPNChicago.com's Michael C. Wright
notes, but the Lions appear shorthanded for the moment regardless.
Continuing around the NFC North:
September, 30, 2011
9/30/11
12:30
PM ET
»
NFC Final Word
:
East
|
West
|
North
|
South
»
AFC
:
East
|
West
|
North
|
South
Five nuggets of knowledge about Week 4:
Speed rushers:
Two weeks ago,
Kansas City Chiefs
linebacker
Tamba Hali
put four hits on
Detroit Lions
quarterback
Matthew Stafford
. Last week,
Minnesota Vikings
defensive end
Jared Allen
sacked him three times while fellow defensive end
Brian Robison
brought him down twice. Hali and Allen are two of the NFL's best pass rushers. Sunday, the Lions will face the best. No NFL player has more sacks this season (5.0) or over the past three seasons (51.5) than the
Dallas Cowboys
'
DeMarcus Ware
. Stafford has had success getting the ball downfield despite facing those elite rushers. But the Lions probably don't want to find out how much damage Ware can do. They would be well-advised to devote more attention to him than Hali and Allen saw. Tight end
Brandon Pettigrew
is one of the NFL's top blockers at his position. The Lions might need to utilize him in that regard Sunday.
"Statement game:"
I personally hate that phrase and think it's mostly irrelevant in the world of the NFL. With that said, I think the Lions have their best opportunity yet to demonstrate how far they've come and to set their fan base into a frenzy heading into their Oct. 10 prime-time game against the
Chicago Bears
. The Cowboys are 2-1 and have designs on the NFC East title. The Lions, meanwhile, have won in Dallas only twice in their history. Last season, the Bears began walking with a little extra pep in their step after winning at Cowboys Stadium. The Lions could do the same. A win would give the Lions their eighth consecutive regular-season victory, dating to last season. That would be their longest winning streak since taking nine consecutive games from 1953-54.
[+] Enlarge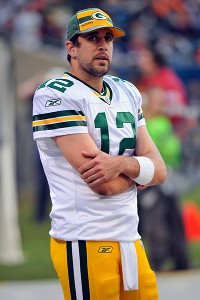 Rob Grabowski/US PresswirePackers QB Aaron Rodgers could make Denver pay if the Broncos continues to blitz as often as they have in their first three games.
Faint hopes:
The
Denver Broncos
have never won in the state of Wisconsin. They've lost seven consecutive road games and are one of three teams in the NFL whose pass defense has netted them zero interceptions this season. That's a bad combination for a 1-2 team traveling to Lambeau Field. Want some more? The Broncos have felt compelled to blitz on 41.9 percent of opponents' dropbacks this season, the sixth-highest rate in the NFL. Packers quarterback
Aaron Rodgers
is completing an NFL-high 74.4 percent of his passes against the blitz. It's unlikely to work Sunday for the Broncos. On his weekly radio show, Rodgers noted that the Packers have seemed an afterthought from national observers. "Let everybody talk about Philly and Dallas and Washington and Detroit and Buffalo and we'll keep on doing what we're doing," he said. It's hard to imagine the Packers doing anything other than continuing to plug along Sunday.
Run to daylight:
The
Carolina Panthers
are giving up an average of 117 yards rushing per game this season, the seventh-worst mark in the NFL. As we've
discussed a few times
, the Bears haven't paid enough attention to their running game this season. That has to stop Sunday. We can spend all the time we want discussing the return of Panthers coach Ron Rivera and tight end
Greg Olsen
. I'm sure they're both pumped for this game. But the Bears can control it if offensive coordinator Mike Martz can find a way get the running game going. The Panthers should be vulnerable in that area.
Someone will win
: The 0-3 Minnesota Vikings will play at the 0-3 Kansas City Chiefs. Something has got to give, right? A matchup of two winless teams after at least three weeks is relatively rare; it's happened six times in the past 10 years of NFL play. The Vikings haven't given up on their playoff hopes quite yet. After all, three teams have advanced to the postseason over the past 21 seasons after starting 0-3. But if the Vikings fall to 0-4 on Sunday, the most interesting question remaining in their season will be when rookie quarterback
Christian Ponder
will get on the field. When they acquired starter
Donovan McNabb
this summer, I don't think the Vikings believed they would be facing a Ponder Watch so early in the season.