Chicago Bears:

Brian Urlacher retires
May, 23, 2013
5/23/13
4:54
PM ET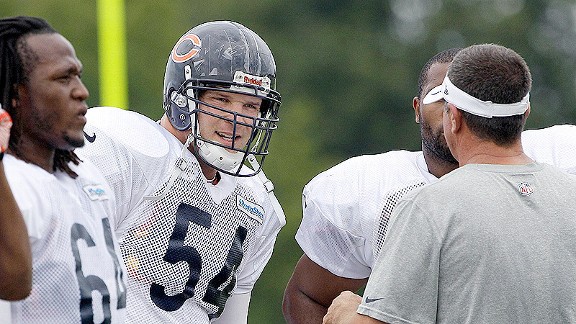 AP Photo/Nam Y. HuhBrian Urlacher was a generous teammate who was liked and respected in the locker room.
For being one of the greatest players in
Chicago Bears
franchise history,
Brian Urlacher
had a lukewarm relationship with the club's fan base in recent years.
And that's a shame.
We all make mistakes, and certainly Urlacher is human like the rest of us, but the middle linebacker's accomplishment far outweighed his faults. Urlacher was the driving force behind four division championships and one NFC title, while being named to eight Pro Bowls and winning the 2005 NFL Defensive Player of the Year Award. He never got arrested. He never embarrassed the organization. None of that stuff.
Urlacher's biggest crime was the unwavering public support he showed his teammates and coaches.
Was it a mistake for Urlacher to criticize the fans on television for booing former Bears head coach Lovie Smith?
I think so. And I believe Urlacher compounded the problem by failing to make some kind of public apology the next day.
But if you spent time in the same locker room as Urlacher -- I covered him since 2004 -- you came to realize that he valued his relationships with teammates and Smith above everything else.
The stories of Urlacher's generosity towards teammates are legendary, especially the rookie or practice squad guys with no family in town who were invited to spend the holidays at Urlacher's house. Truth be told, Urlacher probably didn't even know all of their names, but they were welcome nonetheless.
He considered them family.
Imagine if you witnessed one of your family members get disrespected or slighted. Your first response, right or wrong, would be to lash out. Sure, a professional athlete is paid handsomely to deal with the negative stuff, but that doesn't mean he has to enjoy it.
If fans want to hold Urlacher's one flippant comment against him, then so be it. It's their choice.
But I truly hope there isn't a Bears' fan out there who harbors any ill will towards Urlacher because of his sometimes frosty relationship with the media. Who cares if Urlacher occasionally gave one-word answers, boycotted the local media in 2008 and went to great lengths to keep his offseason knee treatments a secret.
None of that should matter to a fan. And honestly, Urlacher was usually good to the media. Except for when he got injured, Urlacher was always there at his locker to answer questions after games. Not only did he start to appear more on local television and radio the last fews years, he was generally available in the Halas Hall media room every Thursday during the season.
It is the responsibility of the media to portray an individual in the proper light. I believe that. But Chicago fans have had 13 years to get to know Brian Urlacher.
You don't need the media on this one. Use your eyes. And if your eyes don't tell you that Urlacher was the greatest Bears' player of this generation, then you might want to consider buying glasses.
May, 23, 2013
5/23/13
4:47
PM ET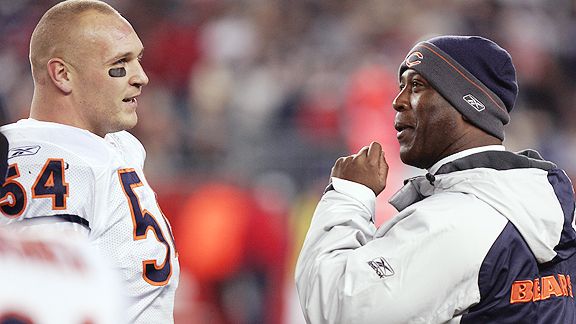 Robert E. Klein/Icon SMIBrian Urlacher and Lovie Smith shared a very close relationship throughout the years.
Recently retired middle linebacker
Brian Urlacher
acknowledged during an interview Tuesday with ESPN 1000's "Waddle an Silvy Show" that he would "one-hundred percent" still be playing for the
Chicago Bears
if the organization had not fired long-time head coach Lovie Smith at the conclusion of the 2012 regular season.
Urlacher and Smith had an extremely close relationship. The eight-time Pro Bowl middle linebacker was the centerpiece Smith's Cover-2 defense since 2004 and helped guide the Bears to three division titles in that time span.
With the exception of a one-day stint as an ESPN television analyst, Smith has been reclusive in the offseason, but he did share his thoughts about Urlacher's retirement to the Bears' official website on Thursday.
"Hard to put into words what Brian Urlacher meant to me and our team," Smith told ChicagoBears.com. "He is special in so many ways. We all had the privilege to watch him put together a Hall of Fame career on the field. The way he took over the 2006 Monday night game in Arizona is among the greatest defensive performances ever. And I have so many memories of other outstanding games. But his physical play is just a small part of what made Brian great. People knew he called our defense, but his intelligence was never given its just due. His understanding of the game is among the best who has ever played it. Off the field he set the tone for our team. He was the example everyone looked to. He worked hard and wanted to be coached. And when we brought in a new player, Brian was the first person to greet him and welcome him to the Bears.
"The NFL has had many superstars in its history, but I couldn't have asked to work with a better one than Brian Urlacher. I believe he belongs in the discussion as the greatest who have ever worn a Bears uniform. There is no better man that I have ever been around. Our bond goes beyond football. He became family to me. And I'm happy for him and his family."
May, 23, 2013
5/23/13
2:36
PM ET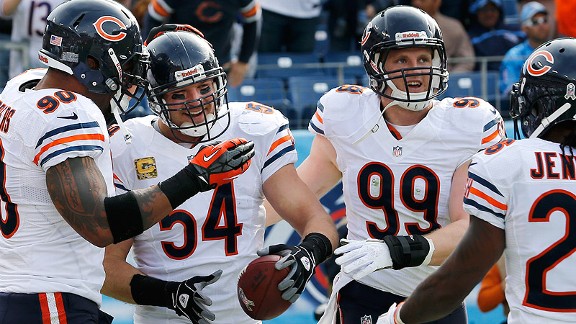 AP Photo/Joe HowellBrian Urlacher was an impact player at times last year, as evidenced by his Pick-6 against Tennessee.
Brian Urlacher
didn't wait around to see if a market for his services would ever develop, but up until Wednesday when the middle linebacker announced his retirement, many in league circles believed it was only a matter of time before a team signed the soon-to-be 35-year-old defender.
Why?
Because certain NFL talent evaluators, including the Bears' front office, were of the mindset that with a healthy offseason of training under his belt, Urlacher still had the potential to be an effective player in 2013.
Former
Denver Broncos
general manager Ted Sundquist said two weeks ago on ESPN 1000's "Chicago's Gamenight" that he expected interest in Urlacher to start picking up after June 1 when teams are in a better position to free up additional salary cap space before heading to training camp in July.
"Absolutely, I absolutely would (take a hard look at Urlacher)," Sundquist said. "Now, is Brian Urlacher the same guy he was a number of years ago? No. But he brings a savvy, an understanding, an instinct and a hard-nose style of play that you can build around. I look for players at this particular point in their career to raise the level of other players around them. So yes, I would (take a strong look at him)."
But Urlacher didn't sound comfortable with the prospect of just being an OK player this fall. When a person achieves a level of greatness at his or her profession over a long period of time, anything less than great results are usually deemed unacceptable.
Urlacher conceded to ESPN 1000's "Waddle and Silvy Show" that his problematic knee "felt great," but he seemed to partially base his decision to retire on the reality that he would never be the same player he was before the injury at the end of the 2011 regular season.
"My knee feels great, finally," Urlacher said. "This is the first I got to work out and not just do rehab. ... But I can look at myself in the mirror and say 'There's no way I'll be the player I used to be, or what I think I need to be out there.' Mentally? Yeah, I have it. But physically, I'm not what I used to be. There's no doubt about that. My knee is never going to be the same. I saw that last year, even when I started getting better. I'll never be able to move like I want to. ... I can't do what I want to do and it's frustrating.
"We talked to every team in the NFL, and maybe in July or August it would have happened, but I'm not going to wait. I want to be somewhere where somebody wants me. I don't want to go somewhere where, 'Oh, so-and-so got hurt, we need you.' I don't want that to be the situation."
That's an understandable reaction from a player who achieved incredible success over a decorated 13-year NFL career and is financially set for the rest of his life, especially after his long-time head coach Lovie Smith got fired on December 31 -- Urlacher said he would "one-hundred percent" still be in a uniform if Smith had a head coaching gig in 2013.
But let's address the white elephant in the room: was Urlacher really that bad in 2012?
Outside of Baltimore's
Terrell Suggs
, can you name me another veteran player who could miss essentially the entire offseason and training camp due to a knee injury, show up cold Week 1, and still record 88 tackles, seven tackles-for-loss, two forced fumbles and return one interception 46 yards for a touchdown?
Urlacher shouldn't be chastised for his performance last year. He tried to pull off the impossible and actually got better as the year wore on before the hamstring injury versus Seattle prematurely ended his season with four games to go.
The greatest gift a player can receive is the chance to go out on his own terms. Urlacher sounds content and at peace with his decision, and in the end, that's what matters. But it doesn't sit well with me that Urlacher's final NFL play ended with him limping off the Soldier Field turf after the second-to-last snap of an overtime loss to Seattle.
In my mind, with a healthier knee, Urlacher starts 16 games and posts 100-plus tackles for some team in 2013. And who knows, maybe the team that ultimately would have signed Urlacher wins the Super Bowl and he goes out like the champion he is.
Guess we'll never know. And for me, that's kind of difficult to accept.
May, 22, 2013
5/22/13
4:35
PM ET
It never seemed likely that the
Minnesota Vikings
would pursue
Brian Urlacher
in free agency, given their sharp turn toward youth over the past two years. And now it seems clear that Urlacher had little interest in a mercenary-style role with the Vikings or any other NFL team.

On the day he announced his retirement, Urlacher told ESPN 1000 that he could never get his mind around playing for another team and was especially averse to answering a midsummer emergency call. The Vikings are giving veteran
Erin Henderson
a spring look at the position, and the thought had been that only a season-ending injury or a complete flop would have prompted the Vikings to call Urlacher.
"I didn't want to put another jersey on for any other team," Urlacher said. "Obviously it wasn't going to be for the Bears this year, so I thought it was the right thing to do to shut it down. …
"We talked to every team in the NFL, and maybe in July or August it would have happened, but I'm not going to wait. I want to be somewhere where somebody wants me. I don't want to go somewhere where, 'Oh, so-and-so got hurt, we need you.' I don't want that to be the situation.
"The Bears offered me the contract they offered me, and that was probably the best contract I was going to get from anywhere. And I'm not going to put my body through what it goes through for what the offer was."
And for those of you wondering if
Urlacher could be lured from retirement
, he insisted he
plans to file his retirement papers
immediately and
has no interest in a comeback
.
You can listen to ESPN 1000's
entire 20-minute interview here
.
May, 22, 2013
5/22/13
2:30
PM ET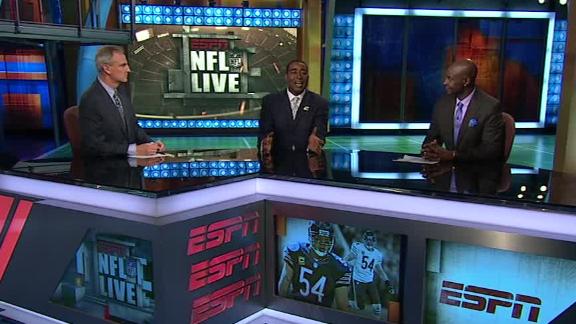 Reviewing the Pro Football Hall of Fame's list of middle linebackers is a sobering experience.
The position is well-represented, but almost all of the enshrinees -- Dick Butkus, Jack Lambert and Willie Lanier among them -- are drawn from a long-gone era of NFL defenses. In fact, former
Chicago Bears
star Mike Singletary is the only current Hall of Fame middle linebacker whose career started in the past 36 years.
The best case to be made for
Brian Urlacher
's candidacy, now that he has announced his retirement, is that his career reversed the decades-long decline in the value of the position. Along with the
Baltimore Ravens
'
Ray Lewis
, Urlacher modernized middle linebacking by adding speed and regular playmaking to the traditional role of helmet-jarring hits and fierce leadership.
Hall of Fame players can't simply be top performers over a period of NFL seasons. In a competitive environment where ballots are limited to five enshrinees per year, candidates must stand out. Some might be the best players in a generation, but if their position is as undervalued as middle linebacker has been over the past few decades, they also would need to have changed or impacted the game in a unique way.
I think Urlacher did that. It helped that he was drafted by a team that soon moved to a scheme that perfectly fit a middle linebacker who could run like a safety. It also helped that in his best years, Urlacher had some stud defensive tackles in front of him who limited free shots from offensive linemen.
Regardless, the Bears' defense in the Lovie Smith era wouldn't have worked without Urlacher covering the deep third of the field while also holding his own at the line of scrimmage. His ability to get 25 yards downfield, in between chasing runners from sideline to sideline, was a new development for the modern-day middle linebacker.
When Urlacher was sidelined, for 15 games in 2009 and four games last season, the Bears' defense dipped noticeably and obviously, especially against the pass. In the games that Urlacher missed over that stretch, opponents' Total Quarterback Rating (QBR) rose from 39.5 to 60.1 (on a scale of 0-100), according to ESPN Stats & Information.
He is one of four players in NFL history with at least 40 sacks and 20 interceptions in his career, as the chart shows, and he is one of seven players to win the NFL's Defensive Rookie of the Year and Defensive Player of the Year award. Of the other six, three are in the Hall of Fame and two others aren't yet eligible.
Urlacher's résumé of sustained elite performances,
even after his 2009 wrist injury
, and his notable impact on how the game is played merit Hall of Fame enshrinement. How long it will take for him to be elected is almost a silly discussion. We don't know what the backlog will be like in 2018, but there is a pretty strong group of players who will be eligible for the first time alongside Urlacher. The group includes Lewis,
Steve Hutchinson
,
Ronde Barber
and perhaps
Randy Moss
.
Timing, of course, is but a detail. I'm sure there will be plenty of discussion between now and then. But you would think Canton has room for Brian Urlacher. Frankly, he made that space for himself.
May, 22, 2013
5/22/13
11:56
AM ET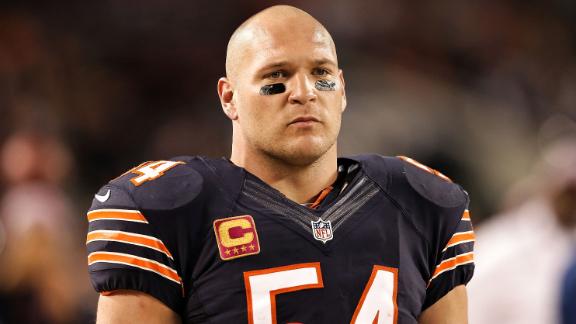 What made
Brian Urlacher
special? You have to start, of course, with the way a 6-foot-4, 258-pound man could run, hit and organize a defense on the field. But even an occasional in-person observer of the
Chicago Bears
over the past decade could notice the reverential stature Urlacher held with his teammates.
If he had enemies, they never surfaced. Urlacher mixed equal doses of dry humor, man's-man competitiveness and two-way respect to keep the Bears' locker room humming smoothly and largely conflict-free during his tenure. So in the moments after Urlacher announced his retirement, I caught up with former Bears defensive lineman Dusty Dvoracek -- who now hosts a sports radio talk show on
The Sports Talk Network
in Norman, Okla. -- to get a better sense for how Urlacher managed to cast such a popular web.
"Once you became a teammate of Brian Urlacher, you would get the best teammate you could ever ask for," Dvoracek said. "He was one of the biggest superstars in the NFL, but he acted like an average Joe, even to people coming in as a rookie. That matters to people and they don't forget it.
"The first week I was there, he opened up his house and invited me over. It wasn't just me. It was everybody. Not just me. Everybody. He tried to make it as easy and as comfortable for everyone. He was very accepting if you were on his team. He wanted you to do well so the team would do well."
In big media settings, of course, Urlacher could be as grumpy as any player I've covered. His answers could be short, snippy and designed to end the questioning altogether. I told Dvoracek that it was always fascinating to me that a player who seemed as cranky as Urlacher could be so universally hailed and beloved as a leader.
"He is about as opposite of that as you can be in personal life," Dvoracek said. "He really is as nice and as kindhearted a guy as you're going to find in the NFL. A lot of guys put on a show for [the] camera, and behind it they're a jerk. I don't want to say that Brian was the reverse because I don't think he was a jerk to the cameras, but what we saw behind the scenes was genuine and real.
"I mean, he really is a happy guy. He loves to compete at everything he does. He's good at everything. It ticks you off. Whether you're playing pingpong, shuffleboard, basketball or golf, he's really good at everything he does. He's super competitive but really just likes to have a good time with the guys."
Even competitors recognized and appreciated that approach.
Green Bay Packers
quarterback
Aaron Rodgers
told
the Chicago Tribune
earlier this spring that "I always appreciated his ability to enjoy the game while being competitive. He plays the game with a lot of class and professionalism. He does it the right way."
Rodgers added that when playing the Bears, "you never had to worry about cheap shots around the pile or after the whistle. They played the right way and it was led by Brian."
Emotions always run high when a superstar retires, and those who spent time around him tend to wax nostalgic. They are already beginning the work toward cementing a legend. Based on what we've heard about Urlacher over the years, that work shouldn't be hard.
May, 22, 2013
5/22/13
11:16
AM ET
Congratulations to linebacker
Brian Urlacher
, who found peace and satisfaction with his 13-year career Wednesday rather than extending it beyond what felt organic to everyone -- most importantly him.
The assumption has always been that Urlacher, who turns 35 on Saturday, would play for the
Chicago Bears
or no one in 2013. He parted ways with the Bears in March, and on Wednesday he confirmed the latter part of that supposition. In
announcing his retirement,
Urlacher acknowledged with stark honesty that "I'm not sure I would bring a level of performance or passion that's up to my standards."
Many potential Hall of Famers change teams before ending their careers, but few were in the position Urlacher faced this offseason. The Bears appeared ambivalent at best about his return, and if he received an offer from another team, it has not been reported. In essence, Urlacher was waiting for another middle linebacker to suffer a season-ending injury or for another team to grow dissatisfied with its starter.
In either event, Urlacher would have been nothing more than a low-paid mercenary after 13 years as one of the NFL's top players. I don't blame him a bit for feeling conflicted about those prospects, especially considering the value he placed in his statement to having played exclusively for the Bears over the years.
We'll have more on Urlacher's career a bit later on the blog, including the obvious question: Will he be elected to the Hall of Fame? But for now, let's recognize and praise Urlacher for accepting his lot rather than allowing pride to cloud his judgment.