Chicago Bears:

Cam Newton

August, 9, 2013
8/09/13
10:02
PM ET
CHARLOTTE, N.C. -- Here are a few quick thoughts from Chicago's 24-17 loss to the
Carolina Panthers
on Friday in the preseason opener:
What it means:
There's still work to do on both sides of the ball. What's most important is the team came out of the game relatively injury free while still managing to get in some much-needed work.


On offense, the protection was somewhat inconsistent, which led to a sack of
Jay Cutler
, who also tossed an interception on the group's first play of the game.
"It was an unfortunate start," Cutler said. "I have to put the ball on Alshon's [Jeffery] other shoulder. We had some good stuff after that; we had some bad stuff. Typical preseason game. We just have to take a look at it and get better next week."
The first team managed to gain just three first downs in three series, but there's no denying that outside of the interception, Cutler was pretty much on target with his throws.
Cutler completed 6 of 8 passes for 56 yards and finished with a passer rating of 54.2.
"Well, other than the pick we had, we moved the ball a little bit," Bears coach Marc Trestman said. "We got a few throws in. Jay made some great throws. We caught some slants in contested throwing areas. We got a few runs in. Matt [Forte], got a couple of catches, moved the ball around. Certainly didn't do what we wanted or up to our expectations. But other than the first play and the one sack -- we've got work to do."
Defensively, the bad news was the group gave up one touchdown trying to defend a short field created by Cutler's interception, combined with a pass-interference penalty on
James Anderson
on the next play as he tried to cover former Bears tight end
Greg Olsen
. The Anderson penalty put the Panthers at the Chicago 4. Three plays later,
Cam Newton
hit
Brandon LaFell
for a 3-yard touchdown at the 10:14 mark to give the home team an early lead.
The good news is the defense put points on the board with
Jon Bostic
's 51-yard interception return at the 6:09 mark of the first quarter. Bostic filled in for injured starting middle linebacker
D.J. Williams
(calf) and while it's too soon to definitively gauge his performance (that comes after film study), the showing appeared promising.
"There were a lot of things we could do better," linebacker
Lance Briggs
said. "There were some things we did well. When we put on the tape, we'll all evaluate the things to improve on. All in all, when you are getting turnovers in the game that is very big."
Injury update:
Long-snapper Pat Mannelly suffered injured ribs when he was blindsided on a punt in the first half. The severity of that injury wasn't immediately known. Team officials took defensive tackle
Henry Melton
back into the locker room in the first quarter, where he was diagnosed with a concussion. He'll have to follow the NFL's new concussion protocol before he's allowed to practice again. It is possible Melton could be back on the field for Chicago's next practice at training camp, but unlikely given his importance to the defense. There's no need to rush him back into action.
Webb of inconsistency:
J'Marcus Webb
performed inconsistently in 2012 at left tackle, and his move to the right side for 2013 wasn't promising in the first preseason game.
During Chicago's third series of the night, Carolina defensive end
Charles Johnson
blew past Webb on the outside. In his attempt to recover, Webb overstepped outside, and Johnson cut back inside to sack Cutler along with
Kawann Short
.
Don't count out Webb just yet though. It's only the first preseason game.

Second-team sloppiness:
Josh McCown
zipped a near perfectly thrown ball to tight end
Fendi Onobun
in the end zone for what should have been a touchdown in the second quarter, but he dropped the pass. On the next play, running back
Armando Allen
fumbled after catching a pass from McCown, with
Anderson Russell
recovering for Carolina at the Panthers' 12.
Onobun has struggled to catch the ball throughout the preseason, but seemed to come on in recent practices after the team had brought in
Leonard Pope
to compete for the job. The Bears rave about his consistency, but the truth is Onobun needs to be more consistent at catching the ball if he expects to make the 53-man roster at the end of camp.
Lopsided time of possession:
Both teams played the majority of the first quarter with starters on the field on both sides of the ball, and the Panthers dominated time of possession. Carolina was 2-of-5 on third-down conversions, while the Bears finished 0-for-2 in that category. The Panthers held the ball for 9 minutes, 31 seconds in the first quarter, and the Bears held possession for 5 minutes, 29 seconds.
Bostic time?
Not yet, but the rookie definitely showed why the Bears made him their second-round pick in the draft. In addition to the 51-yard interception return for a touchdown, Bostic was credited for two tackles and a pass breakup. He's probably not ready to take over D.J. Williams' starting job in the middle, but his play should definitely raise the comfort level of the coaching staff if the rookie is forced to play in a pinch.
Bostic wasn't the only rookie to show promise. Fourth-round pick
Khaseem Greene
came into the game during the team's third defensive series and contributed two tackles, including one for lost yardage.
Frey maintains:
Second-year veteran
Isaiah Frey
maintained the momentum he's been riding throughout training camp practices with a solid outing in his first preseason game. Frey took over at the starting nickel corner when
Kelvin Hayden
suffered a season-ending hamstring injury. The youngster hasn't disappointed.
Virtually every day of practice at training camp, Frey has made a head-turning play, whether it's an interception or a pass breakup. Against the Panthers, Frey nearly picked off a
Derek Anderson
pass in the second quarter.
Briggs makes calls:
With
Brian Urlacher
now out of the picture, Briggs has taken on the responsibility of making the club's defensive calls. Briggs said it went well.
"It went smooth. I got the call, called it out to teammates, they heard it, they received it, and they played the play," Briggs said.
What's next:
The Bears receive a day off on Saturday, before hitting the practice fields at Olivet Nazarene University on Sunday for the final week of training camp. Chicago hosts the
San Diego Chargers
on Thursday night at Soldier Field for the second game of the preseason.
October, 29, 2012
10/29/12
11:55
AM ET
After the Chicago Bears' 23-22 victory over the Carolina Panthers, here are three issues that merit further examination:
ESPN.com

I don't care how favorable the matchups might have been, or the Bears believed them to be, against the Panthers' pass defense. It's hard to reconcile a game plan that called for more passes than runs in the first half. Jay Cutler was playing on a short week after his well-documented bruised ribs Monday night against the Detroit Lions. He also needed several moments to regroup after Panthers lineman Greg Hardy sacked him on the Bears' first play from scrimmage. At that point, if not before, the Bears would have been well-advised to feed a steadier diet of running backs Matt Forte and Michael Bush than they did. Cutler had 15 drop backs in the first half and was sacked six times. Forte and Bush combined for 10 carries over that stretch. I understand not wanting to limit the offense based on an injury Cutler said he could play with, and there's no doubt Cutler could have thrown the ball away a few times. But it wouldn't have been criminal to flip that run-pass ratio given Cutler's condition.

With that said, the Bears' offense deserves credit for taking exactly what the Panthers were giving it during its game-winning drive. As several have pointed out, including Panthers safety Charles Godfrey, Carolina never came out of its soft zone shell as the Bears took their yardage in small chunks on nearly identical plays. Cutler completed 5 of 6 attempts that gained between 4 and 12 yards, moving from the Bears' 22-yard line to the Panthers' 26 in two minutes, 16 seconds with only one timeout at his disposal. Cutler might be known for his aggressive downfield approach, but he smartly dialed it back on that final drive. It helps to know you have a reliable place-kicker in Robbie Gould, but there was a time in Cutler's career when he absolutely would have pressed the ball downfield against the Panthers' soft zone.

The Panthers didn't dare test cornerback Charles Tillman after he shut down the Lions' Calvin Johnson last Monday night. According to Pro Football Focus (PFF), quarterback Cam Newton targeted receivers Tillman was covering on three of his 39 attempts. (One was caught.) Cornerback Tim Jennings was obviously the Panthers' target, and according to PFF he was covering a receiver Newton threw to on 17 of his attempts. Eight of the passes were complete for 127 yards, but Jennings also intercepted two of the passes -- returning one for a go-ahead touchdown -- and deflected another away. As we approach the season's midpoint, I think we can safely say the Bears have the NFL's best cornerback tandem. Both are on the way to the Pro Bowl. But here's a real question: Should Tillman and Jennings be the NFL's first-team All-Pro cornerbacks?
And here is one issue I still don't get:
When will the Bears get to the receiver rotation we all expected when the season began? Brandon Marshall and Earl Bennett have long histories with Cutler and he clearly trusts them without reservation. Regardless of Devin Hester's big-play potential, I think it's pretty clear the Bears are best suited to use Marshall, Bennett and rookie Alshon Jeffery -- when he returns from a fractured hand -- as their three-receiver set. Sunday, Hester played 40 snaps (73 percent) and Bennett 37 snaps (67 percent) on offense. Based on what I saw, Bennett is healthy and ready to leapfrog Hester on the depth chart.
October, 25, 2012
10/25/12
11:41
AM ET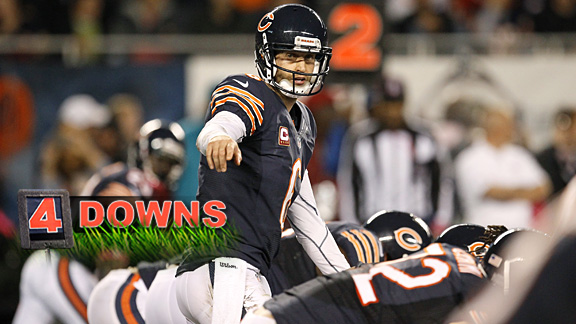 AP Photo/Charles Rex ArbogastJay Cutler said his sore ribs affected his throwing in the second half against the Lions.
Jay Cutler
says his sore ribs, courtesy of the Lions'
Ndamukong Suh
, won't keep him out of Sunday's game against the
Carolina Panthers
. And the injury didn't prevent him from finishing the Bears' 13-7 victory over Detroit on Monday night.
But Cutler admitted his ribs affected his throwing and, in turn, the Bears' game plan in the second half. Are they in for more of the same against the Panthers? Our panel weighs in on that and more:

Fact or Fiction: The Bears should be concerned about Cutler's ribs on Sunday.
Jeff Dickerson: Fact. How can you not be concerned about a potential injury to your franchise quarterback? Cutler has made it clear he's going to start the game, but offensive coordinator Mike Tice should be mindful about calling too many pass plays if the protection is shaky early in the game. The last thing the Bears want to do is expose Cutler to greater injury with the meat of their schedule coming up in two weeks that begins with a home date against the Houston Texans. I'm not saying Cutler and the Bears should avoid throwing the football, but they need to be smart with how they use the quarterback, at least in this game.

[+] Enlarge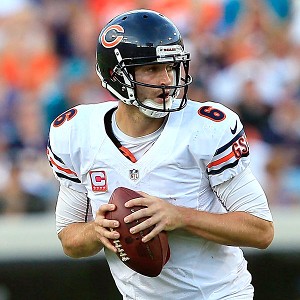 Sam Greenwood/Getty ImagesJay Cutler says his sore ribs won't keep him out of Sunday's game against the Panthers.
Michael C. Wright: Fiction. Cutler said he'd be ready to go on Thursday, and I'm going to take his word on that. Besides, we all know of Cutler's reputation for toughness. It's worth noting that even Cutler said the rib injury in the second quarter against the Lions affected his ability to throw in the second half. But five full days of healing should be sufficient for Cutler to play Sunday against the Panthers with no ill effects. He'll definitely feel some pain when he has to drop back and really let it rip on outs and deep balls. But I'm not sure it'll be so painful that Cutler will be negatively affected.

Scott Powers: Fact. It's nice for Cutler to say he'll be fine against the Panthers, but I'd be concerned if I was Lovie Smith. Cuter didn't look like he was comfortable throwing the ball in the second half against the Lions. Aside from his performance this Sunday, I'd also be worried if he takes any more hits there. It's not like the offensive line has all of sudden made him untouchable. The Lions got to him plenty on Monday.

Jon Greenberg: Fiction. This is assuming he's healthy enough to play, of course. The Bears wouldn't take a chance on starting him otherwise, I assume. Cutler wears a flak jacket for protection, and I can imagine the Bears will protect him as well with extra blocking help. The key, as it is with every team, is to get an early lead and ride the running game. If Cutler can play, he can play. No need to baby him. As we know, he's tough, right?


October, 3, 2011
10/03/11
3:50
PM ET
After the Chicago Bears' 34-29 victory Sunday over the Carolina Panthers, here are three issues that merit further examination:
Kevin SeifertThe Bears and their respected defense take a seat in the examination room following Sunday's win.

How important is it for this Bears team to emphasize its running game? ESPN Stats & Information produced some stunning numbers to answer that question. The Bears had nine possessions Sunday in which they ran at least one offensive play. On the four that resulted in a score, the Bears had an 84-16 run-pass ratio. On their non-scoring possessions, the Bears' ratio was 38.5-61.5. It's yet another example of how important it is for the Bears to establish the run -- and what happens when they can't or don't try.

It might not make the Bears feel any better about it, but theirs isn't the only respected defense to get gashed by the Panthers. They allowed quarterback Cam Newton 374 passing yards and the Panthers a total of 543 offensive yards, 40 yards short of the Bears franchise record. But Newton has thrown for more yards in his first four starts than any quarterback in NFL history. I'm not walking away from Week 4 in a panic over the Bears defense. But I do think the Bears are hoping veteran safety Chris Harris (hamstring) returns shortly. Fluctuation in the safety lineup has left the them looking a little disorganized in the back end. New safety Brandon Meriweather appeared to be at fault for leaving Steve Smith wide open on a 53-yard reception. Harris should be able to help settle that down.

Every now and then, the Bears provide a clinic in the value of innovative and explosive special teams. Simply put, they wouldn't have won Sunday without them. We all know that Devin Hester returned a punt 69 yards for one touchdown and set up another with a 73-yard kickoff return. But the final few minutes of the game would have looked a lot different had Julius Peppers not blocked Olindo Mare's 34-yard field goal in the third quarter. Yes, Mare's kick was low. But the Bears have too many games like this to consider it good fortune. Their special teams keeps opponents off balance like few, if any, others.
And here is one issue I still don't get:
The Bears have either decided to place the franchise tag on tailback Matt Forte this offseason or they are costing themselves some money by delaying a contract extension. I'm not sure which one it is yet. But his value for this team has never been higher. Forte has 263 rushing yards on 41 attempts in the Bears' two victories this season. He has 51 yards on 19 carries in their two losses. Obviously, additional factors were at play in those games. But it's hard to dispute the significance of those numbers.
October, 2, 2011
10/02/11
1:37
PM ET
CHICAGO -- Several times in the past few weeks,
Chicago Bears
head coach Lovie Smith talked about the importance of picking things up in the return game.
It finally happened.
Devin Hester
exploded in the second quarter against the
Carolina Panthers
on Sunday, propelling the Bears to a 24-20 halftime lead over Ron Rivera and the Panthers.
With the score tied 10-10, Hester gave the Bears great field position on a 73-yard kickoff return, handin the offense the ball on the Panthers 36-yard line. After
Jay Cutler
hit
Roy Williams
on a 15-yard completion,
Matt Forte
scored on a 17-yard rushing touchdown.
The next time Hester touched the ball, he ran back a punt 69 yards for a touchdown. For Hester, it marked his 11th career punt-return touchdown, a new NFL record.
Carolina tied the game at 10-10 when quarterback
Cam Newton
ran the ball around the right end for a 1-yard touchdown. The score was set up thanks to another breakdown by the Bears in deep coverage. This time the culprit was safety
Brandon Meriweather
, who allowed Carolina veteran receiver
Steve Smith
to get behind the defense and haul in a 53-yard pass from Newton.
Smith, who became the all-time leading receiver in Panthers history in the first half, later connected with Newton on a 26-yard strike that led to the rookie quarterback's second touchdown run of the half. This time, Newton ran a quarterback draw up the middle and took it in from the 2-yard line.
Smith finished the first half with six receptions for 132 yards, while Newton completed 13 of 20 passes for 199 yards.
Panthers kicker
Olindo Mare
kicked a 39-yard field goal with six seconds left in the half to cut their deficit to four points.
September, 29, 2011
9/29/11
3:42
PM ET
LAKE FOREST, Ill. --
Chicago Bears
linebackers
Brian Urlacher
and
Lance Briggs
marveled at the performance of
Carolina Panthers
quarterback
Cam Newton
over the first three weeks, saying those games would still be impressive even if it was a veteran lining up under center instead of a rookie.
The fact remains, however, that Newton is a rookie playing just his fourth NFL game Sunday when the Panthers face the Bears at Soldier Field. The Bears plan to defend accordingly.
Read the entire story
.
September, 28, 2011
9/28/11
4:44
PM ET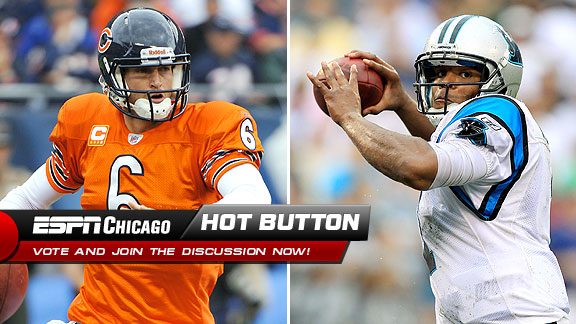 US Presswire, Getty Images
Cam Newton has had a record-setting start, and Jay Cutler is still trying to live up to his potential. Who would you want as Bears quarterback right now?
Hot Button: Vote!
September, 28, 2011
9/28/11
12:36
PM ET
LAKE FOREST, Ill. -- Carolina Panthers rookie quarterback Cam Newton understands how much Sunday's game means to head coach Ron Rivera.
Read the entire story.
September, 27, 2011
9/27/11
3:20
PM ET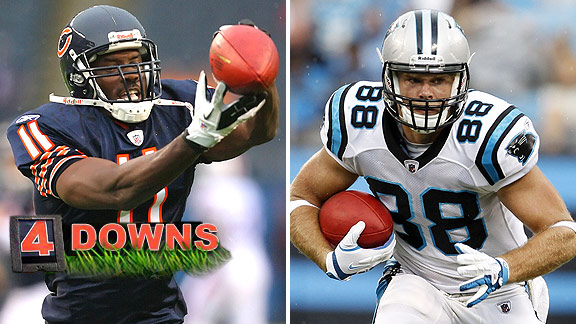 US PresswireRoy Williams has struggled with the Bears while Greg Olsen is coming off his best game with the Panthers.
The
Bears
' brutal three-game stretch to open the season ended Sunday with a 27-17 loss to the
Green Bay Packers
. As Lovie Smith likes to say, the first quarter of the season ends Sunday against the
Carolina Panthers
, and the Bears have a chance to get to 2-2.
But there are plenty of issues worth pondering before then, and our ESPNChicago.com roundtable weighed in on a few in this week's Four Downs:

Fact or fiction: The Bears need to end the Roy Williams experiment.
Jeff Dickerson, Bears reporter: Fact. There is zero chemistry between Williams and Jay Cutler. None. The groin injury can't be used as an excuse because even before Williams got hurt in Week 1 he failed to show anything of substance in training camp or the preseason. He dropped a sure touchdown against the Packers, and his lack of effort on a few other throws was unacceptable. At this point, the Bears would be better served giving Johnny Knox all the game reps. Knox might drop some passes, but at least he runs full-speed while doing it.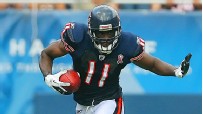 Michael C. Wright, Bears reporter: Fiction. Three games into the season? Seriously? Williams is playing on bad wheels, which is part of the reason for his struggles thus far. But if you look at that game against the Packers, yes, Williams was targeted four times, and he was unable to come up with a catch. But three of those passes were off the mark. The slant in the end zone, however, he should have hauled in for a touchdown, no doubt about it. But I'm not ready to ship a guy out of town for dropping one ball while trying to play injured. Williams is still as good or better than any of the receivers on the roster.

Jon Greenberg, columnist: Fiction. Williams didn't catch a pass in his second game with the Bears, but only one, a touchdown drop, was without a doubt, his fault. Maybe he's not running the right routes, but the two picks Cutler threw while targeting Williams looked uncatchable. Maybe Williams should've broken them up, but give him a little more rope before we send him to the gallows. Williams had a decent first game before suffering a groin injury.

Melissa Isaacson, columnist: Fiction -- for now. But that doesn't necessarily mean all season. I'm not saying cut Williams, but if significant improvement isn't evident soon, as in a couple more games, he certainly doesn't have to start. Granted, Jay Cutler had a bad day accuracy-wise against the Packers. But he should not have been as far off target as he was to Williams, if the receiver was where he was supposed to be. Even last year's ho-hum corps, especially with the return of Earl Bennett, would be addition by subtraction.


---

Fact or fiction: Lovie Smith needs to get more involved in the offensive game plan and play-calling.
Jeff Dickerson, Bears reporter: Fiction. Lovie Smith is a defensive coach. Now, as the head coach, Smith certainly shares his views on offense with Mike Martz and the assistants. But you can't expect him to start calling plays at this stage of his career. If the Bears wanted an offensive minded head coach, they should've hired one in 2004. Smith knows defense. Martz is supposed to know offense. Supposed to.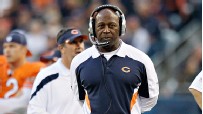 Michael C. Wright, Bears reporter: Fiction. As the head coach, Smith's job is to delegate, and let his coordinators handle their responsibilities. Otherwise, what's the team paying them for? If anything, Smith should get offensive line coach Mike Tice more involved in the game-planning and play-calling. Tice actually has the chops to be an offensive coordinator in this league, and his influence in Jacksonville was a big reason the Jaguars led the league in rushing from 2006-07 with an average of 154.1 yards per game. Put it this way, if Tice had more say in the play-calling, the offense would resemble the "Bear football" everyone constantly talks about.

Jon Greenberg, columnist: Fiction. Offense isn't Lovie's bag, is it? Yes, he should remind Mike Martz to run the ball, but let's not get crazy about a power struggle for the play-calling. While the Bears need to run the ball more, for Cutler's health especially, it's not as if the lanes were open early for Matt Forte.

Melissa Isaacson, columnist: Fiction. Mike McCarthy can call his own plays, handle his other responsibilities and obviously pull it off. But Smith isn't an offensive coach, and if he needs to yank the Mike Martz's headset away, then both should be fired -- Smith for hiring him and Martz for failing so miserably. That does not mean Smith should not exercise more authority than he seems to be when Martz strays off course, but no, he is not the answer offensively.


---

Fact or fiction: The Bears miss tight end Greg Olsen.
Jeff Dickerson, Bears reporter:Fact. Trading Olsen to Carolina makes absolutely no sense if the Bears are going throw the ball 40 times a game. So now all of sudden, the Bears want the tight end to be a threat in the passing game? What happened to the great emphasis on the blocking tight end? The Bears made a major mistake, not just shipping Olsen off to the Panthers, but also releasing Desmond Clark. If you're going to throw the ball, these two guys should've been on the opening day roster.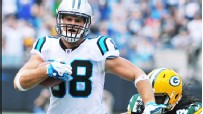 Michael C. Wright, Bears reporter: Fact. With Earl Bennett out of the lineup, the Bears are missing the target quarterback Jay Cutler has total faith in. Olsen wasn't what you'd call a world beater in Chicago, but he was the huge target Cutler could count on underneath whenever he was under duress. Olsen averaged 10.2 yards per catch in 62 games with the Bears, and presented matchup problems for opposing safeties. He didn't provide much as a blocker. But when the team was creative and moved him around, Olsen was a valuable weapon.

Jon Greenberg, columnist: Fiction. Olsen didn't fit in this offense, and he wasn't good enough to make a dramatic exception. Splitting Olsen out wide didn't create any Jermichael Finley-type mismatches. He was pretty reliable, sure, but he only caught 41 passes last season. He was replaceable. It's fun to blame the early struggles of the Bears' offense on a personnel absence, but Olsen wouldn't have changed much thus far.

Melissa Isaacson, columnist: Fact. Few would imagine the Bears missing Olsen, which speaks to the current state of their offense. But especially with the absence of Bennett, Cutler clearly needs a go-to guy. His impressive catch and touchdown run aside, Kellen Davis has three catches for 55 yards and a touchdown. Davis, like Matt Spaeth, is there for blocking, but there hasn't been an abundance of that either. Davis whiffed badly on what resulted in a sack on Sunday. Although Olsen was never known for his blocking, he could at least catch third-down passes and was reliable in the red zone.


---

Fact or fiction: I would take Cam Newton over Jay Cutler as Bears QB right now.
Jeff Dickerson, Bears reporter: Fiction. Cutler is a traditional NFL quarterback with a big arm. Newton is off to a good start, don't get me wrong, but I worry about a quarterback that runs the ball so much. It will eventually catch up to him. Cutler is the smarter choice, although I'm beginning to wonder how much longer he'll last in Martz's offense. Plus, you can't expect Newton to step in his rookie year and run this system with any degree of success. Heck, Cutler can't do it after a full year around Martz.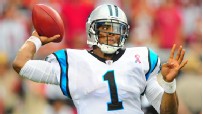 Michael C. Wright, Bears reporter: Fact. I'll be the one to say it: Give me Cam. It's just a matter of personal preference in this case, and I know folks will start with the lack of weapons and bad offensive line excuses. But in 71 games over five years with the Denver Broncos and Bears, Cutler hasn't done anything to suggest he's an elite quarterback. And for what the Bears gave up (two first-rounders) and are paying Cutler, he should be just that -- an elite quarterback -- and not what he is -- a player with an "elite" skill set, and 32-33 record as a starter. Three games into his NFL career, Newton already has two 400-yard passing games, while Cutler has one over five-plus seasons. Newton also strikes me as a natural leader, and a guy willing to do anything to win. I just haven't seen those same intangibles from Cutler. Besides that, I think we've pretty much seen the best of Cutler, while Newton still hasn't fully tapped his potential.

Jon Greenberg, columnist: Fact. Does Cutler look ready to take the Bears to the Super Bowl? No. So the immediacy of "now" is overrated. Newton's fast start has temporarily obscured the problems he will have this season as a rookie quarterback, but I would absolutely take him over Cutler right now. The unknown in Newton is definitely better than the known in this case. And I bet a straw poll of the locker room would find a closer vote than one would think.

Melissa Isaacson, columnist: Fiction. Newton has upside like Cutler has critics. But three NFL games does not an NFL career make, and Martz's system could very well ruin Newton just as it is dragging down Cutler. Considering the current condition it is in, the Bears' offense could swallow up and spit out any quarterback, particularly a young one.
April, 18, 2011
4/18/11
11:37
AM ET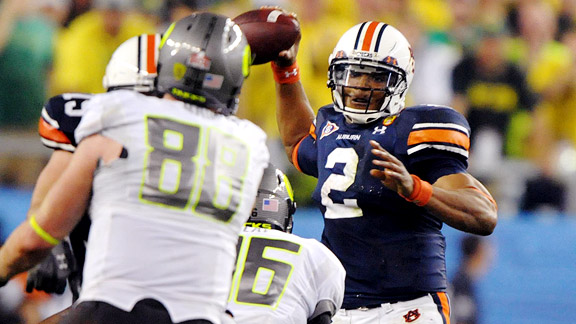 Kirby Lee/US PresswireCam Newton is the most intriguing QB prospect, but it's not a position of need for the Bears.
The presence of
Jay Cutler
and promising youngster
Caleb Hanie
push quarterback way down the priority list in terms of the
Chicago Bears
' positions of need heading into next week's NFL Draft.
But that doesn't mean the Bears won't consider adding a developmental prospect late in the draft if one piques their interest.
With Hanie solidly entrenched as the No. 2 quarterback, the team could be looking to upgrade at the No. 3 spot, given the shaky performance delivered by veteran third stringer
Todd Collins
in the NFC title game.
The next 10:
11. Greg McElroy, Alabama, 6-2, 220; 12. Taylor Potts, Texas Tech, 6-4, 218; 13. Josh Portis, California (Pa.), 6-3, 211; 14. Scott Tolzien, Wisconsin, 6-2, 212; 15. Adam Weber, Minnesota, 6-1, 209; 16. T.J. Yates, North Carolina, 6-3, 219; 17. Nathan Enderle, Idaho, 6-4, 240; 18. Ryan Colburn, Fresno State, 6-3, 233; 19. K.J. Black, Prairie View A&M, 6-2, 227; 20. Jerrod Johnson, Texas A&M, 6-5, 251.
Position grade:
B
Analysis:
With several teams around the league opting for a two-quarterback roster, the Bears could decide to stand pat regarding the position in the draft. But the team kept three quarterbacks on the roster in 2010, and could be looking to upgrade the No. 3 spot, currently occupied by veteran Todd Collins.
Bears coach Lovie Smith made it clear that Caleb Hanie earned the No. 2 spot with his performance filling in for Jay Cutler during the NFC title loss to the
Green Bay Packers
. Still, the coach says the club won't hesitate to add another signal caller if he thinks it upgrades talent on the roster.
The Bears used a sixth-round pick in 2010 on Downers Grove native
Dan LeFevour
, but the former Central Michigan star didn't pan out, and the team released him during final cuts. So if there's an intriguing developmental prospect available late in the draft or in rookie free agency (once a new CBA is completed), the Bears are likely to consider taking another shot at a young signal caller.
ESPNChicago's positional breakdowns
DT
|
OT
|
G
|
C
|
DE
|
RB
|
WR
|
QB
|
TE
|
S
|
LB
|
CB
|
K/P
February, 24, 2011
2/24/11
10:30
AM ET
INDIANAPOLIS -- It figures to be a busy NFL Combine for Ron Rivera.
The former Bears defensive coordinator and current Carolina head coach inherits a team fresh off a 2-14 season. Barring a trade, the Panthers will select No. 1 overall in the upcoming draft, and without a proven quarterback on the roster, there is speculation Carolina could draft Heisman Trophy winner
Cam Newton
.
"As far as skill set goes, the young man has tremendous physical talents," Rivera said Thursday at Lucas Oil Stadium. "He's got natural size, the ability to run, a tremendous arm, and a pretty good pocket presence already. He's well on his way, but again, we've got to go through that process. We're going to be at his workout, we'll bring him in obviously and visit with him and go through that whole process to get a feel for what he already knows and how well he'll learn."
Many consider the first pick a curse, considering all the guaranteed money (in the old CBA) and expectations that accompany every player selected No. 1. Because so much is at stake, Rivera vows the Panthers will look closely at players' backgrounds.
Newton and Auburn were the subjects of an NCAA investigation last year over allegations Newton's father tried to solicit money from Mississippi State during his son's recruitment.
"The process will be very extensive," Rivera said. "We will go through it, explore every avenue and we also keep an open mind to the fact that a lot of the things these guys do, they do when they're 18 years old. To judge people, without realizing they've grown, would be unfair. We're going to try and keep an open mind with everybody we do this process with.
"There are eight to ten young guys right now [we're looking at]. By the time we get done, that number may dwindle down or stay up there. But we will go through the process."