Chicago Bears:

Cedric Griffin
February, 17, 2012
2/17/12
12:56
PM ET
Our friends at Football Outsiders have put together a series previewing each NFL team's offseason needs, using their unique statistical analysis to support their assertions
. Football Outsiders' work

requires an Insiders subscription to view in full, a contradiction that always elicits a giggle from
NFC East colleague Dan Graziano
. But I'm authorized to provide you a snippet from each of our teams. Herewith:

Chicago Bears:
Most everyone has the Bears pegged to pursue wide receivers in free agency and/or the draft, and Outsiders doesn't discount that possibility. But based on its analysis of the Bears' 2011 season, offensive tackle should be the Bears' top priority. Left tackle
J'Marcus Webb
allowed 10 sacks and was "among the worst [left tackles] in the league." The Bears' running game, meanwhile, was stuffed for a loss or no gain on 24.1 percent of its runs, a "catastrophic" figure blamed mostly on poor run blocking.

Detroit Lions:
Like the Bears, Outsiders thinks the Lions need to upgrade their offensive line more than anything else. Based on Outsiders statistics, the Lions had the second-worst run-blocking offensive line in the NFL in 2011. Center
Dominic Raiola
and right guard
Stephen Peterman
were particularly to blame. Outsiders' analysis suggested that running backs
Jahvid Best
and
Kevin Smith
actually had above-average seasons based on the yardage available to them.

Green Bay Packers:
We all know the Packers need more pass rush; Outsiders ranked them last in the NFL in its adjusted sack rate (ASR) in 2011. Outsiders' analysis suggests the pass rush would improve if the Packers focus their upgrade efforts along the defensive line, giving it better push up front but also opening up lanes for linebacker
Clay Matthews
.

Minnesota Vikings
: Perhaps "the worst secondary in the league." That should tell you all you need to know. Here's one of many sobering statistics from 2011: Cornerback
Cedric Griffin
allowed an average of 10.5 yards on every pass thrown in his direction, and teams had a 38 percent success rate against him. Both totals were among the bottom five of all cornerbacks in Outsiders' statistical study.
July, 6, 2010
7/06/10
8:45
AM ET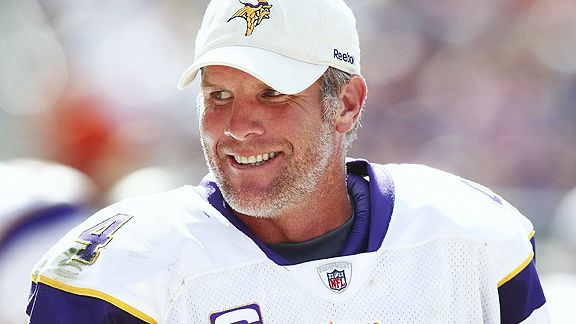 Joe Robbins/Getty ImagesAs usual, Brett Favre's decision on his future controls the Vikings' offseason headlines.
Intel on the
Chicago Bears
opponents creeps its way onto the blog today, which marks the beginning of a four-day look at the NFC North.
Talking to reporters who regularly cover Chicago's divisional opponents, we asked each of them to thoroughly break down the teams they cover, providing both strengths and weaknesses.
We kick off the series with the
Minnesota Vikings
by asking
Judd Zulgad of the Minneapolis Star-Tribune
for five concerns his team faces this season, in addition to five issues the team shouldn't have to worry about:
Five things the Vikings need to worry about
1. Brett Favre:
We all think it's 99 percent certain he's coming back. But until he is officially back, that's got to be No. 1 on the list. As it is, he's not gonna be there at the start of camp.
[+] Enlarge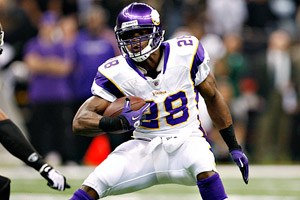 Matt Stamey/US PresswireAdrian Peterson's fumbling problems are a concern for the Vikings.
2. Adrian Peterson:
It's been well documented that he's had problems holding on to the football, and that's a killer. He skipped mandatory minicamp to be at "Adrian Peterson Day", and didn't take part in offseason activities with the team. That's not a huge deal, but somewhere along the line he needs to address this issue and the fumbling. Teams are targeting the football when he carries it.
3. Finding Chester Taylor's replacement:
Taylor wasn't a starter, but he is a huge loss. The fact they lost him in the division hurts even more. He played a ton on third down, and took a load off Peterson. Peterson still isn't great at pass protection. So on third downs in two-minute situations Chester [Taylor] was used a lot. That security blanket is now gone, and it's definitely a concern.
4. Safeties Madieu Williams and Tyrell Johnson:
Williams, who they paid a lot in free agency, and Johnson, who was in his first year as a starter last season, didn't exactly perform up to par. They need to take a step up, or the Vikings need to give serious consideration to a guy like
Jamarca Sanford
. The safeties lacked aggressiveness at times. The game in Chicago, when the Vikings played the Bears,
Jay Cutler
bowled over Williams, which was definitely embarrassing. The safeties need to take a step forward.
5. Cornerbacks Cedric Griffin and Antoine Winfield:
Griffin tore an ACL in overtime of the NFC Championship game, and Winfield missed six games, and was severely hampered by a broken foot last season. The Vikings signed
Lito Sheppard
, and my assessment is Griffin might not be ready to start the season. So health of the cornerbacks is a concern. They need at least one of those guys to be ready this season.
Five things not to worry about
[+] Enlarge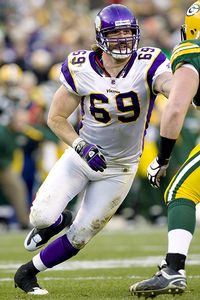 Jeff Hanisch/US PresswireJared Allen has 29 sacks in two seasons with the Vikings.
1. Jared Allen:
He had 14½ sacks last season, which was his second season with the Vikings. He's had 29 sacks over the past two seasons. Statistically, he's an elite pass-rushing right end. That's been huge because the Vikings haven't had that for so many years. He plays so many snaps and rarely comes out, it's really a luxury to have him because they don't really have to worry about that position.
2. The availability of DTs Kevin Williams and Pat Williams:
That [Star Caps] case has been tied up for so long, it looks like there's no way this thing gets to court again until after the season. There shouldn't be a lot of concern about them missing time. The Vikings don't have a lot of concern about those two guys being suspended.
3. Sidney Rice:
It's a little bit of a wildcard, but physically, he looked like he made huge strides last season. He had 83 receptions and eight touchdowns. Even if Favre doesn't return, Rice has pretty much established himself as potentially an elite receiver. Sure, the Vikings have
Bernard Berrian
. But Rice looks like the team's top receiver now.
4. Ryan Longwell:
This isn't a sexy one, but Longwell has more than proven himself as far as placekicking goes. He's just incredibly consistent. He made 26 of 28 field goals and 54 of 55 extra points. The Vikings have the luxury of not having to worry about a field-goal kicker, and that's a nice thing to have. It's worth mentioning that Longwell is entering the final season of his contract. It's unclear whether he will be back after this season.
5. Linebackers Chad Greenway and Ben Leber:
They are about as steady as it gets. Both have been consistent at their positions, and both are entering what looks to be the last year of their contracts. Greenway has gotten nothing but better as he has progressed. There's some question about when middle linebacker
E.J. Henderson
will return from his broken left femur. So the stability of at least having so much consistency on the outside is important.