Chicago Bears:

Charles Martin
March, 5, 2012
3/05/12
1:21
PM ET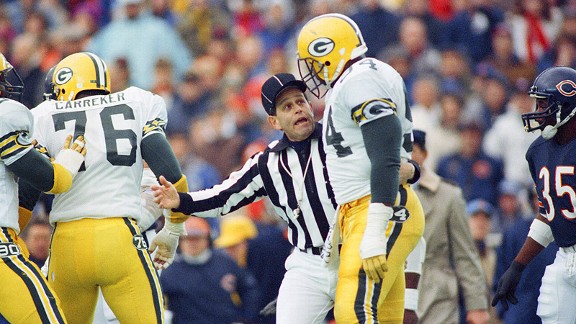 AP PhotoCharles Martin was able to cross No. 9 off his list after body slamming Jim McMahon in 1986.
Chicago Bears Hall of Famer Dan Hampton doesn't buy for a second that the Green Bay Packers didn't impose a bounty on the heads of various Bears in the season following Chicago's Super Bowl XX win.
"Charles Martin ... he put numbers on his towel to take away all pretense of [not having] a bounty," Hampton said Sunday.
It was Nov. 23, 1986 at Soldier Field, in the team's second meeting of the season, and Martin wore a white towel on his belt with the numbers of several Bears, including quarterback Jim McMahon, who was playing with an injured throwing shoulder.
McMahon was walking toward the sideline following an interception by Packers cornerback Mark Lee in the second quarter when Martin, Green Bay's nose tackle, grabbed McMahon and threw him to the turf, where he landed on his right shoulder.
Bears tackle Jimbo Covert responded by knocking Martin to the ground and referee Jerry Markbreit immediately ejected Martin, who received a high-five by cornerback Mossy Cade as the crowd rained boos on the Bears rivals.
McMahon remained in the game but later underwent surgery, was lost for the remainder of the season and the injury had long-term repercussions on his career.
The Bears believed the Packers had put a bounty on the heads of several of their players, but safety Ken Stills, in an interview with ESPNChicago.com in October of 2010, denied the charge.