Chicago Bears:

Chris Houston
May, 28, 2013
5/28/13
5:32
PM ET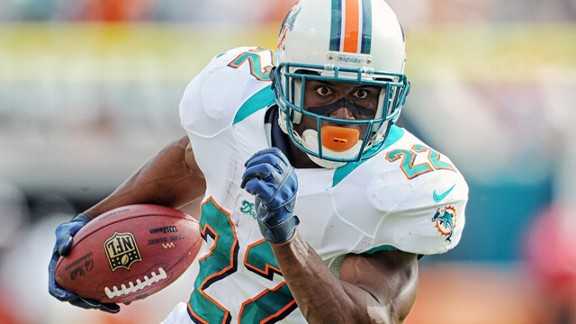 Ronald C. Modra/Sports Imagery/Getty ImagesIt's one thing for Reggie Bush to talk about titles, but it's another for the Lions to win them.
While the groundwork for every NFL campaign is primarily laid in the offseason, championships are never won in May.
But organizations need to set lofty goals. Have you ever heard of an NFL team striving for mediocrity?
So while a part of me wants to cringe when I read Lions defensive tackle
Nick Fairley
quoted in the Detroit News saying that his team is "going to the Super Bowl", or watch a video of Detroit running back
Reggie Bush
tell reporters that he signed with the Lions "to win championships," the reality is that every NFL player should feel that way about the prospects of his respective club this time of the year.
October, 25, 2012
10/25/12
4:32
PM ET
No NFC North teams appeared on
John Clayton's list of the NFL's 10 worst contracts
, and I really can't come up with an obvious nomination. There are no abominable contracts in this division at the moment, at least none any team entered by choice that will limit its flexibility moving forward.
Some of you might note the five-year, $25 million contract the
Minnesota Vikings
gave tight end
John Carlson
last spring. Carlson has played sparingly (27.2 percent of snaps), caught three passes and is currently sidelined by a concussion. But as
Tom Pelissero of 1500ESPN.com
points out, the Vikings could void his contract after this season (provided he is not still injured) for a modest $4 million cap hit.
[+] Enlarge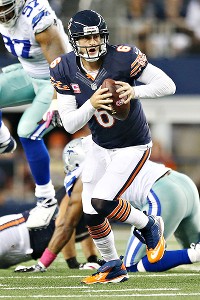 Matthew Emmons/US PresswireJay Cutler's contract is up following the 2013 season.
What Clayton's project did bring to mind is that the NFC North is primed for three monster-truck contracts that will be the types of deals that entire salary caps are structured around. For different reasons, quarterbacks
Jay Cutler
,
Aaron Rodgers
and
Matthew Stafford
are all closer to new contracts than you might have realized.
Cutler's deal with the
Chicago Bears
expires after the 2013 season. He's making $8.2 million this year and is due to make $8.9 million next season. Would the Bears go into 2013 with their franchise quarterback in a free-agent year? It wouldn't be ideal, and if they want to avoid it, they would need to address it this offseason.
We've discussed Rodgers' situation
several times.
He is signed through the 2014 season but has obviously outperformed a deal that will pay him $9.75 million in 2013 and $11 million in 2014. You would assume it's a matter of when, not if, Rodgers gets a new deal. The current benchmark is the five-year, $100 million contract the
New Orleans Saints
gave quarterback
Drew Brees
.
Stafford's situation, meanwhile, is no less urgent even though he is technically signed through 2015. The final year of his deal is voidable and, more importantly, Stafford is due to count $20.320 million against the
Detroit Lions
' 2013 salary cap after two years of renegotiations. The Lions could conceivably deal with a cap number that high, but you wonder if they'll seek an extension in order to lower his cap hit over the next few years. They will have a busy offseason given the pending free agency of seven starters: cornerback
Chris Houston
, safety
Louis Delmas
, linebacker
DeAndre Levy
, defensive tackle
Corey Williams
, right tackle
Gosder Cherilus
, linebacker
Justin Durant
and place-kicker
Jason Hanson
.
Investing in a franchise quarterback is usually a sound policy, but it'll be costly in each instance.
October, 18, 2012
10/18/12
10:02
AM ET
We're Black and Blue All Over:
After a tough and physical game last Sunday at Lincoln Financial Field, the Detroit Lions have begun preparations for Monday night's game against the Chicago Bears with only two healthy cornerbacks.

The Lions aren't required to issue an injury report until Thursday at 4 p.m. ET, but as
Dave Birkett of the Detroit Free Press
notes, rookie Bill Bentley (shoulder) and veteran Jacob Lacey (concussion) appeared to sit out Wednesday's practice. Both players didn't return after suffering their injuries against the Eagles. That left veteran Chris Houston and rookie Jonte Green as the only healthy cornerbacks on the 53-man roster.
Fellow rookie Chris Greenwood was activated from the physically unable to perform (PUP) list this week but hasn't yet been added to the 53-man roster. It would be asking a lot for him to be ready to play Monday night.
The Bears aren't expected to have their full arsenal of receivers Monday night because of Alshon Jeffery's fractured hand, as
ESPNChicago.com's Michael C. Wright
notes, but the Lions appear shorthanded for the moment regardless.
Continuing around the NFC North:
August, 28, 2012
8/28/12
1:15
PM ET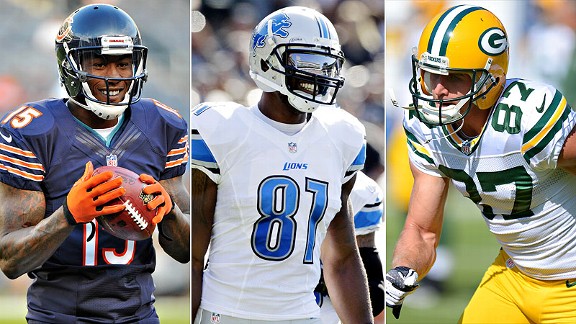 US PresswireBigger receivers like Chicago's Brandon Marshall, Detroit's Calvin Johnson and Green Bay's Jordy Nelson present unique challenges for the division's defensive backs.
You've already read half of this story. Surely you're aware of the increasing size disparity between NFL pass-catchers and cornerbacks. That train has left the station, and there's no going back.
So here's what I'm interested in: Assuming they don't plan to forfeit the season, how will NFC North cornerbacks and coaches deal with what looks like an increasingly one-sided matchup?
I spent part of
CampTour'12
asking cornerbacks, receivers and coaches a version of that question. After all, the
Chicago Bears
' acquisition of receiver
Brandon Marshall
means that each of our teams has at least one receiver taller than 6-foot-2 and one or more tight ends who stand at least 6-4. In total, the division boasts six "big" receivers and seven "big" tight ends based on those qualifications, as the first chart shows.
On the other hand, there are only three NFC North cornerbacks taller than 6-feet among the 12 expected to make up each team's primary rotation. (See second chart.) Cornerbacks don't always match up in single coverage against big receivers, and bigger safeties often take on tight ends. But at some point there is no choice. Eventually, NFC North teams will have a 5-foot-9 cornerback assigned to a 6-foot-4 receiver, a height differential of more than half a foot.
Most everyone engaged thoughtfully on the issue, and below I've categorized their thoughts in three ways. Let's take a closer look.
Muscle up or play off?
The game is football, of course, so the instinct of many cornerbacks is to get physical with big receivers -- especially at the line of scrimmage and even as the ball approaches. That approach is almost always a mistake, NFC North cornerbacks agreed.
"A guy that big, you don't want to be too aggressive with him,"
Green Bay Packers
cornerback
Tramon Williams
said. "You want to feel him, but you don't want him to feel you. As a big receiver, he wants you to be aggressive. That's his thing. He can push you off and do things like that. He can get separation and get you off your stride. So you don't want to be too aggressive with guys like that."
Instead, cornerbacks often are best served to "stalk" bigger receivers as they run downfield.
"They love for a little guy to get physical so they can body you," said
Detroit Lions
cornerback
Chris Houston
, who spends most practices matched up on 6-foot-5 receiver
Calvin Johnson
. "You've got to be smart, use your technique throughout the game. You can body them sometimes, but the majority of the time, they like for you to try to get in there. Their arms are much longer, so they can get you before you get them. You've got to be smart on your technique and stay disciplined."
The NFC North's shortest cornerback is
Antoine Winfield
of the
Minnesota Vikings
, whose reputation as a physical tackler overshadows the fact that he rarely tussles with receivers until after the ball arrives.
"I like to play off," Winfield said. "It's hard for me to be fighting with a guy who is 6-4, 6-5 at the line. He has the advantage. The first thing he is probably going to do is run at me, grab me, throw me to the side and take off."
Thinking back over his career during training camp, Marshall said "every guy plays a little differently." But Marshall could identify only one cornerback who deliberately got physical with him at the line of scrimmage: the
Denver Broncos
'
Champ Bailey
, who is just shy of 6-foot.
"A guy like that, he loves to go against big guys," Marshall said. "He trusts himself."
Everybody jump, jump
What Bailey and many other cornerbacks lack in height, however, they try to make up with timing and leaping ability. Bears coach Lovie Smith, in fact, said that vertical jumps are one of the most important attributes he seeks in defensive backs.
"Once the receiver gets off the ball," Smith said, "and he gets in position and the ball is thrown up in the air, just throwing it up high and it's a jump situation, that height and that vertical is going to come into play. And for us, most of our DBs have good verticals. They're 36-[inches] plus, 37-plus for a reason.
"If you have a good vertical, eventually if the ball is in the air, you can go out there and get it. I just don't think it's a gimmee just because you have a tall receiver and the cornerbacks are shorter. Most of the guys in the league are playing under six feet at the corner position and they're making a lot of big plays."
Indeed, the Bears employ two cornerbacks shorter than 5-10 --
Tim Jennings
and
D.J. Moore
-- among their top three. Jennings recorded a 37 1/2-inch vertical jump at his scouting combine, Moore hit 39 1/2.
Charles Tillman
, who at 6-1 1/8 is the second-tallest cornerback in the division, had a 40-inch vertical leap.
"You never concede a jump ball," said the Packers' Williams, whose vertical has been recorded at 41 inches. "I've always been confident in my jumping ability. Me, personally, I haven't had many jump balls caught on me."
Of course, big receivers watch film and usually know who the good jumpers are. Packers receiver
Jordy Nelson
said there are ways to maintain the height advantage against a cornerback who can jump.
"When we watch them, we see how they can play a deep ball," Nelson said. "If we know that so-and-so is out there, we know that you really have to attack the ball in the air. He is going to go up and get it. You've got to go compete for it. You can't let it come down and try to catch it over your shoulder. There's things like that that we watch."
In the absence of jumping ability, Vikings coach Leslie Frazier said, shorter cornerbacks must rely on extraordinary quickness and speed. The Vikings, for example, this year drafted the player who ran the fastest 40-yard dash at the 2012 scouting combine, Central Florida cornerback
Josh Robinson
(4.33 seconds). Robinson is 5-foot-9 1/2.
"What we try to find is a guy who is extremely quick," Frazier said. "Sometimes you can out-quick guys who are long striders, and they're usually better a little bit down the field. If you can offset some of that with the quickness and you are a gnat, just harassing them, that helps."
Scheme
Coaches can play an important role in equalizing the physical mismatch as well. Although it is bound to happen at some point, the least appealing way of defending a big receiver is putting him in a pure man-to-man matchup with a cornerback.
"There are things you can do where you don't get isolated in coverage," said Lions coach Jim Schwartz, whose top four cornerbacks are all shorter than 5-10. "You're playing man but you get a double team from somewhere, and so you're not playing the 'whole' man. You're not playing that whole 6-foot-3 receiver. You're only playing a portion of him. Those ways can be significant."
If you're not in position to double-team, the Bears' Smith said, zone concepts usually work better in physical mismatches. Players in man coverage usually turn their backs to chase the receiver they're assigned to, while players in zone are taught to keep receivers in front of them so they can watch the quarterback.
"It helps to play a little bit more zone," Smith said, "where you have your defensive backs with their eyes on the ball. When you're short and you're playing man-to-man and you have your back to the quarterback, there's a lot of things going against you in that situation."
So where does this leave us? When I spoke with Marshall about this topic, he smiled and said he didn't want to give up any secrets for exposing height mismatches. In truth, however, there aren't many.
Cornerbacks must play smart, both in technique and within the scheme. They need a physical attribute, especially jumping ability, that helps compensate for their height disadvantage. And they need to realize that, no matter what approach they take, NFC North teams are going to utilize their big receivers to complete plenty of passes. The defense that can best minimize the impact of those completions will put its team in position for the NFC North title.
June, 20, 2012
6/20/12
11:45
AM ET
SportsCenter's divisional analysis moves to the NFC North on Tuesday night (ESPN2, 7 p.m. ET). We've already discussed our most versatile players as well as potential breakout players, so let's give our television pals a pre-show primer on the biggest improvement (and regression) each division team made this offseason:

Chicago Bears: Enhanced comfort zone for quarterback Jay Cutler
In detail:
The Bears fully committed to Cutler three years after acquiring him from the
Denver Broncos
. They finally gave him a full complement of promising receivers, most notably his all-time favorite in
Brandon Marshall
. Cutler will have his choice of big downfield threats, be it Marshall or rookie
Alshon Jeffery
, and
Devin Hester
has drawn rave reviews for his work within the team's new concepts. Coach Lovie Smith hired one of Cutler's favorite former coaches, Jeremy Bates, as quarterbacks coach, and offensive coordinator Mike Tice has liberally assimilated thoughts from Bates and Cutler into his scheme. For the first time the Bears feel like Cutler's team.

Biggest regression:
The Bears' top four defensive players -- linebacker
Brian Urlacher
, defensive end
Julius Peppers
, linebacker
Lance Briggs
and cornerback
Charles Tillman
-- all got a year older without the team acquiring a potential heir at any of their positions. (Rookie defensive end
Shea McClellin
is projected to fill the Bears' spot opposite of Peppers.)

Detroit Lions: Insurance and a long-term plan at left tackle
In detail:
The Lions mostly stood pat this offseason, making it their top priority to keep together a nucleus that earned a playoff spot three years after the franchise bottomed out at 0-16. They accomplished that goal by reaching contract agreements with receiver
Calvin Johnson
and linebacker
Stephen Tulloch
while franchising defensive end
Cliff Avril
. Retaining young players with room for growth counts as an improvement, but most notably, the Lions hatched a legitimate plan for the end of left tackle
Jeff Backus
' career. First-round draft choice
Riley Reiff
could replace Backus this season if necessary but could also get a year to develop. Regardless, it's a rare luxury for a team to have a legitimate succession plan in place at left tackle.
Biggest regression:
It might not qualify as a step back, but the Lions didn't do much to improve a secondary that struggled for large portions of the 2011 season. Nickel back
Aaron Berry
will compete with free agent acquisition
Jacob Lacey
to start opposite
Chris Houston
, and the Lions appear set to give safety
Amari Spievey
one more chance to lock down a long-term job.

Green Bay Packers: Adding juice to their defensive front
In detail:
As we discussed in May
, the Packers devoted a large portion of their offseason to elevating the energy and competition along their defensive line. They hope to manage the playing time of nose tackle
B.J. Raji
more efficiently by calling on rookies
Jerel Worthy
and
Mike Daniels
, along with eventual contributions from
Anthony Hargrove
(eight-game suspension) and
Mike Neal
(four-game suspension). The Packers have also signed
Phillip Merling
, a former second-round draft pick of the
Miami Dolphins
, and veteran
Daniel Muir
.

Biggest regression:
The Packers had near-ideal insurance at quarterback when
Matt Flynn
was their backup quarterback. Presumptive replacement
Graham Harrell
has extensive experience in the Packers' system and has been widely praised by coaches this offseason, but no one has suggested he is the equivalent of Flynn just yet.

Minnesota Vikings: A better situation for a young quarterback
In detail:
Quarterback
Christian Ponder
will have a blue-chip left tackle in rookie
Matt Kalil
protecting his backside and two proven pass-catchers for mid-range passing in tight ends
Kyle Rudolph
and
John Carlson
. The Vikings have also added a receiver who can stretch the field in
Jerome Simpson
, who will be eligible to play in Week 4 after an NFL suspension, and might have unearthed a draft steal if Arkansas'
Greg Childs
is healthy. The offense is far from a finished product, but it is staffed much better at multiple positions than it was in 2011.
Biggest regression:
The Vikings appear to have cast aside
E.J. Henderson
, their middle linebacker for most of the past decade. For now, that means they are hoping to make fourth-year player
Jasper Brinkley
their new starter. Brinkley played decently when he started four games as a rookie in 2009, but he missed all of 2011 because of a hamstring injury and coaches are waiting for him to turn it loose this spring.
February, 7, 2012
2/07/12
3:33
PM ET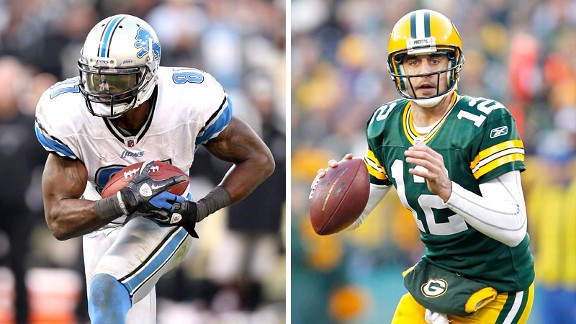 Getty ImagesCalvin Johnson, left, and Aaron Rodgers were easy picks for the All-NFC North team.
It took longer than expected. Preliminary decisions were questioned. Debates extended into the wee hours. We went through a first draft, then a second and even a third. Countless observers were consulted. It wasn't until I had a full week to
mull the 2011 All-NFC North team
that I was prepared to make the big reveal.
Via Twitter,
@jpberthiaume
asked: "Do people really care about these 'teams?'" I guess it's a fair point. I doubt few, if any, of the players listed in the chart wrote a fifth-grade essay about their plans to one day make the All-NFC North team on ESPN.com, even if it was only because the NFC North hadn't yet been formed in those days and ESPN.com was operating out of a Bristol-based closet.
So I'll let you be the judge. This is annually a fun exercise, even if it doesn't lead to a deep understanding of the human condition or even reveal any breakthroughs about the just-completed season. If nothing else, it offers us a blank template to recognize the best-performing players in the division without the hindrance of the politics and reputation.
Some notes on some of the tight decisions, for which I seriously received input from multiple angles:
One of the fiercest debates came at wide receiver. Everyone agreed that the Detroit Lions' Calvin Johnson deserved one spot, but there was a split about the other two. Did the Green Bay Packers' Greg Jennings, who missed three games because of a knee injury, deserve an automatic bid? And if he did, should the Packers' Jordy Nelson or the Minnesota Vikings' Percy Harvin get the third spot? I thought Jennings' 67 receptions, 949 yards and nine touchdowns in 13 games merited a spot. And ultimately I chose Nelson over Harvin. I realize Harvin caught 87 passes in a punchless offense and added 345 rushing yards to his total, but in the end I couldn't overlook a player who scored more touchdowns (15) than all but four players in the NFL this season. Plus, as Hatterbot pointed out: "Rushing yards don't count in the WR category."

I went with the Lions' Rob Sims at left guard in part on the advice of John McTigue of ESPN Stats & Information, who noted that Sims was the only NFC North left guard to play the position for 16 games this season. Sims also had the best pass-sack ratio (19.7 passes per sack) of the group, based on video study.

There is no doubt that the Lions' Brandon Pettigrew (83 catches) had a more productive season than the Packers' Jermichael Finley (55). But the Lions often used Pettigrew as a substitute for their punchless running game, and that's why his per-catch average of 9.4 yards was lower than any other tight end with at least 30 catches. According to ESPN Stats & Information, the average pass to Pettigrew this season traveled 6.5 yards in the air. The average pass to Finley traveled 11.4 yards. Finley caught five passes of at least 30 yards. Pettigrew's longest was 27. Both players had their share of drops, combining for a total of 15, but I thought Finley made a bigger impact on his catches than Pettigrew did.

I really debated the Bears' Julius Peppers and the Lions' Cliff Avril at defensive end. Avril (11.5) had a half-sack more than Peppers (11) and forced twice as many fumbles. But one of the advantages we have on this team is investigating beyond the conventional numbers. Our friends at Pro Football Focus (PFF) credited Peppers with 53 quarterback pressures, the second-highest total in the NFL. Avril ranked No. 8 with 37, but in a close race I chose the maximum number of plays impacted over Avril's slight edge in "playmaking" statistics.

I used a similar approach in choosing the Vikings' Kevin Williams and the Lions' Ndamukong Suh as my defensive tackles. It's true that the Bears' Henry Melton led the NFC North's defensive tackles with seven pressures, but PFF had Suh with 27 quarterback pressures, an NFL high for an interior lineman. Williams tied for No. 3 with 25. Melton wasn't that far behind at 23, but I also took into account that the Bears nearly benched him for inconsistency at one point in the season. (Coach Lovie Smith in November: "He hasn't showed up as much. Whether teams have adjusted to him or whatever, we need to get more production from him because he's capable of it.") Meanwhile, I thought Packers defensive lineman B.J. Raji took a step backward in 2011. PFF credited him with only 10 stops (the cumulative number of plays made that constitute an offensive failure) in 842 snaps.

If you want to say I chickened out at linebacker, go ahead. I originally left open the middle and one of the outside spots, but in the end I went with our division standbys: Brian Urlacher and Lance Briggs. For starters, Briggs was one of six non-offensive linemen to play 100 percent of his team's snaps in the NFL this season. There's something to be said for being available to your team. And while I do think that the Packers' Desmond Bishop and the Lions' Stephen Tulloch had good seasons, I couldn't find a statistic or an opinion that convinced me they were better than Urlacher. Someday, there will be turnover among NFC North linebackers. But it didn't happen this season.

Safety play was poor throughout the NFC North, so I'm not at all ashamed to have chosen a third cornerback to replace one of the safeties on this team. It came down to the Lions' Chris Houston and the Packers' Tramon Williams. Both had their ups and downs in coverage. Houston had five interceptions and two touchdowns in 14 games, while Williams had four interceptions and one touchdown in 15 games. In the end, I chose Williams because I think it was pretty clear he was pushing through a really limiting shoulder injury for much of the first half of the season.

I chose the Packers' specialists, kicker Mason Crosby and punter Tim Masthay. Crosby converted 24 of 28 kicks, including a 58-yarder, and ranked third in the NFL with 49 touchbacks. Masthay downed a division-high 23 punts inside the 20-yard line despite a division-low 55 punts.

I mistakenly left off a coverage specialist from our original post. There should be no debating that the Bears' Corey Graham deserves that spot.

Go ahead. Rip away....
Coming later this week:
Some supplementary NFC North awards, including our top coordinators.
December, 23, 2011
12/23/11
12:33
PM ET
»
NFC Final Word
:
East
|
West
|
North
|
South
»
AFC
:
East
|
West
|
North
|
South
Five nuggets of knowledge on Week 16:
Busted rivalry:
When the NFL released its schedule this spring, many of us had high expectations for a late-December matchup between the
Green Bay Packers
and
Chicago Bears
. Instead, an injury-devastated Bears team will limp north
as a (deserved) 13-point underdog
. It's possible the Packers will have clinched home-field advantage even before taking the field Sunday night, if the
San Francisco 49ers
lose Saturday at the
Seattle Seahawks
. If not, the Packers will attempt to secure it against a team playing without quarterback
Jay Cutler
, running backs
Matt Forte
and
Marion Barber
, and receiver
Johnny Knox
. Third-string running back
Kahlil Bell
is expected to start, pairing with third-string quarterback
Josh McCown
-- who has a history of helping the Packers' playoff positioning. (See:
Noooooooooooooooo!
) One other interesting bit of history: The Packers are one of five teams in NFL history to open a season 13-0 and then lose in their 14th game. All four of the other teams lost their 15th game, too. That list includes the 2009 and 2005
Indianapolis Colts
, the 2009
New Orleans Saints
and the 1998
Denver Broncos
.
[+] Enlarge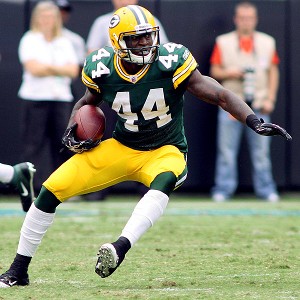 Jeremy Brevard/US PresswireGreen Bay's James Starks is expected to play Sunday against the Bears.
Packers' run game:
For several reasons, Sunday night's game would be an obvious target for the Packers to try to enhance their running game.
James Starks
(ankle) and
Brandon Saine
(concussion) are expected to return. The Packers will start a makeshift offensive line that likely will include
T.J. Lang
at right tackle and
Evan Dietrich-Smith
at left guard; the best way for offensive linemen to get comfortable is via run blocking. And it's also worth repeating that the Bears historically have done a good job limiting Packers quarterback
Aaron Rodgers
' downfield opportunities. According to ESPN Stats & Information, Rodgers has completed only five of 26 attempts on throws against the Bears that traveled in the air 21 yards or more. He's thrown for one touchdown, a game-winner to receiver
Greg Jennings
in 2009, and two interceptions on those passes.
Detroit's challenge:
The
Detroit Lions
will clinch a playoff spot Saturday if they beat the
San Diego Chargers
in what will likely be a raucous atmosphere at Ford Field. (There are also several scenarios to clinch this weekend even if they lose.
They're noted in this post
.) Hopefully everyone knows the Chargers are on one of their annual December rolls. They've won three consecutive games after a six-game losing streak. Since Norv Turner took the head coaching job in 2007, the Chargers are 20-2 in December. This will be no cakewalk.
Big targets:
Chargers quarterback
Philip Rivers
struggled earlier this season, but he has been the NFL's most efficient quarterback over the past three weeks based on Total Quarterback Rating. Rivers has hit a groove with a pair of 6-foot-5 receivers that will pose significant matchup problems for the Lions.
Malcom Floyd
has 11 receptions for 233 yards and two touchdowns over the past two games, while
Vincent Jackson
has caught 12 passes for 211 yards and a touchdown. Jackson has been sidelined in practice this week by a groin injury. Lions cornerback
Chris Houston
(knee) clearly wasn't 100 percent last week against the
Oakland Raiders
, and the team re-signed
Brandon McDonald
this week for extra depth. Safety
Louis Delmas
(knee) also remains sidelined, and backup
Chris Harris
was cleared Thursday to practice following a concussion.
Make it stop:
If you're a big-picture observer, you see ample motivation for the
Minnesota Vikings
to lose Sunday at the
Washington Redskins
. One more victory by the Indianapolis Colts, in conjunction with two more Vikings defeats, would give the Vikings an excellent chance to secure the No. 1 overall pick of the 2012 draft. A loss to the Redskins would extend the Vikings' losing streak to seven games, tying a franchise record set in their expansion season of 1961. But I'm not sure what would be worse: tying that record or extending their NFL record of games without an interception, which stands at nine. Redskins quarterback
Rex Grossman
has thrown at least one interception in his past 10 starts, and he is tied for the second-most interceptions in the NFL (18) despite missing three games this season. Something's got to give.