Chicago Bears:

Cullen Jenkins
October, 8, 2011
10/08/11
3:02
PM ET
Your conversation on the NFC North's
most significant player departure
centered mostly around three players: Defensive lineman
Cullen Jenkins
, receiver
Sidney Rice
and tight end
Greg Olsen
.
A few other names surfaced, including linebacker
Nick Barnett
and center
Olin Kreutz
. But Barnett in essence departed midway through last season, replaced more than capably by
Desmond Bishop
, and it's hard to argue that the
Chicago Bears
offensive line is in worse shape without Kreutz than it was when it contributed to 56 sacks with him last season.
Jenkins is an interesting case. He was not a full-time player last season, starting eight games, but none of you have forgotten his seven sacks and the apparent impact it had on the
Green Bay Packers
' No. 1 pass defense (based on opponents' passer rating). This season, the Packers' pass rush has been limited and opponents have the NFL's 15th-best passer rating against Green Bay's defense.
Mavajo
wrote Jenkins is "the only key difference between this year and last year. … You gotta put 2+2 together and figure that's why." Added
tearloch
:
"I will say that last year the Packer D was noticeably better with Jenkins in the lineup as opposed to without him, especially on run D. This year, with the big leads they have had for most of the games, the run D, IMO, has been artificial inflated by minimum attempts against, much like the end of last year (playoff run). It will be interesting to see how the GB run D holds up when truly tested. I think Jenkins is sorely missed in GB. His replacements are doing an OK job, but Jenkins was a really good player, but his age and injury history, as well as contract demands, made him expendable."
Jenkins has four sacks in four games this season for the
Philadelphia Eagles
. Rice, on the other hand, has piled up 188 receiving yards in two games with the
Seattle Seahawks
.
Biglamb7474
thinks Rice is "the obvious choice" and added that the
Minnesota Vikings
have been forced to make
Percy Harvin
their No. 1 receiver "even though his talents are much more emphasized in the two spot."
Biglamb7474 added: "The loss of Rice also gave an already declining [quarterback Donovan] McNabb even that much less to work with. ... I mean, did the Vikings even once pay attention to what happened in Washington last year when McNabb was inserted into an offense with a mediocre receiving corps at best? Rice is a big and fast sure-handed receiver in a league that has transformed into one in which defense is becoming less important and elite offenses (particularly the air attack) are essential."
Wrote
severs28:
"They have no one to stretch the field right now, and when healthy, Sidney Rice is a premier wide receiver. I mean, he has better stats in two games than any Vikings receiver through four? And it's not like he went to New England or Green Bay. Seattle has a terrible o-line, and Tarvaris [Jackson] as a QB. He would have at least those numbers for Minnesota."
[+] Enlarge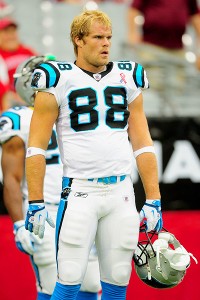 Mark J. Rebilas/US PresswireGreg Olsen has re-established himself as a downfield threat with Carolina.
Meanwhile, the Chicago Bears' decision to trade Olsen to the
Carolina Panthers
generated more debate than I thought it would.
Tearloch
wrote: "Olsen's trade was not a good move, IMO. However, I don't think it is fair to compare his production in Carolina to what the current Bears are doing. Even if Olsen was still a Bear, I don't think his production would be any better than what the current Bears players are doing. It is still [offensive coordinator Mike] Martz running the show, and he does not care for TEs, regardless of their talent. "
Added
DaBearz84:
" Olsen is not as missed as Kevin would like us to believe. The reason that no one on the Bears team has more then 12 receptions is because [quarterback Jay ]Cutler can't get enough time to throw the damn ball."
On the other hand,
Jveyron19
thinks Olsen was "the biggest loss from a 'team' aspect" because the Packers "have enough playmakers to fill in the gap that Jenkins pass rush."
My take?
I agree that Olsen wouldn't have the same numbers with the Bears that he does with the Panthers. But to me, that's a big problem.
I don't think pass protection alone is to blame for the Bears' anemic pass offense thus far. Let's just say that Cutler doesn't always have a bevy of open receivers to choose from. Olsen has re-established himself as a downfield threat, as well as a sure-handed check-down receiver, and if used properly would absolutely help alleviate some of the Bears' issues.
The Bears traded Olsen rather than require Martz to find a way to incorporate him into his offense. Given what he could have offered them, and the mess he's left behind to this point, I think that makes his departure the most significant thus far in the NFC North.
July, 7, 2010
7/07/10
8:25
AM ET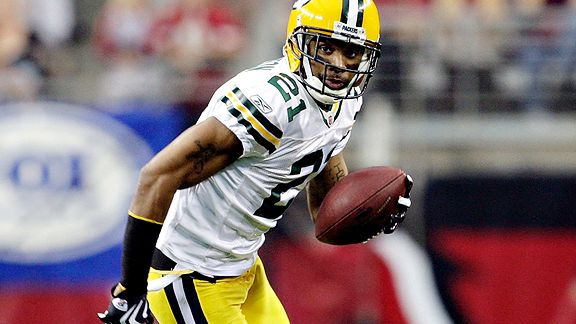 Jamie Squire/Getty ImagesA new offseason workout plan should make reigning defensive player of the year Charles Woodson even more dangerous.
Thanks for stopping in to check out Day 2 of our series on the NFC North, in which we tap the brains of beat reporters around the division to get the skinny on their teams.
We took a
look at the Vikings
on Tuesday with Minneapolis Star-Tribune reporter Judd Zulgad.
We move onto Green Bay today with
Milwaukee Journal-Sentinel Packers reporter Greg Bedard
.
Five things the Packers need to worry about
1. Special teams:
The Packers claim they will improve on special teams this season, and that should happen almost by default. But will this group improve simply through better coaching (with the same staff)? The unit needs to cut down on penalties. The Packers continue to go the cheap route at punter, and neither option has kicked in so much as an exhibition game. Indications are that
Mason Crosby
is still suffering a confidence problem.
2. Depth at outside linebacker:
The Packers should be fine with
Brad Jones
at left outside linebacker, although he needs to show enough to keep double teams off
Clay Matthews
. The real worry is behind them. If Jones or Matthews is injured, the Packers have zero depth. That's not a good thing at a crucial position in the 3-4.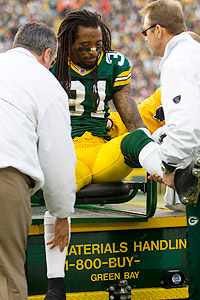 Jeff Hanisch/US PresswireHow cornerback Al Harris recovers from an injured knee will be crucial for the Packers.
3. Al Harris' health:
The Packers put a lot of money into cornerback with Harris,
Charles Woodson
and
Tramon Williams
. The group -- if intact -- should be one of the league's best. But if Harris isn't the same player after knee surgery,
Pat Lee
or
Brandon Underwood
will need to be better.
4. Offensive line slow out of the gates:
The Packers are notorious for getting off to slow and sloppy starts on the offensive line under coach
James Campen
. That can't happen anymore. If it does, it could torpedo the season, like it nearly did last season.
5. Overall team mindset:
For whatever reason, the 2009 Packers got full of themselves, and their performances suffered. Just ask Woodson about the mindset going into the Cardinals playoff game. This team plays better with an edge and its backs against the wall. The Packers have to find a way to handle all the Super Bowl hype better. On the flip side, the Packers, starting with general manager Ted Thompson, look like they're getting a bit tight [due to the Super Bowl hype]. That stance has a tendency to filter down to the players, and negatively affect the on-field product. The Packers need to find a way to strike the right balance.
Five things not to worry about
1. Donald Driver's age:
Driver's play tailed off toward the end of last season, but offseason scopes on his knees should help immensely. The Packers are a better offense with Driver, 35, in the mix. Nobody else can do the dirty work he does.
2. Left guard:
Incumbent
Daryn Colledge
is a lot better than Packers fans (and some of the coaches) want to give him credit for. Does he need to be more consistent? Yes. But he might be the best left guard in the division.
Jason Spitz
should be ready to compete for the job as well.
3. Whether Bryan Bulaga plays:
The Packers drafted Bulaga in the first round with a year down the road in mind. He's not ready to unseat
Chad Clifton
, and Bulaga has never played guard before. Bulaga needs to just concentrate on learning left tackle because at some point Clifton won't be able to answer the bell.
4. Defensive line depth:
Whether the troubled
Johnny Jolly
is on the Packers' roster at the start of training camp, the club still has more than enough depth between
Ryan Pickett
,
B.J. Raji
,
Cullen Jenkins
,
Mike Neal
,
C.J. Wilson
, and, perhaps,
Justin Harrell
.
5. Charles Woodson slowing down:
The reigning NFL defensive player of the year, Woodson looks like he's ready for a repeat after taking part in an offseason routine for the first time that used boxing. The leader of the Packers' defense, Woodson should make even more plays this season with a healthy supporting cast around him.