Chicago Bears:

Dan Hampton
March, 5, 2012
3/05/12
1:21
PM ET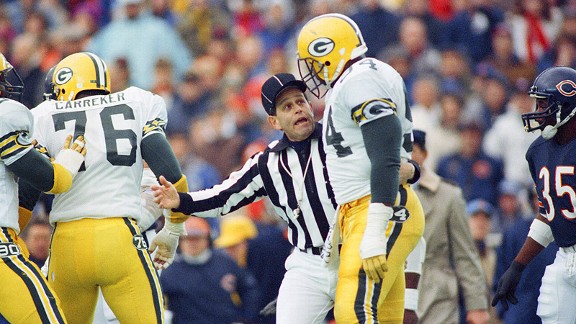 AP PhotoCharles Martin was able to cross No. 9 off his list after body slamming Jim McMahon in 1986.
Chicago Bears Hall of Famer Dan Hampton doesn't buy for a second that the Green Bay Packers didn't impose a bounty on the heads of various Bears in the season following Chicago's Super Bowl XX win.
"Charles Martin ... he put numbers on his towel to take away all pretense of [not having] a bounty," Hampton said Sunday.
It was Nov. 23, 1986 at Soldier Field, in the team's second meeting of the season, and Martin wore a white towel on his belt with the numbers of several Bears, including quarterback Jim McMahon, who was playing with an injured throwing shoulder.
McMahon was walking toward the sideline following an interception by Packers cornerback Mark Lee in the second quarter when Martin, Green Bay's nose tackle, grabbed McMahon and threw him to the turf, where he landed on his right shoulder.
Bears tackle Jimbo Covert responded by knocking Martin to the ground and referee Jerry Markbreit immediately ejected Martin, who received a high-five by cornerback Mossy Cade as the crowd rained boos on the Bears rivals.
McMahon remained in the game but later underwent surgery, was lost for the remainder of the season and the injury had long-term repercussions on his career.
The Bears believed the Packers had put a bounty on the heads of several of their players, but safety Ken Stills, in an interview with ESPNChicago.com in October of 2010, denied the charge.
March, 5, 2012
3/05/12
11:56
AM ET
[+] Enlarge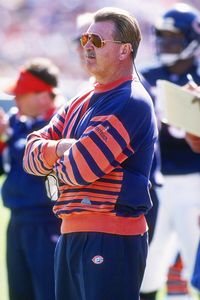 Jonathan Daniel/Getty ImagesFormer Bears coach Mike Ditka said he would have stopped any bounty if he had heard of one.
Former
Chicago Bears
coach Mike Ditka said he would have stopped any bounties if he learned of them, but there were money pools based on different statistical categories.
"Not that I know of," Ditka said when asked if bounties existed during his time as coach. "If it did happen, it would have stopped when I knew of it ...
"First of all, there's no point to it and it doesn't belong in the game. In the old days, defensive players had money pools based on tackles, sacks, interceptions, knockdowns, fumbles caused, things like that. But that's all it should have ever been. I know the story about cutting the head off a snake and the body will follow, but to try to take someone out of the game, personally I don't like it."
Hall of Fame defensive tackle Dan Hampton said the Bears didn't need bounties.
"When you have a team like we had, with nine All-Pros on defense and a regular triage of patients being brought off field, you can say these things are happening," Hampton siad. "I can see that. But on our team, we would be watching film and [defensive coordinator] Buddy [Ryan] and[defensive line coach] Dale [Haupt] and the rest of them wouldn't say, 'Oh yeah, get this guy.' But it doesn't take a genius to figure out that if
Joe Montana
was on the bench, it creates a good environment for winning the game.
May, 21, 2010
5/21/10
11:43
AM ET
For a big, tough linebacker, Brian Urlacher sure is sensitive.
Gale Sayers speaks nothing but the truth in answering questions at a banquet two weeks ago in Omaha, Neb., and next thing he knows, he is being torn apart by a guy who needs to stop getting annoyed by comments he thinks are mean and unfair and concentrate on making his team respectable.
Read the entire story.