Chicago Bears:

Darren Sharper
September, 23, 2011
9/23/11
4:27
PM ET
We're Black and Blue All Over:
Here's something that might catch you by surprise: Green Bay Packers receiver Jordy Nelson is on an extraordinarily productive run dating back to Week 16 of last season.

As
Tyler Dunne of the Milwaukee Journal Sentinel
notes, Nelson has caught 34 passes for 610 yards and five touchdowns over the Packers' past eight games, including the playoffs. Greg Jennings is the only receiver who has caught more passes for more yards over that span, but Nelson has him beat by a touchdown.
Consider this development another example of where the Packers' purported starting lineup doesn't necessarily correlate to playing time or production. Already, backup tailback James Starks is getting substantially more playing time than starter Ryan Grant. And by the numbers, at least, Nelson is the Packers' No. 2 receiver next to Jennings.
Nelson isn't getting more playing time than other receivers; according to Dunne, he was on the field for 33 of 58 plays last Sunday against the Carolina Panthers. But he is capitalizing on the opportunities he does get, and opposing defenses would be well advised to catch on.
Continuing around the NFC North:
May, 4, 2010
5/04/10
3:25
PM ET
[+] Enlarge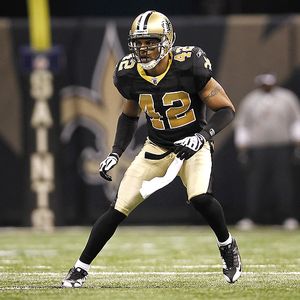 Aaron M. Sprecher/Getty ImagesDarren Sharper isn't a fan of the Cover 2 defense and has thrived in the Saints' scheme.
Q: Jeff, Why didn't the Bears make a run at Darren Sharper? Shaper and Chris Harris at safety would have been the best possible combination for this team. I think Jerry Angelo missed the boat on this one. -- Mark P., Brookfield, Ill.
A:
Mark, I respectfully disagree. It became obvious at the Super Bowl that Sharper never wanted to leave the
New Orleans Saints
. Why would he? His 2009 renaissance was due in large part to the defensive system employed by coordinator Gregg Williams, a scheme that let Shaper take chances and play center field. It's no secret Sharper struggled playing in a Cover-2 defense during his final years with the
Minnesota Vikings
, plus he has openly admitted his disdain for the system on numerous occasions. Why would he want to sign with the Bears? On top of that, Sharper underwent offseason microfracture surgery, according to ESPN NFL Insider Adam Schefter, meaning the Bears would have had to take a medical risk on an older player. No thanks.
Q: You guys talk about the Bears needing a veteran wide receiver, but didn't Torry Holt join New England last month? He seemed like an obvious choice, and put up decent numbers for Jacksonville last year. -- Curtis, Nashville, Tenn.
A:
The numbers (51-722-0) were decent for Holt in Jacksonville, but sometimes statistics can be deceiving. My ESPNChicago.com colleague Michael C. Wright used to cover the Jaguars, and chimed in with this scouting report from last season.
"The biggest number from last year was zero touchdowns. He's just not even close to being the guy he used to be. I mean, I respect the guy, because you'd watch him during the week in practice, and he could hardly run. But he always showed up on Sunday ready to play. But he also dropped a few easy balls right in his hands during games, which is weird for Torry Holt. Again, he's just not the same guy."
There you have it.
Q: I take offense to your players rankings posted on Monday. Zack Bowman in the top 10? Are you crazy? -- Don B., Harvard, Ill.
A:
Hold on. Bowman was tied for fifth in the NFL with six interceptions, and to be perfectly honest, he also dropped at least two or three easy picks during the season. If Bowman makes those additional plays, are we having the same conversation? In his first full-year in the starting lineup, Bowman made 75 tackles and broke up six passes to go a long with the six INTs, which by the way, were one fewer than everybody else on the team combined (the Bears had 13 total interceptions in 2009). I'd say in terms of talent and importance to the team, Bowman should rank in the top 10. If he can stay healthy, the cornerback may be on the verge of having an even better season in 2010.
Q: Is Kevin Shaffer the front-runner to win the left guard spot? I thought he only okay for the Bears at tackle. -- Sherman, Sycamore, Ill.
A:
I'm not sure if he's the front-runner, but I love the idea of Shaffer receiving an opportunity to earn playing time. Why not? If it doesn't work out, the eight-year veteran can backup
Frank Omiyale
at right tackle, or maybe win that job outright if Omiyale can't handle the assignment. It's not like Shaffer is hurting himself by skipping practice reps at tackle. He has played in the league for eight years, and started a total of 91 games (five for the Bears in 2009). He knows what he's doing. Plus, Shaffer's got some nice size (6 foot 5, 318 pounds), and the Bears made it a point to get bigger inside last season. I view this as a no-lose proposition for Shaffer and the Bears, and I'm eager to see how the competition at left guard unfolds during training camp.
Q: JD, I love the early reports on Major Wright. I watched this kid at Florida, and he's going to be a stud. Could he go down as the best third-round pick ever under Jerry Angelo? -- Rich, Tampa, Fla.
A:
That would quite the accomplishment for Wright, because two of the better players taken by Angelo since 2002 were in the third round:
Lance Briggs
(2003) and
Bernard Berrian
(2004). However, in recent years, that round hasn't produced much of an immediate impact:
Dusty Dvoracek
(2006),
Garrett Wolfe
(2007), Michael Okwo (2007),
Earl Bennett
(2008),
Marcus Harrison
(2008),
Jarron Gilbert
(2009) and
Juaquin Iglesias
(2009). After doing little as a rookie, Bennett had a quality year last season, while Harrison just hasn't quite put it all together yet. I think there's a good chance Wright makes a bigger impact than any third-round selection since 2004, but whether or not he can reach the level of Briggs and Berrian remains to be seen.
March, 11, 2010
3/11/10
12:44
PM ET
Like the
Bears
, the
Dallas Cowboys
are looking for help at the safety position, and two names familiar to Chicago fans are also surfacing in Big D:
O.J. Atogwe
and
Darren Sharper
.
The Dallas Morning News reports Atogwe is on the Cowboys' radar, although no official visits of any sort have been scheduled. A restricted free agent who was given the low tender (right of first refusal), the
St. Louis Rams
would have an opportunity to match any offer extended to their star safety. Conventional wisdom suggests St. Louis is simply waiting for a team to try and sign Atogwe, that way the Rams could match it without setting the market for the five-year veteran.
Meantime,
Tim MacMahon of ESPNDallas.com
believes the Cowboys should make a run at Darren Sharper -- who recently underwent minor offseason knee surgery. Sharper could be a nice fit in Wade Phillips' 3-4 defense, but as we've stated before, he shouldn't be an option to play in the Cover 2 in Chicago.
March, 1, 2010
3/01/10
12:43
PM ET
The Chicago Bears have stated that their offseason priority is safety, and one of the NFL's best, Darren Sharper, is on the market after the New Orleans Saints decided not to franchise him.


So could there be a match?


"Anywhere is an option," Sharper said Monday on "The Waddle & Silvy Show" on ESPN 1000. "Coach Lovie Smith, I have the utmost respect for him. I've played against him for many years and seen how he's built that program in Chicago. I'm a firm believer in what he's doing up there. I love the Chicago fans. Wherever I go I want to go to a great fan base, and Chicago has one of the best fan bases in all of the NFL."


February, 15, 2010
2/15/10
1:58
PM ET
[+] Enlarge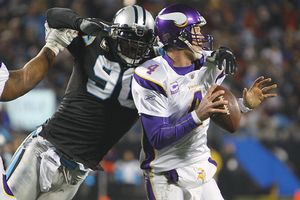 Bob Donnan/US PresswireJulius Peppers may be worth a look for the Bears.
BY JEFF DICKERSON


CHICAGO -- Last year's quick signing of Frank Omiyale showed the Bears aren't necessarily always in the market for big-name free agents. That may again hold true this spring, since a likely uncapped year in 2010 has dramatically reduced the amount of talent available on the open market.


When it comes to free agency, the Bears' major needs are as follows: defensive end, wide receiver, running back, guard and cornerback.


The Bears also need help at the safety position, but after going through the NFLPA Projected 2010 Free Agents packet, only two names make much sense: Darren Sharper and Ryan Clark. We already know Sharper is not a fan of playing in a Cover 2 defense, plus he might be given the franchise tag by New Orleans, so he is probably out of the mix. Clark would be an instant upgrade in the defensive backfield, and is known for his ferocious hitting style. It's unclear whether Pittsburgh can afford to keep two high paid safeties (Clark and Troy Polamalu), but Clark has publicly expressed a desire to return to the Steel City.


Since the Bears always feel they can find a safety in the draft, we would not be surprised if that's the route they take when it comes to filling this need. All the top safeties are restricted free agents -- Antoine Bethea, Nick Collins, Roman Harper, O.J. Atogwe and Bernard Pollard -- and likely off-limits to the Bears.


Taking safety out of the free-agent equation, here are some unrestricted free agents who may be worth looking at.



**Note -- This list can change due to roster cuts, franchise tags, etc.


Defensive end:
Julius Peppers -- Carolina Panthers
Aaron Kampman -- Green Bay Packers
Leonard Little -- St. Louis Rams
Kyle Vanden Bosch -- Tennessee Titans
Derrick Burgess -- New England Patriots **Naturally a 4-3 defensive end, but played OLB in Pats 3-4 scheme.
Jarvis Green -- New England Patriots ** A bigger end (285 pounds) in Pats 3-4 scheme.



Wide receiver:
Antonio Bryant -- Tampa Bay Buccaneers
Josh Reed -- Buffalo Bills
Terrell Owens -- Buffalo Bills
Kevin Walter -- Houston Texans
Mike Furrey -- Cleveland Browns
Chris Chambers -- Kansas City Chiefs
Derrick Mason -- Baltimore Ravens



Running back:
Kevin Faulk -- New England Patriots
Chester Taylor -- Minnesota Vikings
Willie Parker -- Pittsburgh Steelers
Larry Johnson -- Kansas City Chiefs



Guard:
Bobbie Williams (RG) -- Cincinnati Bengals
Rex Hadnot (LG/RG) -- Cleveland Browns
Chester Pitts (LG) -- Houston Texans
Stephen Neal (RG) -- New England Patriots



Cornerback:
Leigh Bodden -- New England Patriots
Dunta Robinson -- Houston Texans
Anthony Henry -- Detroit Lions
Brian Williams -- Atlanta Falcons
Ken Lucas -- Seattle Seahawks
Dre' Bly - San Francisco Forty-Niners
February, 3, 2010
2/03/10
3:17
PM ET
By JEFF DICKERSON


MIAMI -- Wednesday's quote of the day was provided by Saints safety Darren Sharper, who was asked if New Orleans' defense deserves the reputation of being dirty.


"We don't know if we want to call ourselves dirty, but I think I said this before -- it is like taking a shower when you get up in the morning and are going to cut your grass," Sharper said. "You are nice and fresh when you cut the grass, but at the end you have a little griminess to you. We want to call ourselves a little grimy; not dirty all the way, but just maybe a little grimy. That is how we like to play."