Chicago Bears:

Daunte Culpepper
August, 27, 2014
Aug 27
2:30
PM ET
The first half of this team's
schedule
fits that description, considering the Bears play five of their first seven outings on the road against the 49ers, Jets, Panthers, Falcons and Patriots. If the Bears go into their Nov. 2 bye relatively healthy with a record of at least .500, the rest of the schedule sets up nicely, with just three road games remaining and the rest set for the frigid winter conditions at Soldier Field, a definite home-field advantage during the latter portion of the season.
Complete Bears season preview
.
July, 27, 2012
7/27/12
12:49
PM ET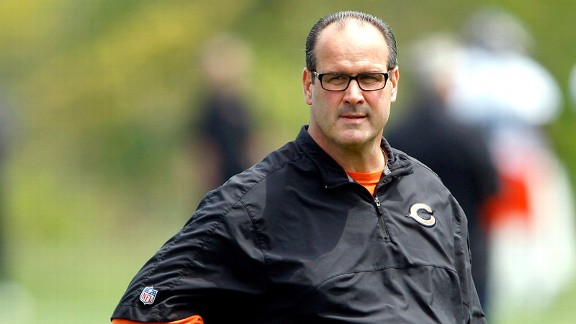 Jerry Lai/US PresswireMike Tice may have more of a role as an offensive "manager" than that of a traditional coordinator.
BOURBONNAIS, Ill. -- It shouldn't be this difficult. Finding Mike Tice on a football field should be easy. Just look up and listen.
Tice stands 6-foot-8 and has a deep voice he employs liberally during practices. It's hard to miss. So on the opening day of the
Chicago Bears
' training camp, I looked over to the spot where you normally find an NFL offensive coordinator. But as the Bears' quarterbacks warmed up, there was no Mike Tice.
I checked the receiver group. Couldn't see or hear him. Tight ends? Nope.
It wasn't until I located the offensive line that I caught a glimpse of him, my first clue that the Bears have crafted a unique -- but, I think, appropriate -- arrangement to operate their offense this season.
More than ever, NFL offensive coordinators rise from a quarterback background, developed as a player or an assistant coach or both. In the NFC North, for example, we have the
Detroit Lions
' Scott Linehan (college quarterback, quarterbacks coach) and the
Minnesota Vikings
'
Bill Musgrave
(NFL quarterback and quarterbacks coach). It's not a requirement for the job, but consider it a nod toward the increased importance of quarterbacks at this level.
Tice, on the other hand, will run the Bears' offense through the line -- a dream of many offensive line coaches that rarely comes to fruition. The idea, after the Bears spent two years struggling to meld their scheme with personnel, is to build an offense around quarterback
Jay Cutler
but operate it within the context of what the offensive line can handle.
It was an idea that initially sounded unappealing to Tice, who settled into a position coach's life over the past seven years after a rocky end to his tenure as the Minnesota Vikings' head coach. But given the opportunity to fashion the job to his strengths and expertise, Tice reconsidered.
"The more I thought about it," he said, "I thought, 'Who knows the offense we have better than I do? Who knows the line? Who knows how to protect the line better than I do? Who knows how to hide their flaws better than I do?' I've got a great relationship with the quarterback, [Devin] Hester, the tight ends, Why not?"
Based on Thursday's initial practice, and a subsequent interview, it's safe to assume Tice will spend a majority of his time with the offensive line. During practice, he'll break away only for seven-on-seven drills, leaving offensive line coach Tim Holt to run one-on-one blocking drills, and he'll spend about half of his total meeting time in the line's room. Meanwhile, newcomer Jeremy Bates will be Cutler's position coach and a key conduit of the passing game.
It would be easy to conclude, as I was prepared to, that in reality Tice is the Bears' blocking and running coordinator while Bates is the passing game coordinator. Tice, however, insisted that will not happen and said it is important "to be involved in the passing game and all facets and not just have a situation where I handle the runs and protection and someone else handles the passing game."
So how will it all work?
From what I can gather, Tice has crafted an offense that blends the power running game he learned from longtime NFL coach Joe Gibbs, elements of the West Coast passing game culled from Bates' career path and a downfield portion Tice used with the Vikings. Tice will call plays from the sideline, but he'll leave an important segment to Cutler -- who will get a pass-run option based on defensive alignments. (Tice once famously dubbed this element his "Duh offense" because it asks quarterbacks to audible to a pass when defenses are aligned against the run and vice versa.)
"We want to be able to do everything," Tice said. "We want to be able to catch and run. We want to be able to throw it deep. We want to be able to play-action, we want to be able to move the pocket. We want to be able to run the ball explosively. It's really not that different than what we did in Minnesota.
"I think Jeremy Bates has done a nice job of putting in his version of the West Coast scheme, which is nice. We melded that with the long stuff that we used to do in Minnesota and we kept our run game intact. Now we have the run game that you'll recognize. The quarterback has a lot to manage on the line of scrimmage, just like [Vikings quarterback Daunte Culpepper]. And we'll see what happens."
Without knowing the details, it's reasonable to be skeptical of an arrangement that shifts a longtime offensive line coach to the coordinator's role. But in this instance, I think it can work, especially if you consider Tice in the role of offensive "manager" rather than a traditional coordinator.
He'll make liberal use of Bates, an intense film rat who is best suited in a role of scheming by candlelight in his office. He'll rely heavily on Cutler, a veteran with strong opinions on what best suits his skills. And Tice will most assuredly do one thing that hasn't happened for at least two years in Chicago: He'll take into account the strengths and weaknesses of the offensive line when developing a game plan.
Is it unconventional? Sure. Does it have risks? Of course. But for this team at this time, it makes sense.
December, 30, 2009
12/30/09
2:41
PM ET
LAKE FOREST, Ill. -- Let's face it: Losing to the
Detroit Lions
would be a disaster for the
Chicago Bears
. Any goodwill built up after Monday's surprise victory in Detroit would immediately be thrown out the window by falling to the wretched 2-13 Lions.
"We have to build on how we played last week," defensive tackle
Anthony Adams
said. "The thing about us is, we haven't been consistent. To win two games in a row is showing progress, and showing that we can be consistent. I think you need to have the same type of effort, if not better, this week."
The Bears beat Detroit 48-24 on Oct. 4, although Lions rookie quarterback
Matthew Stafford
passed for nearly 300 yards. Stafford won't be an issue this time around -- he was placed on injured reserve on Dec. 20 -- and Detroit's back-up combination of
Daunte Culpepper
and
Drew Stanton
have a combined 11 interceptions to just one touchdown pass.
Patrick Ramsey
was signed last Saturday. Could he be any worse?