Chicago Bears:

David Bass
February, 23, 2014
Feb 23
11:10
AM ET
INDIANAPOLIS -- As
Reggie Jordan
and a cousin in Huntsville, Ala. pushed furniture into storage, the Missouri Western tight end's phone rang with a representative from the NFL scouting combine on the other end.
"They actually called because I didn't respond to the email [invitation to the NFL combine]," Jordan said. "She sent it to the wrong address."
Jordan made the necessary email correction and received official confirmation of the invitation. Coming from a small Division II school, Jordan was still skeptical. So he called former Griffons teammate
David Bass
, who just finished up a promising rookie campaign as a defensive end with the
Chicago Bears
.
"She sent me the email and confirmation, and I was like, 'Oh, snap. This is amazing,'" Jordan said. "I called David Bass. I asked him if this is the same email and I forwarded to him. He was like, 'Yeah, this is the email.'"
Jordan said he speaks with Bass often about what to expect as he participates at the NFL combine at Lucas Oil Stadium in one of the major steps of the evaluation process leading up to May's draft. A seventh-round pick of the
Oakland Raiders
in 2013, Bass wound up playing 12 games for the Bears and producing a sack, in addition to returning his first NFL interception 24 yards touchdown on Nov. 17 in a win over the
Baltimore Ravens
.
"He actually tried to explain the whole thing," Jordan said. "You never get used to it until it actually comes upon you. I mean, he tried. But this is just a surreal experience now."
It started when Jordan arrived in Indianapolis at approximately 10 a.m. on Wednesday. Jordan spent the entire day at the hospital undergoing combine medical evaluations, and left at approximately midnight. Then, at 4 a.m. on Thursday, Jordan hopped out of bed to take a combine drug test.
At 6-2 ½ and 240 pounds, Jordan projects as a longshot in the NFL. But Jordan certainly helped himself with solid performances Saturday during on-field drills. Jordan ran a 4.53-second 40-yard dash, 4.30-second 20-yard shuttle, and produced a time of 7.22 seconds in the three-cone drill.
Perhaps Jordan might receive an opportunity to join his former Missouri Western teammate Bass in Chicago, considering the club does have a need at the position. Jordan caught 52 passes for 679 yards and 17 touchdowns during his college career.
Chicago's roster currently features three tight ends in
Martellus Bennett
,
Fendi Onobun
, and recent addition
Zach Miller
. Bennett and Miller are the only players on the roster with regular-season experience.
"I think I stretch the field well, catch out of my frame," Jordan said. "I think my blocking is very good. [At Missouri Western] they had me moving all around. I played a little H-back, moved me to tight end, had me out in the flat."
January, 28, 2014
Jan 28
8:00
AM ET
Free agents:
Corey Wootton
(DE/DT)
The good:
Shea McClellin
was named NFC Defensive Player of the Week for his three sack effort against the
Green Bay Packers
on Nov. 4. McClellin knocked Packers quarterback
Aaron Rodgers
out of the game with a fractured collarbone. Without McClellin's hit on Rodgers, the Bears probably wouldn't have been in a position to battle Green Bay for the outright NFC North crown in Week 17. Veteran
Julius Peppers
led the club with 7.5 sacks. Rookie
David Bass
returned an interception for a touchdown in a Bears' win over the
Baltimore Ravens
.
The bad:
In the 15 other regular season games, McClellin managed just one total sack and proved to be a major liability versus the run. The 2012 first-round pick has a combined 6.5 sacks in his first two years in the NFL and could be headed to linebacker. While Peppers had a couple impactful games, he remained silent for much of the season. His future with the Bears is in doubt. 38 of the Bears' 41 team sacks in 2012 were courtesy of its defensive line. In 2013, the line accounted for 21 of the club's 31 overall sacks. The Bears' inability to generate consistent pressure off the edge remained a problem from Week 1. Rookie six-round pick
Cornelius Washington
appeared in just two games and failed to dress in 11.
The money (2014 salary cap numbers):
There is simply no way Peppers can return on his existing salary that calls for the eight-time Pro Bowler to count $18,183,333 against the cap next season. If the Bears release Peppers, they would have to carry $4,183,333 in dead money in each of the next two years, but the move would open up tons of space in 2014 the team could use to target other players and fill existing needs. That's not to say the Bears wouldn't welcome Peppers back to the team, but not as his current salary structure. McClellin's projected cap number is $2,253,654. The Bears need to try and squeeze whatever value they can out of McClellin. Cutting ties with first round picks after two or three seasons is bad for business. Just ask Jerry Angelo. The other defensive ends currently under contract all have small deals that eat up little space.
Draft priority:
Urgent. It hurts to have to use another high draft pick on a defensive end only two years after McClellin went in the first round, but this is the reality the Bears find themselves in. The old saying that it all starts up front in the NFL is not just a cliché. It's true. The Bears have to find young players that can sack the quarterback on a frequent basis. Regardless of what happens in free agency, the Bears are still likely to target a defensive end in the early parts of the draft.
November, 24, 2013
11/24/13
6:25
PM ET
ST. LOUIS -- Defensive lineman
Corey Wootton
pulled on a shirt slowly Sunday, shaking his head at the thought of knowing how his team's next opponent -- the
Minnesota Vikings
-- might react after seeing the
St. Louis Rams
run roughshod over the
Chicago Bears
in a
42-21 win
at the Edward Jones Dome.
"They're gonna look at the film and say, 'We can gash them,'" Wootton said. "I don't blame them."
[+] Enlarge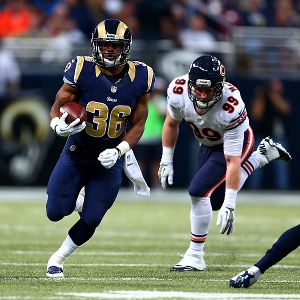 Dilip Vishwanat/Getty ImagesThe Bears watched Benny Cunningham and the Rams run for 8.9 yards a carry and 258 yards total.
The Rams ran for 258 yards Sunday, with three ball carriers --
Tavon Austin
,
Zac Stacy
and
Benny Cunningham
-- scoring touchdowns. Before the Rams began kneeling down in the final minutes, resulting in lost yardage, they'd averaged 10 yards per carry on the day, which would have gone down as the highest single-game rushing average a team had produced against Chicago in franchise history.
St. Louis' first run of the day, an 11-yard gain by Stacy, pretty much foreshadowed what would take place the rest of the game. On the Rams' third play from scrimmage, Austin took a pitch left that called for him to reverse direction to the right. Out in space, Austin shook Bears safety
Chris Conte
long enough to pick up a block, which allowed him to go down the Rams' sideline for a 65-yard touchdown.
St. Louis gained 81 yards on its first three snaps.
"We haven't done a good job of stopping the run. We've got to try to find a way to do a better job. You don't see that happening in practice," Bears coach Marc Trestman said. "The guys are in the right place. But they didn't get it done. I'm not gonna go into the technical aspects of it, but we didn't [get it done]. We're putting in the time and the effort. We've just got to continue to work at it. We've certainly got to do a better job next week."
Wootton agrees, considering Chicago's next opponent is the Vikings, led by running back
Adrian Peterson
. Facing a healthier defense on Sept. 15 than the one the Bears are fielding now, Peterson rushed for 100 yards on 26 attempts.
In Chicago's last two games, it has surrendered 432 yards on the ground.
"I don't know. We talk about [stopping the run] every week, but it doesn't happen," Wootton said. "It's something that's definitely a cause for concern. If we even want to make the playoffs, we have to shore that up. We have Adrian Peterson next week, who is arguably one of the best running backs. We have to figure out what it is. We must if we want to go to the playoffs."
Cunningham rushed for 109 yards on 13 attempts, while Stacy contributed 87 yards on 12 carries. Austin's only run resulted in the 65-yard touchdown. All three became a part of group of runners such as
Jonathan Dwyer
,
James Starks
, Peterson,
Reggie Bush
,
Ray Rice
and
Eddie Lacy
who have each taken at least one run for a gain of 25 yards or more this season against the Bears.
Stacy busted loose for a 35-yard gain in the first half, and Cunningham produced a 27-yard gain in the second half.
"They had a lot of pullers. They had a lot of zone schemes. It was a pretty good scheme," Bears defensive end
David Bass
said. "We lost. We're going to use that as motivation to get back into the facility tomorrow, watch film, make the corrections needed and get ready for the next week. There's not much we can do right now coming off the game except correcting and learning from our mistakes."
The Bears have now allowed eight runs of 32 yards or more, including three of 40-plus yards. They have surrendered 40 runs for gains of at least 10 yards.
"We expected them to start to try to run the football. Most teams do. They were able to get Tavon outside quickly," Trestman said. "We've got work to do, but our guys are up for it. We've got a strong, hungry football team that's passionate about playing the game, practicing the game and winning. We're gonna get over it. We've got to get over it quickly."
November, 20, 2013
11/20/13
7:30
AM ET
Let's start this edition of Bears Essentials with rookie defensive end David Bass, who batted a Joe Flacco pass on Sunday and hauled it in for a 24-yard touchdown in the club's win over the Baltimore Ravens.
After the game, Bass explained how he made the play.
"It's tackle down. My initial read was to close. After that, I saw the fullback and the running back came," Bass said. "The fullback went to the flat and the running back came to cut. I didn't see the quarterback do a legitimate play-action [fake]. I was told to beat the cut to the outside so I could keep contain. When I saw him throw it up, I just threw my hands up."
ESPNChicago.com's Jeff Dickerson put together this week's edition of
Stock Watch
, and he gives Bass credit for that interception return for a touchdown. Bass was nominated for Rookie of the Week, and if you'd like to vote for him, you can do that
here
.
Dickerson writes: "A seventh-round pick of the Raiders in 2013 out of Missouri Western State who was claimed by the Bears off waivers, Bass made the biggest play of his young professional career on Sunday, intercepting a Joe Flacco pass at the line of scrimmage and returning it 24 yards for a touchdown. Bass' pick-six changed the momentum of the game, and without it, the Bears likely don't crawl out of the 10-0 hole they dug for themselves before Sunday's lengthy weather delay. At 6-foot-4, 256 pounds, Bass isn't built like a prototypical 4-3 defensive end, but he's shown promise this season in six appearances. In addition to the interception, Bass finished the Baltimore game with four tackles and one tackle-for-loss. Expect Bass to keep himself in the mix at defensive end, especially with
Shea McClellin
dealing with a hamstring injury."
- Rich Campbell of the Chicago Tribune follows the team's tornado
relief efforts in Coal City
. Kicker Robbie Gould, linebacker Blake Costanzo, cornerbacks Zack Bowman and Sherrick McManis lent a hand along with former Bears Anthony Adams, Rashied Davis and Tom Zbikowski. Too often players receive headlines for all the wrong reasons, but it's refreshing to see players get out and do some good in the community. They do it quite a bit more than is publicized, and deserve some credit for making a family's day just a little brighter.
- CSNChicago.com's John Mullin takes a look at how Stephen Paea's turf toe injury
further depletes an already shaky Bears run defense
. From this vantage point, if Paea can't play Sunday at St. Louis, you have to ask whether the run defense could get any worse than it already was.
-- Adam Jahns of the Chicago Sun-Times outlines some of the ways the
Bears have overcome injuries on defense
. One of the developments not given much attention is the fact defensive coordinator Mel Tucker moved from the coaches' booth down to the field on game days to help the defense communicate more efficiently. A little-known fact about Tucker is he's an excellent motivator and has a knack -- especially in stressful situations -- for getting more from players than they believe they're capable of. Tucker has worked from the field instead of the booth in each of the last three games, and it has resulted in gradual improvement from Chicago's beat-up defense.
November, 19, 2013
11/19/13
8:30
AM ET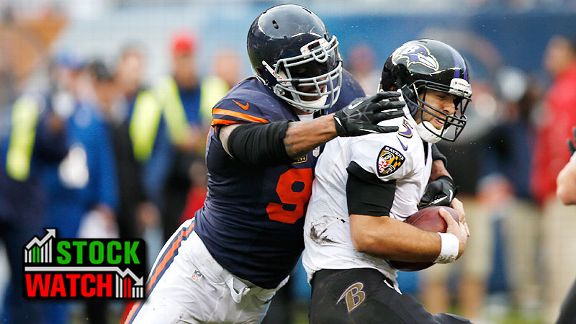 AP Photo/Charles Rex ArbogastJulius Peppers had his best game of the season with 11 tackles, 2.0 sacks and four tackles-for-loss.
RISING


1. David Bass, DE:
A seventh-round pick of the Raiders in 2013 out of Missouri Western State who was claimed by the Bears off waivers, Bass made the biggest play of his young professional career on Sunday, intercepting a
Joe Flacco
pass at the line of scrimmage and returning it 14 yards for a touchdown. Bass' pick-six changed the momentum of the game, and without it, the Bears likely don't crawl out of the 10-0 hole they dug for themselves before Sunday's lengthy weather delay. At 6-foot-4, 256 pounds, Bass isn't built like a prototypical 4-3 defensive end, but he's shown promise this season in six appearances. In addition to the interception, Bass finished the Baltimore game with four tackles and one tackle-for-loss. Expect Bass to keep himself in the mix at defensive end, especially with
Shea McClellin
dealing with a hamstring injury.


2. Julius Peppers, DE:
Peppers easily had his most productive game of the year with a season-high 11 tackles, 2.0 sacks and four tackles-for-loss in the 23-20 victory against Ravens. This proves that Peppers, 33, can still be a difference-maker. But these kinds of efforts from Peppers have been few and far between in 2013. Can the veteran defensive end string a bunch of these games together down the stretch as the Bears push for a postseason berth? The answer to that question is unknown. But with three sacks over the past three games, Peppers seems to be heating up at the right time for a Bears' defense ravaged by injuries.


3.
Robbie Gould
,
K
: Gould's candid and confident demeanor can rub certain people in Chicago the wrong way, but his on-field results are indisputable. Gould was 3-for-3 on field-goal attempts on Sunday, this despite horrendous weather conditions at Soldier Field. But Gould has made a living navigating the treacherous winds of Chicago, and is 19-of-20 for the season. The most accurate kicker in franchise history and one of the most accurate in league history, Gould has now kicked 11 game-winning field goals with six of those in overtime.


4. Josh McCown, QB:
All McCown does is win games and run the offense. Whenever a quarterback protects the ball and doesn't turn it over, his team has a shot to win every week. McCown's 2013 numbers are remarkable: 61-of-101 passes completed for 754 yards, five touchdowns and zero interceptions. That's a 100.0 quarterback rating. Even if the good times don't last much longer for McCown, this has been one of the most unexpected and enjoyable stories that I've covered in quite some time. McCown always wins the news conference with his genuine, kind, intelligent and humble personality, but now he's winning important games for the Bears. McCown is 2-0. He runs the offense the correct way. There is no need for
Jay Cutler
to rush back from his high-ankle sprain. None.
FALLING


1. Landon Cohen, DT:
The Ravens were averaging 73 rushing yards per game entering Week 10, but Baltimore had plenty of success on the ground against the Bears.
Ray Rice
ran for 131 yards and one touchdown, and Baltimore finished the game with 174 rushing yards on 41 attempts. Baltimore found much of the running room up the gut of the Bears' defense, where Cohen played 59 snaps because nose tackle
Stephen Paea
(19 snaps) left the game early with a toe injury. Cohen hasn't been a bad addition, but Sunday wasn't his finest moment.


2. Brandon Marshall, WR:
Marshall has been great for the Bears with a team-high 64 receptions for 828 yards and eight touchdowns, but he caught just four passes for 42 yards on 10 targets against the Ravens. Marshall more than carries his weight on offense, but he will occasionally drop catchable balls, as he did on Sunday when the wideout let a perfectly thrown pass from McCown slip through his fingers. In the rare instances when Marshall has been a non-factor for the Bears, he usually responds the following week by putting up big numbers. The smart money says Marshall finds the end zone multiple times in Week 12 when the Bears travel to St. Louis, and finishes the game as the club's leading receiver. History has shown us that Marshall generally finds a way to bounce back, regardless of the quarterback.
November, 17, 2013
11/17/13
8:15
PM ET
CHICAGO -- Here are five things we learned in the
Chicago Bears
' 23-20 victory over the
Baltimore Ravens
:
1. The Josh McCown story keeps getting better:
We are witness to a truly remarkable NFL story. Just when you think McCown is about to fall back to reality, he goes out and posts a 92.9 quarterback rating against a tough Ravens defense. McCown has now attempted 101 passes without throwing a single interception. Do you realize how difficult that is to do for a backup quarterback in the NFL? Once again, McCown delivered with the game on the line, firing a strike to tight end
Martellus Bennett
for 43 yards that set up the game-winning
Robbie Gould
field goal. McCown is now 2-0 with a 100.0 quarterback rating in four appearances.
Jay Cutler
is the Bears' clear-cut No. 1 quarterback, but there is absolutely no need for him to rush back from his high-ankle sprain before he's ready. McCown has it under control.
2. The Bears are suddenly right back in the mix:
Such is life in the week-to-week NFL. The Bears' locker room was full of despair last week after their second loss of the season to the
Detroit Lions
that effectively put the Bears two games behind Detroit in the NFC North standings. But fast-forward seven days and the Bears are neck and neck with the Lions at 6-4 (Detroit still holds the head-to-head tiebreaker) following the exciting overtime win against the Ravens and Detroit's disappointing defeat in Pittsburgh. Plus, Green Bay dropped to 5-5 with a loss to the
New York Giants
. With winnable games on the horizon versus the
St. Louis Rams
(4-6) and
Minnesota Vikings
(2-8), the Bears are poised to stay in contention for the foreseeable future. Of course, the vibe of the season could change again if the Bears are upset Sunday in St. Louis, but that's what makes the NFL so great. With only a handful of elite teams, the second-tier outfits usually keep their fans interested until the bitter end.
3. Rookies deliver on defense:
There are still gaping holes in the Bears' run defense -- Baltimore rushed for 174 yards and one touchdown -- but the play of rookies
Jon Bostic
and
David Bass
can be best described as encouraging. Bass came up with the defensive play of the game when he managed to avoid a cut block and leapt into the air to intercept a
Joe Flacco
pass at the line of scrimmage and return it for a touchdown. That sequence proved to be a turning point in the game for the Bears. Bostic later showcased his athleticism and speed by dropping into the middle of the field and snaring a Flacco throw for a big interception. Although the jury is still out on some of the Bears' recent defensive draft picks, it was enjoyable to see a couple first-year players contribute to the victory.
4. Never a doubt with Gould:
Despite the horrible weather conditions on Sunday, Gould went 3-for-3 on field goal attempts, including the 38-yard game winner in overtime. Kicking at Soldier Field is not easy, but Gould has mastered the art better than almost anybody in the history of the franchise, with the exception of Kevin Butler. However, if Gould receives a new deal from the club in the offseason, he will eventually break all of Butler's team kicking records. Gould is 19-of-20 on field goal attempt this season. As the weather continues to change and the games get closer as the season wears on, Bears fans will appreciate Gould more than ever. When called upon, Gould almost always comes through in the clutch.
5. Soldier Field workers deal with adversity:
Soldier Field takes its share of abuse because of the grass playing surface, but the stadium workers responsible for evacuating the crowd during the weather delay deserve kudos. It is not easy to evacuate 60,000 people from their seats in a short period of time, but, from my vantage point, the workers got most of the stadium cleared before the really bad weather rolled in on Sunday. Now, I obviously cannot speak for what happened when the fans reached the covered areas of the concourses, but given the serious nature of the weather we experienced in the Chicagoland area, I thought the Soldier Field staff did its best to keep the paying customers as safe as possible. There was an issue in the upper deck on the northwest corner of the stadium, but that appeared to be more of a problem with the design of the stadium, not the effort or approach by the security guards charged with the task of getting fans to shelter. And, finally, the security guards tackled a Ravens fan who rushed onto the field during the delay. It was a good effort all around.

November, 17, 2013
11/17/13
6:18
PM ET
CHICAGO -- A few thoughts on the
Chicago Bears
' 23-20
overtime win
over the Baltimore Ravens at Soldier Field:

What it means:
Only the tiebreaker from Detroit sweeping Chicago keeps the Bears from leading the division. So Chicago's win over the Ravens coupled with Detroit's loss to the
Pittsburgh Steelers
puts the Bears back in serious contention for a legitimate shot at winning the NFC North.
Second-guessing Marc Trestman:
With possession at the Baltimore 2-yard line thanks to a defensive holding penalty on
Jimmy Smith
in the second quarter, Chicago called three consecutive passes that fell incomplete, leading to the Bears settling for a 20-yard field goal that made the score 10-3 in favor of the visitors. The calls seemed a little questionable given where the Bears were on the field. After throwing incomplete to
Brandon Marshall
and
Tony Fiammetta
on first and second down,
Josh McCown
tossed another incompletion to Marshall. On the play, it appeared McCown could have taken advantage of a mismatch on the outside with tight end
Martellus Bennett
lined up against a Baltimore cornerback.
In the fourth quarter, the Bears elected to punt instead of trying to convert a fourth-and-1 at the Baltimore 44 that would've allowed them to run more time off the clock to preserve a win in regulation. With a little more than a minute to play and the Ravens in the red zone, Trestman also elected not to burn any of his timeouts. Had he called a couple, the Bears may have had time to mount a potentially game-winning drive after
Justin Tucker
's tying 21-yard field goal.
Bass bailout:
Despite the squandered opportunity from the 2 in the second quarter, Bears reserve defensive end
David Bass
bailed out the offense on the first play of Baltimore's ensuing possession just 12 seconds later. Midway through his rush, Bass tipped a
Joe Flacco
pass intended for
Vonta Leach
back into his own hands and romped 24 yards for the touchdown to tie the score at 10.
Coming into the game, the Bears held a 24-2 record since 2005 when they've scored a defensive touchdown, including 10 consecutive wins under those circumstances. Now they're 25-2 with 11 in a row.
Defensive letdown:
Even after Bass' potentially game-defining play, the defense slumped on Baltimore's next possession, allowing Flacco to go 5-for-5 for 47 yards on a drive capped by a touchdown pass to
Torrey Smith
. Defensive end
Julius Peppers
added to the letdown with a 15-yard penalty for hitting Flacco as the quarterback attempted to slide on a play during the drive. Peppers appeared to slip on the play, which led to the contact.
Season high in a half:
The Bears committed seven penalties for 61 yards in the first half alone, which was enough to set a season high for penalties and penalty yardage. The most the Bears had been penalized before Sunday was six times for 43 yards in an Oct. 6 loss to New Orleans.
The Bears only topped that by finishing with 13 penalties for 111 yards. Normally, that gets you beat.
What's next:
The Bears review film of Sunday's game on Monday before taking the day off Tuesday and beginning preparations Wednesday for the first of back-to-back road games starting with the
St. Louis Rams
.
November, 10, 2013
11/10/13
7:30
AM ET
Here's a look at five things to watch for Sunday when the Bears host the Detroit Lions for first place in the NFC North:
Jay Cutler's mobility:
When the Bears host the Detroit Lions, 21 days will have passed since Jay Cutler tore a groin muscle in the team's loss to the
Washington Redskins
. So Cutler's potential mobility against Detroit's formidable pass rush has to be a concern, even though the quarterback and the club say otherwise.
Cutler
"[The Lions] do a good job," Cutler said. "We've done enough to test where I'm at. I feel good, got a lot of trust in the offensive line and the way they're playing right now. Can't worry about that. Once you get in the game, it's just reactionary stuff. Your brain's not gonna be able to say, 'Hey, alright, I want you to step right.' It just happens. We tried to mimic that as much as possible [in practice]. I thought we did a good job of that. I feel ready."
Look for the Bears to try to help out Cutler by putting him in plenty of shotgun formations so he won't put strain on that groin muscle with constant dropbacks from under center.
Front seven's run fits:
Bears defensive coordinator Mel Tucker attributed the team's inability to hold down
Reggie Bush
(139 yards and a touchdown) in the last meeting to poor tackling and improper run fits. So Tucker is stressing better tackling out in open space, which is where Bush thrives, not to mention a swarm-the-ball mentality.
"We didn't tackle him. No. 1, we didn't fit the run well, and No. 2, he played exceptionally well," Bears coach Marc Trestman said. "He made people miss. We've got to do a better job this time of working this week to try to neutralize him."
The defensive line needs to stay in their gaps, and the linebackers need to make sure to fill accordingly. Rookies Jonathan Bostic and
Khaseem Greene
have struggled recently with leveraging blocks, which won't help the Bears in their attempt to stop Bush. So they've spent time this week working to improve in that area. But it all starts with the club's injury-depleted front four.
"We have guys who are injured, just like everybody in the league has guys who are injured," Trestman said. "We have no excuses. We have to go out there and try to stop him. It's never easy when you're at full strength, so we have to make it a point of interest this week, and No. 1 is to neutralize Reggie and minimize his ability to get big plays in the run game."
Pass rush:
Chicago's front four took a major step in the right direction with its five-sack outing Monday night at Green Bay, but there's a good chance the club's sack leader from that game won't play Sunday against the Lions. Coming off a three-sack game against the Packers, second-year defensive end
Shea McClellin
suffered a hamstring injury during Thursday's practice and is doubtful for the matchup with the Lions. That means the Bears need potential replacements such as
David Bass
and
Cheta Ozougwu
to step in and pick up the slack.
Julius Peppers
needs to do the same.
"We have guys that have talent and [have] put a lot of hard work and effort with that, and eventually guys are going to break through. So I think that's what you saw [against the Packers]," Tucker said.
But can the Bears produce that type of performance again this week with sole possession of the division lead on the line?
Rushing attack:
The last time these teams met, the Lions jumped out to a 30-10 second-quarter lead and immediately forced the Bears into passing mode, thus eliminating the prospects for
Matt Forte
getting into a flow. Forte rushed 14 times for 95 yards, including a 53-yard touchdown in the second quarter before the Lions erupted for three TDs in the final 3:26 of the first half. So the Bears could help themselves tremendously by using Forte to dictate the flow of the game early, which will also enable the passing attack to have success with play action.
Forte
Surely, the Bears learned the importance of ball security from their first matchup against the Lions, when Cutler contributed to the loss with four turnovers, including a fumble returned for a TD.
"Anytime you see a team for the second time, you have a better feel for how much strength you have against a guy, how much technique you're going to need against someone," Bears offensive coordinator Aaron Kromer said. "Just as you go from the first drive of a game to the second; 'I can do this more than I thought on tape watching him against someone else.' But they're also familiar with us."
Special teams:
Punter
Adam Podlesh
finished with a season-low 28.8-yard net average in the first matchup between these teams, and he hit a line-drive punt in that contest that
Micheal Spurlock
returned 57 yards to set up a
Matthew Stafford
touchdown run. The game nearly cost Podlesh his job.
"I think Adam's been consistent really since that time," special teams coordinator Joe DeCamillis said. "He's really picked his game up. He made some slight changes, and it's helped him. I'm glad he's going in the right direction."
That needs to continue against the Lions.
DeCamillis said the Bears played the kind of game Monday night where "we had 11 out there, but 10 guys played a lot of plays," which is unacceptable. The team's punt protection also allowed a blocked punt against the Packers.
"When you look back at the film, it wasn't just that punt," DeCamillis said. "There was kickoff return yardage that was left out there where there is one guy sitting in the hole because somebody gets beat. We've got to get all 11 going at the same time, and that was obviously critical during this past week."
It'll be the same Sunday unless the Bears resolve those issues.
October, 17, 2013
10/17/13
12:57
PM ET
Here is this week's installment of the Bears mailbag:
1. Can you find out exactly where Jay Cutler's statistics rank in franchise history? Thank you for taking the time to answer my question. -- Albert, Bourbonnais, Ill.

Dickerson
: Albert, Cutler is the Bears' all-time leader in passer rating (83.4), completions (1,177), attempts (1,952) and passing yards per game (224.5). He ranks second in franchise history in completion percentage (60.3), yards (13,922) and touchdowns (94). He is also tied for first with nine 300-yard passing games. Cutler will hold all of the Bears' passing records if he signs a contract extension in the offseason, or even if he just receives the franchise tag in 2014.
---
2. When are you going to recognize that Matt Forte is overrated? He doesn't have a single 100-yard rushing game this year. What a waste of money! – Peter, Topeka, Kan.
Dickerson
: Factually speaking, Forte hasn't topped 100 yards rushing in a single game this year, although he's been over 87 yards rushing on three separate occasions in the first six weeks. But Forte's real value stems from his versatility. Forte currently is tied for first in the NFL among running backs with 33 receptions. He is fourth in the league with 686 yards from scrimmage, and is the seventh-leading rusher in the league with 442 yards. If my memory serves me correctly, Forte has compiled 1,400 yards from scrimmage in each of his first five NFL seasons, and is on pace for 1,829 yards from scrimmage in 2013. We can argue about how much a running back should be paid based on the shelf life of the position, but I think Forte more than pulls his weight in the Bears offense.
---
3. Jeff, what are the weights of Shea McClellin and David Bass? I thought that McClellin was supposed to have picked up some muscle, he looked like a strong safety to me in the game against the Saints. Bass looked quick off the ball and showed good rush skills in his short stint in the game. – Craig, Visalia, Calif.
Dickerson
: McClellin did gain weight in the offseason, but he lost it. The Bears list McClellin at 260 pounds, but that doesn't mean he actually weighs 260 pounds. Regardless of McClellin's actual weight, he doesn't seem to be built to be a full-time defensive end in the Bears' 4-3 defense. But there aren't many other options. Bass is even lighter than McClellin. He is listed at 6-foot-4, 256 pounds. Bass had two tackles versus the Giants and seems to have potential. But it's impossible to judge a player after only two games.
---
4. What is considered a successful season in the NFL? I ask this because Lovie Smith got fired, despite winning 10 games and having one of the best defenses in the league. – Kenny Hale, Nashville, Tenn.


Smith
Dickerson:
Kenny, Lovie Smith was fired for two reasons. First, he failed to guide the Bears to the playoffs in five of his final six years. That's an eternity in the NFL. Second, Smith was never able to put the right coaching staff together on offense. Smith went through three different offensive coordinators since 2009 --Ron Turner, Mike Martz and Mike Tice. That lack of continuity hurt the entire team, especially Cutler, who wasn't exactly a joy to work with over the last four years. So, if a head coach makes the playoffs, he's safe. If he misses the playoffs multiple times, he better have a firm grasp on the offense, because that is where the league is trending toward.
---
5. I feel pretty bad for D.J Williams. He looked like he was going to turn his career around in Chicago and get back to form when he was a playmaker on defense in Denver. I know it's still early in the season and we have yet to see how Jonathon Bostic will perform, but what does this mean for Williams' future in Chicago? -- Hubert, Champaign, Ill.
Dickerson
: That's a great question, Hubert. Williams seemed to be in a groove before he suffered the pectoral injury last Thursday night. But injuries are part of the game. The problem for Williams is that he signed only a one-year deal with the Bears, meaning he'll be a free agent next offseason coming off an injury. At 30 years old, Williams will likely have to sign another one-year contract for around the league minimum. If Bostic turns out to be a good player, do the Bears need Williams on the roster next year? And wouldn't Williams rather go someplace where he can compete for a starting job? Now, I hesitate to close the door entirely on Williams because I know the Bears were very pleased with his play before he got hurt. But with Bostic and
Khaseem Greene
being groomed to be future starting linebackers, there might not be a spot for Williams in 2014, unless
James Anderson
leaves via free agency or the Bears don't feel comfortable long-term with Bostic and Greene, which seems a tad unlikely.
October, 6, 2013
10/06/13
3:40
PM ET
CHICAGO --
Chicago Bears
defensive tackle
Nate Collins
sustained a left knee injury in the third quarter against the
New Orleans Saints
and has been ruled out for the remainder of the game.
Collins hurt the knee while attempting to pressure Saints quarterback
Drew Brees
on a pass attempt. Collins' knee appeared to buckle as he was tied up with a New Orleans offensive lineman. The four-year veteran defensive lineman grabbed his knee after falling to the ground and remained on the turf for a short period of time before eventually walking back to the locker room under his own power.
Collins moved into the Bears' starting lineup after Pro Bowl defensive tackle
Henry Melton
suffered a season-ending ACL tear. Entering Sunday's game versus the Saints, Collins led all Bears defensive linemen with 10 tackles through the first four games. Collins also recorded two quarterback pressures and forced one fumble.
The Bears are perilously thin on their defensive line. Not only are
Turk McBride
and Melton already on injured reserve, but starting nose tackle
Stephen Paea
was inactive on Sunday because of toe injury. The Bears also lost another prospective body on the defensive line when veteran tackle
Sedrick Ellis
announced his retirement on the eve of training camp.
Because of the rash of injuries on the defensive line, relative newcomer
Landon Cohen
and undrafted rookie
Zach Minter
are both in the defensive tackle rotation on Sunday, along with
Corey Wootton
, who the club bumped inside from his customary defensive end spot.
David Bass
is seeing significant playing time outside at end.
September, 1, 2013
9/01/13
3:30
PM ET
The
Chicago Bears
agreed to terms Sunday with seven practice-squad players, including former Texas A&M quarterback Jerrod Johnson, who worked out last week for the team at Halas Hall.

The club also claimed defensive end David Bass off waivers from the
Oakland Raiders
, sources confirmed.
The team released five of the seven players signed to the practice squad on Saturday, a group that includes linebacker
Jerry Franklin
, cornerback Demontre Hurst, tight end
Fendi Onobun
, fullback Harvey Unga and defensive end Aston Whiteside. Johnson and former Fort Valley State receiver
Ricardo Lockette
complete the group. But there's still one spot remaining on the practice squad.
The addition of Bass means the club needs to make room on the roster, which might jeopardize the status of reserve defensive ends
Cheta Ozougwu
and rookie sixth-round pick
Cornelius Washington
. There's a possibility the Bears could release Washington and later re-sign him to fill their final spot on the practice squad.
A rookie seventh-round pick of the Raiders, Bass (6-foot-5, 256 pounds) played collegiately at Missouri Western, where he racked up 11.5 sacks during his senior season. Bass also posted a sack in the preseason for the Raiders.
As for Johnson, the Bears added a developmental quarterback to groom behind
Jay Cutler
and
Josh McCown
. Johnson has spent time with multiple NFL teams (Philadelphia, Pittsburgh and Seattle), and has also played in the defunct UFL, where he was the No. 1 overall selection of the Hartford Colonials.
At Texas A&M, Johnson became the school's career leader in total offense (8,888 yards) and passing yards (8,011 yards), but came into the league in 2011 as an undrafted free agent with the Eagles.