February, 18, 2014
Feb 18
3:55
PM ET
Chicago plans to stick to its base 4-3 defense, according to a story posted
on the team's official website
, and that falls in line with what league sources have said all along about the team's future, despite recent additions of coaches with 3-4 backgrounds.
At the conclusion of the regular season, rampant speculation circulated about the possibility of the team moving to a 3-4 front after the Bears put up historically horrid numbers during a 2013 season in which they surrendered the most yards (6,313), points (478), and rushing yards in franchise history and rushing yards (2,583). But the club refused to tip its hand as to plans for the 2014 season.
"I can say this: We know we have the coaching ability to move scheme," Bears coach Marc Trestman said when asked specifically about a potential switch to a 3-4. "We have that kind of intellect in this building. I've said this early on: We're not looking to put a square peg in a round hole. [General manager] Phil [Emery] is going to do everything he can to give us the best possible players. I don't know. Everything is on the table in terms of a discussion. Once we get an evaluation from inside-out of what our players can do, then we'll move forward with what we can do with them schematically. Part of our decisions and how we move forward schematically will be based on the players that are in our locker room."
Trestman's last remark explains why the Bears plan to stick to a 4-3 front: those types of players are what the team has in terms of personnel. Switching over to a 3-4 front would require the Bears to spend at least one entire offseason bringing aboard players that fit that scheme.
The club's acquisition of former Jaguar
Austen Lane
on Tuesday provided further evidence of the team's plans to stick to a 4-3. That's not to say the Bears won't experiment. The addition of defensive line coach Paul Pasqualoni and linebackers coach Reggie Herring gives the Bears flexibility if they decide to try different looks based on their backgrounds in 3-4 defenses.
"It's a matter of being to utilize the people that we have and be ready to do whatever it's going to take with a system that's flexible enough to do it," Trestman told the team's official website. "It's making sure we have a scheme that can utilize our players and bring the best out of them."
Obviously one component of that might involve the Bears veering away some from the defense brought to the team by former coach Lovie Smith. So while it's likely Chicago will continue to run some elements of Smith's system, it's also expected that the Bears will become more multiple to prevent opponents from catching on to what they're doing on a game-by-game basis.
"We want to be very stout and physical in the run game and then in the passing game be able to pressure with four guys," Bears defensive coordinator Mel Tucker told ChicagoBears.com. "Our pressure packages will fit our personnel and be dynamic enough where we can play to guys' strengths and be unpredictable."
October, 20, 2013
10/20/13
8:36
PM ET
LANDOVER, Md. -- The
Chicago Bears
lost cornerback
Charles Tillman
and linebacker
Lance Briggs
to injuries Sunday during a
45-41 loss
to the
Washington Redskins
.
They'll likely be back soon.
Jennings
But the same couldn't be said with confidence about Chicago's once-dominating defense. An already injury-riddled team, the Bears entered Sunday having already lost four starters on defense to season-ending injuries, and struggled on nearly every level -- especially in the clutch -- as the Redskins, led by quarterback
Robert Griffin III
, shredded the Bears for 499 yards, including 209 on the ground.
"We're not used to it," said cornerback
Tim Jennings
. "But Washington played a great game. They had a great game plan. They get paid over there, too, and they have some guys that just made more plays than we did. Of course we're not used to it, but it's the NFL level. Somebody on defense has to make a play."
Too many times on Sunday, nobody did; even with the game seemingly placed into Chicago's hands.
With 4:02 left to play, backup quarterback
Josh McCown
capped a four-play drive spanning 67 yards, with a 7-yard touchdown pass to put the Bears ahead 41-38.
Robbie Gould
forced Washington to start the ensuing drive from the 20 by booting the ball into the end zone for a touchback.
The Redskins took possession with 3:52 left and 80 yards to go for the tying field goal.
"It was on us and we didn't come through," defensive end
Corey Wootton
said. "It's frustrating when we let them drive on us like that. I know it's been a theme, but we have to do better. This is the one that's really frustrating. The game is in our hands. They had to drive the whole field (to score), and they drove it on us."
Chicago started the drive with a 5-yard holding penalty on defensive tackle
Stephen Paea
. Griffin then commenced to complete 5 of 7 during a drive for 58 yards, while he helped the Redskins convert three third-down conversions.
When
Roy Helu
scored the game winner on a 3-yard run with 49 seconds left, he capped a 12-play drive by the Redskins.
"We didn't make the plays today that we needed," Bears coach Marc Trestman said.
For the most part, the group hasn't done that all season; at least consistently. The Bears have given up 21 points or more in all seven games this season and 30 or more now in three outings. Prior to the loss Sunday, the Bears hadn't allowed a team to finish with 200 yards or more since Oct. 25, 2009 (Cincinnati, 215 yards).
The Redskins converted 50 percent of their third downs and gashed the Bears for four runs for gains of 15 yards or more (including two 20-yard gains), while Griffin completed five passes for gains of 20 yards or more, including completions of 30, 38 and 45 yards. Washington also gained 28 first downs for the game, and dominated first half time of possession 22:01 to 7:59.
That helped Washington build at 24-17 lead at the half against a gassed Bears defense.
"It's on us defensively," Paea said. "No matter what type of offense they bring, we've still got to stop them."
Chicago has proven successful when it can actually stop opponents, but the problem is that hasn't happened yet in 2013. Coming into the season, the Bears had rolled up a record of 50-13 over the last nine years when they've limited opponents to 17 points or fewer in a game.
But we don't know Chicago's record under such conditions in 2013. The Bears haven't yet held a team to fewer than 18.
"We're just going to get back to work," Trestman said. "When you don't play as well as you like, you go back to work. Getting healthy over the next couple of weeks will be a big part of that. You can't make excuses, but we're going to be a fresher team certainly when we come out of this break."
October, 8, 2012
10/08/12
5:31
PM ET
[+] Enlarge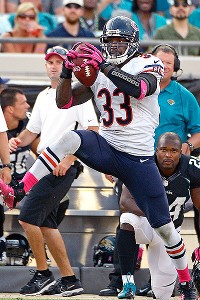 AP Photo/Phelan M. EbenhackCharles Tillman has two interceptions, two TDs and a forced fumble this season, but Lovie Smith wants more takeaways from his defense.
LAKE FOREST, Ill. -- As good as the Chicago Bears' defense have been through five weeks this season, coach Lovie Smith said Monday he believes it's capable of even more down the road.
The Bears lead the NFL with 17 takeaways, are tied for the lead with 18 sacks, have allowed an average of 14.2 points a game and are the first team in the league history to return five interceptions for touchdowns in the first five games of the season.
On Sunday, the Bears scored two defensive touchdowns, recorded three sacks, intercepted three passes and recovered one fumble in their 41-3 win over the Jacksonville Jaguars. Their defensive performance came one week after they scored two defensive touchdowns and intercepted five passes in a 34-18 win over the Dallas Cowboys.
Yet, Smith isn't completely pleased.
October, 2, 2012
10/02/12
1:14
AM ET
DALLAS -- How dare we think offense would be the calling card of this team, that the defense would be along just for the ride? How dare we think Urlacher and Briggs and Peppers and Peanut Tillman were too old and not imposing enough anymore and incapable of carrying the load? How silly was it to presume the Chicago Bears could seriously contend this season only by winning shootouts?
Read the entire column.
September, 20, 2010
9/20/10
11:45
AM ET
[+] Enlarge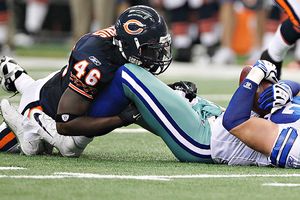 Matthew Emmons/US PresswireChris Harris hopes he's silenced critics with his strong play.
LAKE FOREST, Ill. -- Many figured veteran Chris Harris would be the odd man out when the Bears ultimately decided to make rookie Major Wright the full-time starting free safety.


But you know what they say about the best laid plans.


Now that Wright has suffered yet another injury -- his third since joining the Bears -- Harris' stock has risen considerably after the first two weeks. The veteran delivered a few big hits in the win over Dallas, and in general, has performed well in the early part of the season.


After a shaky preseason, Harris hopes to have answered questions regarding his ability to effectively man the free safety position.


"The plan [before Wright got hurt] was to rotate last week and change series," Harris said. "I just wanted to, while I was out there, make plays and just do my job. I've been doing that the last two weeks, and hopefully I'll continue to do that."


In addition to Harris, strong safety Danieal Manning has been a reliable fixture in the secondary during the 2-0 start. What was once viewed as a potential weakness is turning out to be a strength. However, the entire secondary understands they will be tested when the Bears face Green Bay next Monday night.


"We love the challenge," Harris said. "They're 2-0, they played great last week versus Buffalo. We know we're going to have our hands full. They throw the ball, so we're going to have to make sure we're on our keys and doing everything we are supposed to do."