May, 31, 2013
5/31/13
3:02
PM ET
By
Staff
| ESPNChicago.com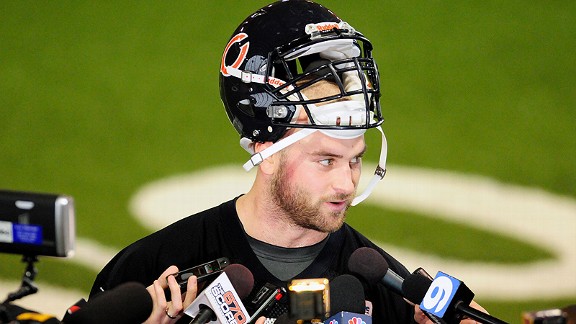 Reid Compton/USA TODAY SportsKyle Long said even he was surprised he was drafted so high after being taken at No. 20.
The
Dallas Cowboys
apparently didn't share the same enthusiasm for
Kyle Long
as did the Bears, who selected the Oregon guard with the No. 20 pick in the draft.
According to
bloggingtheboys.com
, which was able to piece together the Cowboys draft board based on photos and videos of interviews from various angles with Jerry Jones standing in front of the board, Dallas had targeted Long as a low third-round selection. He was No. 66 on their board.
Maybe it was the fact Long started just four games for the Ducks, not providing an extensive body of work.
Then again, depending on your view of the Cowboys' draft history, maybe the disparity isn't such a bad thing.
The selection of Long that high did surprise many -- including Long -- but general manager Phil Emery said he couldn't pass up on Long's combination of athleticism and versatility.
Both teams had Bears' second-round pick
Jon Bostic
slotted nearly the same.
The one Bears' pick who was ranked higher by the Cowboys was Georgia defensive end
Cornelius Washington
, was ranked No. 107 by Dallas and picked at No. 188 by the Bears.
April, 22, 2013
4/22/13
2:01
PM ET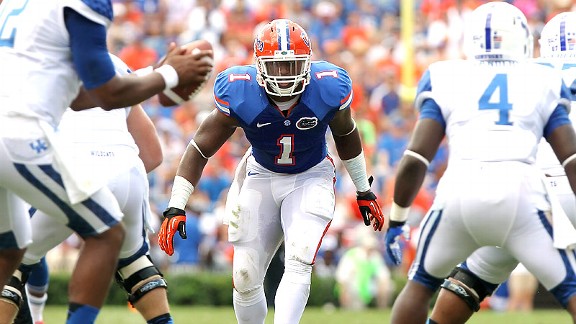 Kim Klement/US PresswireThe Bears apparentley want to get younger at linebacker, and Florida's Jon Bostic would be a fit.
ESPNChicago.com continues its Bears draft preview series with a look at the linebackers.
No single
Chicago Bears
position group on defense underwent a more radical transformation than linebacker.
Gone are former starters
Brian Urlacher
and
Nick Roach
, who were replaced by veteran free agent signees
D.J. Williams
and
James Anderson
.
The new starters are productive players with experience, but the fact each signed just a one-year deal signals the Bears are still looking to get younger at the position, likely via the upcoming NFL Draft. That would explain why the club has hosted several linebackers on official pre-draft visits, such as: Notre Dame's
Manti Te'o
, Kansas State's
Arthur Brown
, Oregon's
Kiko Alonso
, Missouri's
Zaviar Gooden
, Rutgers'
Khaseem Greene
and Florida's Jon Bostic.
The Bears have also been linked to Georgia linebacker
Alec Ogletree
in numerous mock drafts.
Where there is smoke, there is usually fire.
The Bears missed on the majority of the linebackers they've selected since
Lance Briggs
was chosen in the third round of the 2003 NFL Draft, which means there is a sense of urgency to find a future starter at the position, not just a special teams contributor. The Bears did a nice job to address the short-term with Williams and Anderson, but the draft should provide general manager Phil Emery with the opportunity to plan for the future at linebacker.
Next ten
:
Sio Moore
, Connecticut, 6-1, 245;
Corey Lemonier
, Auburn, 6-4; Zaviar Gooden, Missouri, 6-2, 234;
Trevardo Williams
, Connecticut, 6-1, 241;
Chase Thomas
, Stanford, 6-3, 244;
Sean Porter
, Texas A&M, 6-1, 229;
A.J. Klein
, Iowa State, 6-1, 250;
DeVonte Holloman
, South Carolina, 6-2, 243;
Gerald Hodges
, Penn State, 6-1, 243; Jon Bostic, Florida, 6-1, 245.
Grade
: B+
Analysis:
Given the high number of pre-draft visits, there is no reason to believe the Bears are not interested in grabbing a linebacker at some point, probably in the first three rounds -- the Bears don't currently own a third-round pick due to last year's
Brandon Marshall
trade with the
Miami Dolphins
. The amount of time and effort the club has spent on second- or third-round prospects like Brown, Alonso, Gooden and Greene suggests the Bears have a contingency plan in place in the event they are not comfortable using their first round pick on a linebacker, if they, in fact, fail to trade down as many expect. It would be a mild surprise if the Bears make in through draft weekend without adding at least one linebacker to the roster.
April, 20, 2012
4/20/12
9:59
AM ET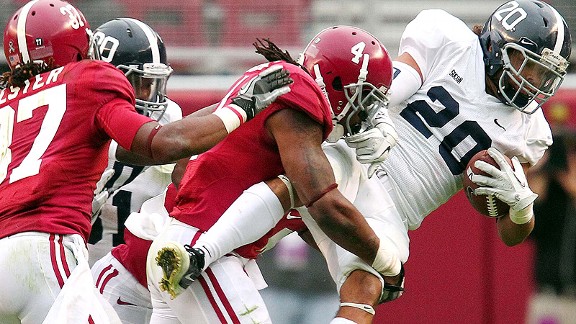 Marvin Gentry/US PresswireAlabama's Mark Barron is considered the top safety prospect.
Undoubtedly, safeties
Major Wright
and
Chris Conte
flashed playmaking potential in 2011 that could project long term.
But even with a new general manager in Phil Emery, it's unlikely the
Chicago Bears
break recent tradition in the NFL Draft. The Bears have used a draft pick on a safety in each of the last seven years of Lovie Smith's eight-year tenure.
Don't expect that to change for 2012.
"I think I'm on record on how I feel about Major Wright. I'm just as excited about Chris Conte," Smith said at the NFL Combine. "I just don't think we've been in this good of a position at the two starting positions [as we are] at our safety position right now. So I'm excited about them."
History indicates such feelings change quickly at that position. Although injuries played a role last season in the team utilizing eight combinations at safety, ineffective play also contributed to turnover. Coming off a 2010 season in which he earned second-team All-Pro honors,
Chris Harris
fell out of favor quickly in 2011, and was suiting up for the
Detroit Lions
by season's end.
The team made
Brandon Meriweather
its highest-paid safety in 2011, starting him in four games before eventually sitting him. Meriweather played a total of 11 contests for the Bears. In four others, Meriweather dressed but didn't take the field.
So while optimism abounds now, Wright and Conte could suffer similar fates as others before them given the bottom-line oriented nature of the NFL, not to mention the general fickleness in recent years displayed by the staff regarding the safety position.
It's no secret the Bears have been eyeing potential safeties this offseason at college workouts. The team had also scheduled a pre-draft visit with Oregon State's
Brandon Hardin
, who like Conte, played cornerback in college, but projects by some as a mid to late-round safety.
The current roster features Conte, Wright,
Craig Steltz
,
Winston Venable
, and
Anthony Walters
. Outside the starters, Steltz is the only safety with any real experience.
"We do need to provide more depth," Smith said.
The next 10:
11.
Charles Mitchell
, Mississippi State, 5-11, 202; 12.
Duke Ihenacho
, San Jose State, 6-0, 213; 13.
Janzen Jackson
, McNeese State, 6-0, 188; 14.
Justin Bethel
, Presbyterian (S.C.), 6-0, 200; 15.
Sean Richardson
, Vanderbilt, 6-2, 216; 16.
Cyhl Quarles
, Wake Forest, 6-1, 213; 17.
Phillip Thomas
, Syracuse, 5-11, 198; 18.
Eddie Pleasant
, Oregon, 5-10, 211; 19. Kelcie McCray, Arkansas State, 6-2, 202; 20.
Tavon Wilson
, Illinois, 6-0, 205.
Position grade:
C.
Analysis:
The recent explosion of pass-catching tight ends makes finding ideal prospects at the safety position more difficult because of the varying skill set now required to excel. Now more than ever, safeties need strong coverage skills in addition to the physicality required to support against the run. Only Alabama's
Mark Barron
is considered a surefire first-round pick in this year's class. But there's plenty of value to be found in the later rounds. Remember, both the Bears' starting safeties are former third-round picks. We're guessing the Bears add another to the position in the mid to late rounds.
January, 10, 2012
1/10/12
5:10
PM ET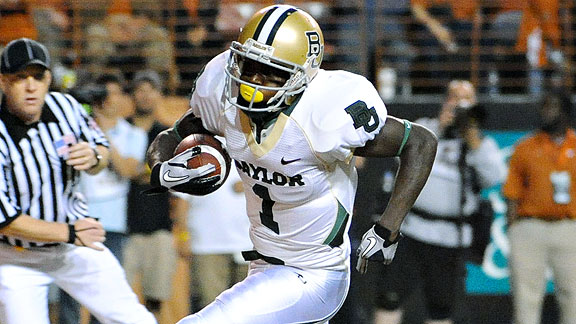 Brendan Maloney/US PresswireKendall Wright is drawing comparisons to speedy Steelers' receiver Mike Wallace.
This year marks just the second time in franchise history the Bears hold the No. 19 overall selection in the NFL Draft. Back in the spring of 1980, the Bears used pick No. 19 to select Louisville linebacker Otis Wilson, who eventually went on to have eight impact seasons on defense before injuries cut short his playing career.
This is the type of player the Bears need to find at No. 19. An impact guy who can contribute immediately, although Wilson didn't technically become a full-time starter until 1981, and remain in the starting line-up for at least the next five or six seasons. Those players do exist. Now it's up to the Bears to find them.
Here is early look at who might be available based on positions of need if the Bears remain at No. 19 in the first round. This list is subject to change based on the upcoming Senior Bowl and NFL Combine, where plays both rise and fall based on performance and interaction with NFL front office personnel.
RECEIVERS
Michael Floyd, WR, Notre Dame:
Several mock drafts have Floyd going to the Bears at his spot. Based on his college career, it would appear Floyd has the big-time playmaking ability the Bears desperately need at wide receiver.
Kendall Wright, WR, Baylor
: A vertical threat who draws comparisons to Pittsburgh's
Mike Wallace
. If he's truly the next Wallace, I'm onboard with the selection.
Alshon Jeffery, WR, South Carolina
: Jeffery might be considered a reach at No. 19, but the 6-4 wideout had 3,042 receiving yards in just three seasons in the rough and tumble SEC.
SAFETY
Mark Barron, S, Alabama:
Barron represents the best of a weak safety class. He has the reputation of being an intelligent player but also a big-time hitter.
CORNERBACK
[+] Enlarge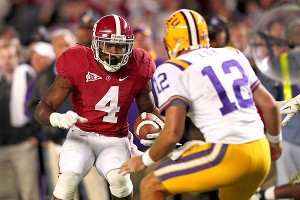 Marvin Gentry/US PresswireMark Barron may be the best safety in the draft, and it's a position of need for the Bears.
Alfonzo Denard, CB, Nebraska
: The Cornhuskers' shutdown corner is pegged by many to be a mid-first round selection.
Janoris Jenkins, CB, North Alabama
: Jenkins is supposed to be supremely talented, but troubled off the field. Jerry Angelo stayed away from these picks in the post-
Tank Johnson
era. Will the new Bears general manager share the same philosophy?
Stephon Gilmore, CB, South Carolina:
A big cornerback (6-1,194 pounds) who intercepted eight passes and recorded 181 tackles in three college seasons.
DEFENSIVE LINEMEN
Quinton Coples, DT, North Carolina
: Might not make it out of the Top 10, but Coples is a versatile lineman whose calling card is getting after the quarterback.
Jerel Worthy, DT, Michigan State:
Lovie Smith wants athletes on the defensive line. Worthy never had huge sack totals at MSU, but has a quick first step and all the necessary athleticism to make an impact in the NFL.
Nick Perry, DE, USC:
Not a traditional fit in terms of body type (6-3, 250 pounds) for Smith's defense, but Perry did lead the Pac-12 with 9.5 sacks.
LINEBACKER
Luke Kuechly, LB, Boston College
: At some point the Bears must replace
Brian Urlacher
and
Lance Briggs
. Kuechly was the 2011 Butkus Award winner.
February, 24, 2011
2/24/11
12:24
PM ET
INDIANAPOLIS --
Chicago Bears
general manager Jerry Angelo isn't scheduled to address the local media until Friday, but it has been interesting to hear how other NFL teams are approaching the draft in the midst of labor uncertainty.
If the current CBA expires in the late hours of March 3, NFL teams would not be able to sign any free agents until a new agreement is reached. In theory, the inability to add veteran players to a roster could impact the way organizations approach the upcoming draft. For example; teams might be more inclined to draft for need, instead of value or want, because how else can organizations fill holes on the roster if free agency is delayed?
Vikings vice president of player personnel Rick Spielman, however, plans to conduct business as usual.
"No. We've always been a big draft-the-best-available-player on the board [team]," Spielman said Thursday at Lucas Oil Stadium. "We'll continue to do that.
"Until things are resolved, nothing has changed for us. We are going out and do our normal procedures. We'll continue to do that until somebody tells us otherwise. We're just working under the rules we are under, and are doing everything we've done in the past."
It'll be interesting to hear Angelo's take on the subject.