Chicago Bears:

Draylen Ross
August, 8, 2012
8/08/12
1:12
PM ET
The
Chicago Bears
waived tight end
Draylen Ross
on Wednesday, dropping their total training camp roster down to 89 players.
Ross entered the NFL last year as an undrafted free agent out of North Texas. He spent nine weeks of the 2011 season on the Bears' practice squad.
June, 14, 2012
6/14/12
6:00
PM ET
The Chicago Bears wrapped up their three-day minicamp Thursday at Halas Hall, and here are some quick observations from the final session:
• Charles Tillman demonstrated his takeaway skills for the second consecutive day against the same victim: tight end Kellen Davis. Tillman pulled a ball out of Davis' hands and sprinted towards the end zone just as a Jay Cutler's pass hit the tight end's chest during team drills. More impressive is that as Cutler barked out the cadence, Tillman told the defense exactly where the ball would be going on the play.
[+] Enlarge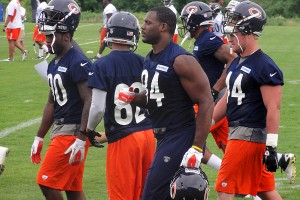 Michael C. Wright ,eSPNChicago.comDraylen Ross is an imposing player, but he faces long odds on making the Bears' roster.
• He might not make the Bears' roster or any other NFL roster for that matter, but we're giving the Thomas Jones "Big Guns" award to tight end Draylen Ross. Ross originally signed with the Bears in 2011 as an undrafted free agent out of the University of North Texas, and faces long odds to make the team. Based the size of his arms, perhaps he's got a future in body building if football doesn't work out.
• Rookie receiver Alshon Jeffery continued his inactivity in the final day of minicamp. Limited over the last two workouts with a lower-leg injury, Jeffery didn't participate in any portions of the Thursday session at Halas Hall. Jeffery's injury isn't believed to be serious.
• Linebacker Brian Urlacher was also held out of practice along with Thaddeus Gibson, Jonathan Wilhite, Patrick Trahan and Adrien Cole.
• Veteran tight end Matt Spaeth spent Thursday rehabilitating his sore hamstring during the workout with athletic trainer Bobby Slater.
• With Spaeth out, the Bears worked Kyle Adams and Davis with the starters in double tight end sets.
• Edwin Williams took reps with the second team at center.


• Rookie Greg McCoy took reps with the second team opposite veteran Kelvin Hayden. McCoy hasn't necessarily moved up the depth chart. It's likely the rookie received those repetitions because the team held out Wilhite.
• Nick Roach continued to work at middle linebacker with Urlacher out of action. Free-agent acquisition Geno Hayes played in Roach's customary strong-side spot.
• The Bears worked out two more tryout players on the final day of minicamp. The club brought in a pair of cornerbacks in Jeremy Ware, a former Michigan State standout drafted in the seventh round of 2010 by the Oakland Raiders, and Cornelius Brown, who signed with the Bears in 2010 as a rookie free agent.
February, 9, 2012
2/09/12
12:32
PM ET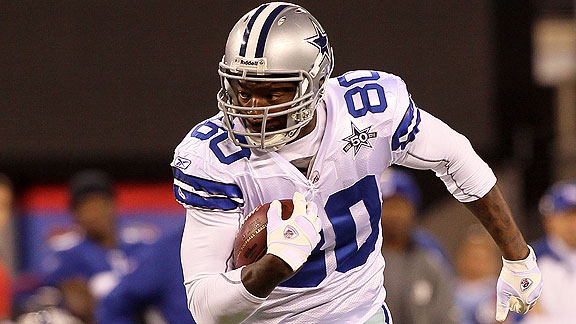 Jim McIsaac/Getty ImagesMartellus Bennett might thrive with the Bears after an escape from the circus atmosphere in Dallas.
This is the fourth installment of a 10-part series that reviews every Bears position group on offense and defense, while also taking a quick look at potential free agent targets and the top prospects in the upcoming NFL draft.
Surely at some point in the in the playoffs the
Chicago Bears
front office watched the exploits of tight ends around the league, and wondered why under former offensive coordinator Mike Martz and the team basically eliminated the position, reducing it to nothing more than an extra offensive lineman.
Five of the tight ends featured in the postseason (New Orlean's
Jimmy Graham
, New England's
Rob Gronkowski
and
Aaron Hernandez
, Green Bay's
Jermichael Finley
and San Francisco's
Vernon Davis
) individually produced more in terms of receptions and yardage than every tight end on the Bears roster combined. In fact, of all the teams that advanced to the postseason, only one starting tight end -- Denver's
Daniel Fells
-- generated fewer catches (19) than Chicago tight ends
Kellen Davis
and
Matt Spaeth
(25), but matched their yardage (256).
[+] Enlarge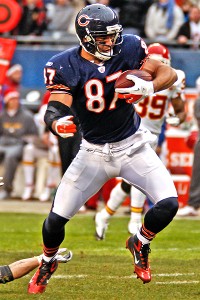 MRQ/Icon SMIKellen Davis has all the physical tools to be a productive tight end, but the Bears are still waiting for him to put it all together.
Of the 12 starting tight ends on playoff teams just two -- Fells and
Jake Ballard
of the
New York Giants
-- caught fewer than 51 passes. To really put that into perspective, consider the fact that Chicago's leading receiver -- running back
Matt Forte
-- finished the season with 52 receptions.
Ten tight ends on playoff teams eclipsed Forte's numbers, and four of them -- Detroit's
Brandon Pettigrew
, Atlanta's Tony Gonzales, Graham and Gronkowski -- finished 2011 with at least 80 catches. A Bears player hasn't accomplished that feat since 2002, when receiver
Marty Booker
finished with 97 receptions.
So despite the rosy outlook from the coaching staff regarding the team's tight ends, clearly the Bears need more from the position, especially in the red zone where the Bears scored 20 touchdowns in 38 drives inside an opponent's 20 in 2011.
"We have an excellent tight end," Bears coach Lovie Smith said of Davis, who is an unrestricted free agent. "We brought Matt Spaeth here to primarily be a blocker for us, and he filled that role well. Kellen Davis can do anything the good tight ends in this league can do. I think we had a combination of as good a tight end -- the makings of -- as anyone around in Kellen."
THE CURRENT ROSTER
•
Kellen Davis:
Despite pedestrian statistics, Davis led the Bears with five touchdown receptions, finishing his fourth season with 18 catches for 206 yards. An unrestricted free agent, Davis might be offered a minimal deal to re-sign. But if the Bears -- under new GM Emery -- decide to upgrade at the position, they could decide to let Davis sign elsewhere. Davis has flashed ability as both a blocker and receiver over the past two seasons, but lacks consistency in both areas.
•
Matt Spaeth:
Brought in as a blocking tight end, Spaeth played 15 games, catching seven passes for 50 yards. The Bears signed Spaeth to a three-year contract last year in free agency, and -- counting his bonuses -- he basically earned more than $285,000 per catch last season. With Spaeth to receive $1.775 million in base salary for 2012, the front office may decide that's too much to pay for a one-dimensional tight end. In fact, the Bears could use that money to try to lure back Davis.
•
Kyle Adams:
Contributed primarily as a special teamer for eight games as a rookie, before a torn hamstring landed Adams on the injured reserve. One of just five undrafted free agents to make last year's team, Adams also showed promise as a developmental tight end that might thrive with an NFL offseason under his belt that might open up the door to a strong training camp.
•
Andre Smith:
Spent the first eight games on the practice squad before the Bears promoted him to the 53-man roster after Adams was placed on injured reserve. Although he was on the active roster, the Bears placed Smith on their inactive list in each of the last eight games. Like Adams, Smith is another developmental prospect that displays promising upside.
•
Draylen Ross:
Spent time briefly with the Bears during 2011 training camp, and was signed to the practice squad when Adams was placed on IR and Smith was promoted to the active roster. If Ross makes it to training camp, he'll have a difficult time sticking.
Bears free agents:
Davis
POTENTIAL FREE AGENT TARGETS
•Jermichael Finley,
Green Bay Packers
, unrestricted
•
Fred Davis
,
Washington Redskins
, unrestricted
•
Martellus Bennett
,
Dallas Cowboys
, unrestricted
WHY BENNETT MIGHT MAKE SENSE
There's no way the Packers let Finley see the open market, and Davis' 2011 drug suspension might be too much of a red flag for the Bears under new GM Phil Emery. Bennett (6 foot 6, 270 pounds) makes for an interesting prospect for a variety of reasons. According to a Cowboys source, Bennett was the team's best blocker, is immensely athletic and possesses solid hands. But he's been plagued by immaturity. Like quarterback
Jay Cutler
, Bennett has often been criticized for his body language.
Bennett, who will be 25 in March, might be able to thrive in Chicago because of the Bears' established group of leaders, and the fact Halas Hall isn't the circus atmosphere the tight end has become accustomed to in Dallas. With the Bears, Bennett would take a lead role, as opposed to being merely a backup to
Jason Witten
. Throw in a strong-minded coach in Smith, a top quarterback in Cutler, and an established group of leaders in the locker room, and Chicago might be the place where Bennett can finally flourish.
Believe it or not, Bennett's skill set is very similar to those of Pettigrew and Finley.