Chicago Bears:

Ego Ferguson
July, 27, 2014
Jul 27
4:40
PM ET
BOURBONNAIS, Ill. -- Arguably the best drill conducted in full pads is the one-on-one pass-rush competition between offensive and defensive linemen.
Granted, football is not an individual sport, but players are required to win individual battles in the trenches for the betterment of the team.
Collins
Perhaps no defensive lineman flashed as often as fifth-year defensive tackle
Nate Collins
did on Sunday during the 15-minute exercise. That is an encouraging sign for the Bears. Collins missed the final 11 games last year because of an ACL tear that required surgery, and the Bears depth on the defensive line suffered because of it.
Collins spent months rehabbing the left knee before returning to the Bears on a one-year deal in March. Equipped with a bulky knee brace, Collins received medical clearance to participate in the offseason program in May and has been relatively full-go ever since.
"I have a mentality where the moment you get comfortable something bad can go wrong or something unexpected can happen," Collins said. "I do everything I can and focus on what I can control and everything else will work itself out. I just know if I come out here and perform my best every single day then good things will happen."
Collins showcased a variety of moves the handful of times he lined up opposite reserve offensive linemen in the drill, relying on his speed and technique on certain rushes, and brute power to push up the field on others.
"It really felt good to get out there. There was a lot of adrenaline and energy running through me. I'm just glad I was able to come out here and do what I love because I love football. I love football, I love these guys and I love this team. It's a blessing I was able to come out here and compete with my brothers."
Other observations from the drill included: defensive tackle
Stephen Paea
winning a memorable one-on-one matchup with veteran center
Roberto Garza
. Defensive end
Trevor Scott
continued his strong start to camp by beating an offensive tackle off the edge on one rush, then winning another matchup with an inside move. Rookie second-round pick
Ego Ferguson
ended up on the ground on two separate occasions, but Ferguson did manage to push his way into the backfield on one snap. Left tackle
Jermon Bushrod
got the best of defensive end
Jared Allen
the one time they squared off in the session. Right tackle
Jordan Mills
held his own versus ends
Lamarr Houston
and
Willie Young
.
July, 25, 2014
Jul 25
6:55
PM ET
BOURBONNAIS, Ill. -- Offensive linemen
Kyle Long
and
Jordan Mills
bonded almost immediately as rookies in 2013, and a similar development seems to be afoot at training camp with rookie defensive tackles
Ego Ferguson
and
Will Sutton
.
"As soon as we got in here together, we kind of cliqued up and we've been by each other every day," Ferguson said. "Our rooms are right next door to each other. He was a great pass-rusher in college, won defensive player of the year two times in a row. I looked up to him a little bit as far as pass-rushing skills. I felt like he was a great player. "
Interestingly, the duo wants to incorporate one another's strengths into their own games. Looking to plug leaks in the league's worst rushing defense (161.4 yards per game) from 2013, the Bears drafted Ferguson and Sutton in the second and third rounds, respectively.
Ferguson stuffs the run. Sutton gets after the quarterback.
Ferguson wants to improve as a pass-rusher, and Sutton hopes to hone his skills against the run.
"I feel like our games are two different styles," Ferguson said. "I'm more of a run-stopper trying to develop and get better on my pass-rushing. He's more of a pass-rusher trying to develop more against the run."
At Arizona State, Sutton won Pac-12 Defensive Player of the Year two years in a row, becoming just the second player in the history of the conference to win the award twice. Sutton racked up 20.5 career sacks in college.
Ferguson, meanwhile, started just 12 games at LSU, where he notched only one sack before declaring for the draft after his junior season.
Despite those meager numbers, Bears general manager Phil Emery felt confident in his decision to draft Ferguson. Prior to making the pick, Emery watched tape of Ferguson in games against Alabama, Mississippi State, Mississippi and Georgia to confirm his belief in the defensive tackle's worth. In those games, Emery said, "nobody could run the ball against him inside at all."
It was clear, though, that Ferguson's pass-rushing skills needed work.
That's part of why Ferguson took a yoga class in the offseason to improve his flexibility, which in turn, should help with movement skills as a pass-rusher. Ferguson said he noticed the difference Friday in his first training camp practice as a pro.
"I felt like my flexibility was a lot better today," Ferguson said. "I'm just trying to take it one play at a time, one day at a time."
July, 19, 2014
Jul 19
9:00
AM ET
Training camp is coming, and you've got questions. So we figured it would be absolutely worth it to try to knock out a Bears mailbag before the start of training camp Thursday at Olivet Nazarene University. Thanks everyone for participating.
@mikecwright #bearsmailbag Have you had chance to meet and speak with Ego yet?

— Devin O'Barr (@Devin_OBarr) July 18, 2014
@mikecwright:
I have. He's a very engaging fellow whom I think has a chance to contribute significantly as a rookie. Back in May during the rookie minicamp, we had the opportunity to speak with him and ask him about what it was like to finally put on a Bears uniform. Here's what he said: "A dream come true. It's like when you come from the first year in high school, you're a little puppy, you're trying to learn; first year of college, it's the same thing. So I'm just trying to soak everything in and learn from the vets. It's definitely unreal right now. I still wake up every morning thinking this is a dream. But at the end of the day, I'm here man. And I'm happy to be here." What I liked about Ferguson is the fact he wasn't quick to pat himself on the back in terms of his physical skill set. He prefers to prove his worth on the field, which is refreshing. "I can't tell you what I can bring until I get on the field," Ferguson said.
@mikecwright Which linebackers do you think will be on the final 53 man roster? #bearsmailbag

— Max Bahling (@maxbahling63) July 18, 2014
@mikecwright:
It would be easy for me to tell you right here, but I prefer you take a minute to look at my projected 53-man roster, which ran Friday. You can find the answer you seek
here
.
@mikecwright Who, in your opinion, is last years Jordan Mills as the most under the radar player pre-camp? #bearsmailbag

— Bryan Koteles (@XXX_CandyMan) July 18, 2014
@mikecwright:
It's too early to say whether he'll make the team, but in my mind that player is linebacker
Christian Jones
, who was a big-time standout at Florida State but wasn't drafted. At FSU, Jones played all over the place and started games at every linebacker spot for the Seminoles, in addition to defensive end. He was expected to be picked as high as the second round, yet his name went uncalled during the draft. At rookie minicamp back in May, Jones admitted that a diluted drug test at the NFL combine in February likely resulted in teams shying away from him. Here's an interesting note about Jones: His father, Willie Jones Sr., played at Florida State with Bears linebackers coach Reggie Herring, which is part of the reason the rookie chose to sign with Chicago. "I knew I'd get some good coaching from [Herring] and I know about the Bears history, winning nine championships," Jones said. "It's a great organization and I just wanted to be a part of it. It's a lot of motivation [to go undrafted]. It's the competitive side. You see guys getting drafted above you. Everybody thinks they're better than somebody. But that's how it is. It's going to help fuel me, and I believe things happen for a reason. I really feel like I belong here, and I'm just making the best of the opportunity." I'd say keep an eye out for Jones because he's a player.
@mikecwright #bearsmailbag does Ratliff have anything left?

— Ricardo Arguello (@PCRicardo) July 18, 2014
@mikecwright:
Absolutely he does. Remember, when
Jeremiah Ratliff
joined the Bears he was coming off an injury, and the Bears more or less just let him take his time going through the healing process. That was a huge positive for Ratliff and the Bears because he's 100 percent ready to go. Your question reminds me of a text I received from a member of the Bears organization shortly after the club re-signed Ratliff. So I dug through my phone to find it. It said: "It helps that we signed Rat. He's a soldier if healthy!" Well, now Ratliff is fully healthy, and the Bears are expecting him to be a steady and disruptive force up front this season. Ratliff will be 33 once the season starts, but I don't see his age being a major concern.
@mikecwright Do you think our secondary has improved? #Bearsmailbag

— DJD (@datdamndj) July 18, 2014
@mikecwright:
I do, but not necessarily for the reasons you'd think. First off, what the Bears did in terms of reloading up front will be huge in helping the secondary. If the front four can consistently put pressure on the opposing quarterback, obviously the secondary doesn't have to stay in coverage as long, and that's huge. So that's the No. 1 reason the secondary will be improved. Here's No. 2. When the Bears revamped the coaching staff last season, it took away a ton of the continuity the club had established with the former coaching staff under Lovie Smith. Under Smith, Jon Hoke worked with the cornerbacks. Smith's son, Mikal, worked with the nickel corners, and Gill Byrd spent his time with Chicago's safeties. When the new staff came aboard last season the players weren't able to get as much individualized coaching because Byrd and Smith obviously left, leaving Hoke to try to work with both the cornerbacks and the safeties. Ultimately, defensive quality control assistant
Chris Harris
ended up working with the safeties, and although he's got tons of knowledge as a former player, you have to keep in mind that 2013 was his first season as a coach. I think this season there will be more continuity with the coaching staff, and Hoke will return to working with the cornerbacks, while defensive coordinator Mel Tucker will start spending more time working with the safeties. I didn't even get into the new additions, which obviously should help. But I think the moves with the front four and the coaching staff changing the way it does things will be the two biggest contributors to improved play in the secondary.
July, 15, 2014
Jul 15
11:09
AM ET
With the start of training camp closing quickly, let's take a look at the three
Chicago Bears
rookies most poised to make an impact in 2014. It's no surprise that every one of the rookies to watch are defensive players.
In an effort to shore up the league's worst rushing defense (161.4 yards per game) in 2013, the Bears used two draft picks to add youth to the interior, starting with second-round pick
Ego Ferguson
.
Behind starters
Jeremiah Ratliff
and
Stephen Paea
, the Bears aren't teeming with proven depth at defensive tackle. That's why there's a good chance Ferguson -- and third-round pick
Will Sutton
-- could see just as many repetitions as the first-teamers throughout training camp and the preseason leading into the regular season.
"I feel like I'm a better athlete than people expect," Ferguson said. "But I just have to show it. They just told me to get into the playbook and learn as much as I can."
The expectation is Ferguson learns both defensive tackle positions.
"The benefit of that is if you get into the season and there is a reason why they have to play another technique, if the offense shifts the formation or if they scheme you and catch you on a play where now, they've got you left-handed," defensive line coach Paul Pasqualoni said. "For us there won't be such thing as left-handed. We're going to be able to handle both and handle both effectively."
Prior to selecting Ferguson, Bears general manager Phil Emery pulled tape of Ferguson in games against Alabama, Mississippi State, Mississippi and Georgia just to double check whether the rookie was worth taking with a second-round pick. The fact that "nobody could run the ball against him inside at all" on those tapes, according to Emery, only confirmed the general manager's initial evaluation.
Now Ferguson has to prove his worth against NFL competition, and it's not expected the rookie will be eased into the mix. At LSU, Ferguson played the 3-technique, a spot he'll play in Chicago, while also contributing at the shade nose position.
"We've got an opportunity to be better because of the overall group of personnel that we've brought in," Emery said after the draft. "We don't know how this all looks yet. We feel good about the group we have, very confident in our coaching staff."
July, 1, 2014
Jul 1
8:00
AM ET
Overview:
Season-ending ACL tears to
Henry Melton
and
Nate Collins
left the Bears exceedingly thin at defensive tackle last season. Determined to avoid a repeat scenario, the Bears spent two early draft picks to inject some youth and increase depth at the position, LSU's
Ego Ferguson
(2nd round) and Arizona State's
Will Sutton
(3rd round).
Both rookies, along with re-signed veteran
Nate Collins
, are expected to fight for spots in the Bears' defensive tackle rotation behind projected starters
Jeremiah Ratliff
and
Stephen Paea
, after the club allowed Melton and DT/DE
Corey Wootton
to depart via free agency.
The Bears were pleased enough with Ratliff, a former Pro Bowl player for the
Dallas Cowboys
, to offer the tackle a new two-year deal in the offseason. Paea, whom the Bears moved up in the second round of the 2011 draft to grab out of Oregon State, is entering the final year of his original rookie contract. For Paea, it's now or never. He's shown promise throughout his four-year NFL career, but has struggled to stay healthy and has never truly dominated over an extended period of time in the regular season.
Battle to watch:
Will one of the rookies step up? Ferguson and Sutton are different players. Despite Ferguson's limited body of work at LSU (12 starts), the Bears believe the 6-foot, 309 pound rookie has the traits to be an effective run-stopper at the NFL level. Sutton was an elite pass-rusher with 13 sacks and 23.5 tackles-for-loss in 2012, but his production dropped his senior year with the Sun Devils due to weight gain. Both rookies have upside, but neither is a sure-fire lock to make an impact in 2014.
Dark horse:
Many believed Collins was on the verge of a breakout year before the knee injury in Week 5. The affable Collins, who played in nine games for the Bears in 2012, has shown the ability to rush the passer. Collins participated in organized team activities and the veteran minicamp, proving that he is fully recovered from the ACL surgery.
Who makes the cut:
It just depends on how many defensive linemen the Bears decide to keep on the 53-man roster. Ratliff and Paea (barring injuries) appear to be locks, along with defensive ends
Jared Allen
,
Lamarr Houston
and
Willie Young
. Ferguson and Sutton are likely in good shape because of their draft status, and Collins is an experienced reserve. On paper, the Bears seem equipped to carry five tackles, but preseason injuries at other positions can always change the composition of the roster in August and September.
June, 16, 2014
Jun 16
10:55
AM ET
The
Chicago Bears
convene one last time before taking a break as they await the start of training camp in July with Tuesday's beginning of a three-day minicamp at Halas Hall.
Here are some storylines to keep an eye on at minicamp:
Palmer
Palmer's injury situation:
Jordan Palmer
strained a pectoral muscle on his throwing side during organized team activities, calling it "a nothing injury," while saying it's "more frustrating than anything." Still, the injury resulted in the team taking a cautious approach with Palmer during OTAs. The quarterback should be out on the field Tuesday taking repetitions at minicamp, which is important considering Palmer is in the beginning stages of what should turn out to be an interesting competition for the primary backup gig behind
Jay Cutler
.
Palmer came into the offseason as the favorite to win the job because, while not impossible, it's not likely that rookie
David Fales
would unseat the veteran for the No. 2 job. Chicago's signing of veteran
Jimmy Clausen
, however, adds intrigue and increased competition to the situation. So Palmer needs to heal in order to be 100 percent ready for perhaps the most important competition of his NFL career. He's got to be cautious, however, and not rush back into action. After minicamp concludes, Palmer will have plenty of time to heal up. So if Palmer feels any discomfort in that strained pectoral muscle, he shouldn't hesitate to shut it down.

Clausen
Clausen's repetitions/performance:
If Clausen gains a level of command with Chicago's playbook, he'll be a formidable competitor to Palmer, Fales, and
Jerrod Johnson
for the primary backup job. Clausen basically took a crash course in the team's system during organized team activities. But Clausen should be well-versed enough in the offense by now to really be able to show what he can do. It's likely the staff gives Clausen plenty of reps throughout this three-day minicamp, and he needs to make the most of them.
The Bears signed Clausen because they liked his experience, football smarts, and mental toughness. During Clausen's workout for the team, he threw an accurate ball with plenty of spin on it. Now, he'll need to show those attributes consistently enough to give the staff confidence that he can be a legitimate contender for the No. 2 job.
With five quarterbacks already on the roster, it wouldn't be a surprise to see the Bears let one go after minicamp.
Cutler
Cutler's command of the offense:
Cutler is expected to speak to the media after Tuesday's session, and we should be able to get a feel for how comfortable he's become operating Marc Trestman and Aaron Kromer's offense. Cutler performed well last season, which marked his first year playing in that system. So in Year 2, Cutler should be pretty much an expert at executing the scheme. In addition to the experience gained in 2013, Cutler worked diligently throughout the offseason with his teammates on offense to sharpen execution. Cutler has also worked hand in hand with Trestman and Kromer to further develop the playbook based on what he's comfortable doing, and what the offense as a whole does well. That should translate into more efficient execution.
So how Cutler operates during minicamp will be watched closely; especially competitive the periods of practice, which pit the starters on offense and defense against one another.
Brock Vereen:
A fourth-round pick from Minnesota, Vereen made the most of his reps during OTAs as veterans
Chris Conte
and
Craig Steltz
were sidelined with injuries. Vereen took all the first-team reps at free safety opposite free-agent acquisition
Ryan Mundy
during the club's last OTA open to the media, with
M.D. Jennings
and
Danny McCray
taking the second-team reps.
"I wouldn't say [I'm] shocked [about taking reps with the starters], but I know nothing is set," he said. "I'm just coming in and working hard. If that gets me on the field, then so be it. It's really starting to slow down for me out there. Now, I'm able to react rather than to have to think about it."
That bodes well for him. Vereen played almost every position in the secondary at Minnesota, but the Bears believe he's best suited to play free safety in the NFL. The club likes Vereen's versatility, and believes he's got the acumen, desire and football intelligence to quickly become a viable contributor.
Revamped front seven:
The additions of
Lamarr Houston
,
Jared Allen
, and
Willie Young
in free agency, the selections of
Ego Ferguson
and
Will Sutton
, and
Shea McClellin
's switch from defensive end to linebacker means there's quite a few moving parts in Chicago's revamped front seven. How it all meshes will be a major factor in the success of the entire defense.
Jeremiah Ratliff
and
Stephen Paea
figure to be the team's starters at defensive tackle in minicamp with Houston and Allen manning the end spots. The starters at linebacker will likely be
D.J. Williams
in the middle with
Lance Briggs
and
Jon Bostic
playing the outside spots. More than likely, the Bears will go into the 2014 season with aforementioned as the starters in the front seven.
But players such as Ferguson, Sutton, Young and McClellin will take on key roles as rotational and situational contributors. McClellin is currently competing with Bostic for the starting job at Sam linebacker, but has also taken reps in the middle. If he's unable to win a starting job at linebacker, he'll still likely be used quite a bit as a pass-rusher in sub packages, as will Young. Ferguson and Sutton probably won't start, but they'll be counted on to take almost as many reps as Ratliff and Paea.
It will be interesting at minicamp to watch how the chemistry develops with all the new players in the front seven, as well as how the staff deploys them.
May, 10, 2014
May 10
6:05
PM ET
»
NFC wrap-ups
:
East
|
West
|
North
|
South
»
AFC
:
East
|
West
|
North
|
South
LAKE FOREST, Ill. -- A wrap-up of the Chicago Bears' draft.
Click here
for a full list of Bears' draftees.
Bears general manager Phil Emery likes to say a team can never expect to fill all of its needs via the draft. Well, eight draft choices later, the Bears actually came close.
Best move:
Taking defensive tackles
Ego Ferguson
and
Will Sutton
with consecutive picks on Day 2. We don't know if Ferguson or Sutton will pan out, but the Bears had to keep strengthening the defensive line after last season. Ferguson and Sutton join new faces
Jared Allen
,
Lamarr Houston
,
Willie Young
,
Austen Lane
,
Trevor Scott
and
Israel Idonije
, who is back for his second tour of duty. The Bears also re-signed tackles
Jeremiah Ratliff
and
Nate Collins
to help fortify the trenches on defense.
[+] Enlarge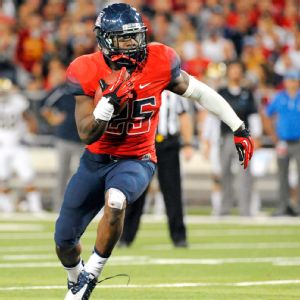 Casey Sapio/USA TODAY SportsArizona running back Ka'Deem Carey, a fourth-round pick by the Bears, has some question marks in terms of off-the-field incidents.
This reminds me of how Emery & Co. rebuilt the offensive line last offseason.
Riskiest move:
Arizona running back Ka'Deem Carey's (fourth round) on-field production speaks for itself: 4,239 yards, 48 rushing touchdowns and 77 receptions for 679 yards in three years for the Wildcats.
However, there are questions about Carey that extended beyond the football field. The 5-9, 207-pound tailback reportedly had multiple run-ins with the authorities, including a charge of assaulting his pregnant ex-girlfriend that was later dismissed.
Carey depicted himself as a high-character individual when he spoke to Chicago media members following his selection by the Bears at No. 117.
"As you guys are going to get to know me over the years; I'm an outgoing [person] who loves kids and is light-hearted," Carey said. "I would never do anything to harm people. I'm a loveful cat."
Emery is not afraid to draft or acquire players with questionable character. Wide receiver
Brandon Marshall
has rewarded Emery's faith in him by posting consecutive Pro Bowl seasons. On the flip side, 2012 fourth-round pick
Evan Rodriguez
lasted only one season before being cut after multiple run-ins with the law last offseason.
Most surprising move:
Emery told reporters before the draft that he rejected the notion of drafting a developmental quarterback in the later rounds with the intent of grooming him to be a future starter.
The Bears selected San Jose State quarterback
David Fales
in the sixth round (183).
Go figure.
File it away:
Time will tell if the Bears regret passing on a safety in the first round.
The organization continued its longstanding tradition of waiting until the later rounds to address the position when they moved back into the fourth round and traded away a pair of fifth-round selections to grab Minnesota's
Brock Vereen
at 131. Vereen does have an excellent NFL pedigree. His brother, Shane, a standout running back, was selected in the second round of the 2011 NFL draft by the
New England Patriots
. Their father, Henry, was drafted by the Bucs in 1979.
Vereen is a versatile player who lined up at all four defensive back spots over the course of his career with the Golden Gophers. He started 36 games and registered 200 tackles, four interceptions, 7.5 tackles-for-loss and one blocked kick.
"Brock is one of the smartest and most versatile players I have ever had the privilege of coaching and is an outstanding young man," Minnesota head coach Jerry Kill said. "He is the ultimate team player and will do whatever is needed to help the Bears win. I know he is going to make Chicago a better team and will also be a great teammate in the locker room."
But you can argue the Bears are in this mess at safety because the organization doesn't put a high enough value on the position.
May, 9, 2014
May 9
11:47
PM ET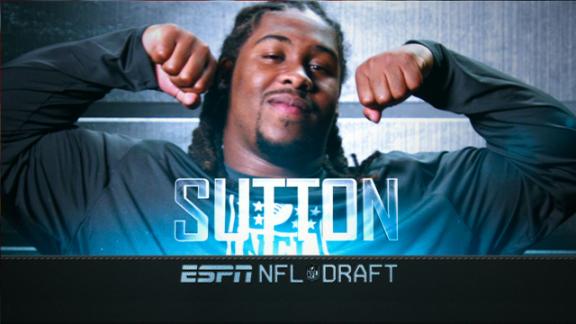 LAKE FOREST, Ill. -- The
Chicago Bears
doubled down on defensive tackles Friday, using their third-round pick, No. 82 overall, to select Arizona State's
Will Sutton
, just a round after acquiring LSU's
Ego Ferguson
at No. 51.
While critics lambasted the Ferguson pick in the second round because of his relatively limited body of work at LSU, Sutton comes to Chicago with a long resume of solid production.
A three-year starter, Sutton racked up 45.5 tackles for lost yardage at Arizona State to go with 20.5 sacks, including 13 in 2012 as a junior. Sutton switched positions as a senior from strongside defensive tackle to what was called the "Tiger" position in Arizona State's scheme brought in by a new coaching staff. In prepping for the new role, in which he would be asked to handle multiple blockers on a down-by-down basis, Sutton bulked up from 285 pounds to 320.
[+] Enlarge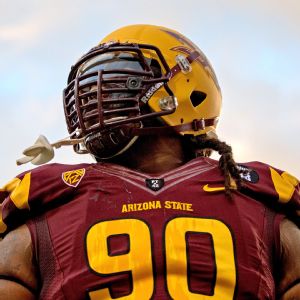 Mark J. Rebilas/USA TODAY SportsWill Sutton's production dipped as his pounds increased at Arizona State, but he feels he's now at an ideal weight of 290.
The weight gain led to a dip in production from Sutton but was also viewed by some as him sacrificing personal success for the good of the team. Sutton felt he received bad information from outside sources and bulked up believing he'd need to gain weight to play in the NFL.
Sutton said he now weighs 290 pounds.
"I think this is where they want me, at 290," Sutton said. "I can always get down another five or 10 pounds if they want me to. I felt [the weight gain] hurt me a little. But I was just getting information back saying, 'He's too small for the NFL.' And I was just listening. I've been working to get the weight off. I'm back down to what I was my junior season. I'm just ready to show what type of player I really am."
Sutton started in 40 of 51 games at Arizona State playing three positions, and he totaled 161 tackles, four forced fumbles, an interception and eight pass deflections. He's only the second player in Pac-12 history to win conference defensive player of the year honors twice in a career.
At the conclusion of the 2013 season, one in which the Bears -- partially because of injuries along the front seven -- allowed a franchise record 2,583 yards rushing, including an NFL-worst 5.35 yards per attempt -- general manager Phil Emery admitted the Bears were "at least" one defensive lineman short and took responsibility for not stocking the roster with capable talent.
Emery atoned for the shortage Friday by doubling up at the position in Rounds 2 and 3.
"Both present different styles as players, both fit for the Bears for different reasons," Emery said. "Both of them were targeted players. As we have painted this plan over the last couple of weeks, they were the two players we had slotted for those two spots. I was extremely happy to get them. It's a short supply, high demand position. You have to take them when they're available, and you take the ones you feel good about. We wanted those players."
May, 9, 2014
May 9
10:51
PM ET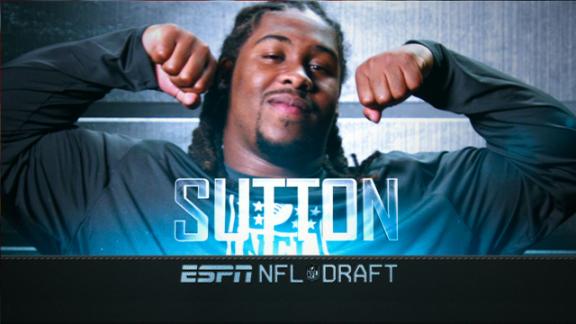 LAKE FOREST, Ill. --
The pick:
Will Sutton
, defensive tackle, Arizona State.
My take:
The Bears poured a massive amount of resources into repairing the interior of the defensive line with Sutton and second-round pick
Ego Ferguson
of LSU. Sutton, a two-time Pac-12 defensive player of the year, had 13 sacks and 23.5 tackles for loss for the Sun Devils in 2012 and likely projects to line up at three-technique in the NFL.
Sutton's numbers dropped last year when he registered only 48 tackles, four sacks and 13.5 tackles-for-loss. Many draft analysts believe Sutton's decline in production was due to his being overweight. Sutton said he is currently at 290 pounds but can continue to drop weight if the Bears want him to.
The defensive tackle was declared academically ineligible in 2010.
Sutton obviously made a positive impression on the Bears and defensive line coach Paul Pasqualoni during his pre-draft visit to Halas Hall.
Double-dip:
The last time the Bears went back-to-back at defensive tackles in the early rounds was 2004 when former general manager Jerry Angelo selected
Tommie Harris
and
Tank Johnson
. When Harris and Johnson were healthy and focused, they comprised one of the best defensive tackle combos in the league. The Bears would be absolutely thrilled if one day Sutton and Ferguson can grow into that role.
Both players are expected to be part of a rotation in 2014, but Sutton and Ferguson could be the future starters at three-technique and nose tackle, respectively.
What's next:
The Bears hold four picks Saturday (Nos. 117, 156, 183, 191) but none in the seventh-round due to last year's trade with Dallas for tight end
Dante Rosario
. But the Bears do have an extra choice in the sixth round, courtesy of sending former first-round choice
Gabe Carimi
to the Bucs.
With cornerback and defensive tackle addressed, the Bears are expected to target help at linebacker, running back and perhaps safety, although the consensus top-five safeties are all off the board.
May, 9, 2014
May 9
10:02
PM ET
LAKE FOREST, Ill. -- Statistics can be deceiving.
The
Chicago Bears
clearly looked beyond LSU defensive tackle
Ego Ferguson
's modest career collegiate numbers (12 career starts, 85 tackles, five tackles-for-loss and one sack) when drafting him at No. 51 overall.
They obviously believe the 6-foot-3, 315-pound Ferguson will add fresh legs to an already decent rotation at defensive tackle that includes veterans
Jeremiah Ratliff
,
Nate Collins
and
Stephen Paea
. Because the Bears are so high on Ratliff at three-technique, general manager Phil Emery didn't have to necessarily find a Week 1 starting interior defensive lineman in the draft.
After Minnesota's Ra'Shede Hageman and Florida State's Timmy Jernigan were taken off the board, Ferguson was the next best option in the Bears' mind.
He can stop the run. Ferguson had 58 tackles in 2013 when he was named honorable mention All-SEC. Not to be redundant, but the Bears are determined to find players that thrive in run support.
Word is Ferguson still needs to develop better interior pass-rushing skills.
"You always need to work," Ferguson said Friday night. "I need to improve on pass-rush and my spin move. But one thing I always bring is my heart and my competitive nature. [I'll do] whatever it takes and for however long it takes to win."
Second-round picks are expected to contribute in Year 1, but Ferguson has the luxury of working on his technique with veteran Bears defensive line coach Paul Pasqualoni until he's ready to be thrust into a starting role.
Ferguson told reporters at Halas Hall he had a positive meeting with Pasqualoni when he visited the Bears before his pro day.
"[Pasqualoni] has a great personality and he brought me to the office and we were talking ball for a long time," Ferguson said. "He asked me if I can play that two-technique, can I do it? He said that's what the Bears want me for. He showed a lot of interest."
Pasqualoni was an important hire for the Bears in the offseason. With more than 40 years of coaching experience, he is the perfect person to coach up younger defensive linemen that may possess above-average traits, but have yet to garner above-average success.
The Bears are counting on Pasqualoni to refine Ferguson's pass-rushing technique; just as Rod Marinelli did with
Israel Idonije
,
Henry Melton
and
Corey Wootton
before the veteran coach departed for Dallas after the Chicago Bears fired Lovie Smith.
May, 9, 2014
May 9
8:59
PM ET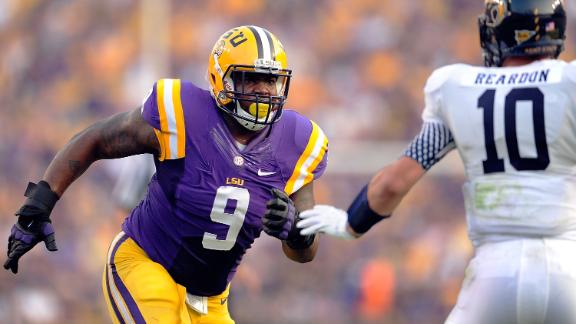 LAKE FOREST, Ill. -- The pick:
Ego Ferguson
, defensive tackle, LSU
My take:
The
Chicago Bears
continued to stack the chips on defense Friday night in the second round of the NFL draft with the 51
st
overall pick. The Bears re-signed veteran defensive tackle
Jeremiah Ratliff
in free agency, and he's capable of playing both the nose and 3-technique spot. But Ratliff can play only one position at a time. So the addition of Ferguson here makes sense. Going into the draft, Chicago's roster featured just three defensive tackles in
Nate Collins
(coming off a torn ACL),
Stephen Paea
(missed three games due to a nagging toe injury) and Ratliff. Recent signees
Israel Idonije
and
Lamarr Houston
can play outside and inside, but the Bears needed an inside presence. Like most young players, Ferguson is raw in term of his technique and has a tendency to play high at times.
It's unknown whether Ferguson is an instant starter on Chicago's defensive line. But the fact the group possesses so many accomplished veterans bodes well for Ferguson's transition to the pro game.
Ferguson played 38 games at LSU, and finished his career with 85 tackles and only one sack. But his physical skill set matches up well with a one-gap scheme such as Chicago's.
Ferguson didn't become a starter at LSU until 2012.
Social media savvy:
After the 2013 season, Ferguson announced on Instagram that he wouldn't be returning for his senior college season. "First off, I want to thank God without him none of this would be possible," he posted. "I also want to thank my parents for always being in my corner since day one. I want to thank coaches too for giving me the chance to play in front of the best fans in college football. These past four years have been amazing. Without my teammates I don't know where I would be right now. They were more than teammates, they were my bruddas. After talking to my parents and praying about this decision I decided to enter the 2014 NFL draft #blessed #squad #family first."
What's next:
The Bears will likely continue to bolster the defense with their third-round pick. The Bears addressed a need at cornerback in the first round, and defensive tackle in the second. It's expected the club will look to add at safety or linebacker in the third round.
May, 9, 2014
May 9
12:18
PM ET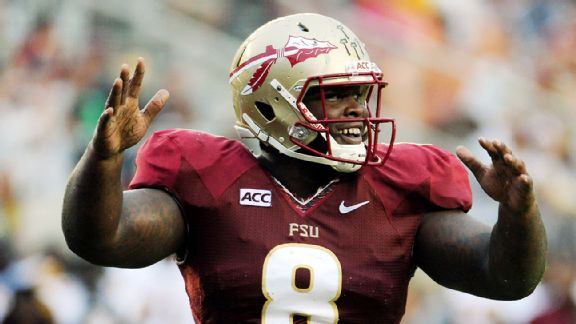 Melina Vastola/USA TODAY SportsFlorida State DT Timmy Jernigan was viewed as a first-round talent in early mock drafts.
LAKE FOREST, Ill. -- The
Chicago Bears
knocked out a need at cornerback on Thursday in Round 1 of the NFL draft with the selection of Virginia Tech's
Kyle Fuller
, and on Friday the team will stick to the plan of replenishing the defense in Rounds 2 and 3.
Despite perhaps more pressing needs at safety and linebacker, the Bears took a versatile cornerback in the first round. What's encouraging for the next two rounds is that this year's draft class is so deep, the Bears could still find players in need areas capable of contributing significantly as rookies.
[+] Enlarge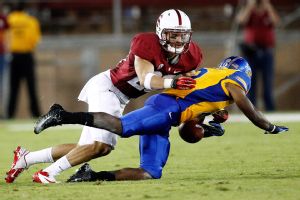 AP Photo/Tony AvelarStanford safety Ed Reynolds makes sense for the Bears in the third round.
The Bears pick 51st and 82nd overall in the next two rounds, and with options aplenty on Day 2, I'd use the second-round pick on the best defensive tackle available since that position represents the best value. I'm more partial to Florida State's
Timmy Jernigan
(I don't care about the alleged failed drug test) or Notre Dame's
Louis Nix
than a boom-or-bust prospect such as Minnesota's
Ra'Shede Hageman
.
Then, in the third round, I'd look to add competition safety with a long, rangy prospect such as Stanford's
Ed Reynolds
.
Looking at the players still on the board, the Bears have several options available at defensive tackle in Jernigan, Notre Dame's Nix and
Stephon Tuitt
, Hageman, and perhaps even later in the draft with players such as LSU's
Ego Ferguson
, South Carolina's
Kelcy Quarles
and Princeton's
Caraun Reid
.
At safety, the Bears should strongly consider Reynolds. He picked off seven passes over the past two years and has an NFL pedigree, from his father, Ed Sr., who played linebacker in the NFL for 10 years.
Dion Bailey
of Southern Cal could be another option for the Bears at safety, perhaps in the third round, and Wyoming's
Marqueston Huff
is a potential pick even later (six double-digit tackle games; 20 stops against Utah State).

Linebacker options are abundant, too. Brigham Young's
Kyle Van Noy
racked up 62 tackles for lost yardage over four years in college; he projects as a Sam linebacker in Chicago's scheme. Florida State's
Christian Jones
and
Telvin Smith
are also athletic possibilities for perhaps later in the draft.
Keep an eye out for Connecticut's
Yawin Smallwood
, who posted 332 career tackles and 9.5 sacks in college and met with the Bears at the NFL combine. New Bears defensive line coach Paul Pasqualoni is familiar with Smallwood, having served as head coach at Connecticut from 2011 to '13. Pasqualoni told the Hartford Courant, "[What] I really like about [Smallwood], which I think is a strength, is that he doesn't process what he sees. He just goes. Some guys look at it and they hesitate, then they go. He's not a process guy. He's a read-and-react guy, which is a big part of that position."
Perhaps Chicago general manager Phil Emery will pull one of his usual surprise picks and grab an offensive player. That wouldn't be too much of a stretch, because the benefit of a class this deep is that the Bears can legitimately find ways to address needs throughout all seven rounds.
Emery has been high on Texas Tech tight end
Jace Amaro
, who runs a 4.6-second 40-yard dash and made 106 catches last season.