Chicago Bears:

Gale Sayers
June, 3, 2011
6/03/11
8:31
PM ET
NOVI, Mich. -- Pro Football Hall of Famer Gale Sayers says NFL players should be ashamed if they don't help the pioneers of the game who played for peanuts.
Sayers spoke Friday night at an event hosted by the Gridiron Greats Assistance Fund.
The former
Chicago Bears
running back was honored along with retired stars such as Hall of Famer Dick LeBeau and 1997 Super Bowl MVP
Desmond Howard
.
Read the entire story.
January, 20, 2011
1/20/11
2:15
PM ET
It would be fair to say Hall of Fame running back Gale Sayers didn't have high expectations for the Chicago Bears as criticism Sayers delivered during the summer infuriated linebacker Brian Urlacher.
Read the entire story.
November, 18, 2010
11/18/10
9:36
AM ET
By
R.D. Rosen
| ESPNChicago.com
The announcement last April that football is returning to Wrigley Field on Nov. 20, 2010, would have awakened fond memories of attending Bears games there in the 1960s, except that those memories never fell asleep. Not a month of my adult life has gone by -- and not a week during football season -- when I don't mentally screen a montage of my beloved Bears highlights from Wrigley. It's my petite madeleine, the involuntary memory that evokes what it was like to be me.
Read the entire story.
May, 21, 2010
5/21/10
11:40
AM ET
Mike Ditka joined the chorus of Chicago Bears Hall of Famers who have come to the support of Gale Sayers in his controversy with linebacker Brian Urlacher.
Read the entire story.
May, 20, 2010
5/20/10
11:48
AM ET
[+] Enlarge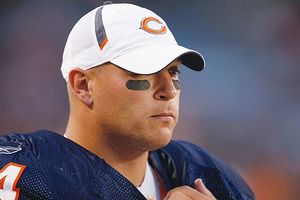 Scott Boehm/Getty ImagesBrian Urlacher has had more success than Gale Sayers, but neither won the ultimate prize.
Every former player has the right to comment about current NFL events.


We see this take place daily on both a national level (Mike Ditka, Steve Young, Cris Carter and others) and locally in Chicago (Dan Jiggetts, Tom Waddle, John Jurkovic and others).


Everybody is entitled to his opinion, so if Gale Sayers thinks the Bears are in trouble, he should speak his mind -- which he often does.


In this case, Sayers isn't breaking news when sharing feelings about Jay Cutler's disastrous 2009 campaign, the uncertain future surrounding head coach Lovie Smith and Brian Urlacher's football mortality. All are valid points that few would debate.


Unless you play for the Bears.


Urlacher took offense to Sayers' comments during an interview with the Tribune.


If anybody has built up enough currency to lash back at Sayers, it's Urlacher, who's unfairly seen his popularity dip since Super Bowl XLI. We're talking about a player voted to six consecutive Pro Bowls, the 2005 NFL Defensive Player of the Year, and the author of maybe the greatest individual defensive performance in team history -- October 16, 2006 vs. Arizona, when he had 25 tackles.


How quickly we forget.


I've been amazed by the anti-Urlacher sentiment in this town since 2006. Why? Because of some silly feud with the media in 2007? A feud that in no way affected the fan base. Injuries have slowed Urlacher, that's a fact, but he still started all 16 games in '07 and '08 before that ugly wrist dislocation last year at Green Bay.


Maybe you were turned off by his contract dispute heading into 2009. Well, Lance Briggs said --- on national television -- he'd never play for the Bears again, and he's still a beloved figure. Or is it the off-the-field stuff? Those are personal issues, which we all have, that never resulted in an arrest or disciplinary action. I don't condone some of the choices made by Urlacher, but it doesn't change the fact he's given everything to this organization and teammates.


However, when the topic turns to championships, the middle linebacker really doesn't have a leg to stand on.


To be fair, Urlacher has enjoyed more team success in Chicago than did Sayers -- three division titles, two playoff victories and a Super Bowl berth. But how often do you see professional athletes brag about division titles, or their NFC championship ring? All fine accomplishments, don't get me wrong, but Super Bowl championships are how we measure NFL legacies.


Until Urlacher hoists the Lombardi Trophy, I'd suggest tuning out all criticism, especially if the comments originate from ex-Bears players.
May, 20, 2010
5/20/10
11:16
AM ET
Gale Sayers is one of the most beloved players in Chicago Bears history, but that didn't stop linebacker Brian Urlacher from taking shots at the Hall of Fame running back.
Read the entire story.
May, 5, 2010
5/05/10
10:32
AM ET
OMAHA, Neb. -- One of the greatest Chicago Bears of all time isn't happy with the team's state of affairs.
Gale Sayers took aim Tuesday at coach Lovie Smith, quarterback Jay Cutler and personnel moves that left the Bears without a pick until the third round of the recent NFL draft.
"Cutler hasn't done the job," Sayers said. "[Linebacker Brian] Urlacher, I don't know how good he's going to be coming back. He's 33 years old. They need a couple wide receivers, a couple defensive backs. They haven't done a good job.
Read the entire story.