Chicago Bears:

Giorgio Tavecchio
July, 19, 2013
7/19/13
12:00
PM ET
NFC Eight in the Box:
East
|
West
|
North
|
South
»
AFC:
East
|
West
|
North
|
South
What are the three key camp issues facing each NFC North team?
CHICAGO BEARS

Offense: Kyle Long's readiness
The Bears drafted Long in the first round to help an offensive line that has struggled for years to protect quarterback
Jay Cutler
. Long, however, had a short Division I career and missed almost all of the Bears' offseason work because of the timing of Oregon's final academic quarter. The Bears will find out in camp, and during the preseason, whether Long is ready to be an immediate starter as you would expect based on his draft position.
Defense: Configuring linebackers
After the retirement of
Brian Urlacher
and the departure of
Nick Roach
, the Bears gave themselves two tiers of options at linebacker to play alongside
Lance Briggs
. If all else fails, they can use veteran
D.J. Williams
in the middle and
James Anderson
on the strong side. But they also drafted two players who one day will get their chance:
Jon Bostic
in the second round and
Khaseem Greene
in the fourth. The process of determining the best combination will begin in training camp.
Wild card: Coaching transition
This will be the Bears' first training camp in 10 years without Lovie Smith as the coach. Marc Trestman began the transition process during offseason workouts, but training camp is the time for establishing the meat of his program. How does he expect players to practice? How quickly does he expect scheme assimilation? How do players know when he's happy? When he's angry? The first training camp will set the parameters.
DETROIT LIONS

Offense: Line changes
One way or the other, the Lions will enter the season with three new starters on the offensive line.
Riley Reiff
is at left tackle after the retirement of
Jeff Backus
, and there will be competition at right guard and right tackle. Pulling off an overhaul of the offensive line in a win-or-else season is an ambitious task. All discussion of improvement for quarterback
Matthew Stafford
, and the impact of newcomer
Reggie Bush
, is made on the presumption that the offensive line won't take a step back.
Defense: Ziggy Ansah's development
Usually, the No. 5 overall pick of a draft is ready to step in and play right away. But Ansah was a late arrival to football and was almost an unknown to NFL scouts a year ago at this time. There was a sense during pre-draft evaluations that Ansah would need more development time than the typical No. 5 pick, but the Lions have high hopes of putting him into the starting lineup right away. They gave themselves some flexibility by signing free agent
Israel Idonije
, but they'll find out in camp if Ansah is going to be ready to play a full-time role in Week 1.
Wild card: Ryan Broyles' status
Broyles was a value pick in the 2012 draft, but he is very much needed after the release of
Titus Young
.
Nate Burleson
has returned to play alongside All-Pro
Calvin Johnson
, but the Lions' depth would be thin if Broyles isn't ready to play soon after tearing his ACL in Week 13 last year. The Lions hope Broyles can be full-speed by the start of the season, a pace he must confirm with at least some significant work in training camp.
GREEN BAY PACKERS

Offense: Running back rotation
The Packers added two rookies,
Eddie Lacy
and
Johnathan Franklin
, to a group that includes holdovers
DuJuan Harris
,
James Starks
,
Alex Green
and
John Kuhn
. Unless the Packers suddenly convert to a run-based offense, an impossibility as long as
Aaron Rodgers
is at quarterback, the Packers will have to thin this herd in training camp. Not everyone from that group will make the team, and a few who do aren't likely to get much action in games. Harris, Lacy and Franklin seem the likeliest candidates -- in that order -- to be feature backs.
Defense: Replacing Woodson
The Packers have openings at safety and cornerback following the release of
Charles Woodson
. Training camp should provide significant insight, if not an outright answer, into who will start at safety --
M.D. Jennings
?
Jerron McMillian
? -- alongside
Morgan Burnett
. We'll also get a sense for who is ready to step into the cornerback and nickel job opposite veteran
Tramon Williams
. Top candidates for that job include
Sam Shields
,
Casey Hayward
and
Davon House
. The Packers' cornerback group is by far the deepest in the NFC North.
Wild card: Crosby's state of mind
No one expects
Giorgio Tavecchio
to beat out place-kicker
Mason Crosby
, who went through a well-publicized extended slump last season. But how will Crosby react to the first competition of any sort he has faced since taking over as the Packers' kicker in 2007? That's what the Packers want to find out, frankly. If he isn't sharp in camp, the Packers might need to consider their options elsewhere.
MINNESOTA VIKINGS

Offense: Cordarrelle Patterson's development
The Vikings know they want Patterson to be their kickoff returner, replacing
Percy Harvin
, but is Patterson ready to take over any part of Harvin's role as a primary offensive playmaker? Patterson's short stay at Tennessee once suggested he will need some development time before contributing regularly on offense. His performance in offseason practices, however, suggested he might be further along than once believed. Training camp will tell us for sure.
Defense: Linebacker alignment
Will newcomer
Desmond Bishop
play middle linebacker or on the outside? What would that mean for
Erin Henderson
, who spent the offseason transitioning to the middle position? It seems pretty clear that Bishop, Henderson and
Chad Greenway
will be the Vikings' three linebackers. Training camp should give us a better idea of where they will line up and, importantly, who will come off the field in nickel situations.
Wild card: Chemistry in passing game
The Vikings are expecting a jump in the efficiency, if not raw numbers, of their passing game this season. Quarterback
Christian Ponder
will have to accomplish that by developing quick chemistry with his new receivers, including Patterson and veteran
Greg Jennings
. That task appeared to be a work in progress during offseason practices.
July, 16, 2013
7/16/13
2:15
PM ET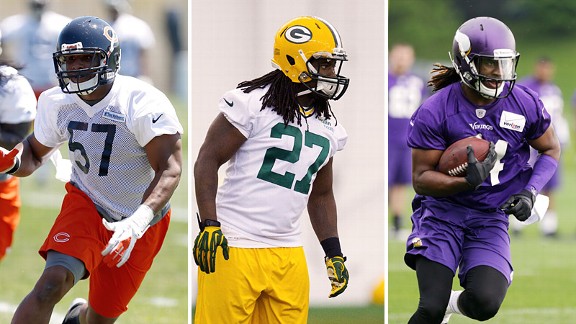 Getty ImagesOpportunities await Jon Bostic, left, Eddie Lacy, center, and Cordarrelle Patterson in training camp.
In 10 days, all four NFC North teams will have stepped onto the practice field for their 2013 training camps. I can't think of a better way to wade through these final days than by identifying 10 key issues we will no doubt be focusing on over the next six weeks or so.
I'm staying away from some of the obvious ones and instead focusing on developments for which we have a reasonable expectation of resolution before the start of the regular season. We won't know by Labor Day, for example, if
Jay Cutler
is a good fit for the
Chicago Bears
' new offense under Marc Trestman. It'll be impossible to conclude whether
Christian Ponder
has taken a step forward as the
Minnesota Vikings
' quarterback, or whether the
Detroit Lions
'
Matthew Stafford
has fixed his mechanics or if the
Green Bay Packers
know how to stop the read-option.
Answers to those questions won't be evident until regular-season games start. I think it's reasonable to expect quicker resolution to the questions identified below.
Issue:
Jon Bostic
and the Bears' middle linebacker job
Analysis:
General manager Phil Emery gave the team a safety blanket by signing veteran
D.J. Williams
, who is expected to open training camp in Brian Urlacher's old spot. But the Bears used a second-round draft pick on Bostic, and one day he almost certainly will have the job. If he can win it in training camp, the Bears can move Williams to the outside or use fellow newcomer
James Anderson
there.
Issue:
A role for Bears defensive end
Shea McClellin
Analysis:
McClellin was the Bears' first-round draft pick just one year ago, but he'll have to compete hard to establish a role commensurate with that status.
Julius Peppers
and
Corey Wootton
finished last season as the Bears' starting defensive ends, and Wootton is in a contract year and thus will be highly motivated. The Bears cleared some space by allowing
Israel Idonije
to depart via free agency, but McClellin's path to regular playing time is far from certain.
Issue:
Starting
Kyle Long
Analysis:
There has been an assumption that Long will be plugged into the starting lineup at one of the Bears' guard positions, but it's only fair to reiterate his relative lack of experience (four starts) in Division I. Moreover, Long was unable to participate in most of the Bears' offseason program because of NFL rules regarding the timing of college graduation. In other words, Long is as green as it gets for a first-round draft pick. It will be nice to see, finally, what the Bears have in him.
Issue:
Ryan Broyles
' status in Detroit
Analysis:
Broyles tore his ACL in Week 13 last season and will push to be ready for camp. If Broyles is healthy and available, he will join
Calvin Johnson
and
Nate Burleson
to form a really good trio. If he needs more time, the Lions will be thin at the position to start the season.
Mike Thomas
, a slot receiver acquired last season from the
Jacksonville Jaguars
, would be next up.
Issue:
Ziggy Ansah
's development
Analysis:
Generally speaking, the No. 5 overall pick of a draft should be ready to step into the lineup and make an immediate contribution. Ansah, as has been well-documented, was a late arrival to football and might need more development time than most No. 5 overall picks. Idonije gives the Lions an option if Ansah isn't ready to start, and in truth snaps are more important than the starting lineup. But when you draft a defensive end at No. 5 overall, you expect him to be ready to handle a full-time load almost immediately.
Issue:
Packers' running back rotation
Analysis:
The Packers gave themselves a good problem this offseason by adding two draft choices,
Eddie Lacy
and
Johnathan Franklin
, to a group that also included
DuJuan Harris
,
James Starks
and
Alex Green
. It seems unlikely that all of them will make the roster, but the more pressing matter is how they will be used and how often. Harris would have been the favorite to start entering training camp, but he missed the offseason because of injuries, and the position should now be considered wide open.
Issue:
Mason Crosby
's reaction to competition
Analysis:
Crosby's extended slump last season prompted the Packers to bring a second place-kicker to camp for the first time since he established himself as the Packers' full-time kicker. There is every reason to consider Crosby the heavy favorite over
Giorgio Tavecchio
, but that's assuming Crosby handles the competition well. It has been a while since Crosby had to secure his job.
Issue:
Replacing
Charles Woodson
in Green Bay
Analysis:
Woodson played safety and cornerback for the Packers last season. Now, they have a competitive situation at both spots. Training camp should tell us whether
M.D. Jennings
or
Jerron McMillian
is ready to grab a safety spot next to
Morgan Burnett
. We'll also get to see a spirited competition at cornerback between
Sam Shields
,
Casey Hayward
,
Davon House
and others for the chance to play alongside
Tramon Williams
.
Issue:
Vikings linebacker alignment
Analysis:
It is reasonable to expect
Chad Greenway
,
Erin Henderson
and
Desmond Bishop
to start in the Vikings' 4-3 base. But what positions will they play? Training camp should make that clear. Bishop would seem best suited for the inside, with Henderson returning to his former role outside, but it's not out of the question that the Vikings could experiment in the reverse during camp to find the best combination.
Issue:
Cordarrelle Patterson
's development
Analysis:
Shortly after the draft, we were led to believe that the Vikings rookie would fit in as a kickoff returner this season while he learned how to play receiver at the professional level. But if offseason practices were any indication, Patterson might be ready for a bigger role on offense right away. Can he emerge from training camp as a starter opposite
Greg Jennings
? That's the Vikings' best-case scenario, one that didn't seem possible in April but can't be ruled out on the eve of camp.