Chicago Bears:

Hall of Fame
June, 27, 2012
6/27/12
4:09
PM ET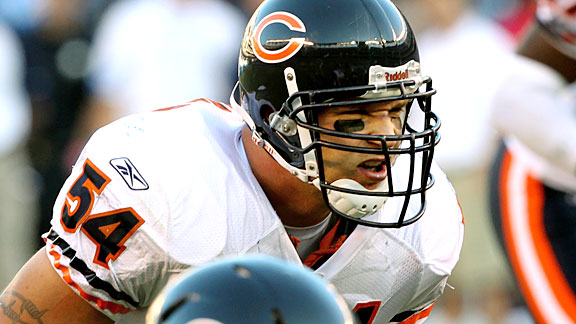 AP Photo/Kevin TerrellBrian Urlacher still wants to win a Super Bowl ring, but many believe he already qualifies for the HOF.
CHICAGO -- The Hall of Fame sounds like a far off topic for Chicago Bears middle linebacker Brian Urlacher. The 34-year old veteran earned his 8th trip to the Pro Bowl last season when he topped the 100-tackle plateau for the 11th time in his 12-year Bears' career. Under contract with the Bears through 2012, Urlacher feels capable of playing at the minimum 2-3 more years before he contemplates retirement.
Since NFL players must wait five years after retirement to be Hall of Fame eligible, Urlacher's name isn't expected to appear on the ballot for the foreseeable future. But that didn't stop the veteran linebacker from addressing his Hall of Fame chances during an extended interview on Wednesday with ESPN 1000's 'Waddle and Silvy Show.'
"It is (important to be a Hall of Famer)," Urlacher said. "It's where you want to be. As a player you want to be the best at your position. I probably won't be the best ever because there are so many good middle linebackers, but I'd like to be right there at the top somewhere.
"I'd like to do some more things in my career and there are still some things I'd like to accomplish. It's debatable. The people who vote on that are media, right? As long as you don't upset them you should be okay."
When it comes to the best middle linebackers of the last 15 years, Urlacher is most often compared to Baltimore's Ray Lewis and the retired Zach Thomas. The three have been voted first team All-Pro a combined 16 times and earned a total of 28 trips to the Pro Bowl -- Lewis (7,13), Urlacher (4,8) and Thomas (5,7).
Lewis has the most NFL seniority entering his 17th season with the Ravens, while Thomas stepped away from the game while with Kansas City before the start of his 14th year. Urlacher is going into his 13th campaign as a member of the Bears.
"(Ray Lewis and I) are different players," Urlacher said. "We're the same, but we're different. He plays in a 3-4, I play in a 4-3. He did play in a 4-3 earlier in his career. You look at our numbers and they are very similar if you're a stats guy. Except for I don't have a Super Bowl ring. We're different there."
February, 7, 2011
2/07/11
4:38
PM ET
Chicago Bears great Richard Dent, who was voted into the Pro Football Hall of Fame on Saturday, said Monday that he's down to two candidates to present him into the Hall.
Read the entire story.
February, 5, 2011
2/05/11
5:44
PM ET
DALLAS -- The wait is over for Richard Dent.
After being denied by the 44-member selection board six times in the last seven years, the former
Chicago Bears
defensive end was finally elected into the Pro Football Hall of Fame on Saturday.
Read the entire story.
February, 4, 2011
2/04/11
2:59
PM ET
DALLAS -- It might not be the greatest class of finalists Pro Football Hall of Fame voters have ever had to consider, but it could be the most difficult to judge. One of the oft-repeated phrases used by selectors to justify turning thumbs down on a candidate has always been, "It's not the Hall of Very Good; it's the Hall of Fame." In other words, only truly great players should be granted entry.
Read the entire story.
October, 26, 2010
10/26/10
1:40
PM ET
By
ESPN.com news services
Washington Redskins
cornerback
DeAngelo Hall
took some more shots at Bears quarterback
Jay Cutler
on Tuesday.
The Hall of Fame asked Hall for the jersey he wore Sunday when he picked off four Cutler passes, and Hall continued the war of words he has going with Cutler.
"I never had anybody crazy enough to keep throwing it at me that many times," Hall said. "He definitely has a strong arm. But sometimes he does try to throw balls he shouldn't throw. I don't know if that's just a quarterback being cocky and confident or if that's just him. Me as a gambler, if I try something two or three times and it doesn't work, I'm not going to try for the fourth time."
Click
here
to listen to the rest of Hall's interview.
February, 6, 2010
2/06/10
4:31
PM ET
[+] Enlarge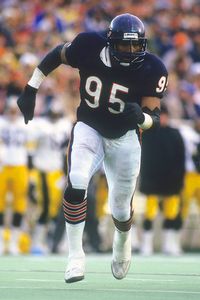 Getty ImagesFormer Bears defensive end Richard Dent was denied again in his bid for the Pro Football Hall of Fame.
FT. LAUDERDALE, Fla. -- Former Bears defensive end
Richard Dent
was once again denied enshrinement in the Pro Football Hall of Fame. This marks the sixth time in the last seven years Dent was named a finalist only to be turned away by voters.
Dent did survive the first cut -- where the 15 finalists are trimmed to 10 -- but was eliminated from consideration in the second round of voting.
"I think he should have been in years ago, and I think some of the people they put in recently ahead of him are unjustified in my opinion," Dent's former teammate Jimbo Covert told ESPNChicago.com earlier in the week. "There's a few people who will say things like he didn't play the run or he was only a pass rusher, I don't know, I played against him every day in practice and I think he did a hell of a job. The Hall of Fame is about people who have excelled and gone above and beyond, and he certainly has done that."
Dent amassed 137.5 sacks over his 15-year NFL career, and was selected to play in four Pro Bowls.
The Hall of Fame class of 2010 includes:
Emmitt Smith
,
Jerry Rice
,
John Randle
,
Rickey Jackson
, Floyd Little, Dick LeBeau and Russ Grimm.