Chicago Bears:

J.T. Thomas
August, 31, 2013
8/31/13
6:24
PM ET
Most significant move:
Despite
J'Marcus Webb
making 44 starts in 46 career games, including 32 consecutive starts at left tackle over the last two years, the Bears made the decision to part ways with him, even after reducing his salary to the league minimum for a veteran with three years of tenure.

Webb entered the offseason as the starter at right tackle, and stayed in that spot through the early part of training camp. Then, after the preseason opener at Carolina, the club demoted Webb to the second team behind rookie fifth-round pick
Jordan Mills
.
The demotion put Webb in competition for a backup role with veterans
Jonathan Scott
and
Eben Britton
. A five-year veteran, Britton has 30 games of starting experience on his résumé, but also possesses more versatility than Webb because of his ability to kick inside to guard and center. Scott hasn't played all preseason, and recently underwent a procedure on his knee. But the team is confident that even a dinged-up Scott is more reliable than a fully healthy Webb.
Webb possesses the physical skillset to be a starter in the NFL for several years, but lacks motivation and passion, which is a no-no for general manager Phil Emery and the new coaching regime. The new staff worked diligently to coax out the best in Webb, but couldn't do it consistently enough for the team to feel confident in the three-year veteran, even as a backup.
Good outing, bad result:
Quarterback
Jordan Palmer
performed well in the preseason finale against Cleveland despite little preparation after signing as an injury replacement for Matt Blanchard. But a 64.7 completion percent and a passer rating of 102.8 with a touchdown pass in his preseason debut wasn't good enough to keep the Bears from cutting Palmer.
A big part of that was the team's reported desire to sign a third quarterback with practice-squad eligibility. Palmer doesn't have any practice-squad eligibility remaining.
What's next:
With the 53-man roster finalized, the Bears will start to build their practice squad. If the club wants to bring back some of the players it cut, it will have to wait until they clear waivers. The Bears will likely be looking to add a few players cut from other teams to their practice squad, too.
Bears cuts:
QB:
Trent Edwards
,
Jordan Palmer
. RB:
Armando Allen
. OG: Dennis Temple,
Edwin Williams
. LB:
Jerry Franklin
,
J.T. Thomas
. WR: Brittan Golden,
Terrence Toliver
, Josh Lenz. OT:
J'Marcus Webb
,
Cory Brandon
. DT:
Corvey Irvin
, Christian Tupou. S:
Tom Nelson
,
Brandon Hardin
. LS: Brandon Hartson. CB: Demontre Hurst. TE:
Fendi Onobun
. FB: Harvey Unga. DE: Aston Whiteside,
Josh Williams
.
Note:
Brandon and Irvin received injury settlements. Hardin was waived/injured, which means if he clears waivers, he'll revert to Chicago's injured reserve.
August, 29, 2012
8/29/12
3:30
PM ET
CLEVELAND -- The most pressing issue for the
Chicago Bears
at linebacker is whether
Brian Urlacher
returns in time to play in the regular season opener, as coach Lovie Smith forecasted on Tuesday.
[+] Enlarge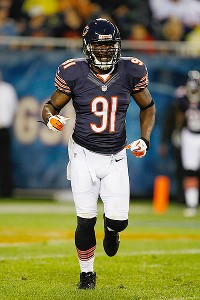 AP Photo/Scott BoehmGeno Hayes has filled in for Nick Roach on the strong side with Brian Urlacher out.
Much further down on the list of concerns is the matter of who will be the No. 6, or perhaps No. 7 linebacker, depending on how many the Bears decide to carry when final rosters are set on Friday. Six is usually the magic number, and in recent years, the Bears had to cut quality players (
Tim Shaw
in 2010) because they could not afford to keep seven. But with Urlacher's recurrent knee problems, a case could be made for the team to hold on to an extra linebacker for insurance purposes.
The four locks going into training camp were: Urlacher,
Lance Briggs
,
Nick Roach
and special teams ace
Blake Costanzo
. Former Tampa linebacker
Geno Hayes
also entered camp on firm ground but suffered through a couple rough patches in the early preseason games. Although it now sounds as if the coaching staff has seen enough from Hayes, who sat out Tuesday's practice with an undisclosed ailment. Hayes has filled in for Roach on the strong side since Urlacher re-injured his left knee of July 31.
"Geno has picked it up," Bears linebacker coach Bob Babich said. "His whole deal was he wasn't finishing plays. He's athletic, talented, instinctive, but he needed to finish and play the way we expect our linebacker to play. He understands that, and he's trying hard to do the things we ask him to do."
August, 12, 2012
8/12/12
7:12
PM ET
BOURBONNAIS, Ill. -- A plethora of injuries at linebacker have forced the
Chicago Bears
to try out several different combinations at practice, including lining up last year's sixth-round draft choice
J.T. Thomas
at first-team strong side linebacker on Sunday.
With
Nick Roach
in the middle in place of
Brian Urlacher
and
Geno Hayes
absent Sunday due to an illness, Thomas was given the opportunity to take starters reps for the fist time in recent memory. Thomas did see a little action with the first team at the start of camp last summer when Roach, per a rule in the new collective bargaining agreement, had to sit out a certain period of time after he re-signed with the Bears in free agency. However, those reps for Thomas were short-lived and he was eventually placed on injured reserve prior to the regular season opener.
[+] Enlarge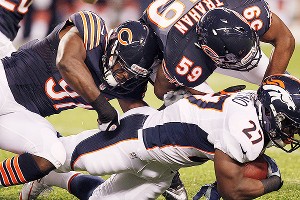 AP Photo/Charles Rex ArbogastJ.T. Thomas (97) helps bring down Broncos running back Knowshon Moreno on Thursday.
"I got some good reps and learned a lot today," Thomas said. "It's great to get some time against the first-team offense because we have a really good offense. Being beside Nick and
Lance Briggs
], there are a lot of things they can teach me.
"Sometimes in the NFL the cards get shuffled up and you have to be ready to play. All I can do is come out, be as ready as I can, and take advantage of any situation that's given."
It's a thin group at linebacker for the Bears at the moment. Besides Hayes and Urlacher sitting out, fellow linebackers
Dom DeCicco
and Adrian Cole continued to be sidelined on Sunday, while the recently signed duo of
Xavier Adibi
and
K.C. Asiodu
are not eligible yet to suit up in full pads.
"During the course of the year, if you're having injuries now, you're going to have them during the season," Bears head coach Lovie Smith said. "Linebacker is a tough position. A lot of physical play that goes into playing that position. So you do have injuries, and guys need to step up, and they're getting a chance right now. We want to get a look at some of those players. Lance Briggs, Brian Urlacher, guys like that, we know what they can do. But it's about developing that next group, and we are."
August, 1, 2012
8/01/12
4:12
PM ET
BOURBONNAIS, Ill. -- The offseason drug arrest of
Chicago Bears
second-year linebacker
J.T. Thomas
remains an unsettled legal issue for the club's 2011 sixth-round draft choice. Thomas was arrested and charged with misdemeanor drug possession in February when Morgantown, W. Va., police pulled the linebacker over for driving the wrong way down a one-way street and found less than 15 grams of marijuana.
April, 13, 2012
4/13/12
11:23
AM ET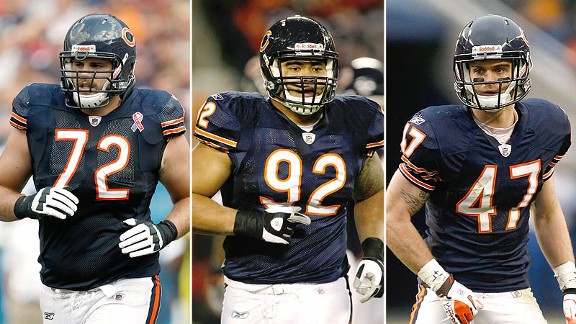 Getty ImagesThe Bears got brief glimpses of promise from their top three draft picks last season -- Gabe Carimi, Stephen Paea and Chris Conte -- but questions remain about each.
Optimism often oozes from the fingertips of reporters tapping away at the keyboard in the minutes immediately after a team makes a draft pick, resulting in sometimes overly-positive grading.
We're certainly not immune to the phenomenon, or afraid to admit we might have been wrong. So as we prepare to kick off our pre-draft coverage in the coming days, we decided to take another look at the
Chicago Bears
2011 draft class and re-grade it.
Here's what we came up with:
Round:
1
Pick:
20 (Overall: 29)
What we said after the draft:
Considered one of the more technically-sound prospects among the 2011 class of offensive tackles, Carimi should play a key role -- likely as a starter -- in Chicago's effort to revamp its offensive line. After having to replace 2007 third overall pick
Joe Thomas
at Wisconsin, Carimi is no stranger to the high expectations he'll face as a rookie.
Initial grade:
B+
What we say now:
There's a strong possibility Carimi's grade would have actually improved, had he not suffered a season-ending injury in Week 2. Offensive coordinator Mike Tice said Carimi was "playing winning football" prior to the injury, which is why the staff is currently pondering moving the rising second-year player to left tackle in 2012 if J'Marcus Webb falters. The team maintains Carimi remains on pace for a full recovery. So if that transpires, quarterback Jay Cutler's protection should improve this season.
Current grade:
B+.
---
Round:
2
Pick:
30 (Overall: 62)
What we said after the draft:
Paea fills an immediate need and might one day develop into a starting three-technique defensive end. However, the Bears have a history of being burned by taking players with medical red flags, and Paea is coming off an offseason knee injury at the Senior Bowl. – JD
Initial grade:
B-
What we say now:
Paea struggled to recover from a knee injury suffered at the Senior Bowl, and endured a few setbacks in transitioning to the pro game. Those early problems led to the team placing Paea on its inactive list for the first five games. Paea made his debut on Oct. 16 against the
Minnesota Vikings
and posted a sack. Paea finished the season with 19 tackles -- including a career-high five stops against Kansas City -- and two sacks. With
Amobi Okoye
and
Anthony Adams
no longer on the roster, Paea's role could grow in 2012.
Current grade:
C+
---
Round:
3
Pick:
29 (Overall: 93)
What we said after the draft:
Conte appears to add versatility in the secondary and a potential contributor on special teams. Having spent his first three seasons at California as a cornerback, Conte moved to safety as a senior and became a first-team all-Pac-10 performer. The Bears aren't concerned about Conte's inexperience at safety because that only adds to his upside.
Initial grade:
C-
What we say now:
Conte definitely didn't look the part as a rookie, and could use this offseason to improve his strength. But there's no denying Conte surprised plenty of observers with his strong rookie campaign. Conte racked up six tackles in his first start, and tacked on his first career interception the next week. In nine starts, Conte contributed 47 tackles and provides a ballhawking element to the secondary. The only concern moving forward would be Conte's ability to stay healthy. The club placed Conte on the injured reserve on Dec. 19, forcing him to miss the last two games.
Current grade:
B
---
Round:
5
Pick:
29 (Overall: 160)
What we said after the draft:
The Bears' thought process behind selecting a quarterback is understandable.
Caleb Hanie
probably won't be around past the 2011 season, so the Bears likely will be searching for a new primary backup to
Jay Cutler
. It's better to develop your own young, inexpensive quarterback rather than waste money on a bad veteran backup, a la
Todd Collins
. Who knows if Enderle will pan out, but Mike Martz does have a nice track record with unknown quarterbacks.
Initial grade:
B-
What we say now:
Enderle raised eyebrows when former offensive coordinator Martz briefly moved him ahead of Hanie on the depth chart during training camp. That should have been viewed as nothing more than a motivational ploy by Martz, because as the season played out it became clear the team wasn't confident in Enderle's abilities. The Bears made that clear when they started
Josh McCown
less than a month after his arrival over Enderle, who despite being a rookie, had been with the team all season.
Current grade:
D
---
Round:
6
Pick:
30 (Overall: 195)
What we said after the draft:
The Bears brought aboard a durable, three-year starter with plenty of experience on special teams and decent athletic ability. But Thomas lacks explosion (lowest vertical at the combine at 30˝ inches), and comes with a blemish in the character department from a 2007 arrest for transferring and receiving a stolen laptop. Given how late the team took Thomas, the character risk would seem minimal.
Initial grade:
C-
What we say now:
Thomas' February arrest for misdemeanor marijuana possession now seems to make the initial character red flags valid. But we'll confine the criticism of Thomas to his play on the field. Thomas caught the staff's attention early in camp when he was forced to take a good portion of repetitions because the veterans were unable to practice initially due to the rules coming out of the NFL lockout. The problem was Thomas' practice showings never transferred onto the field. Within the organization, some questioned Thomas' physicality. Eventually the team gave Thomas somewhat of a redshirt year when it placed him on the injured reserve before the season started due to hamstring and back issues.
Current grade:
Incomplete.
February, 13, 2012
2/13/12
3:29
PM ET
May, 20, 2011
5/20/11
3:46
PM ET
Joslyn Levell longed for a dance partner.
Yet no one would accommodate, until Bears sixth-round pick J.T. Thomas -- an outside linebacker from West Virginia University -- stepped in after a chance meeting. Thomas asked Levell out for the date of a lifetime Friday night at the Suncrest Middle School prom in Morgantown, W.Va.
An engaging 14-year-old who listens mostly to pop music, but extols the verbal ferocity of rappers Lil Wayne, Drake and her favorite, Eminem, Levell seems like most teenage girls obsessing in "Twilight," the latest gossip and fads.
[+] Enlarge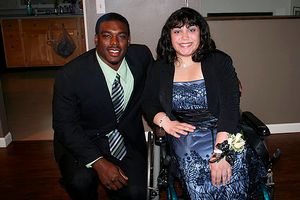 Courtesy of Rochelle ThomasBears draft pick J.T. Thomas took Joslyn Levell, who has spina bifida, to her junior high prom on Friday night.
However, she's anything but average. She knows it. She owns it.
"She's a cool little girl," Thomas says.
But unlike most little girls, Levell also has spina bifida, a birth defect which occurs -- according to the Spina Bifida Association of America -- in seven out of every 10,000 births in the United States, and confines her to a wheelchair.
Levell says, "I can't help if I was born this way," acknowledging the condition leads to people "having trouble accepting that I'm different," while possibly playing a role in her not being asked out for the prom.
Levell even took initiative to remedy her date dilemma, but "got turned down seven times in one week."
"

I just felt like the people she got turned down by, they weren't looking at her as a person. They were looking at what she didn't have, instead of what kind of person she was. I told her not to worry about it. Those things would work themselves out.

"

-- J.T. Thomas
"All the guys at school don't like me," she said. "They're like jerks."
The bus
Thomas' 7-year-old brother, Jared, is autistic, and rides the same school bus as Levell.
Levell describes Jared as "the sweetest little boy," and on occasion he arrives at the bus stop with this hulking, 6-foot-1, 241-pound figure -- big brother J.T. -- who had just wrapped up a stellar career across town at West Virginia University.
Usually on the ride home from school, Levell rambles to bus driver Jake Tennant about what's going on at school and in her life but, most of all, with her beloved
Chicago Bears
. Levell's mother, Jennifer, grew up in Wrigleyville, and attended Lake View High School. The family moved from Wrigleyville to Morgantown in 2009, but its love for the Bears stayed firmly rooted.
"She always talks about how she loves the Bears and how we're from Chicago," Jennifer Levell said.
And before long, Joslyn connected the dots and realized that Jared's big brother, J.T., had been drafted by her beloved team. Little did she know, though, how much the bus driver remembered about her devotion to the Bears.
"When J.T. came back after the draft, the bus driver called and asked a favor," recalled J.T.'s stepmother, Rochelle.
Tennant explained Joslyn's love for the Bears to Rochelle, and asked if her stepson would step onto the bus one day to introduce himself to the little girl, maybe sign an autograph or two.
The conversation
The next day, last Friday, when Jared Thomas' bus arrived at the bus stop, J.T. climbed aboard and found Joslyn, who was wearing a Chicago Bears ball cap. Thomas introduced himself, signed the hat and posed for pictures with Joslyn.
Then J.T. asked Joslyn how life was treating her.
"She was sad," Joslyn's mother said. "None of the boys were asking her to the prom, and the boys she did ask turned her down."
Joslyn explained the situation to J.T.
"All the guys at school are mean to me, and I was talking to him about that," Joslyn recalled telling the Bears linebacker. "I got turned down all those times. So I was kind of upset."
As J.T. listened closer, Joslyn's voice cracked, and tears started to roll down her face.
"She started to get emotional. I just felt like the people she got turned down by, they weren't looking at her as a person," Thomas said. "They were looking at what she didn't have, instead of what kind of person she was. I told her not to worry about it. Those things would work themselves out."
That day, at least, they didn't. But the conversation had an effect on both of them.
"He's awesome," Joslyn said. "He's so nice. I can tell he's really down to earth, not like a phony. He's grounded, not big headed the way you might think other big celebrities might be."
The big date
Almost immediately after that initial meeting, J.T. Thomas couldn't stop thinking about the "cool little girl" he'd just met.
So Thomas, 22, asked Rochelle to call Suncrest Middle School officials to see if he could escort Joslyn to the prom. School officials told him he'd have to sign a release and pay $5 for a ticket. So, the next day -- last Saturday -- Thomas called Joslyn to ask if he could escort her to the prom.
"I was shocked when he called. I knew [after the conversation on the bus] something would go down like that, but I didn't know anything like this would happen," Joslyn said. "Mom was trying to be sneaky, but she wasn't that successful."
Like most middle school gossip, within a half hour of J.T.'s invitation, "the whole school knew," Joslyn said. Three hours and seven stores afterward, Joslyn and Jennifer had picked out a smoky-blue number with a black overlay, replete with intricate embroidery.
"It's actually a really pretty dress," Jennifer Levell said.
In addition to the dress, Joslyn will visit a Morgantown hair salon Friday to get her hair done for the big occasion. J.T. Thomas, meanwhile, plans to "pick her up," present a corsage and keep things "traditional."
According to the Spina Bifida Association of America, the average lifetime cost to society for treatment of each infant born with the ailment is approximately $532,000. For Thomas and Levell, however, the return on a $30 corsage and a $5 ticket to the Suncrest Middle School prom might prove much more valuable.
Levell said: "I've accepted how I am. I do want to be normal. I've been practicing walking with a walker, and been doing really good so far."
None of that matters to Thomas, though, after a chance meeting with a 14-year-old with an infectious personality.
"I came to see her on that bus because I heard she was a die-hard Bears fan," Thomas said. "This is just about her being happy. Although that dance might last two or three hours, she might have something to remember for the rest of her life. Anytime you can affect someone's life positively like that, why not?
"How brave of her to ask to see me; she has no idea," he added. "I'm just as nervous as her about going to the prom. The thing is, we're all the same people, and that's what I want to stress to her and everybody else."
May, 16, 2011
5/16/11
5:52
PM ET
Q: How important are organized workouts during the lockout? Are the Bears and Jay Cutler falling behind? Should I be nervous as a die-hard Bears fan that my team is being lazy in the offseason? -- Christopher (Naperville, Ill.)

A:
Should you be nervous about the lack of organized Bears workouts? No. Almost every single player on the roster has been training for the upcoming season since March. Running back
Matt Forte
and tight end
Greg Olsen
have been working out together back in Chicago for weeks. Other players like center
Olin Kreutz
, guard
Roberto Garza
, linebacker
Nick Roach
, defensive tackles
Matt Toeaina
and
Anthony Adams
, and wide receivers
Johnny Knox
and
Rashied Davis
(just to name a few) have spent much of the offseason training at professional off-site facilities in the area. Others like safety
Chris Harris
, cornerback
Zack Bowman
, defensive tackle
Marcus Harrison
and quarterback
Caleb Hanie
(just to name a few) opted to train the past few months out of state. I'm sure there is a risk that a few players could report to training camp unprepared -- the first practice is scheduled for July 23, lockout permitting -- but the majority will be in shape. Now, would it be nice to see Cutler throwing to the receivers, tight ends and running backs? Sure. Is it vital to the success of the 2011 Bears? No. Be nervous about the NFL being potentially forced to cancel regular season games in the fall because of the labor dispute. Don't sweat Cutler and the receivers not playing catch and running a few routes in May.
[+] Enlarge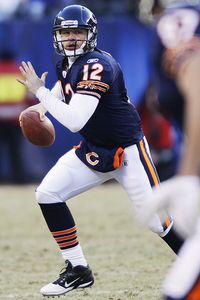 AP Photo/David J. PhillipCaleb Hanie's performance in the 2010 NFC Championship game proved he's more than capable of being the Bears backup quarterback in 2011.
Q: Settle the backup quarterback debate for me. Will Nate Enderle be the No. 2 quarterback behind Cutler in the upcoming season? -- Peter (Madison, Wis.)

A:
Enderle will be the No. 2 if Hanie pulls the NFL version of Steve Sax and somehow forgets how to throw a football. I mean that with absolutely no disrespect towards Enderle, but there shouldn't be any question about whether or not Hanie is worthy of the being the primary backup. Forget for a moment that Enderle is a rookie fifth-round pick out of Idaho who will probably require quite a bit of seasoning before he is NFL-ready; Hanie came off the bench ice cold and almost led the Bears past the
Green Bay Packers
in the NFC Championship game. How can that not buy him the benefit of the doubt from the coaching staff?! The Bears took Enderle for two reasons, (1) Martz likes him, obviously and (2) Hanie is expected to leave via free agency whenever he gets the chance -- probably in 2012. But in 2011, barring an injury or a totally unexpected collapse, the Bears quarterback depth chart will read: No. 1 Cutler, No. 2 Hanie and No. 3 Enderle.
Q: Guys, as a graduate of West Virginia, I'm excited the Bears took linebacker J.T. Thomas in the sixth round of the 2011 NFL Draft. What are his chances of playing next year? -- Elliot (Crystal Lake, Ill.)

A:
Bears general manager Jerry Angelo probably feels good about Thomas' chances of making the 53-man roster, since he chose Thomas at No. 195 over a few other linebackers the Bears also liked in the draft. Unless Thomas turns out to be the second coming of Michael Okwo or
Marcus Freeman
, he should step in and provide relief on special teams while also giving the Bears a little extra depth at the linebacker position. While the Bears are expected to attempt to re-sign
Brian Iwuh
, it would be nice if the organization could find an eventual replacement for
Lance Briggs
on the weak side. Don't get me wrong, Briggs is still a great player, but he's going to be looking for a new contract in another year or two (Briggs is under contract through 2013) and will be the Bears be willing to pay another linebacker in his early 30s? Anything can happen between now and then, but if Thomas turns out to be a good player, he could figure into the future plans of the organization. Of course, Okwo was drafted in 2007 to be the heir apparent for Briggs, and we all know how that turned out.
Q: What's the likelihood the Bears bring back punter Brad Maynard? He was terrible last year, in my opinion, and the Bears need to cut their losses and move on. What's the deal? -- Luke (Waukegan, Ill.)

A:
Right now, the odds of Maynard playing for the Bears in 2011 are remote. Although the punter is still regarded in many NFL circles as the best directional kicker in the game, the Bears were unhappy with Maynard's statistics and performance last season -- 35.2 yards per punt net average. The Bears sound content to move on and sign a new punter in free agency (whenever that begins) to compete with
Richmond McGee
for the starting job. However, I continue to believe the Bears would be better off bringing back the veteran for another year. Unlike in 2010, not only will Maynard be healthy when the season begins, he's going to extremely motivated to prove his doubters inside the building wrong. Plus, why make a change at punter in the same year when the rest of the special teams units could undergo a major overhaul depending on the free agency rules put in place for the upcoming campaign. The Bears have a really good thing going with their trio of specialists -- Maynard, kicker
Robbie Gould
and long snapper
Patrick Mannelly
--why screw up the chemistry?
Q: I've heard you guys talk about the Bears' need at defensive end. Why? Didn't they sign Julius Peppers last year? Isn't Izzy Idonije coming off a career year? That doesn't make any sense. -- Joe (Niles, Ill.)

A:
First off, you can never have too many players with the ability to rush the passer. If anybody knows that, it's Bears head coach Lovie Smith, who saw the defense fail to consistently pressure the quarterback in 2007, 2008 and 2009. What did those years have in common? The Bears missed the postseason, putting Smith on the hot seat in 2010. Secondly, Idonije, 30, has only been a full-time starter for one season, and while it's certainly possible he puts together another solid year, to simply assume it's going to happen would be foolish.
Corey Wootton
, a fourth-round pick in 2010) is best known for effectively ending Brett Favre's legendary career, but besides that one memorable snap, Wootton didn't provide too many other highlights. It would be wrong to write off Wootton after one season, but the Bears need to protect themselves in the event Idonije's production tails off or Wootton fails to pan out. Plus, Peppers, who faces at minimum a double-team every play, turned 31 years old back in January. Maybe
Henry Melton
moves outside if rookie
Stephen Paea
or somebody else locks down the under tackle spot, but right now, that's impossible to predict. What the Bears need to do, and I believe they will do, is address defensive end in free agency for the second consecutive year.
April, 30, 2011
4/30/11
6:57
PM ET
LAKE FOREST, Ill. -- The
Chicago Bears
achieved their goal of bringing in a developmental quarterback by selecting Idaho's
Nathan Enderle
in the fifth round (No. 160 overall) on the draft's third day, before wrapping up the 2011 class with depth at linebacker in West Virginia product
J.T. Thomas
, a sixth-round pick.
"We worked with the coaches on this, we worked him out personally, and feel good about the selection," Bears director of player personnel Tim Ruskell said. "He's a big guy. He's got a very strong arm. He's a very intelligent man and intelligent quarterback. I saw him two years when I was in Seattle and saw him play against Jake [Locker] in Washington and he really went toe to toe with him."
Read the entire story.