December, 19, 2013
12/19/13
8:00
AM ET
LAKE FOREST, Ill. -- The
Chicago Bears
created more family ties between their roster and St. Louis' on Wednesday when they signed offensive tackle Joe Long to a two-year contract.
The Bears signed Long (6-5, 304 pounds), the younger brother of Rams offensive tackle
Jake Long
, off Pittsburgh's practice squad. The club had already selected starting guard
Kyle Long
in the first round of the 2013 draft, and he's the younger brother of St. Louis defensive end
Chris Long
.
So for the Bears, it's a case of same name, different bloodline.
Joe Long originally came into the NFL as an undrafted free agent with the Rams in 2012 out of Wayne State (Mich.), and signed to Pittsburgh's practice squad in November of that season. He didn't appear in a regular-season game in two seasons with the Steelers.
Joe Long started in all 49 of his game sat left tackle at Wayne State, and won the Gene Upshaw Award, which is given annually to the top offensive lineman in Division II.

August, 24, 2013
8/24/13
12:05
AM ET
OAKLAND, Calif. -- Maybe
Jay Cutler
, at least for the time being, put an end to the notion that he's overly reliant on receiver
Brandon Marshall
.
Cutler completed 12 of 21 passes for 142 yards and a touchdown in the
Chicago Bears
' 34-26 win over the
Oakland Raiders
on Friday night, with none of those falling into the hands of Marshall, who dropped two balls and had another one knocked away by
D.J. Hayden
. In a little more than two quarters of action, Cutler produced a passer rating of 93.8, which would have been higher had his targets not dropped a total of five passes over the first two quarters.
But enough of all that. Let's take a deeper look:


What it means:
Even though the Week 3 game goes down as the most important game of the preseason, the Bears can't put too much stock in their strong performance against what was clearly an overmatched Raiders team. The Bears operated efficiently in the passing game (3-of-6 on third down), and the rushing attack tore chunks (110 yards in the first half) out of Oakland. The offensive line protected Cutler well, allowing no sacks. Most importantly, the Bears finished the game without any starters going down to injury.
The Bears can walk away encouraged because of the way they executed what up to that point was the most extensive game plan of the exhibition season. Defensively, the Bears shut down the Raiders, holding them to 0-of-6 on third down in the first half, with
Isaiah Frey
and
Tim Jennings
picking off passes.
So Chicago's starters ended the exhibition season on a high note, considering they won't see any action in the preseason finale at Soldier Field against Cleveland.
June, 10, 2013
6/10/13
6:18
PM ET
The
Chicago Bears
wrap up offseason work starting Tuesday with a three-day veteran minicamp at Halas Hall.
The team doesn't convene again until July 25 at training camp.
Let's take a look at a few things to keep an eye on during this three-day minicamp.
Who will participate:
Given that this minicamp is mandatory, players without excused absences are subject to fines from the team. So look for the entire roster to show up minus rookie first-round pick
Kyle Long
, who won't be able to attend. A possible starter at guard, Long won't be eligible to attend due to an NFL rule that prohibits draft picks and college free agents from participating in offseason work until after final exams at their respective schools.
March, 12, 2013
3/12/13
2:44
PM ET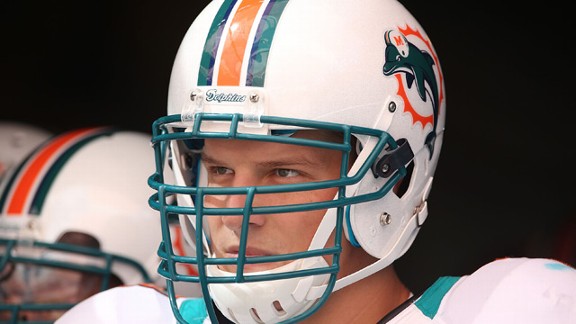 Marc Serota/Getty ImagesJake Long is expected to have a big price tag which could be risky for a player with recent injury problems.
Let's preface this by saying the stat about to come next isn't solely about Bears left tackle
J'Marcus Webb
, as much as it is about the need to upgrade the offensive line as a whole.

According to ESPN Stats & Information, the Bears have allowed a sack once every 11.9 dropbacks since the start of 2011, which ranks as second-worst in the NFL. Webb played every snap at left tackle over that span, but so did center
Roberto Garza
.
With free agency set to start Tuesday, several reports have circulated about the team expressing interest in players such as New Orleans'
Jermon Bushrod
, and Miami's
Jake Long
. It's worth noting that under previous general manager Jerry Angelo, the Bears made an unsuccessful run in 2011 at Bushrod, who eventually re-signed with the Saints.
Meanwhile, it's unclear whether the interest in Long is genuine considering the fact his last two seasons ended with injuries, not to mention he could command a salary in the $10 million-per-year range.
March, 12, 2013
3/12/13
12:29
PM ET
So here is an interesting intra-division scenario emerging in the final hours before the NFL free-agent market opens. The
Minnesota Vikings
have to this point failed to re-sign right tackle
Phil Loadholt
, who now appears to have generated significant interest from the
Chicago Bears
, according to
Brad Biggs of the Chicago Tribune
.
The development tells us two things. First, the Vikings are nearing a deadline for keeping intact the offensive line they believed they had established for the long term last season. Second, the Bears are serious about addressing their offensive line -- so much so that they would spend relatively premium money, perhaps more than $5 million annually -- to replace the player they drafted in the first round just two years ago.
Yes, if the Bears land Loadholt, the best-case scenario for
Gabe Carimi
would seem to be competing for a starting guard position. There have also been multiple reports, including this one from
Alex Marvez of Fox Sports
, that connect the Bears and free-agent left tackle
Jake Long
. Loadholt figures to be a more affordable option if the Bears want a starting tackle in free agency.
The Vikings already had more than enough salary-cap space to sign Loadholt, but it's worth noting they created more Tuesday morning by restructuring the contract of tight end
John Carlson
. (
Tom Pelissero of 1500ESPN.com
has details.)
Again, these are the types of exciting/agonizing moments that the free-agent deadline brings. I really don't think the Vikings want to lose Loadholt, given their lack of an internal replacement, and they certainly don't want to see him strengthen one of their division rivals. I wouldn't be surprised if we have a resolution on this one by the end of Tuesday.
February, 6, 2013
2/06/13
2:30
PM ET
This is the time of year for wild and unreasoned speculation on NFL free agency, and so I want to forward you two important posts from our ESPN.com Insider staff. One is a thorough ranking of available players from
longtime executive Bill Polian

, now an ESPN analyst. The other is a list of 10 players to stay away from,
according to Khaled Elsayed of Pro Football Focus

.
Both require Insider subscriptions to be read in full, but I'll do my best to sneak you some morsels over the next couple weeks. In cross-referencing the posts, there are two names that I've been getting questions about in regards to NFC North teams,
including during Monday's SportsNation chat
.
The first is running back
Reggie Bush
, whom
Jason in Milwaukee
wrote would be "a match made in heaven" for the
Green Bay Packers
. Polian and Elsayed both provide reasonable sobriety to that excitement.
Polian:
"He's a name, but at this stage in his career, he's a third-down guy."
Elsayed:
"[T]he same old problems prevail, as he averaged just 2.06 yards after contact per carry [in 2012], a number that was better than only five backs with more than 100 carries. He just isn't a convincing runner between the tackles, teasing us with the idea he will be and then being quick to bounce the ball outside."
It's true that a player of Bush's receiving skills would be productive in the Packers' offense. But what would help the team more, in terms of balance, is a physical running back who can move piles and get yardage on his own. Bush will never fit that description.
The second player is left tackle
Jake Long
, who has been an elite player but is coming off two years that most agree were not as good as his first three. I can't count how many people have suggested the
Chicago Bears
pursue him in free agency, even if it is to play right tackle. Here is part of what both analysts wrote about Long:
Polian:
"His reputation will make him an A player, but he is an injury and age concern to me. He is turning only 28 to start next season, but he already has played 74 games, making a long-term deal a risk."
Elsayed:
"If you judge a left tackle by his work in pass protection, Long has gone from ranking first in our pass blocking efficiency stat in 2009 and 2010 to 13th (2011) and what would have been 14th (2012) if he had have played enough snaps to qualify."
Again, this is silly season in the NFL. It's tough to intelligently match teams with free agents when you realize that many of the players on these lists will be re-signed and thus taken off the market before free agency begins. Some Packers fans are eyeing Bush and many Bears fans are zeroed in on Long, but we don't know yet whether the teams themselves share those sentiments or would even have the opportunity to act on them if they did.
November, 18, 2010
11/18/10
4:26
PM ET
MIAMI GARDENS, Fla. -- Kickoff for Bears-Dolphins quickly approaches, but we figured we couldn't let you guys go into the game without the weekly nuts and bolts associated with this outing.
Besides that we've gotten a little more insight into the Dolphins and how they'll match up with the Bears. So here goes:
THREE KEYS FOR THE BEARS
1. Mix it up on Brandon Marshall:
The Bears came out in their nickel defense on several occasions against the Vikings in what seemed to be inopportune times, but the tactic worked well. So against the Dolphins playmaking trio of Marshall,
Davone Bess
, and
Brian Hartline
the Bears may need to utilize that look even more. It's likely that quarterback
Tyler Thigpen
will lean on Marshall to bail him out of difficult situations, which means this outing should provide nickel back
D.J. Moore
some opportunities to build on his team high in interceptions. Moore's best shot of doing that, however, hinges on the way the club defends Marshall schematically. The Bears need to deploy a variety of methods (double teams, zones, even some man every now and then) to confuse Marshall and Thigpen.
[+] Enlarge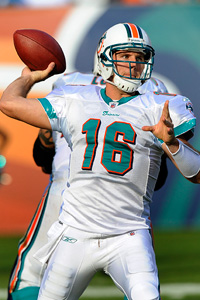 AP Photo/Rhona WiseTyler Thigpen's ability to extend plays because of his mobility excites some of his Dolphins teammates.
2. Don't fix what's not broken:
Since the Nov. 7 victory against the
Buffalo Bills
, the Bears haven't tweaked the formula on offense. They shouldn't do it tonight, either. Offensive coordinator Mike Martz has called a nice mixture of runs and passes, with a few exotic looks sprinkled in here and there. But Martz doesn't need to make any radical changes against the Dolphins for the Bears to continue their success on offense. Running backs
Matt Forte
and
Chester Taylor
, however, need to be more productive when their opportunities arise. If the duo can reach close to 4 yards per carry against the Dolphins, you can pretty much count on a Bears victory.
3. Don't be let Thigpen surprise you:
Interestingly, some of Miami's players actually believe Tyler Thigpen gives the Dolphins their best chance to win because of the quarterback's strong arm and ability to extend plays, which wind up causing coverage to break down in the secondary. Given the limited preparation time for this week's contest, it's unclear how much the Bears have studied Thigpen. But they can't get rattled early on by any big plays the quarterback may make, and drastically alter the defense, which could lead to even more problems.
THREE KEYS FOR THE DOLPHINS
1. Prevent a Peppers explosion:
Don't think for a second that
Julius Peppers
doesn't view tonight's matchup as his chance for a breakout opponent. He's got just two sacks on the season, and is playing on national television against injured left tackle
Jake Long
. So the recipe for a big game by Peppers exists. Miami needs to make sure it never transpires. The best way to do that is to help out on Peppers with running backs and tight ends chipping. But Miami also needs to be mindful of
Israel Idonije
-- Chicago's leader in sacks -- on the other side. With starting center
Joe Berger
out, it becomes even more important for backup
Cory Procter
to effectively communicate Miami's protections to the rest of the line.
2. Confuse Cutler:
Bears quarterback
Jay Cutler
has shown a penchant for being
somewhat erratic in night games
. So why not make things even more difficult by confusing him with a mixture of pressure and coverages? Corners
Vontae Davis
and
Sean Smith
should be able to hold their own against Chicago's pedestrian group of wideouts in man coverage, which means the Dolphins could have plenty of time to get to Cutler on the blitz. By mixing up things in coverage, Miami should also be able to confuse the Bears' young receivers. Cutler has already misfired several times this season because of miscommunication with his receivers.
[+] Enlarge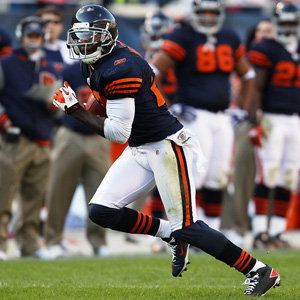 Jonathan Daniel/Getty ImagesDevin Hester flashed his dangerous return skills against Minnesota, gaining 147 special-teams yards.
3. Keep it away from Hester:
Bears return man
Devin Hester
wants to break the record for touchdowns on returns tonight in his home state in front of friends and family. Don't let him. Miami can prevent a big night from Hester by simply kicking the ball away from him. Dolphins coach Tony Sparano didn't give an indication as to what his team's plans are for defending Hester. But too many times this season, Chicago's opponents stubbornly kicked to Hester only to be burned. Chicago's special teams unit is one of the few in the league that can actually change games. It's tough enough to score victories with the offensive and defensive phases of the game. So why give the Bears an easy win in the third phase by kicking to Hester?
MATCHUP TO WATCH: Peppers vs. Long
Miami left tackle Long plans to play tonight, and while that's a courageous move, it might be unwise considering the severity of his injured shoulder and his pending match up against Peppers.
Peppers likely views tonight as a potential breakout game for him on national television, so Long is sure to get the defensive end's best effort. Occasionally, teams have successfully left tackles in one-on-one situations against Peppers. But that's probably not the way to go in this matchup, especially when factoring in Miami's injury situation at quarterback.
Peppers typically utilizes a variety of pass-rushing moves against offensive tackles, but knowing Long's injury situation, the defensive end will attack him with more bull rushes and try to wear him down as the game progresses.
BY THE NUMBERS
22:
Age of Josh Moore, the youngest player on Chicago's roster.
24:
Games in which
Ricky Williams
has rushed for 100 yards or more, which is a Dolphins franchise record.
13:
Total returns for touchdowns by Devin Hester (9 punt return TDs, 4 kickoff return TDs).
60.7:
Cutler's passer rating in his only game against the Dolphins. Cutler also threw for two touchdowns and three interceptions in that outing.