Chicago Bears:

Jason Babin
January, 2, 2014
Jan 2
3:15
PM ET
LAKE FOREST, Ill. --
Shea McClellin
's days as a 4-3 defensive end could be numbered.
Chicago Bears
general manager Phil Emery acknowledged Thursday the organization needs to find a better way to maximize McClellin's talents after the 2012 first-round pick (No. 19 overall) consistently struggled to stop the run and sack the quarterback over the past two seasons.
[+] Enlarge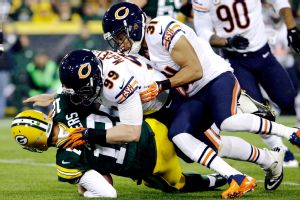 AP Photo/Morry GashShea McClellin (99) had a significant sack of Aaron Rodgers -- one that knocked out the Packers QB -- but has otherwise struggled to do what the Bears envisioned for him.
"When we needed a pass-rusher to step up, Shea contributed greatly in terms of our overall production," Emery explained. "No matter how we shake out the stats as far as the importance of the person on the field to our pass rush, Shea was No. 1. But he did not have enough impact plays. Sacks are king and Shea did not have enough of those.
"What we have to do with Shea is find ways to use the unique talents and skills of the players that we have. Putting him at defensive end, that's on me, not giving him the ultimate opportunity to succeed. He produced in a positive way but the overall impact of the last two seasons has not been at a high enough level."
Bears head coach Marc Trestman added: "We'll look hard at Shea doing other things besides being lined up at defensive end. If that means moving him to a linebacker position as we move forward, that will be under consideration as well. But there's no doubt as Phil and I watched the tape this week that he's capable of more, and we'll work toward that as we move forward. He's got it in him. It's our job as coaches, and it starts with me, to get him in a position to be more successful, and we feel confident we can get that done."
McClellin was named NFC Defensive Player of the Week for his career-high three-sack game against Green Bay on Nov. 4, when he knocked Packers quarterback
Aaron Rodgers
out of the game with a fractured collarbone in the first quarter.
But McClellin managed just one full sack in the other 15 games, and in his first two full NFL seasons, has sacked the quarterback only 6.5 times.
That is not the kind of production Emery envisioned when he drafted McClellin out of Boise State.
"Shea was brought in -- and I said this last spring when I was asked about what do I expect out of him in terms of how I want him to improve -- he was brought in to the Chicago Bears to be a rotational, complementary pass-rusher," Emery said. "The whole idea and thought behind Shea is the high end of the athleticism he has and his speed to handle the quarterbacks that we face and the mobility that they have. The role model was some of the players that Lovie [Smith] had had in the past in terms of being somebody that comes in during the nickel downs, primarily, and then goes anywhere from the high 40 percent to about 60-62 percent is the effective range of a player that has the skill set that you're looking for.
"Shea was brought in to help us disrupt the passer. We were a better pass-rushing unit a year ago when he was in the game than when he was out of the game. That is again true this year. Where he hasn't had is an impact on sacks. Sacks are king in terms of sacks against you and sacks that you make. They're a huge part of the overall win formula. We have a win formula that has six aspects of it. Sacks are a big part of three of it, and they have a big determination on whether you win or lose from a statistical aspect."
However, Emery has not abandoned hope in regard to McClellin's development. The general manager even went as far as to cite three players he found to be comparable to McClellin who failed to blossom until later in their respective careers.
"When I look at Shea and study Shea and study other players in the league that fit his profile --
Rob Ninkovich
from the
New England Patriots
, and I'm sure I totally screwed that name up;
Jason Babin
, who's with Jacksonville now;
Jerry Hughes
, who's down in Buffalo -- the most amazing thing in studying those players, they all had the same general size as Shea, speed, fast athletes, very quick athletes, athletes with versatility," Emery said.
"All three of those guys did not produce right away for their initial team. It took Jason Babin a long time. He went about five or six seasons without any production, and then all of a sudden he had 18 1/2 sacks. Then he had 13 1/2 sacks. And he continues to have sacks this year. Same thing with Rob with New England. His original team? He washed out. He went to another team, no production. He went to the New England Patriots, they found a role for him, and they just re-upped him. He's in his ninth season and he just got a contract extension. He had 91 tackles this year and eight sacks. Same body type, same frame, and same upside. Jerry Hughes, first-round pick of the
Indianapolis Colts
. Three years of no production. Way less production overall than Shea. Goes to a new team, they find a different role for him. They use him as a hand-down rusher and as a linebacker. That team was one of the higher sack teams in the league. He had 10 sacks this year, 41 tackles."
Emery continued: "What I want for Shea is for it not to take that long, for us to find that role, not for the New England Patriots or the
Buffalo Bills
or the
Jacksonville Jaguars
or the Eagles to find those roles, but for us. All of those players have a similar skill set. We need to find a better role fit so that he can be productive as a run-down player and productive as a pass rusher."
November, 10, 2011
11/10/11
8:16
PM ET
LAKE FOREST, Ill. --
Chicago Bears
offensive coordinator Mike Martz responded to the Twitter rant and subsequent comments made by Philadelphia defensive end
Jason Babin
, who ripped the coach and the team's blocking tactics utilized in Monday night's game.
According to multiple reports, Babin said the
Eagles
have brought the matter to the attention of the NFL.
Read the full story.
November, 6, 2011
11/06/11
10:10
AM ET
BEARS AT EAGLES
When: 7:30 p.m., Monday | TV: ESPN | RADIO:780 AM, WBBM & 105.9 FM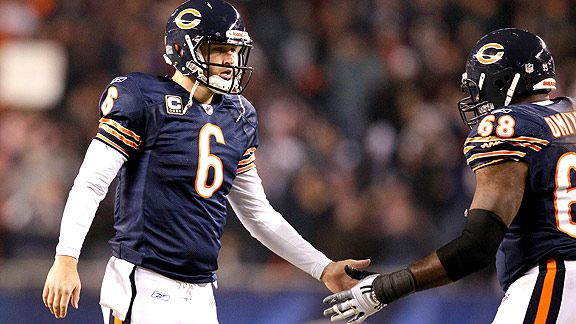 AP Photo/Nam Y. HuhBears QB Jay Cutler has a 1-1 career record against the Eagles.
BEARS (4-3)
Coach:
Lovie Smith |
Record including playoffs:
70-55 |
Last week:
Bye

Career head-to-head record (including playoffs) vs. Andy Reid: 3-2

Career record (including playoffs) vs. Eagles: 3-2

Key stat: The Bears are 4-0 this season when they score 18 point or more and 57-10 under those conditions since 2004. The club is also 4-1 this season when it gains more than 301 net yards
Offense rank: 16th (337.4 ypg) | Defense rank: 23rd (380.6 ypg)

Offensive leader: The NFL's leader in yards from scrimmage (1,091), running back Matt Forte averages 155.8 yards from scrimmage per game, which currently ranks as the fifth-highest average in NFL history. Since coming into the league in 2008, Forte ranks third in yards from scrimmage (5,822) behind Minnesota's Adrian Peterson (6,266) and Tennessee's Chris Johnson (6,068).


[+] Enlarge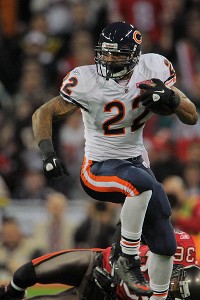 Kyle Terada/US PresswireMatt Forte is having his best season as a pro in 2011.
Defensive leader:
Linebacker
Brian Urlacher
is currently tied with Dallas'
Sean Lee
for the NFL lead among linebackers this season with three interceptions, and now has an INT in nine of his 12 years. Urlacher is one of four NFL players to post at least 20 career interceptions and 40 career sacks since sacks became an official statistic in 1982.
STREAKS
• The Bears have picked off at least one pass in five of the last six games.
• Eight of Devin Hester's career return touchdowns have come in prime-time contests.
• Nickel corner
D.J. Moore
has picked off a pass in three of the last four games, and now has seven career interceptions, which ties for fourth in the NFL since 2010.
• Quarterback
Jay Cutler
has been sacked at least once in 29 consecutive games, the NFL's longest streak over that span.
---
EAGLES (3-4)
Coach:
Andy Reid |
Record:
131-86 |
Career head-to-head record vs. Smith:
2-3

Career record against Bears: 6-3 | Last week: Defeated the Cowboys

Key stat: The Eagles have won each of their last three games on Monday Night Football, and are 27-22 all-time. Philadelphia's 27 wins on Monday Night Football rank as the sixth-most in the NFL.

Offense rank:1st (449.3 ypg) | Defense rank: 11th (330.6 ypg)


[+] Enlarge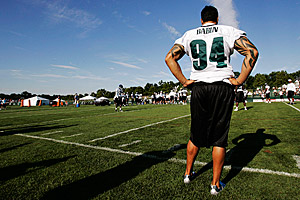 AP Photo/Rich SchultzJason Babin could be a tough matchup for the Bears' offensive line.
Offensive leader:
QB
Michael Vick
is 4-1 on Monday Night Football, and has run for seven touchdowns in those prime-time showings. Vick became the first player in NFL history last season to throw for 300 yards (333) and 4 touchdowns, in addition to rushing for at least 50 yards (80), and 2 TDs on Monday Night Football.
Defensive leader:
Defensive end
Jason Babin
is tied for fourth in the NFL with 9 sacks, and three of his nine multi-sack games have come in 2011. With 21.5 sacks since 2010, Babin ranks third in sacks over that span behind Dallas'
DeMarcus Ware
and Minnesota's
Jared Allen
.
STREAKS
• With a touchdown against the Bears, Eagles running back
LeSean McCoy
will tie Steve Van Buren's team record of eight consecutive games with a touchdown.
• The Eagles are 3-0 this season when they hold teams to 17 points or fewer and 84-19-1 under those circumstances with Reid as the head coach.
• The Eagles are winless in 2011 when they allow a running back to rush for 100 yards or more.
• The Eagles own the best record in the NFC during the month of November (32-18-1) since 1999.
November, 3, 2011
11/03/11
1:51
PM ET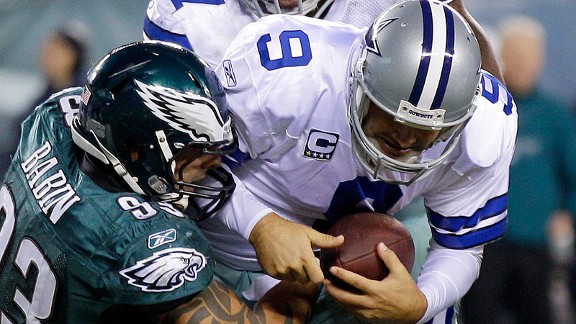 AP Photo/Matt SlocumJason Babin already has nine sacks this season, solidifying the Eagles' defensive line.
LAKE FOREST, Ill. -- One area the
Chicago Bears
failed to address in the shortened, post-lockout free agency period was defensive end. Just a year after locking up premiere pass rusher
Julius Peppers
to a six-year deal that included a $10.5 million signing bonus, the Bears had the chance to solidify the other side of the defensive line with another high-profile end.
A few high-profile players like
Ray Edwards
and
Jason Babin
were on the open market, but the Bears ultimately opted to stand pat with veteran
Israel Idonije
, 2010 draft pick
Corey Wootton
,
Nick Reed
and
Mario Addison
.
The Eagles, on the other hand, decided to go a different route. With one defensive end spot already occupied by two-time Pro Bowler
Trent Cole
(44 sacks over the last four years), Philadelphia opened up its wallet to ink Babin to a five-year, $28 million contract.
It proved to be a homecoming of sorts for Babin, who the Eagles allowed to leave for Tennessee following 2009. During his one year with the Titans, the eight-year veteran recorded 12.5 sacks and was named to his first ever Pro Bowl.
Safe to say Philadelphia was eager to atone for its mistake.
"We had him before so it was kind of a unique situation," Eagles head coach Andy Reid said Thursday. "I tell people it was a real smart move on my part letting him go ... he goes and makes the Pro Bowl [with the Titans]. We enjoyed having him the year he was here and realized we probably should have played him more. We made an effort when free agency started to get him back here. He had a relationship with [current Philadelphia defensive line coach] Jim Washburn, his defensive line coach from Tennessee, so it kind of fit into what we were trying to do here."
Babin is fitting in just fine. Through seven games, the Eagles free agent pick-up leads the team and is third in the NFL with nine sacks, while also topping his defense with 22 hurries. Cole and Babin combined to sack Cowboys QB
Tony Romo
three times in Philadelphia's 34-7 victory over Dallas last Sunday night.
Every team would agree the only thing better than one outstanding pass rusher, is two outstanding pass rushers. But unlike other teams, the Eagles were willing to pay for that luxury.