January, 16, 2015
Jan 16
3:03
PM ET
Chicago's
hiring of new head coach John Fox on Friday
naturally leads to speculation about what is to become of quarterback
Jay Cutler
.
Signed to a seven-year contract worth $126.7 million last offseason, Cutler figures to become a hot topic of conversation among Fox and the brass at Halas Hall in the coming days. But new general manager Ryan Pace, who had been director of player personnel for the Saints, recently said the team won't make any decisions until he gets a chance to get to know Cutler.
Pace can do that now that he's hired a head coach.
"The quarterback obviously is a critical, critical position to achieve sustained success. But it's not the only position. For us to have a lot of success, all 53 guys are going to be accounted for," Pace said. "So, yeah, I witnessed things with
Drew Brees
that I have in my mind that I know why he was successful and those are ingrained in me. But I want to get to know Jay. I want to get to know him further before I come to these conclusions."
Team chairman George McCaskey will leave Cutler's fate solely up to Pace and Fox. But regardless of the conclusion Pace and Fox reach, options regarding Cutler seem limited.
[+] Enlarge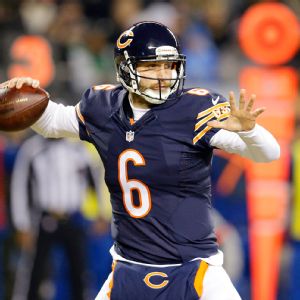 AP Photo/Nam Y. HuhNew GM Ryan Pace and head coach John Fox will decide about Jay Cutler's future in Chicago.
Whether or not Cutler remains on the roster in 2015, the Bears are still responsible for $15.5 million in fully guaranteed salary and would owe the quarterback another $10 million in fully guaranteed money for 2016 if he's still on the roster on March 12, three days into the new league year.
Cutler's contract does include offset language for guaranteed money. So if Chicago were to release Cutler, whatever salary he receives from his next team would be subtracted from the $15.5 million owed by the Bears, with cap savings deferred.
With multiple teams around the NFL appearing to need quarterbacks -- such as Buffalo, the New York Jets, Houston, Tennessee and possibly Cleveland -- trading Cutler would seem a logical move, too. But the Bears would need a contingency plan in place before trying to make such a deal.
It's worth noting that the upcoming free-agent class of quarterbacks doesn't present many viable options for Chicago, and we all know no sure things exist in the NFL draft.
The problem with trading Cutler is receiving fair compensation, as teams interested in acquiring the quarterback know the Bears would be desperate to dump his large contract. So if the Bears decide to move Cutler, they'd have to do so knowing they're not likely to receive fair value. But the money freed up could allow Chicago to build in other areas, namely the defense.
This might irritate some Bears fans, but perhaps the best course of action for the club is to keep Cutler. The
Dallas Cowboys
proved in 2014 it's possible to mitigate the effects of a mistake-prone quarterback by building around him and changing the offensive philosophy, which is something Fox demonstrated an ability to do during his tenure in Carolina.
If Pace and Fox rebuild the defense and the coach shifts to more of a run-first philosophy that would allow Cutler to operate more efficiently off play-action, Chicago could win games similarly to the way the
Seattle Seahawks
get it done.
Statistically, Cutler produced one of his best seasons in 2014, completing a career-best 66 percent of his throws for a career-high 28 touchdowns. Cutler's 3,812 passing yards ranked as second best of his career, and he finished the season with a passer rating of 88.6, which registers as his second-best rating in nine NFL seasons.
Obviously, turnovers (24) and questionable decision-making significantly diminished Cutler's 2014 campaign, as opponents scored a total of 95 points off the team's 29 giveaways.
But that's not to say Fox can't win with Cutler, because he can.
"I'm a big fan of Jay personally, and I'm a fan of Jay professionally," McCaskey said. "But all of the personnel decisions are going to be up to the new general manager and the new head coach."
For Pace and Fox, the Cutler clock is now ticking.