Chicago Bears:

Jay Cutler Show
September, 29, 2014
Sep 29
5:27
PM ET
Last week, Green Bay quarterback
Aaron Rodgers
told fans to relax after his team's 1-2 start, but Chicago's
Jay Cutler
stutter stepped that approach and opted for reality on the heels of the Bears' falling to 2-2 Sunday after a 38-17 loss to the Packers.
"I'm not gonna tell them anything," Cutler said Monday during the "Jay Cutler Show" on ESPN 100. "We've got to win games at home. Green Bay, a divisional opponent … we've just got to play better. There is a lot of football left. [Rodgers] does have a point. It's a long season. We've had a rough stretch."
[+] Enlarge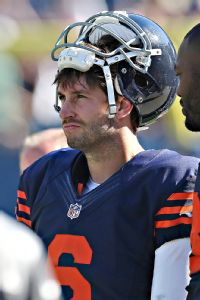 Jonathan Daniel/Getty ImagesJay Cutler dropped to 1-9 against the Packers, but his season numbers are promising.
After back-to-back victories on the road at San Francisco and against the
New York Jets
, the Bears returned to Soldier Field on Sunday for the first time since the opener. The Bears sprinted out of the gate and marched 80 yards on 15 plays to start the game, only to sputter down the stretch as a result of two turnovers, shoddy play in the secondary and a pass rush that barely made Rodgers flinch as he tossed four touchdown passes.
Starting with a matchup Sunday at Carolina, the Bears play three of the next four on the road before their Nov. 2 bye. Cutler offered no assurances the club would bounce back. The club's three upcoming road opponents (Carolina, Atlanta and New England) currently hold a combined record of 6-5.
"We've had a rough stretch," Cutler said. "We're gonna go through a pretty rough stretch, like you guys were talking about earlier, the next four games. So we've just got to take it one game at a time."
The Bears rolled up 496 yards of offense and converted 64 percent of third downs. But a couple of Cutler interceptions, combined with the defense's allowing Rodgers to throw for 302 yards and a passer rating of 151.2, doomed Chicago's prospects. In 28 pass attempts, Rodgers suffered only one sack, and Bears coach Marc Trestman said Monday that the club blitzed very little in the loss.
Asked whether he remained confident about future meetings with the Packers, Cutler said, "Yeah, you saw the stats. I think we've got a really good bead on them now, with Trest[man] and this group. So hopefully we can start improving on that."
Cutler finished with a passer rating of 82.5 and two touchdown passes to go with the interceptions.
Matt Forte
was one of the club's few bright spots on offense. He rushed for 122 yards on 23 attempts.
Despite the shaky outing against the Packers, Cutler has completed 65.8 percent of his throws for 10 touchdowns, four interceptions and a passer rating of 94.7, which is promising, considering he entered the season with a career passer rating of 84.6.
Cutler owns a 1-9 record against the Packers, and he's 41-22 against the rest of the NFL. In games against Chicago's division rival, Cutler has completed 55.6 percent of his throws with a touchdown-to-interception differential of minus-8. Against the rest of the NFL, Cutler's completion percentage rises to 61.1 and his touchdown-to-interception ratio to plus-41.
Does the record against the Packers bother Cutler?
"Obviously, you want it to be better," Cutler said. "But there's not much I can do about it."
In evaluating his own play after the first month of the season, Cutler said, "You'd like to cut down some of those turnovers. A couple of them are pretty stupid. The last one was unfortunate. You clean some of that up, and I'd be happy."
January, 2, 2014
Jan 2
1:33
PM ET
LAKE FOREST, Ill. –
Chicago Bears
head coach Marc Trestman offered no definitive statement on the future of embattled defensive coordinator Mel Tucker, but Trestman praised the way Tucker handled the injury-riddled defense on multiple occasions during Thursday's 90-minute joint news conference with team general manager Phil Emery.

However, Trestman said a direct conversation between himself and Tucker still needs to take place before he can comment on the status of his coaching staff.
"I don't want anybody to read into anything what we are doing," Trestman said. "Everything is on the table. We're going through a very thoughtful and methodical process here. Other than that, we've talked enough at these press conferences that I'm hopeful you won't [draw conclusions on the staff]. We're going to look at everything because we have an obligation to do that and what I can do to get this football team better.
"Everything is on the table. Again, we're just three days into this. All we've done is looked at some tape. This is a process that's going to involve not just myself, but all of our coaches. It'll be a process where we've left everything on the table."
The Bears finished 2013 ranked No. 30 in total defense and dead last in rushing defense and yards allowed per play. The defense was also tied for 30th in points allowed and ranked 26th in sacks per pass play.
But the group did suffer key injuries to cornerback
Charles Tillman
, linebacker
Lance Briggs
, defensive tackles
Henry Melton
and
Nate Collins
, middle linebacker
D.J. Williams
, nickel back
Kelvin Hayden
and defensive lineman
Turk McBride
. Veteran defensive tackle
Sedrick Ellis
also opted to retire on the eve of training camp, further depleting the Bears' depth on the defensive line.
When relatively healthy, the Bears' defense put up respectable numbers over the first three games of the regular season, but their performance sharply regressed as the year wore on.
"I think it's a real shame that Mel got the raw end of the deal," Bears cornerback
Tim Jennings
said.
Bears quarterback
Jay Cutler
said on ESPN 1000's "The Jay Cutler Show" on Monday that he believes Tucker will be the team's defensive coordinator until "he lands a head coaching job" either in the NFL or college ranks.
Trestman said he and Emery work together when shaping the coaching staff, but Emery clarified that Trestman has final say on the matter.
December, 16, 2013
12/16/13
8:30
PM ET
Chicago Bears
quarterback
Jay Cutler
felt supported by teammates during his return to the lineup Sunday at Cleveland after a month out of action, despite suggestions to the contrary.
[+] Enlarge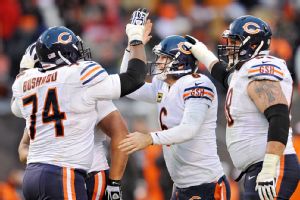 AP Photo/David Richard"At the end of the game, I felt supported, which is all that was really needed," Cutler said of his return.
Cutler admitted that most of the support came from teammates on offense, and the quarterback said he wasn't aware about potential division in the locker room regarding the decision to start him over backup
Josh McCown
.
"Offensively, yeah, [I felt support from those players]," Cutler said Monday during the "Jay Cutler Show" on ESPN 1000. "I'm not in the defensive meetings. We don't talk to those guys as much. I felt support from those guys going into the game. I know there were some media outlets saying otherwise. It is what it is. At the end of the game, I felt supported, which is all that was really needed."
Cutler shook off a slow start against the Browns in which he threw two interceptions, including one returned for a touchdown in the second quarter, and led the Bears to a 38-31 triumph, which keeps the club in the chase for the NFC North title. With Cutler leading the way, the offense converted 64 percent of third downs as the quarterback completed 22 passes for 265 yards, and three touchdowns for a passer rating of 102.2.
Prior to the game, multiple reports surfaced hinting at division in the team's locker room over the decision to reinsert Cutler as the starter over McCown. Filling in for four outings prior to Sunday's game at Cleveland, McCown had thrown for 1,271 yards and nine touchdowns with only one interception for a passer rating as 109.8, which ranked as third in the NFL. McCown also led the NFL with a Total QBR of 85.7.
According to one report, sources said players bit their tongues during the week leading up to Sunday's game out of respect for Bears coach Marc Trestman, but that some defensive players were likely to speak up if Cutler didn't perform well against the Browns. Cutler was aware of the situation, according to that report. But Cutler denied that.
"No, I wasn't aware of that. No one approached me and said, 'Hey, out of respect to you and [coach Trestman] we're not gonna say anything. We don't think you should play.' You never know," Cutler said. "Locker rooms are funny places. Guys get put in these situations. It might not have even come out that way. It might have just been they said something and that's how [it was perceived]. I'm not gonna make a big deal out of it at all. I felt that everyone supported me. I thought the guys went out there, and after we had a rough start, they bounced back for me and everyone was there on the sidelines saying, 'Hey, next play, let's keep moving on.' I felt supported, which is the only thing that really matters."
Prior to making his first start in a month, Cutler said he spoke to several players on the offensive side of the ball to let them know he would be returning to the lineup. Knowing how well McCown had performed in relief, Cutler wanted to know whether teammates would support his return.
"I've talked to [receiver
Brandon Marshall
] about it," Cutler said. "We've been together a long time. I knew he'd shoot me straight. I talked to [center
Roberto Garza
]. I mentioned some stuff to the linemen. Everyone was super supportive. Like, 'This is what we've been waiting for: you to get back. So let's go. Let's quit talking about it. Let's go out there and play.' So guys were great. I said it yesterday, it's a really, really cool group to work with. The bonds are forming and getting stronger and stronger each week."
October, 14, 2013
10/14/13
7:27
PM ET
Chicago Bears
quarterback
Jay Cutler
acknowledged on Monday that he has changed for the better, and credited the new coaching staff headed up by Marc Trestman, in addition to teammates on the offensive line and at the "skill" positions.
Often described as petulant, Cutler hasn't displayed the quality so far this season the way he did in years past.
Cutler
"I think everyone changes over a period of time," Cutler said during "The Jay Cutler Show" on ESPN 1000. "People change for the better, some for the worst. It just depends."
Having moved on to a new staff led by an offensive-minded head coach, Cutler receives the best pass protection he has had as a Bears QB, and he is surrounded by multiple weapons on his side of the ball, which is a change from Lovie Smith, who preferred to bolster the defense.
In the 2013 regular season, Cutler has connected on 143 of 217 passing attempts, or 65.9 percent, and is on pace for a career high and highest for a season in franchise history. He has completed at least 60 percent of his passes in five of six games, and has thrown for 300 or more yards in two games.
With nine 300-yard passing games as a Bear, Cutler is tied with Billy Wade for the most in franchise history.
"I like the situation I'm in right now with the coaches. Marc Trestman, [Matt Cavanaugh], [Aaron Kromer], all those guys are doing a great job of getting this team offensively where we need to be. Offensive line, I can't say enough about them. I think they're the biggest byproduct of where we are offensively," Cutler said. "We brought in
Martellus Bennett
, some other guys around us. We've got (
Brandon Marshall
), Alshon [Jeffery], Earl [Bennett],
Matt Forte
, [Michael] Bush, all those guys are playing well."
In the final year of a contract that pays $8.47 million this season, Cutler also cited an enjoyable life off the field for the change he has experienced. Cutler and reality television star Kristin Cavallari married in June, and, the summer before that, Cavallari gave birth to the couple's son, Camden.
"At home, life is good. Kristin's actually here tonight with me. We're gonna have a little date night, go downtown stuff, go to dinner. So that's great," Cutler said. "Cam is doing great. I'm in a good place right now. It makes it a lot easier when you have good guys to work around you. It makes my life easier."
January, 9, 2013
1/09/13
4:32
PM ET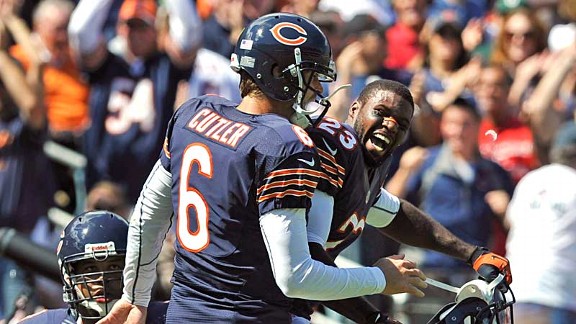 AP Photo/Jim PrischingDespite Devin Hester's talk of retirement, Jay Cutler wants him back with the Bears in 2013.
Chicago Bears
quarterback
Jay Cutler
made it clear he wants
Devin Hester
to return for the 2013 season, and he acknowledged it is "safe to say" the receiver might flourish in a new offense likely to be brought in once the team hires a new coach to replace Lovie Smith.
December, 17, 2012
12/17/12
2:25
PM ET
Chicago Bears quarterback Jay Cutler agreed Monday with the assertion by receiver Brandon Marshall that "everybody involved in this offense should be held accountable, even if that means jobs."
Marshall made those comments Sunday, just moments after the team's fifth loss in six weeks, a 21-13 fall at the hands of the rival Green Bay Packers. During "The Jay Cutler Show" on ESPN 1000, Cutler clarified Marshall's remarks, saying "I think he was talking more (about) players" as opposed to members of the coaching staff.
Read the entire story.
November, 19, 2012
11/19/12
12:30
PM ET
By
Staff
| ESPNChicago.com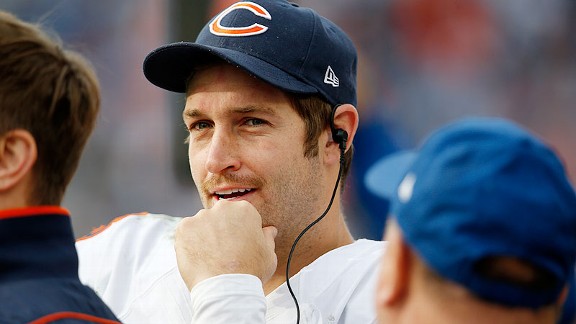 AP Photo/Joe HowellThe Bears felt it would be best that Jay Cutler not fly to S.F. after his concussion.
Jay Cutler
, who was ruled inactive Friday, did not accompany the
Chicago Bears
to San Francisco for Monday night's game as he recovers from a concussion.
The Bears felt it would be better if Cutler didn't travel on the four-hour flight.
October, 2, 2012
10/02/12
2:52
PM ET
[+] Enlarge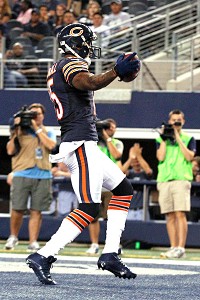 AP Photo/LM OteroThe Bears' Brandon Marshall posted his second 100-yard receiving game in four weeks on Monday night.
Jay Cutler
and
Brandon Marshall
have always communicated well with each other dating back to their days in Denver. But in the first two games of the season, Cutler said he heard from his favorite receiver a little bit too much on the sideline between series.
And Monday's game against the
Dallas Cowboys
started the same way.
"He started coming over in Dallas early in the game, and I was like 'Get out of here. Go do your thing, the ball is going to come your way just let us be. We're talking this over, we'll figure it out,' " Cutler said Tuesday on "The Jay Cutler Show" on ESPN 1000. "And he did. Third, fourth quarter we started getting some rhythm, getting him the ball. It was fun to watch."
Marshall caught seven passes for 138 yards and a touchdown in the Bears' 34-18 victory over the Cowboys on Monday night. After starting off his Bears career with a big day against the
Indianapolis Colts
on Sept. 9, catching nine passes for 119 yards and a touchdown, Marshall had just seven catches for 95 yards and no touchdowns over the next two games.
But Marshall made the most of his eight targets against the Cowboys, capping off the night with a 31-yard touchdown catch in the fourth quarter for a 34-10 lead.
"He played within the system," Cutler said. "We've got a lot of plays designed for Brandon. Whenever we do get a lead teams are going to play single high, try to come get us and stop the run, so it's going to open him up. Whenever he plays within the system and lets it come to him instead of trying to force it ... I felt the first three games he wanted to make big plays so badly that he was getting a little bit out of rhythm, doing things that he shouldn't do. I felt this game he did exactly what we asked him to do and whenever the ball came to him he made plays for us."
PODCAST
Listen to Jay Cutler's reaction to his team's dissection of the Cowboys in Big D. Plus, find out what really happened on the sidelines with Mike Tice.

Listen

Cutler said Monday's game -- in which he posted a 140.1 passer rating -- felt a lot like his Denver days with Marshall, who posted two 100-catch, 1,000-yard seasons with Cutler as his quarterback.
"Watching (the game) on the way back I got to sit next to him on the plane also," Cutler said. "I'm never away from him. I'm watching and he's leaning over my shoulder, 'Yeah, that looks good.' I'm like 'Yeah, I got it.' So it's fun to have him back. We've just got to build on that. It's about consistency in the NFL and putting it together week after week."
September, 24, 2012
9/24/12
4:51
PM ET
By
Staff
| ESPNChicago.com
[+] Enlarge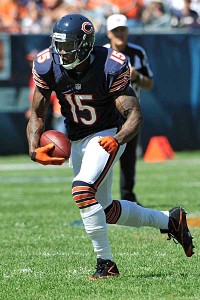 David Banks/Getty ImagesBrandon Marshall has 31 targets this season.
Brandon Marshall
's 31 targets this season are tied for ninth-most in the NFL, and
Chicago Bears
quarterback
Jay Cutler
doesn't plan on reducing that pace anytime soon.
"He's our go-to receiver," Cutler said Monday during "The Jay Cutler Show" on ESPN 1000. "He's a guy we're going to try to get to. Plays are designed for him. Plays are designed to get the ball in his area and let him make plays. I don't think we made errors in doing that. It's just sometimes they take it away and we have to go elsewhere.'
Marshall has 16 receptions for 214 yards and one touchdown. He also has three drops.
Here are some other highlights from "The Jay Cutler Show":