Chicago Bears:

Jeremy Bates
December, 10, 2012
12/10/12
3:10
PM ET
After the Chicago Bears' 21-14 loss to the Minnesota Vikings, here are three issues that merit further examination:
ESPN.com

Quarterback Jay Cutler said during his ESPN 1000 radio show that his stiff neck shouldn't keep him out of next Sunday's game against the Green Bay Packers. Cutler allowed the Vikings to set the tone with a pass rush that prevented him from finding a rhythm. He completed only one of eight passes against the Vikings' blitz for eight yards, according to ESPN's Stats & Information. And Sunday might have been one of the few occasions when Cutler has forced the ball too often to receiver Brandon Marshall. Cutler (14) and backup Jason Campbell (one) threw 15 passes to Marshall that traveled at least 10 yards in the air. That was the highest total in one game for a wide receiver in at least the past five years. Cutler completed only two of seven such throws in the second half, one of which was intercepted and returned for a touchdown by Vikings safety Harrison Smith, and the Bears couldn't close the gap created by an early deficit.

Running back Michael Bush only got two snaps because of a recurring rib injury that had left him questionable for the game. That is one of an inordinate amount of injuries the Bears are dealing with for their key people. Cutler might miss some practice time this week. Bush obviously had a setback. Receiver Earl Bennett is trying to come back from a concussion. Linebacker Brian Urlacher has a hamstring injury that could keep him off the field for the rest of the regular season. The same goes for cornerback Tim Jennings' shoulder injury. Place-kicker Robbie Gould's calf strain might necessitate reinforcements. Rookie defensive end Shea McClellin suffered a knee injury Sunday that prevented his return. Two of the Bears' best special teams players, Craig Steltz and Sherrick McManis, left Sunday's game because of chest and knee injuries, respectively. That's a long list of ailments for a team that needs to win at least two of its last three games, and perhaps all of them, to make the playoffs.

The Bears rotated Edwin Williams and James Brown at left guard, with Brown actually getting more snaps (42) than Williams (36). Offensive coordinator Mike Tice has spoken highly of Brown since training camp, and you wonder if he is considering using Brown as a starter as Chris Spencer deals with a knee injury. Brown is an undrafted rookie and the Bears have already used five different starting guards this season, but his sudden entrance into the game Sunday was worth noting.
And here is one issue I still don't get:
Earlier this season, we noted the Bears hadn't established an offensive identity. Other than Cutler's connection to Marshall, it wasn't easy to come up with a long list of things the Bears do well offensively. After Week 14, that's still the case. They rank No. 18 in the NFL in yards per carry (4.2), No. 27 in passing yards per game and No. 28 in scoring. At the end of this season, whenever that comes, we'll have to ask whether the Bears' preseason plan to mesh their former scheme, Tice's philosophies and the ideas of quarterbacks coach Jeremy Bates all into one offense was too complicated a task.
November, 28, 2012
11/28/12
4:26
PM ET
LAKE FOREST, Ill. -- For quarterbacks coach Jeremy Bates it's probably natural to want some comeuppance from his former employer Sunday when his
Chicago Bears
face the
Seattle Seahawks
at Soldier Field.
[+] Enlarge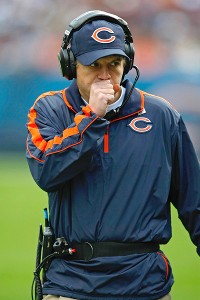 AP Photo/Scott BoehmQuarterbacks coach Jeremy Bates is part of a Bears' offense that ranks last in the NFL in passing.
The offensive coordinator for Seattle in 2010, Bates was fired by current Seahawks coach Pete Carroll over philosophical differences, leaving Bates out of work for all of 2011.
"It was just time to move on," Carroll said Wednesday. "We made changes in what happened with our running game and the whole staff so it just fit better to do what we're doing now. We wish him the best."
With Bates leading the offense during Carroll's first year as Seattle's head coach, the Seahawks finished 7-9 and ranked in the bottom five of the NFL in five statistical categories. Seattle faced Chicago in the playoff that season with the Bears winning 35-34.
The Seahawks gained 267 yards in that NFC Divisional matchup, and converted on just 21 percent of third downs while averaging 2.8 yards per rush.
Bates and the Seahawks parted ways the following offseason.
"I think he might have liked it," joked Bears quarterback
Jay Cutler
, who worked three seasons with Bates in Denver. "He got a little break, a little breather. It gives you a different perspective. He's such a grinder, such a hard worker. I'm sure he was dying to get back (into the NFL). But he was able to watch a lot of football, gain some knowledge, see some different plays, what was out there of some different systems guys were running.
July, 30, 2012
7/30/12
9:36
AM ET
BOURBONNAIS, Ill. -- Summer visitors to Olivet Nazarene University are greeted by navy blue banners promoting the
Chicago Bears
' training camp. Bears logos are plastered all around town. Marquees invite the hungry and thirsty to patronize local establishments.
In 2012, there was a notable addition to the welcoming committee. Emboldened by a newly fortified offense and a veteran defense that hasn't gotten old yet, the Bears opened training camp with the highest of expectations.
Overt talk of a Super Bowl run hits you from every angle. You see it on a
championship prediction
posted outside an elementary school near campus. You hear it chanted from 12,000 fans attending practice. You notice the Bears' normally mild-mannered place-kicker drawing powerful conclusions.

"There's no doubt that this year by far is our best chance to win a Super Bowl," kicker
Robbie Gould
said on the eve of camp

. "We have the talent. Yeah, we do have to earn it on the field, but when it comes to putting the pieces together, this is definitely the year that we have the pieces. … I think everyone understands that this is an opportunity and that we might only get that one chance to make it to the Super Bowl and win it."
Indeed, the long-term future of this team is murky, with linebacker
Brian Urlacher
entering the final year of his contract and five other starters -- including quarterback
Jay Cutler
, linebacker
Lance Briggs
, receiver
Devin Hester
and Gould -- facing a 2013 expiration. But for the short term, the Bears couldn't be more enthused.
"I'm definitely excited about how stacked we are at each position," cornerback
Charles Tillman
said.
The pieces are in place, and nothing in the early days of training camp suggests otherwise.
THREE HOT ISSUES
[+] Enlarge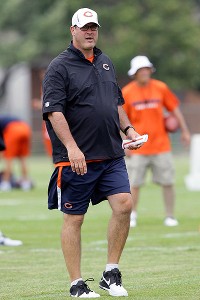 AP Photo/Nam Y. HuhWith several new weapons, Bears offensive coordinator Mike Tice is optimistic that his "Duh offense" won't be a dud.
1. Adding explosion to offense:
I lost track of how many people used a form of the word "explosion" to describe the Bears' hope for their new offense. Offensive coordinator Mike Tice said he wants to be explosive in both the running and passing games, adding, "We have too many athletes not to be able to."
The key to explosive plays -- usually defined as runs of 12 or more yards and passes of at least 16 yards -- is getting those athletes into empty space. Tice has a simple approach to doing that, one he began preaching in the spring and continued during the early days of camp. He affectionately calls it the "Duh offense."
In essence, Tice will give Cutler the responsibility of changing plays at the line of scrimmage based on the "number count" of the defense. If a defense is aligned against the pass, Cutler can call a run. If it is stacked at the line of scrimmage, Cutler will have the ability to switch to a pass. The approach requires the type of balanced personnel the Bears have and produces volume mismatches at the point of attack.
2. Play calling:
Tice's experience in developing successful offenses is unquestioned, as is his expertise in matching a scheme with the capability of an offensive line. The one thing Tice hasn't done in 30-plus years in the NFL is be a team's primary playcaller over the course of a season, a task he is preparing for in training camp.
Quarterbacks coach Jeremy Bates will relay the call to Cutler during games, but the calls will originate with Tice.
"It's all about rhythm," Tice said. "It's all about good installation. It's about the right balance and making sure you understand what your opponent is trying to do in certain situations. It'll be fine."
3. Defensive assumptions:
Optimism about the Bears has been generated mostly by additions they made to their offense, such as receiver
Brandon Marshall
, running back
Michael Bush
and Bates. It has been assumed that the Bears' special teams will maintain its annual strength and that an aging defense has at least one more top-level season in it.
Urlacher (34) looked like his usual self after rehabilitating a knee injury all offseason. Defensive end
Julius Peppers
(32), Briggs (31) and Tillman (31) all appear to be in excellent shape.
"I don't feel like it's my 10th year," Tillman said. "My body doesn't feel like it. My mind doesn't feel like it. I feel good -- mind, spiritually."
REASON FOR OPTIMISM
No one is going to confuse Cutler with Alvin Wong,
aka "the happiest man in the world,"
but Cutler arrived at camp and moved through its first few days with the buoyancy of a man who has been placed squarely in position to succeed.
"This is the most comfortable I think I've been going into a camp with the offense and what we are doing scheme-wise and the talent around me," Cutler said.
Those who know him best agree.
"He looks a lot more comfortable," said receiver
Earl Bennett
, Cutler's longtime teammate dating to their Vanderbilt days. "He just looks ready to go. He's excited about the new toys he has on offense and the guys surrounding him, and he's just excited about the season."
Arriving at training camp, Cutler said, "was like Christmas."
REASON FOR PESSIMISM
[+] Enlarge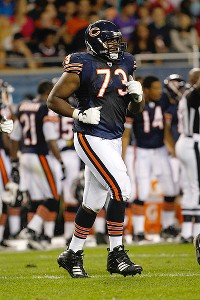 Scott Boehm/Getty ImagesCan the Bears count on J'Marcus Webb to consistently protect the blind side of QB Jay Cutler?
Left tackle is one of the most important positions on a team, and it is one of the Bears' few legitimate question marks. A competition between
J'Marcus Webb
and
Chris Williams
is
probably Webb's to lose
, but at the very least, it's nerve-wracking to launch a Super Bowl run without an established starter to protect a quarterback's blind side.
Webb and Williams alternated with the first team during the practices I watched, and it's clear that Webb has the physical tools to play the position. Williams, on the other hand, hasn't played left tackle in two years and might be a fallback if Webb can't eliminate the mental and technique mistakes that plagued him in 2011.
"We'll turn the heat on both of them," Tice said. "We want to see who is going to block our good pass-rushers."
Competition isn't a bad thing, but the Bears need a winner to emerge, rather than being left to select the less-damaging option.
OBSERVATION DECK
We've discussed the likelihood of Bush serving as the Bears' short-yardage and goal-line back. At 245 pounds, Bush is better suited and has had more career success in that role than starter Matt Forte. But Bush made clear he would rather not be pigeon-holed in that manner. "That's the role I've been stuck with because of my size," Bush said. "If that's what I've got to do, then that's what I've got to do. … No one likes to be a battering ram. It just happens that way." Regardless, it makes too much sense not to give that arrangement a long look.
Cutler and Marshall arrived for lunch together on the first day of practice. They broke open a new critical-thinking board game at night, which Marshall referred to as "Q." (Cutler won the first two games.) Marshall said the pair's much-discussed friendship is "not always fun." He added: "In any relationship, when you take two people from two different places and you put them together, you butt heads. Because sometimes we try to impose our own wills on each other. But sometimes you understand there is no right and wrong. It's just two different people. I think that's when the relationship gets better. With Jay and I, it's always some work."
Perhaps their friendship made expectations unreasonably high, but I was surprised by how many miscommunications Cutler and Marshall had in their first few practices. On Day 1, I counted five passes that either hit the ground or were intercepted because Cutler threw one way and Marshall ran another. We found out in the third practice how little that mattered. Cutler and Marshall put on a show in full pads, wowing fans and players who can't remember the last time the Bears had a true No. 1 receiver.
Tice will undoubtedly use tight ends more in the passing game than predecessor Mike Martz, and the Bears have accumulated an interesting group to deal with. Kellen Davis figures to be the starter, with Matt Spaeth as the top blocker. But it's worth pointing out that rookie Evan Rodriguez, a fourth-round draft pick from Temple, appeared in much better shape than he was reported to be in this spring and seemed to have a knack for turning upfield quickly after the catch. "This game is about explosion," Rodriguez said. (There's that word again.) He added: "Everybody in this league is so fast. You've really got to push to get that five yards, and then after that, it's every inch that matters."
Rookie safety Brandon Hardin is getting work on all four special teams, including a role as the personal protector on punts. And when free safety Chris Conte briefly left practice Saturday night, it was Hardin who stepped in with the first team. "I'm looking forward to helping the team in that special-teams aspect until I get on the field as a safety," Hardin said.
Although there is uncertainty at left tackle, the return of 2011 draft choice Gabe Carimi has added a level of stability to the right side. Carimi reported to training camp in excellent condition, having dropped his weight to 308 pounds and lowered his body fat from 26 percent to 19 percent by changing his diet. "The goal was to have more muscle mass," he said.
The Bears' immediate plans are to use rookie defensive end Shea McClellin as a situational pass- rusher. In that scenario, Israel Idonije would hold a starting spot opposite Peppers. I didn't see any examples of it early in camp, but you wonder if the Bears would be tempted to use Idonije as an inside pass-rusher, with McClellin on the edge, on passing downs. Another candidate to be an inside pass-rusher is newcomer Brian Price.
July, 27, 2012
7/27/12
7:08
PM ET
BOURBONNAIS, Ill. -- As in all walks of life, titles on an NFL coaching staff can be misleading. The Bears officially hired Jeremy Bates as their 'quarterbacks coach' in early February, 2012, but the impression early in training camp is that the well-traveled assistant is going to do more than simply coach up Jay Cutler.
From all accounts, new Bears offensive coordinator Mike Tice has been open to the idea of Bates installing a portion of the plays Bates used while a member of the Denver Broncos coaching staff. Which makes total sense, since Cutler and wide receiver Brandon Marshall both went to the 2008 Pro Bowl for the Broncos while playing in that system.
"Coach Tice is very flexible, as long as you explain it and it makes sense," Bates said. "I've been with [Jon] Gruden, I've been with Mike Heimerdinger, I've been with [Mike] Shanahan, so me personally, I've been around some great offensive coaches. I'm going to try and use some of their football plays.'
"An old coach once told me we really didn't create anything, it's a copycat league, and if you have the opportunity to deal with some of those guys you learn the inner workings of those concepts and protections. Where I went to school is under those guys and that's what I'm going to bring to the table. Coach Tice is going to bring his knowledge and so will the rest of the staff."
On the topic of 2008, it's been odd to hear Cutler and Marshall both downplay what they accomplished for the Broncos that season. Cutler went as far to say 'watching film from Denver it seemed like we were just running around at times, just going off the cuff', even though the quarterback and Marshall connected 104 times for 1,265 yards and six touchdowns.
"You hear the old cliche the game slows down; it has for those guys," Bates explained. "You can tell they've seen every coverage, that they've seen every look and that they understand what to do against press [coverage] and the blitzes. Now they just work on their craft. When you're a young player you got a lot going on. You can imagine; you've got formations, a new concept every day and you're kind of scrambling. But at the same time you have to still show confidence. Now once you've got it and understand the system and understand the league, you can be yourself and come to work every day knowing what you need to improve on and get better."
July, 27, 2012
7/27/12
12:49
PM ET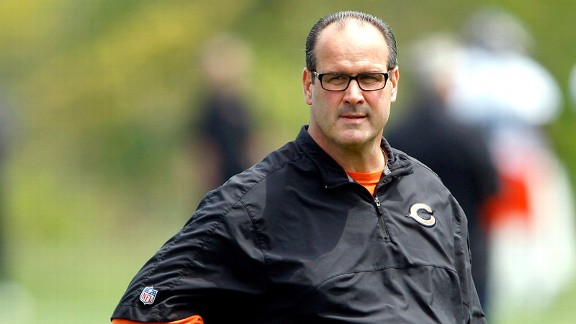 Jerry Lai/US PresswireMike Tice may have more of a role as an offensive "manager" than that of a traditional coordinator.
BOURBONNAIS, Ill. -- It shouldn't be this difficult. Finding Mike Tice on a football field should be easy. Just look up and listen.
Tice stands 6-foot-8 and has a deep voice he employs liberally during practices. It's hard to miss. So on the opening day of the
Chicago Bears
' training camp, I looked over to the spot where you normally find an NFL offensive coordinator. But as the Bears' quarterbacks warmed up, there was no Mike Tice.
I checked the receiver group. Couldn't see or hear him. Tight ends? Nope.
It wasn't until I located the offensive line that I caught a glimpse of him, my first clue that the Bears have crafted a unique -- but, I think, appropriate -- arrangement to operate their offense this season.
More than ever, NFL offensive coordinators rise from a quarterback background, developed as a player or an assistant coach or both. In the NFC North, for example, we have the
Detroit Lions
' Scott Linehan (college quarterback, quarterbacks coach) and the
Minnesota Vikings
'
Bill Musgrave
(NFL quarterback and quarterbacks coach). It's not a requirement for the job, but consider it a nod toward the increased importance of quarterbacks at this level.
Tice, on the other hand, will run the Bears' offense through the line -- a dream of many offensive line coaches that rarely comes to fruition. The idea, after the Bears spent two years struggling to meld their scheme with personnel, is to build an offense around quarterback
Jay Cutler
but operate it within the context of what the offensive line can handle.
It was an idea that initially sounded unappealing to Tice, who settled into a position coach's life over the past seven years after a rocky end to his tenure as the Minnesota Vikings' head coach. But given the opportunity to fashion the job to his strengths and expertise, Tice reconsidered.
"The more I thought about it," he said, "I thought, 'Who knows the offense we have better than I do? Who knows the line? Who knows how to protect the line better than I do? Who knows how to hide their flaws better than I do?' I've got a great relationship with the quarterback, [Devin] Hester, the tight ends, Why not?"
Based on Thursday's initial practice, and a subsequent interview, it's safe to assume Tice will spend a majority of his time with the offensive line. During practice, he'll break away only for seven-on-seven drills, leaving offensive line coach Tim Holt to run one-on-one blocking drills, and he'll spend about half of his total meeting time in the line's room. Meanwhile, newcomer Jeremy Bates will be Cutler's position coach and a key conduit of the passing game.
It would be easy to conclude, as I was prepared to, that in reality Tice is the Bears' blocking and running coordinator while Bates is the passing game coordinator. Tice, however, insisted that will not happen and said it is important "to be involved in the passing game and all facets and not just have a situation where I handle the runs and protection and someone else handles the passing game."
So how will it all work?
From what I can gather, Tice has crafted an offense that blends the power running game he learned from longtime NFL coach Joe Gibbs, elements of the West Coast passing game culled from Bates' career path and a downfield portion Tice used with the Vikings. Tice will call plays from the sideline, but he'll leave an important segment to Cutler -- who will get a pass-run option based on defensive alignments. (Tice once famously dubbed this element his "Duh offense" because it asks quarterbacks to audible to a pass when defenses are aligned against the run and vice versa.)
"We want to be able to do everything," Tice said. "We want to be able to catch and run. We want to be able to throw it deep. We want to be able to play-action, we want to be able to move the pocket. We want to be able to run the ball explosively. It's really not that different than what we did in Minnesota.
"I think Jeremy Bates has done a nice job of putting in his version of the West Coast scheme, which is nice. We melded that with the long stuff that we used to do in Minnesota and we kept our run game intact. Now we have the run game that you'll recognize. The quarterback has a lot to manage on the line of scrimmage, just like [Vikings quarterback Daunte Culpepper]. And we'll see what happens."
Without knowing the details, it's reasonable to be skeptical of an arrangement that shifts a longtime offensive line coach to the coordinator's role. But in this instance, I think it can work, especially if you consider Tice in the role of offensive "manager" rather than a traditional coordinator.
He'll make liberal use of Bates, an intense film rat who is best suited in a role of scheming by candlelight in his office. He'll rely heavily on Cutler, a veteran with strong opinions on what best suits his skills. And Tice will most assuredly do one thing that hasn't happened for at least two years in Chicago: He'll take into account the strengths and weaknesses of the offensive line when developing a game plan.
Is it unconventional? Sure. Does it have risks? Of course. But for this team at this time, it makes sense.
July, 24, 2012
7/24/12
12:53
PM ET
»
NFC Camp Watch
:
East
|
West
|
North
|
South
»
AFC
:
East
|
West
|
North
|
South
»
Dates
Three thoughts as training camps open around the NFL:
One thing I'm certain of:
Quarterback
Jay Cutler
will demonstrate that he is the Bears' quasi-offensive coordinator. And that's not a bad thing.

After three years of surrounding him with ill-fitting talent, the Bears catered to Cutler this offseason and put him in position for his best season with the team. He has his favorite receiver (
Brandon Marshall
), a position coach he greatly respects (Jeremy Bates) and an offensive coordinator in Mike Tice who actively sought his input in developing the playbook.
Tice will call plays and make final decisions. But Cutler will appropriately have his hands all over the offense, and we should see evidence of that in practice drills and even interviews. That's the best way to get the most out of a talented veteran quarterback in his prime.
One thing that might happen:
The Bears might find out they don't have a legitimate left tackle on the roster, the one flaw in efforts to fortify themselves around Cutler.
Chris Williams
and
J'Marcus Webb
will compete for the starting job. But to adjust an old saying: If you have two left tackles, you have none.
In an emergency, the Bears conceivably could move 2011 first-round draft pick
Gabe Carimi
from right tackle, but it's obviously not their preference. Both Williams and Webb have been starting left tackles in winning efforts, but as camp begins it's unclear if either has a long-term future at the position.
One thing we won't see:
You never know with these things, but it's hard to imagine anyone complaining about their contract situations now that tailback
Matt Forte
and linebacker
Lance Briggs
have received new deals. Briggs requested a trade during training camp last summer, and Forte's disappointment with his status was clear as well.
Middle linebacker
Brian Urlacher
is entering the final year of his contract but is set to make $7.5 million and has expressed no concerns. Again, sometimes contract disputes rise from nowhere, but for the moment, the Bears' financial dealings appear to be in a happy place.
June, 20, 2012
6/20/12
11:45
AM ET
SportsCenter's divisional analysis moves to the NFC North on Tuesday night (ESPN2, 7 p.m. ET). We've already discussed our most versatile players as well as potential breakout players, so let's give our television pals a pre-show primer on the biggest improvement (and regression) each division team made this offseason:

Chicago Bears: Enhanced comfort zone for quarterback Jay Cutler
In detail:
The Bears fully committed to Cutler three years after acquiring him from the
Denver Broncos
. They finally gave him a full complement of promising receivers, most notably his all-time favorite in
Brandon Marshall
. Cutler will have his choice of big downfield threats, be it Marshall or rookie
Alshon Jeffery
, and
Devin Hester
has drawn rave reviews for his work within the team's new concepts. Coach Lovie Smith hired one of Cutler's favorite former coaches, Jeremy Bates, as quarterbacks coach, and offensive coordinator Mike Tice has liberally assimilated thoughts from Bates and Cutler into his scheme. For the first time the Bears feel like Cutler's team.

Biggest regression:
The Bears' top four defensive players -- linebacker
Brian Urlacher
, defensive end
Julius Peppers
, linebacker
Lance Briggs
and cornerback
Charles Tillman
-- all got a year older without the team acquiring a potential heir at any of their positions. (Rookie defensive end
Shea McClellin
is projected to fill the Bears' spot opposite of Peppers.)

Detroit Lions: Insurance and a long-term plan at left tackle
In detail:
The Lions mostly stood pat this offseason, making it their top priority to keep together a nucleus that earned a playoff spot three years after the franchise bottomed out at 0-16. They accomplished that goal by reaching contract agreements with receiver
Calvin Johnson
and linebacker
Stephen Tulloch
while franchising defensive end
Cliff Avril
. Retaining young players with room for growth counts as an improvement, but most notably, the Lions hatched a legitimate plan for the end of left tackle
Jeff Backus
' career. First-round draft choice
Riley Reiff
could replace Backus this season if necessary but could also get a year to develop. Regardless, it's a rare luxury for a team to have a legitimate succession plan in place at left tackle.
Biggest regression:
It might not qualify as a step back, but the Lions didn't do much to improve a secondary that struggled for large portions of the 2011 season. Nickel back
Aaron Berry
will compete with free agent acquisition
Jacob Lacey
to start opposite
Chris Houston
, and the Lions appear set to give safety
Amari Spievey
one more chance to lock down a long-term job.

Green Bay Packers: Adding juice to their defensive front
In detail:
As we discussed in May
, the Packers devoted a large portion of their offseason to elevating the energy and competition along their defensive line. They hope to manage the playing time of nose tackle
B.J. Raji
more efficiently by calling on rookies
Jerel Worthy
and
Mike Daniels
, along with eventual contributions from
Anthony Hargrove
(eight-game suspension) and
Mike Neal
(four-game suspension). The Packers have also signed
Phillip Merling
, a former second-round draft pick of the
Miami Dolphins
, and veteran
Daniel Muir
.

Biggest regression:
The Packers had near-ideal insurance at quarterback when
Matt Flynn
was their backup quarterback. Presumptive replacement
Graham Harrell
has extensive experience in the Packers' system and has been widely praised by coaches this offseason, but no one has suggested he is the equivalent of Flynn just yet.

Minnesota Vikings: A better situation for a young quarterback
In detail:
Quarterback
Christian Ponder
will have a blue-chip left tackle in rookie
Matt Kalil
protecting his backside and two proven pass-catchers for mid-range passing in tight ends
Kyle Rudolph
and
John Carlson
. The Vikings have also added a receiver who can stretch the field in
Jerome Simpson
, who will be eligible to play in Week 4 after an NFL suspension, and might have unearthed a draft steal if Arkansas'
Greg Childs
is healthy. The offense is far from a finished product, but it is staffed much better at multiple positions than it was in 2011.
Biggest regression:
The Vikings appear to have cast aside
E.J. Henderson
, their middle linebacker for most of the past decade. For now, that means they are hoping to make fourth-year player
Jasper Brinkley
their new starter. Brinkley played decently when he started four games as a rookie in 2009, but he missed all of 2011 because of a hamstring injury and coaches are waiting for him to turn it loose this spring.
May, 13, 2012
5/13/12
3:03
PM ET
LAKE FOREST, Ill. -- Three months into his tenure as Chicago Bears' quarterbacks coach, Jeremy Bates sees little difference in Jay Cutler from the time the two worked together in Denver.
[+] Enlarge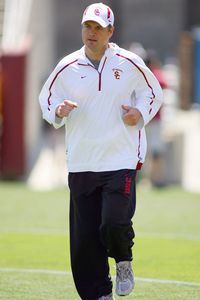 Jeff Golden/Getty ImagesJeremy Bates and Jay Cutler have reunited in Lake Forest. Will the results be similar?
"He's still the same quarterback," Bates said Sunday. "He's got a great arm. I think the experience of any profession or anything you do, you grow with it, both good and bad. But he's definitely matured as a player because he's had both good games and bad games. You get better every game. The more experiences, the more snaps, you're always going to get better at your craft.'
"I think he's got great talent. He's a Pro Bowl quarterback. I'm excited to be with him."
Cutler enjoyed the finest season of his career while working with Bates and former Broncos and current Washington Redskins head coach Mike Shanahan. In 2008, which ironically turned out to be the final year in Denver for all three, Cutler passed for 4,526 yards and 25 touchdowns en route to earning his first, and so far only Pro Bowl selection. The hope is Cutler can one again reach a Pro Bowl level with the help of Bates, plus the change in offense under Mike Tice and the addition of such weapons as receiver Brandon Marshall, who Bates also coached during his time with the Broncos.
"He loves football," Bates said of Cutler. "He's super intelligent. He can make all the throws. He's athletic and he comes to work every day.
"(Marshall) is a big target. You like to have to those big targets. He's a hard-worker, can get in and out of cuts. It's going to be fun to have those two together again."
Bates spent three years on the Broncos' staff from 2006-2008, where he spent time coaching both quarterbacks and wide receivers. He then jumped to the collegiate level to team up with Pete Carroll at USC and followed the head coach to Seattle where he served as offensive coordinator for just one season. Upon being let go by the Seahawks, Bates spent last year out of football, which made him eager to reunite with Cutler when the opportunity to join the Bears presented itself in early February.
"This is a great, historic franchise," Bates said. "At the same time, I tell my receivers and quarterbacks in the meeting that if you can't beat them, join them. We (Seattle) lost (to the Bears) in the 2010 playoffs. I'm just very fortunate to be with a great staff, great ownership and good players."
February, 24, 2012
2/24/12
5:31
PM ET
INDIANAPOLIS -- Even though Jeremy Bates lasted just one season as Seahawks' offensive coordinator, it didn't stop his former boss Pete Carroll from giving the new Bears' assistant coaches a glowing review Friday at the NFL Combine.
[+] Enlarge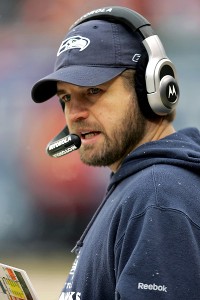 AP Photo/Paul JasienskiJeremy Bates will be working closely with Jay Cutler as the Bears' QB coach.
Carroll and Bates worked together at USC for one year before both moved onto Seattle in 2010. Bates, however, was let go following the 2010 regular season due to reported philosophical differences. But their past parting of the ways did not prevent Carroll from hailing the Bears' decision to hire Bates earlier in the month.
"He's got great depth to him about the system that he's been around," Carroll said. "He really, really knows it. In particular, with Jay Cutler, they kind of grew up together in the system and they really hit it off and were effective when they were together.
"I think it's a great move for Chicago, a great move for Cutler and a great move for Jeremy as well. It's going to work out great for them. I don't know if they'll understand the depth of it until they see those guys work together. I just know through our stories and our communication about things like that, they were really on the same page. So I think it was a great pickup for Chicago."
Bates and the rest of the Bears' assistant coaches are off-limits to the media during the Combine.
February, 20, 2012
2/20/12
12:48
PM ET
Chicago Bears quarterback Jay Cutler said Monday he's excited the team hired Jeremy Bates as its quarterbacks coach, and Cutler said he hopes the revamped front office will add some offensive weapons.
Read the entire story.
February, 7, 2012
2/07/12
11:48
AM ET
January, 10, 2010
1/10/10
4:24
PM ET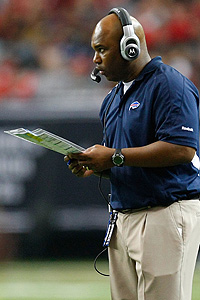 Kevin C. Cox/Getty ImagesPerry Fewell led the Buffalo Bills to a 3-4 finish after taking over for Dick Jauron as interim head coach.
CHICAGO -- It's going to be a busy upcoming week at Halas Hall as the
Chicago Bears
attempt to begin filling the vacant spots on their coaching staff. Just to recap, here is where we stand as of Sunday afternoon:
The Bears want Perry Fewell to be the new defensive coordinator -- a fact that's been obvious since the season ended -- so the job is his for the taking. The only hold up may be Fewell, who remains somewhat undecided about his next move, according to people familiar with the situation. Perhaps some of that uncertainty may be related to possible (but not guaranteed) head coach openings in Carolina and Jacksonville. For example, if Jack Del Rio leaves for USC, Fewell would probably be a candidate for the Jaguars' job considering he coached the Jacksonville secondary from 1998-2002. However, it's not a slam dunk that Del Rio or Panthers coach John Fox will go elsewhere, so holding out for one of those positions may prove to be pointless.Fewell also met with the Giants and has a strong relationship with Tom Coughlin, but Romeo Crennel and Dick Jauron have also been rumored as possible defensive coordinator hires in New York. Fewell will interview with the Bears on Monday, and may feel like he can't pass up an opportunity to work in such a familiar and comfortable setting. Since the Bears' defensive staff is currently re-evaluating certain aspects of their scheme, Lovie Smith probably wants a new coordinator in place as soon as possible.

What a wild weekend on the Jeremy Bates watch. First, he was reportedly headed to Seattle with Pete Carroll. Then just a few hours later, he was back in play for the Bears. It's never been a question about the Bears wanting to add bright, young minds like Bates and Jedd Fisch to the staff. The issue has been in what capacity. Can the Bears bring Bates to Chicago as quarterbacks coach, and not as offensive coordinator? How would that dynamic play out between Bates, Jay Cutler and a different play caller? Would such a set-up even work? If not, then the Bears have a tough decision to make. Whose happiness is most important at Halas Hall? As for Fisch, he was the Broncos' wide receivers coach in 2008, so it's not like he can only work with quarterbacks. Brandon Marshall and Eddie Royal seemed to do fine when Fisch was their position coach. Bates is scheduled to interview with the Bears early next week.Mike Martz wants the job of offensive coordinator and would make Smith very comfortable. But it's still unclear how Martz would mesh with certain players, especially Cutler, who he publicly criticized earlier last season. That might sound silly and petty, but it's the reality of the situation.If Green Bay loses to Arizona, then maybe the Bears re-visit earlier talks regarding Tom Clements.

Either way, things should become clearer once Carroll officially takes the Seahawks job and begins to assemble his staff. At least then we'll find out how Carroll really feels about Bates.
January, 8, 2010
1/08/10
2:53
PM ET
CHICAGO -- Jeremy Bates may not be headed toward a reunion with
Chicago Bears
quarterback
Jay Cutler
, according to ESPN's Chris Mortensen. Citing league sources, Mortensen reports the
Seattle Seahawks
have targeted USC head coach Pete Carroll to replace Jim Mora, who was fired earlier Friday, and that Carroll is trying persuade Bates to follow him up the coast to Seattle.
Here are the two big problems facing the Bears:


Seattle can offer security. If Carroll gets the job, he will likely receive a four- or five-year deal. On the flip side, Lovie Smith has one season left to turn things around at Halas Hall. If he doesn't, how can Smith possibly survive? What would happen to Bates if Smith left after 2010?
Seahawks owner Paul Allen has deep pockets, and is committed to putting a winning product on the field regardless of the cost. Although the Bears are not frugal when it comes to the roster, they do not overspend for assistant coaches.
The Bears do have Cutler, but is that enough?