Chicago Bears:

Jerrod Johnson
June, 23, 2014
Jun 23
9:00
AM ET
With veteran minicamp coming to a close on Jun. 19, the
Chicago Bears
receive a much-needed break to recharge before the start of training camp in July at Olivet Nazarene University in Bourbonnais.
During the team's time of inactivity, we will take a position-by-position look at some of the expected training camp battles and dark horses to make the team, starting with the offense:
Overview:
In an attempt to play through an entire regular season for the first time since 2009,
Jay Cutler
bulked up and added strength in the offseason, according to Bears coach Marc Trestman. That probably needed to happen considering the murky situation behind Cutler on the depth chart.
[+] Enlarge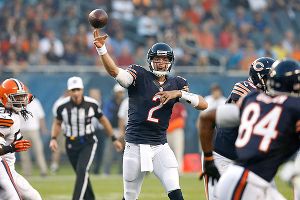 AP Photo/Charles Rex ArbogastJordan Palmer will battle Jimmy Clausen to be the No. 2 quarterback behind Jay Cutler.
The Bears took four potential backups to Cutler into minicamp --
Jordan Palmer
,
Jimmy Clausen
,
Jerrod Johnson
(who has been released) and rookie
David Fales
. The group, collectively, has completed a total of 167 passes in the regular season, with the bulk of that coming from Clausen (157).
Makes you miss
Josh McCown
, right?
Battle to watch:
Palmer will go into camp as the front-runner to win the backup job, but Clausen should push him if he picks up Chicago's offense quickly enough. Prior to the team's Jun. 7 acquisition of Clausen, it appeared Fales -- a sixth-round pick -- posed the most significant threat to Palmer in the competition for the No. 2 job. Now, the Bears will likely try to bring along Fales slowly, and give his repetitions to Clausen, who has more experience than Palmer as a starter in the NFL. So look for Clausen and Palmer to slug it out for the No. 2 job, while Johnson and Fales compete for the No. 3 spot.
"If you're a free agent, you're going to be thrown into a situation where you have to learn faster to get up to speed so you can compete. That's a big challenge for me," Clausen said. "The quarterbacks are helping me out a lot. The coaching staff is doing a great job helping me, just trying to get me up to speed as soon as possible."
Dark horse:
The Bears invested $114,224 in Fales in the form of a signing bonus, so they might feel inclined to keep him over Johnson. But don' count out Johnson, who in 2011, was the No. 1 overall pick of the defunct UFL.
Before
Johnny Manziel
tore it up at Texas A&M, Johnson was the school's career leader in total offense (8,888 yards) and passing yards (8,011). But Johnson entered the NFL as an undrafted free agent with the
Philadelphia Eagles
, and hasn't been able to stick with a team. Johnson has spent time with the Eagles, Steelers and Seahawks, but many don't realize that a pretty significant shoulder injury at A&M has sort of derailed his career.
"He struggled as a senior at A&M," Bears general manager Phil Emery said last September. "There were a lot of rumors that he was injured. Talking to him, he was. He's undergone surgery. He basically relearned to throw the ball. He was impressive out there in terms of his accuracy and the velocity that he had. He has foot movement, and he's 6-foot-5, 240 pounds. He's a very engaging young man with a lot of intelligence."
Who makes the cut:
The Bears will likely keep only three quarterbacks on the active roster, which means Cutler, Clausen -- provided he performs in the preseason -- and Palmer would likely make the cut with the club keeping Fales on the practice squad. Johnson is an intriguing talent, but he will likely fall victim to the numbers game.
June, 17, 2014
Jun 17
5:56
PM ET
LAKE FOREST, Ill. --
Jordan Palmer
's return from a minor strain to his right throwing shoulder did little to clear up the Bears' fuzzy picture at the backup quarterback position.
Limited by the injury the last two weeks of organized team activities (OTAs), Palmer had full participation in the Bears' first of three mandatory minicamp workouts held on Tuesday, but he seemed to struggle with his accuracy at times, although Palmer reported no issues with his shoulder when he spoke with reporters after the practice.
"I felt great," Palmer said. "It was good to be back in the mix. I thought we had a pretty good practice today. [There wasn't] too much [rust]. It's still football. We're still wearing shorts and T-shirts, but it was good to be back out there with the guys."
[+] Enlarge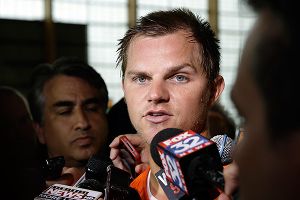 AP Photo/Nam Y. HuhWith the addition of Jimmy Clausen, the Bears now have quarterbacks under contract.
Meantime, newcomer
Jimmy Clausen
made the most of his limited reps, and even spent the end of practice occasionally working in with Palmer and starter
Jay Cutler
, while developmental quarterbacks
David Fales
and
Jerrod Johnson
took turns running the scout team offense on the other side of the field.
Clausen signed a one-year deal with the Bears on June 7.
"I watched Jimmy when he was at Notre Dame," Cutler said. "Liked him. He was in a tough situation out there in Carolina. Offensive line was pretty rough; he was getting hit a lot. The system turned over on him. He throws the ball well. I didn't have any input on bringing him here, though. Once he did get here, though, he was in the quarterback room over the weekend three straight days grinding way, trying to figure out this offense. He was peppering me and David Fales, [quarterbacks coach] Matt Cavanaugh, all questions. So he's been working hard. I think he likes the opportunity he has here. He's a little bit humbled going through the experience of being on the streets and getting picked up again. He's got a good attitude. Training camp and preseason, we'll see how it works out."
Clausen's first task is sticking on the roster long enough to report to training camp with the club on July 24. But the odds of that happening seem promising. However, with five quarterbacks currently under contract, the Bears are likely to jettison at least one reserve quarterback in the coming weeks.
"I don't know if that's ever happened [going to camp with five quarterbacks], not in the times I've coached the position," Bears head coach Marc Trestman said. "These next two days are certainly critical; we've got to continue to analyze the situation. It would be hard to, we need legs at camp, but we'll see. We'll make that decision, and we don't even have to make that decision this week, we'll make it before the start of training camp. I think we've got five viable guys. You take Jay out of it and we've got four guys that are really competing hard and all have the requisite skill set to play in the National Football League, we've just got to continue to watch it and see how it unfolds."
Here are other observations from the Bears' opening minicamp practice:
• The Bears rested starting right tackle
Jordan Mills
(foot) after the second-year offensive lineman returned from offseason surgery in May to participate in OTAs. Mills called his absence "precautionary," but wasn't sure if he'd practice on Wednesday or Thursday before the team breaks for the summer.
"It's just a little precaution, nothing major," Mills said. "I'm 100 percent. I was kind of mad I couldn't go out there and practice today with them but the trainers know best. They just wanted to rest my foot a little bit.
• Safety
Chris Conte
, linebacker
Khaseem Greene
and defensive tackle
Will Sutton
were all excused for "family reasons" according to Trestman.
Matt Slauson
(shoulder) was present but continued to sit out. Safety
Craig Steltz
took part in certain individual drills as he recovers from an offseason leg issue.
• Veteran
Kelvin Hayden
was the Bears' fourth cornerback when the team went to its dime package on defense.
• Trestman called D.J. Williams "the lead dog" at middle linebacker, but 2013 second-round pick
Jon Bostic
took reps with the first team at linebacker in the nickel package, and could definitely still challenge for the open outside linebacker spot if Williams manages to stay healthy and solidifies the middle in the club's base defense.
• Safety
Ryan Mundy
dropped an easy pick when a Cutler pass sailed off its mark close to the right hash.
• Linebackers
Jerry Franklin
and
Christian Jones
saw action with the No. 2 group. Jones, an undrafted rookie free agent out of Florida State, has opened some eyes in the offseason program.
• With Mills out,
Michael Ola
spent time at right tackle with the starters. Brian de la Puente continued to take reps at left guard.
• Converted running back
Jordan Lynch
ran a wheel route out of the backfield and caught a diving touchdown pass from Johnson late in the session.
• Rookie cornerback
Kyle Fuller
broke up a pair of passes in team drills.
•
Brandon Marshall
burned
Tim Jennings
for a long touchdown reception. On the play, the Bears had speedster
Chris Williams
lined up in the slot.
• The Bears invited numerous NFL player agents to Halas Hall on Tuesday to watch practice inside the Walter Payton Center. Agents are frequently spotted catching up with their clients at training camp, but rarely are large groups of agents permitted to observe a workout held at the team's facility.
June, 11, 2014
Jun 11
4:02
PM ET
LAKE FOREST, Ill. -- Based on the organized team activities (OTA) portion of the
Chicago Bears
' offseason program, rookie fourth-round pick
Brock Vereen
looks to be a serious contender to earn a permanent place in the starting lineup.
[+] Enlarge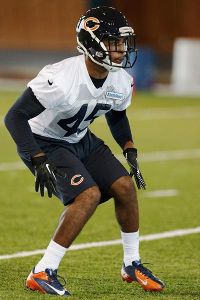 Nam Y. Huh/AP PhotoBears safety Brock Vereen, who participated in the team's rookie minicamp in May, is adjusting to playing in the NFL.
Vereen took all the first-team reps at safety alongside free-agent signee
Ryan Mundy
on Wednesday, as veterans
Chris Conte
and
Craig Steltz
continue to be sidelined due to injuries.
M.D. Jennings
and
Danny McCray
handled the reps on the second team.
"I wouldn't say [I'm] shocked [by the starters reps], but I know nothing is set," Vereen said. "I'm just coming in and working hard. If that gets me on the field, then so be it.
"It's really starting to slow down for me out there. Now I'm able to react rather than to have to think about it."
Vereen played multiple defensive back positions in college for Minnesota, but appears best suited to line up at free safety in the NFL. Mundy is built like a strong safety at 6-foot-1, 209 pounds, but the safety spots are generally viewed as interchangeable.
Here are other observations from Wednesday's OTA, the final session open to the media:
• With
Matt Slauson
still recovering from shoulder surgery,
Brian de la Puente
worked with the starters at left guard. Many consider de la Puente to be the heir apparent to
Roberto Garza
at center, although the former
New Orleans Saints
starter signed only a one-year contract with the Bears in the offseason.
• Cornerback
Charles Tillman
and defensive tackle
Jeremiah Ratliff
were present this week after being absent from last week's open OTA to the media.
• The Bears' trio of linebackers in their base defense during the majority of team drills consisted of
D.J. Williams
(MLB),
Lance Briggs
(WLB) and
Shea McClellin
(SLB). However, both Williams and McClellin came off the field in the nickel package in favor of
Jon Bostic
.
• Rookie first-round draft choice
Kyle Fuller
continued to run with the No. 1's in nickel as
Tim Jennings
mainly bumped inside to cover the slot with Tillman at the opposite cornerback spot.
•
Jay Cutler
connected with
Brandon Marshall
and
Marquess Wilson
in the end zone on back-to-back passes during a red zone drill. Marshall did have a couple drops over the course of the afternoon.
• Marshall did return a punt at one point on Wednesday.
• Reserve quarterback
Jerrod Johnson
saw action on special teams when he lined up as one of the two cornerbacks tasked with slowing down the gunner on punt return. Hard to remember a quarterback wearing the orange "off-limits" jersey ever participating on special teams before. But Johnson held up just fine during the drill and flashed some impressive speed trailing the gunner down the field.
• New quarterback
Jimmy Clausen
received fewer reps than Johnson and rookie
David Fales
, but the former Carolina Panther had some zip on the ball and seemed to have a decent understanding of the offense whenever he went under center.
• The Bears have one final OTA scheduled for Thursday in advance of the club's three-day veteran minicamp next week. Cutler is expected to meet the media next Tuesday for the first time since the start of the offseason in April.
June, 3, 2014
Jun 3
4:39
PM ET
LAKE FOREST, Ill. -- A brief skirmish broke out at Tuesday's organized team activity during a team drill between members of the
Chicago Bears
' starting offense and defense. Involved in the short-lived fracas was defensive end
Lamarr Houston
, right tackle
Jordan Mills
, tight end
Martellus Bennett
and defensive end
Jared Allen
.
Teammates quickly intervened to end the fight, but not before Bennett slammed his own helmet to the ground in frustration.
[+] Enlarge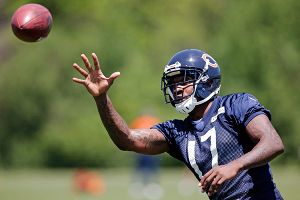 Nam Y. Huh/AP PhotoChicago Bears wide receiver Alshon Jeffery had some outstanding catches during Tuesday's organized team activities in Lake Forest, Illinois.
"We are just competing," Houston said afterward. "This is a competitive sport. That's the atmosphere Coach Trestman wants. We are competing every day to get better. Sometimes people get heated, but all we are doing is competing out there. It's exciting out there. It's a competitive atmosphere. We're having fun in practice.
"That's football. We just go back to the next play and keep working. It's nothing personal. Marty is a good guy. He's a good friend of mine. I'm going to go in there with him after this. Everything is all good."
Bennett later tweeted: "I go hard every [expletive] day. No doubt about that. Not a single ounce of [expletive] in me."
Here are several other observations from Tuesday's voluntary session:
• Former
New Orleans Saints
center
Brian De La Puente
split reps with
Eben Britton
at left guard with starter
Matt Slauson
sidelined due to a shoulder injury.
• Middle linebacker
D.J. Williams
worked out in front of the media for the first time in the offseason. Williams was absent from last Tuesday's open OTA, but did participate in practices later in the week that were closed to the media.
•
Charles Tillman
's absence on Tuesday opened the door for veteran cornerback
Kelvin Hayden
to receive a look on the first team at cornerback in the base defense and in the nickel package. Hayden missed the entire 2013 regular season after tearing his hamstring in training camp. Rookie first-round pick
Kyle Fuller
still worked with the starters in nickel when
Tim Jennings
bumped inside to cover the slot.
• Hall of Famer Mike Ditka watched Tuesday's workout from the sidelines in Lake Forest. Ditka addressed the team last year following a practice at Halas Hall, and had his number retired by the Bears during halftime of the team's Monday night Dec. 9 game versus the
Dallas Cowboys
at Soldier Field.
• Wide receiver
Alshon Jeffery
flashed his strong hands when he went up and snagged a red-zone pass over Jennings.
• Safeties
Ryan Mundy
and
Brock Vereen
had blanket coverage on
Brandon Marshall
on a deep
Jay Cutler
ball down the middle of the field. The pass fell incomplete.
• Rookie
David Fales
and second-year quarterback
Jerrod Johnson
received extra reps in team drills as No. 2 QB
Jordan Palmer
took a backseat to allow the young quarterbacks to get extended looks.
May, 17, 2014
May 17
3:44
PM ET
LAKE FOREST, Ill. – Bears head coach Marc Trestman confirmed on Saturday that veteran quarterback
Jordan Palmer
will receive the first shot to serve as the team's primary backup behind starter
Jay Cutler
, and that Palmer,
Jerrod Johnson
and 2014 sixth-round draft choice
David Fales
are essentially battling for two open roster spots.
Palmer
"I've talked to these guys clearly about where we are," Trestman said. "I've told Jordan that he's got the first shot and that the backup position hasn't been won yet. I talked to Jordan about it yesterday. There's a competition. Jordan has been here and deserves the first opportunity. But we're not going to put anybody in that position until we have to. We have a long way to go."
Two of the quarterbacks, Johnson and Fales, spent Friday and Saturday taking part in the Bears' three-day rookie minicamp where they've received constant instruction and feedback from Trestman, offensive coordinator Aaron Kromer, and position coach Matt Cavanaugh. Rookie minicamp is an especially challenging event for quarterbacks, who are required to learn brand-new terminology and plays while throwing the football to receivers they've just met.
"I'm looking to see how the quarterbacks handle themselves and how they work in-person," Trestman said. "I'm looking to see how do they take direction from Matt, myself and from Aaron. How they call the plays and can they handle the verbiage quickly. They have to learn a lot every night because they are leaning something new every night. Then they have to come here and spit it out because it's a completely different language. They have to not only say it, but also do it.
"It's not easy. But I think you can see a lot. I think we got a lot out of the quarterbacks and saw that David can make that transition. The play was called and he immediately was able to spit it out in the huddle and do the physical aspects of it as well."
Although the 6-foot-5, 251 pound Johnson has been learning the offense for several months, Fales thinks he already has a decent grasp on the scheme based on what he ran in college at San Jose State, where he passed for 8,382 yards, 66 touchdowns and 22 interceptions in two seasons.
"It's a lot of exact same stuff I did both years at San Jose State," Fales said. "Some of the terminology is the same, too. That's an easier transition, although the playbook has been very base. But having that offense at San Jose definitely made it easier."
May, 1, 2014
May 1
5:42
PM ET
LAKE FOREST, Ill. -- Quarterback
Jordan Palmer
's actual NFL regular-season game experience is limited to four appearances and 15 pass attempts over parts of six years, but Bears general manager Phil Emery thinks Palmer is capable of being the team's primary backup to incumbent starter
Jay Cutler
in 2014.
Palmer
Josh McCown
's exit to Tampa Bay leaves Palmer and former practice squad member
Jerrod Johnson
as the only two reserve quarterbacks on the current roster with the NFL draft one week away.
"Absolutely [Palmer can be the No.2]," Emery said Thursday. "And I told him that the other day -- the same thing I told Josh: 'Glad you're here, looking forward to your contributions and we're counting on you.' And Jordan, since the time that he came last year has been nothing but a positive. He performed well in a preseason game and I understand that's the fourth preseason game, normally that's the second and thirds and the back end of the roster, but you still want people to show that they have upside and perform well. There are people that make squads in that game, so that game is important. And he did well.
"He has been a backup in the league, obviously in Cincinnati, so he knows what the weight of that position is and how to carry himself and how to contribute positively to the team in that role. And to get himself ready to go every week in case there was an injury. So yes, comfortable with him and excited to see Jerrod on the field for longer than a week or two. You know, we brought him in to take a look at him, but we had to release him because we had other needs on our practice squad at the time depending on what had happened with our 53-man roster. So I told him when we released him that we would like to bring him back and we did."
Eventually, the Bears will need to find a replacement for Cutler, whose new contract essentially locks him in for the next three seasons. But Emery was quick to caution against the idea of the Bears drafting a developmental quarterback in the mid-to-late rounds. The Bears used sixth and fifth round picks on quarterbacks Dan LeFevour [2010] and Nate Enderle [2011] and neither player panned out.
"I just did a little study. It's very interesting," Emery said. "That developmental theory doesn't hold a whole lot of water. There's entire classes of quarterbacks, since '06, I went back and looked at from Jay's on -- when people say developmental quarterbacks, OK, so who has gotten developed? There isn't a single quarterback after the third round since 2006 that has been a long-term starter. So you're either developing thirds, and most of them have been wiped out of the league. So to get a quality quarterback, you've got to draft them high. That 2012 class is a blip on the radar that's unusual, highly unusual.
"Most of the starters in this league come from the first and second round. So that's where you need to take a quarterback. So when you talk about quarterback every year, they have to be somebody that you truly believe will beat out the second and third quarterback that you perceive on your roster. And if not, history shows that you shouldn't make that pick."
If the Bears bypass a quarterback in the draft, Emery is likely to continue to explore the free-agent market. The Bears worked out several quarterbacks, including former Bucs first round selection
Josh Freeman
, but failed to offer any of them contracts.
January, 20, 2014
Jan 20
8:00
AM ET
2014 free agents
:
Josh McCown
and
Jordan Palmer
.
Cutler
The good
:
Jay Cutler
responded favorably to the tutelage of new
Chicago Bears
coach Marc Trestman, and displayed enough growth for the organization to reward him with a seven-year contract worth $126 million. With Cutler and backup Josh McCown at the helm, the offense set franchise records in net yardage (6,109), passing yards (4,281), completion percentage (64.4), passing touchdowns (32) and passer rating, in addition to scoring 445 points. McCown set the franchise record for passer rating (109.0), completion percentage (66.5), and finished with the lowest interception percentage (0.4) in club annals. Cutler's completion of 63.1 ranked as second in franchise single-season history, and his passer rating of 89.2 ranked as a career high for the veteran quarterback.
The bad
: Cutler missed five games and portions of two others, yet he still threw 12 interceptions, which averages out to a little more than one pick per game. That number is too high, and works out to an interception percentage of 3.4. In addition, injuries forced Cutler to miss more than 22 quarters of action in 2013, and he hasn't played an entire 16-game season since 2009, which is somewhat concerning given the financial commitment the Bears just made to the quarterback.
The money
(2014 salary-cap numbers): Cutler ($22.5 million) and Jerrod Johnson ($420,000). Cutler's number is sky-high and a big part of the reason the Bears were just $796,000 under the cap as of last Friday. The good news is a portion of Cutler's base salary of $22.5 million can be converted into a signing bonus to provide some cap relief if the team needs it. But as it stands now, Cutler is the only quarterback on the roster with any real experience, and the club has expressed a desire to bring back McCown for 2014. But it's unknown whether the Bears can pull off that deal, because McCown will have suitors in free agency, and he'll have to weigh family life against what money might be available to him on the market in making a decision to continue playing. If the Bears can't bring back McCown, Palmer would be an inexpensive option the club has some familiarity with.
Draft priority
: Moderate to low. The Bears haven't drafted a quarterback since 2011 (Nate Enderle) and haven't taken one in the first three rounds since 2003 (
Rex Grossman
). Cutler will be 31 when the 2014 season starts, and although he just signed a seven-year deal, it wouldn't be a bad idea for the team to find a young quarterback of the future to groom over the next few years.
September, 9, 2013
9/09/13
4:12
PM ET
LAKE FOREST, Ill -- The
Chicago Bears
signed offensive tackle
Jonathan Scott
to a one-year contract on Monday, and added quarterback Jerrod Johnson to the practice squad.
The club waived tight end
Kyle Adams
in a corresponding roster move, in addition to terminating the practice squad contract of guard Derek Dennis.
The team's decision to bring back Scott wasn't a surprise. As a vested veteran, Scott's full $715,000 base salary would have been guaranteed had he been on the club's Week 1 roster. Fully vested veterans had their contracts guaranteed for the season if they remained on rosters at 3 p.m. CST on Saturday.
The Bears terminated Scott's contract last Tuesday before bringing him back Monday, a day after the team's 24-21 season-opening victory over the
Cincinnati Bengals
.
Scott played in 12 games for the Bears last season with seven starts, but missed a significant portion of training camp and the preseason after undergoing a minor knee procedure. Scott returned to the practice field last week, and expected to be healthy enough to play against the Bengals. But the club released Scott prior to the game.
Scott has started in 35 games over his career. Adams, meanwhile, has played in 24 games with the Bears over three seasons, including Sunday's game.
The club signed Johnson to the practice squad as a developmental quarterback on Sept. 1, only to terminate his contract on Sept. 4, when it added Dennis to the practice squad.
September, 4, 2013
9/04/13
4:14
PM ET
LAKE FOREST, Ill. -- The
Chicago Bears
signed guard
Derek Dennis
to the practice squad and terminated the contract of former Texas A&M quarterback
Jerrod Johnson
.

Brought in to develop behind
Jay Cutler
and
Josh McCown
, Johnson spent very little time with the Bears before the club parted ways with him. But there's a chance the team will bring back Johnson soon, according to coach Marc Trestman.
"We're just in the process of moving our roster around," Trestman said. "There were multiple issues to put this 53 [-man roster] together for the week. We're not closing the door on him either. It's certainly possible that he can be back in the very near future. It wasn't anything he did or the way he operated over the last couple of days. We had to do some things with the roster, and we'll see where we are at the beginning of next week. Some of these 52, 53 and 54 guys, we could have to move around to get our roster right for the week. There were reasons why we did it."
As for Dennis (6-foot-3, 315 pounds), he spent the last five weeks of last season on the Bears' practice squad and the majority of the preseason with Chicago. Dennis came into the the NFL as an undrafted free agent with Miami last season out of Temple, and also spent time last preseason with New England.
September, 4, 2013
9/04/13
8:33
AM ET
Good morning, folks. It's time to get to the Bears Essentials. But before we get into the thick of the matchup Sunday against the Cincinnati Bengals, let's take a quick look at Jerrod Johnson, the quarterback the Chicago Bears recently signed to develop behind Jay Cutler and Josh McCown as the No. 3 signal-caller.
The No. 1 overall pick of 2011 draft in the defunct UFL, Johnson became Texas A&M's career leader in total offense (8,888 yards) and passing yards (8,011), but entered the NFL as an undrafted free agent with the Philadelphia Eagles, and hasn't been able to stick.
Johnson has spent time with the Eagles, Steelers and Seahawks, but a serious shoulder injury suffered at A&M has impeded his development as he's basically had to relearn to throw the ball, according to Bears general manager Phil Emery.
In fact, the injury was so severe
Johnson had trouble making it through practices at A&M
, and eventually lost his starting job to current Miami Dolphins quarterback Ryan Tannehill.
"He struggled as a senior at A&M," Emery said. "There were a lot of rumors that he was injured. Talking to him, he was. He's undergone surgery. He basically relearned to throw the ball. He was impressive out there in terms of his accuracy and the velocity that he had. He has foot movement, and he's 6-foot-5, 240 pounds. He's a very engaging your man with a lot of intelligence. I told him when he left here, basically, unless we added a third quarterback in the game, unless we decided to make a roster move that we were going to have three, that the job was his, that he had earned it between seeing what we saw in the workout and talking to him."
-- Rick Telander considers the 2013 Bears to be
a great unknown
.
-- Linebacker Lance Briggs told the "
Carmen & Jurko Show" on ESPN 1000 that he's scouted the Bengals
by watching HBO's "Hard Knocks."
-- Mark Potash examines the
D.J. Williams vs. Jon Bostic
debate at middle linebacker
-- Speaking of that debate, former Bears linebacker Brian Urlacher told "The Waddle & Silvy Show" on ESPN 1000 that he'd
go with the veteran over Bostic
. Then, if Williams falters "put the young guy in," Urlacher said.
September, 1, 2013
9/01/13
3:30
PM ET
The
Chicago Bears
agreed to terms Sunday with seven practice-squad players, including former Texas A&M quarterback Jerrod Johnson, who worked out last week for the team at Halas Hall.

The club also claimed defensive end David Bass off waivers from the
Oakland Raiders
, sources confirmed.
The team released five of the seven players signed to the practice squad on Saturday, a group that includes linebacker
Jerry Franklin
, cornerback Demontre Hurst, tight end
Fendi Onobun
, fullback Harvey Unga and defensive end Aston Whiteside. Johnson and former Fort Valley State receiver
Ricardo Lockette
complete the group. But there's still one spot remaining on the practice squad.
The addition of Bass means the club needs to make room on the roster, which might jeopardize the status of reserve defensive ends
Cheta Ozougwu
and rookie sixth-round pick
Cornelius Washington
. There's a possibility the Bears could release Washington and later re-sign him to fill their final spot on the practice squad.
A rookie seventh-round pick of the Raiders, Bass (6-foot-5, 256 pounds) played collegiately at Missouri Western, where he racked up 11.5 sacks during his senior season. Bass also posted a sack in the preseason for the Raiders.
As for Johnson, the Bears added a developmental quarterback to groom behind
Jay Cutler
and
Josh McCown
. Johnson has spent time with multiple NFL teams (Philadelphia, Pittsburgh and Seattle), and has also played in the defunct UFL, where he was the No. 1 overall selection of the Hartford Colonials.
At Texas A&M, Johnson became the school's career leader in total offense (8,888 yards) and passing yards (8,011 yards), but came into the league in 2011 as an undrafted free agent with the Eagles.