Chicago Bears:

Jordan Miller
August, 12, 2013
8/12/13
10:21
PM ET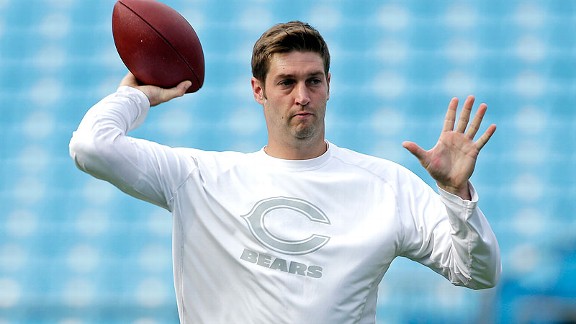 AP Photo/Bob LeveroneWill Jay Cutler and the Bears have the offense in working order by the first regular season game?
With just one preseason game in the books, how much do we know about the state of the Bears offense or the offensive line's makeup?
Our panel weighs in on that and more:

Fact or Fiction: Through two and a half weeks of camp and one preseason game, the Bears should be concerned about their offensive execution.
Jeff Dickerson: Fact: Whenever a new offense is installed there are naturally going to be concerns, especially coming off a disastrous 2012 season on offense. There is ample skill-position talent on the roster for Jay Cutler to spread the ball around to, but for whatever reason, the offense hasn't looked all that sharp in practice since camp opened up in late July. Far too often Cutler has been intercepted, either due to his error or a miscue by the intended receiver. The Bears can't turn the ball over if they expect to win. There is also the uncertainty on the offensive line, which will continue to be a cause for concern until the final starting five is set sometime around the third preseason game. And even when the No. 1 line is penciled in, are the Bears comfortable starting two rookies on the right side in the event Jordan Mills hangs onto the job? To be fair, the Bears haven't really been able to run the ball in the preseason. If the ground game can get cooking with Matt Forte and Michael Bush, then no matter what happens with the other stuff, the Bears will have a chance to be decent on offense. But simply based on what we've seen so far, the offense has a long way to go before it will be ready to handle whatever the Cincinnati Bengals offense throws at them in Week 1.


[+] Enlarge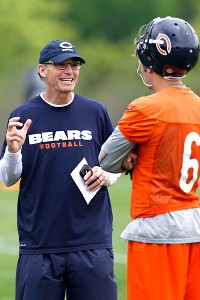 AP Photo/Charles Rex ArbogastMarc Trestman's new offense is a work in progress.
Michael C. Wright: Fiction. Not any more concerned than anyone else around the league is at this point of the year. It's important to remember that the Bears are executing a brand new offense, and the truth is the first-teamers executed fairly well against the Carolina Panthers. In 10 snaps, Cutler completed 6 of 8 for 56 yards with a passer rating of 54.2, which was knocked down quite a few points due to the interception he threw on the first play of the game. Of those 10 plays, nine of them turned out to be passes, although Bears coach Marc Trestman later revealed that he called more runs than what was actually executed. This could be viewed as a positive. Cutler checked out of some of the runs to put the Bears in more advantageous situations to throw the ball, based on several factors. Judging from his completion percentage (75), Cutler was making the correct checks. So signs indicate Cutler is figuring out things, and that's exactly what the Bears want from their quarterback at this point in the preseason.



February, 14, 2012
2/14/12
8:58
AM ET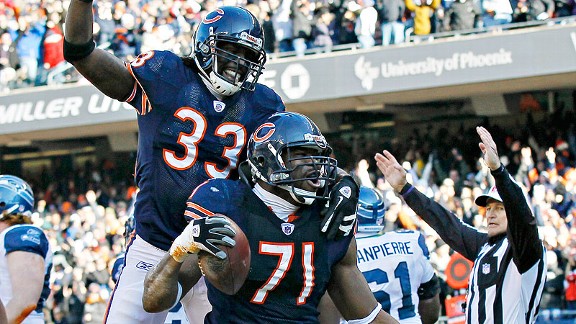 AP Photo/Charles Rex ArbogastThe Bears' Israel Idonije has 13 sacks over the past two seasons as the full-time starter at defensive end.
This is the seventh installment of a 10-part series that reviews every Bears position group on offense and defense, while also taking a quick look at potential free agent targets and the top prospects in the upcoming NFL draft.
The defensive line combined for all but three of the team's 33 sacks, with defensive end
Julius Peppers
racking up a team-high 11 for his third double-digit sack campaign in four years.
But the Bears finished 2011 tied for 19th in that statistic, which wasn't sufficient in the eyes of Bears coach Lovie Smith.
"We got good pressure from our front four," Smith said. "But to say that we got enough the entire [season], I can't say that. Each year that I've been here, we've tried to improve our defensive line; that's always. You look at our league [and] we've got three quarterbacks I think that threw for over 5,000 yards. You need to be able to rush them better. That is an area we need to improve."
[+] Enlarge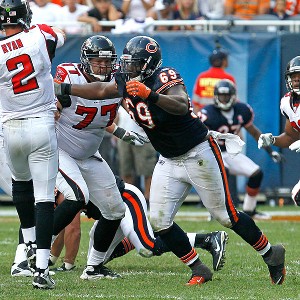 AP Photo/Charles Rex ArbogastHenry Melton impressed in his first season as a starter, recording seven sacks.
The team ushered in the post-
Tommie Harris
era at defensive tackle with strong campaigns from first-year starter
Henry Melton
and free-agent acquisition
Amobi Okoye
, who combined for 11 sacks. Melton posted seven sacks, which tied for third in the NFL at his position, and Okoye's four sacks tied him for 11th.
But the rest of that position group didn't contribute much to the team's totals, although it did fare well at stuffing the run.
The Bears ranked No. 5 in the NFL against the run, and according to STATS LLC, tied for the second most "stuffs" -- a tackle of a rusher for negative yards -- in the league in 2011 with 54 for 144 yards in losses. Since 2004, the Bears lead the NFL with 452 stuffs, and the defensive tackle position plays a significant role in the team's ability to post such numbers.
That doesn't mean the position group doesn't need to improve. With Melton and
Matt Toeaina
set as the starters, the team needs to coax more out of veteran Adams -- who is coming off somewhat of a down year -- as well as Amobi, a free agent, and 2011 second-round pick
Stephen Paea
, who wasn't able to crack the rotation until Week 6.
The defensive ends, meanwhile, might be in line for an upgrade opposite Peppers. With opponents devoting so much to neutralize Peppers, his counterpart --
Israel Idonije
-- contributed just five sacks in 2011, and is set to become a free agent. The staff considers Idonije a "core player", but it would seem unlikely the team would be interested in bringing him back as anything more than a rotational player.
THE CURRENT ROSTER
•
Anthony Adams:
Played the first seven games -- starting two -- but was inactive for five of the team's next eight outings. Adams hadn't been inactive in that many contests since 2008. Nagging injuries appeared to be a factor in Adams' struggles, and Smith also cited mediocre practices as one of the reasons for the veteran's lack of playing time. Adams contributed 17 tackles and eight quarterback pressures, but finished without a sack in 2011 for the first time since the 2008 season. Adams enters the final year of a two-year contract signed just before the start of last year's training camp, and is scheduled to receive $1.9 million in base salary. He'll count $2.65 million against the salary cap.
•
Henry Melton:
The coaching staff -- especially Smith -- raved about Melton all offseason, and the three-year veteran justified the team's position with a promising debut as an NFL starter. Melton notched 16 tackles and seven sacks to go with 34 quarterback pressures. Melton started the season with six tackles, three sacks and 12 quarterback pressures in his first four games, but experienced a lull in production. Melton admitted to pacing himself as an attempt to conserve energy for the duration of games, and thinks that played a role in his inconsistency. With a year of experience as a full-time starter, Melton will be a more consistent performer in 2012.
•
Jordan Miller:
Originally signed as an undrafted free agent out of Southern, Miller caught the staff's attention in training camp and the preseason, eventually earning a spot on the practice squad. Miller needs to take full advantage of the club's conditioning program to make a legitimate push to get on the field in 2012.
•
Amobi Okoye:
Signed to a one-year contract last Aug. 1 that included a paltry signing bonus of $82,500, Okoye -- a former first-round pick of the
Houston Texans
-- appeared to be merely a reclamation project. But Okoye proved much more by contributing four sacks, 27 tackles and 27 quarterback pressures. Keep in mind Okoye came into the 2011 season with just 11 career sacks in 150 career games. Instead of being a bust, Okoye appears to have been miscast in Houston's 3-4 scheme because his skill set is more conducive to success in an attacking one-gap system. The Bears will likely try to bring back the free agent if the sides can agree to a cap-friendly deal.
•
Stephen Paea:
Paea's strange inactivity over the first five games conjured "bust" whispers. But the truth is the second-round pick struggled to transition into the pro game, and was also working through the soreness and fatigue associated with recovering from a knee injury suffered prior to the draft. Paea contributed two sacks, 18 tackles and two quarterback pressures as a rookie. The defensive tackle recorded the club's eighth safety since 2004 when he sacked
Donovan McNabb
in the end zone in Week 6. Paea spent the majority of last offseason rehabbing from the knee injury. But now that he's fully healthy, expect Paea to grow tremendously this offseason.
•
Matt Toeaina:
The starting nose tackle, and one of the main reasons the Bears were successful stuffing the run, Toeaina tallied 21 tackles and no sacks, and was inactive four games because of a sprained knee. Toeaina posted a season-high five stops on Dec. 18 against the
Seattle Seahawks
. Having signed an extension in December 2010, Toeina is under contract through 2013.
[+] Enlarge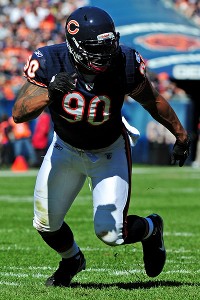 Scott Cunningham/Getty ImagesJulius Peppers recorded a team-high 11 sacks for the Bears last season.
•
Julius Peppers:
Peppers posted nine of his sacks over the final 11 games, and he tallied at least one in seven of those outings to eclipse 10 sacks for the seventh time in 10 NFL seasons. Peppers also forced three fumbles to run his career total to 36. That number ranks as the fourth-most in the NFL over the past 10 seasons. Interestingly, the majority of Peppers' production seemed to come after Week 5 when the veteran suffered a sprained knee in a loss to the
Detroit Lions
.
•
Israel Idonije:
Contributed five sacks, and now has 13 over the past two seasons as the full-time starter. Idonije also scored a touchdown on a recovered fumble in the end zone in Week 15 against the Seahawks. Although the veteran set career highs in tackles (57), and fumble recoveries (2), Idonije might not be back with the Bears in 2012 as the starter opposite Peppers. Idonije just finished the final season of a three-year contract, and will likely be allowed to test free agency for a more lucrative deal than what the Bears might be inclined to pay.
•
Corey Wootton:
Seemed to be putting together a strong training camp, but nagging injuries derailed what could have been a breakout season. Wootton suffered a knee injury on the opening kickoff of the exhibition opener that required arthroscopic surgery. After sitting out the first three games, Wootton returned in Week 4 to face the
Carolina Panthers
. In the week of practice leading up to the following game at Detroit, Wootton suffered a broken hand. Wootton possesses the potential to develop into a starter, but needs to find a way to shake the injuries.
•
Thaddeus Gibson:
Signed to the active roster on Dec. 19, Gibson contributed on special teams in the last two games of the season. A former fourth-round pick of the
Pittsburgh Steelers
in 2010, Gibson possesses impressive physical attributes, but is raw. Defensive coordinator Rod Marinelli seems to be the ideal coach to aid in Gibson's development.
•
Chauncey Davis:
Signed with the Bears in November, Davis made three tackles in a loss to the
Oakland Raiders
in his debut. Davis played the final six games and registered nine tackles and a sack. Prior to joining the Bears, Davis played in 96 games (25 starts) in seven seasons with the
Atlanta Falcons
.
Bears free agents:
Okoye and Idonije
POTENTIAL FREE-AGENT TARGETS
•DT
Jason Jones
,
Tennessee Titans
, unrestricted
•DT
Cory Redding
,
Baltimore Ravens
, unrestricted
•DT
Kendall Langford
,
Miami Dolphins
, unrestricted
•DE
Mario Williams
, Houston Texans, unrestricted
•DE
Cliff Avril
, Detroit Lions, unrestricted
•DE
Jeremy Mincey
,
Jacksonville Jaguars
, unrestricted
WHY ADDING THROUGH DRAFT MIGHT BE BEST
Unless the team seeks an upgrade at the under-tackle spot currently manned by Melton, it's unlikely the Bears make any moves at this position during free agency outside of potential backups. But if the team wants to upgrade opposite Peppers, it would have plenty of gifted options, not to mention more than enough cap room to pull off a high-profile acquisition.
Perhaps a significant deterrent to making a move in free agency is the fact the club already has $20.15 million committed in 2012 base salaries to just three players on defense (Peppers,
Brian Urlacher
and
Lance Briggs
). That number would likely swell to approximately $26 million or more if the team picked up a high-profile pass rusher to play opposite Peppers.
So Williams might be too expensive, and Avril is believed to be a top priority in Detroit. That might make Mincey an intriguing option. Mincey, 28, is coming off a breakout season in which he posted eight sacks, 57 tackles and four forced fumbles playing in a 4-3 system similar to Chicago's. But the Bears might be apprehensive about how Mincey arrived at those sacks because five came in two games against a struggling
Indianapolis Colts
offensive line, and he notched three more over 14 other outings.
That could potentially push down Mincey's asking price to a number closer to what the Bears were paying Idonije.
But with new general manager Phil Emery running the show, the team might feel the safer play is to bring back Idonije or try to boost the pass rush through the draft.