Chicago Bears:

Josh Beekman
June, 23, 2010
6/23/10
1:41
PM ET
[+] Enlarge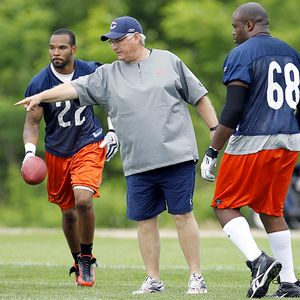 AP Photo/Nam Y. HuhMike Martz talks to Matt Forte, left, and Frank Omiyale during a workout on Wednesday at Halas Hall.
LAKE FOREST, Ill. -- For the second consecutive week
Chicago Bears
safety
Chris Harris
was merely a spectator on the field during the open media session.
Harris, who suffered a knee injury last season in Carolina, said his health is not an issue.
"I'm feeling good, feeling great, just ready to get it started come August," Harris said Wednesday. "I've been smiling ever since I got here, and it feels good to get back in this scheme because I'm very familiar with it. I think I'll bring a little leadership in the back end, you know, making sure the communication is on point as far as the secondary is concerned. I'll be that vocal guy back there in the back end."
The Bears re-acquired Harris from the
Carolina Panthers
in April for linebacker
Jamar Williams
.
"Chris Harris coming back was exactly what I remember," Bears coach Lovie Smith said. "He's moved right into that role. Chris will have more of a leadership role, too. He's a vocal guy, [and it's] like having another coach on the field."
The Bears badly need Harris to provide the safety position with experience and leadership, something the group lacked last season.
Craig Steltz
and
Josh Bullocks
each spent time working at safety with Harris on the sidelines.
With Olin Kreutz back in the middle at center, Josh Beekman and Lance Louis received first-team reps at guard. Beekman eventually replaced Kreutz at center during team drills at the conclusion of the workout, allowing Johan Asiata to slide in at left guard. It will be extremely interesting to note how the Bears divvy up starters' reps once training camp opens up at the end of July.


Smith singled out Brandon Manumaleuna's inability to participate in workouts as one of the few "downers" of the program. Manumaleuna is attempting to recover from the effects of offseason knee surgery.


A recent rash of OTA violations has prompted the league to consider changing its policies in regard to offseason workouts. The Bears opted to use the maximum 14 organized team activities, although the final session always takes place away from Halas Hall in the form of a movie, bowling, or some other team event."I like the way it is right now," Smith said. "The Commissioner hasn't said a lot about our practices. We try to follow the rules. That's one of my main jobs. Whenever you put the helmets on you have to watch the guys. They always would like the do a little bit more, but we watch that. This is a teaching phase of our offseason, and our guys know the rules and we go by them."

Smith also commented on the possibility of the NFL expanding the regular season to 18 games.

"I follow the Commissioner's lead, how is that," Smith said. "Right now, we have a good game. You look at our season right now as we go through, most teams really use three of the preseason games quite a bit. As long as we're all going by the same rules we can adjust with it. Whatever they decide is what we'll be for."
June, 8, 2010
6/08/10
3:30
PM ET
[+] Enlarge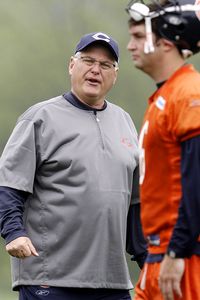 AP Photo/Nam Y. HuhNew Bears offensive coordinator Mike Martz, left, will keep his eyes on Bears quarterback Jay Cutler.
Q: JD, much has been made of the defense this offseason and the number of picks made in both the OTA and minicamp. Should I be concerned with the offense at this point? How has Jay Cutler looked and how has his decision-making appeared? -- Corey, Denver
A:
At this time of the year, the defense is always ahead of the offense. The mistakes witnessed on the practice field are more magnified during these offseason workouts because, to put it simply, the Bears are learning a brand new offense, while the defense has been playing in relatively the same system since 2004. I'm not saying you should enjoy reading about Cutler and
Caleb Hanie
throwing picks, but put it in the proper context. Wouldn't you rather see them tossing interceptions in May and June, rather then October and November? It would be foolish for any Bears fan to just assume the offense is going to work perfectly under Mike Martz, but give these guys a little time before coming to any drastic, negative conclusions about the direction of the offense.
As for Cutler, he's looked fine on the field. It's not like he is facing live action, so it's difficult to offer up an accurate evaluation of his decision making, but the guy can make every throw in the book. It's never been about talent with Cutler. The biggest issue: Will he continue to buy in to Martz and the new offense? So far, Cutler has been a new man in that department, working extremely well with his new offensive coordinator. If that continues, I expect a much better season from the starting quarterback in 2010.
Q: Jeff, I've seen you and other writers say Chris Harris is "better suited" to play strong safety. Please explain? -- Arie, Gurnee, Ill.
A:
First of all, Harris publicly stated his preference to play strong safety during an interview with ESPN 1000 on the day of the trade. On top of that, there was genuine concern in Carolina that a previous knee injury robbed Harris of the speed and burst necessary to handle certain coverage assignments, which made him expendable from the Panthers' point of view. Taking all that into consideration, I think Harris can be a very good player for the Bears, because the defense sorely needs leadership at the safety position. Think of Harris as the quarterback of the defense, much like
Mike Brown
back in the day. It's important Harris remains on the field, but the Bears need to be careful they don't get exposed in coverage. I would not be surprised to see
Danieal Manning
and Harris periodically changing roles on the field, with Harris moving up into the box on certain plays. I've always taken issue with the whole "our safeties are interchangeable" philosophy, but this year, they better be -- at least if Harris and Manning remain starters.
Q: You keep mentioning the fact that Josh Beekman is taking reps exclusively at center. How has he looked at that position? Olin Kreutz only has a few years left in the league, so is it possible that Beekman could be the center-in-waiting, so to speak?-- Mike, College Station, Texas
A:
Not to sound like a broken record, but without any live contact, it's tough to fairly judge any linemen during OTAs and minicamp. However, I think Beekman has a future at center if he stays with the Bears. Beekman is entering the final year of his original rookie contract, but with all the uncertainty surrounding the collective bargaining agreement, it's unclear when he will actually reach free agency. If the Bears continue to hold his rights as a restricted free agent, then perhaps he sticks around long enough for Kreutz to retire. But if he somehow got cut loose, I think Beekman could certainly find a job at guard somewhere in the league. It would just have to be in the proper blocking system, one that places a premium on speed, pulling and cut blocks. Unfortunately for Beekman, it sounds like the Bears want a larger body to play left guard this season, decreasing his chances to fairly compete for the job in training camp.
Q: I've always admired Pisa Tinoisamoa, but all I'm hearing about is how Nick Roach is the starter unless Pisa can highly impress. Is this because Pisa has lost a step and doesn't bring what he did last year? -- Jake, Fontana Calif.
A:
Jake, I really don't think that's the case. Roach is just a quality player, described by coaches as extremely quick and highly intelligent. In my opinion, the only knock against Roach the last two years was inexperience. He only played eight games his final year at Northwestern (2006), then had to wait almost two years before taking the field in a defensive capacity -- he played exclusively special teams at the end of 2007 and beginning of 2008. After starting 24 games the past two seasons, experience is no longer an issue. If Roach stays healthy, this should be the best of year of his NFL career. However, Tinoisamoa isn't going to simply roll over and concede anything to Roach. I've written this before: Strong side linebacker should be the best competition of training camp. But right now, Roach sits atop the depth chart because of his ability, not because Tinoisamoa has lost a step.
Q: What ever happened to the Bears' version of Adrian Peterson? Did he sign with somebody? -- Alexander T., Peoria, Ill.
A:
Peterson remains a free agent after his contract with the Bears expired at the end of the 2009 season. It's probably just a matter of time before he gets another job, but his age and pay grade might be working against him. Running backs over 30 years old have a certain stigma attached to them, and Peterson turns 31 in early July. Plus, as an eight-year NFL veteran, Peterson's veteran minimum salary in 2010 would be substantially higher than a rookie or undrafted free agent back-up runner. Still, Peterson was always a solid special teams contributor, outstanding teammate, and talented change of pace running back. If he doesn't make a roster this year, then something's wrong with the system.
February, 19, 2010
2/19/10
9:22
PM ET
CHICAGO -- Here is the second installment of our look at the
Chicago Bears
' draft needs and available players who might still be on the board when the third round begins. Draft ranking can change dramatically after the combine, but most of these players have been given pre-combine grades of third round or lower.
[+] Enlarge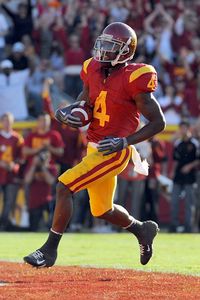 Harry How/Getty ImagesSome scouts project that USC running back could be converted to an NFL wide receiver.
Defensive End:
This is a major need that should be addressed in both the draft and free agency. Just like at defensive tackle, Lovie Smith covets speed in his edge rushers. The Bears have failed to consistently pressure the quarterback in each of the last three seasons, and subsequently have missed the postseason in each of the last three seasons. See the correlation.
Greg Hardy
, Mississippi
George Selvie
, South Florida
Jermaine Cunningham
, Florida
Alex Carrington
, Arkansas State
Lindsey Witten
, Connecticut
Brandon Lang
, Troy
Rahim Alem
, LSU
Offensive tackle:
Chris Williams
appears to have a bright future ahead of him at left tackle, but right tackle is a bit cloudy with
Kevin Shaffer
and probably
Frank Omiyale
competing for the job. The Bears are very high on last year's seventh-round pick
Lance Louis
(who is athletic enough to slide over to guard if necessary), but you can never have enough depth at tackle, especially in the pass-heavy offense run by Mike Martz.
Ciron Black
, LSU
Rodger Saffold
, Indiana
Ed Wang, Virginia Tech
Kyle Calloway
, Iowa
Selvish Capers
, West Virginia
Drew Davis
, Alabama
Offensive guard:
If the Bears were sold on
Josh Beekman
, they wouldn't have signed Omiyale last offseason. The goal in 2009 was to get bigger up front. Maybe the goal in 2010 should be to find a guard who can play, regardless of size and wingspan. The Bears would be wise to find their new left guard in free agency, but might want to pick one in the draft as insurance.
Jon Asamoah
, Illinois
Mike Johnson
, Alabama
John Jerry
, Mississippi
Mitch Petrus
, Arkansas
Brandon Carter
, Texas Tech
Marshall Newhouse
, TCU.
Receiver:
The Bears could really use a veteran presence in this meeting room, but adding a bigger rookie to the mix might be prudent.
Devin Aromashodu
is the only wideout with any kind of size, and
Jay Cutler
is more successful throwing to a larger target.
Carlton Mitchell
, South Florida
Mike Williams
, Syracuse
David Gettis
, Baylor
Riley Cooper
, Florida
Danario Alexander
, Missouri
Eric Decker
, Minnesota
Marcus Easley
, Connecticut
Running back:
The Bears are expected to add another running back either through free agency or the draft. It's tough to say whether
Kevin Jones
will be around this year, although he did play for Mike Martz in Detroit. Even if Jones is brought to training camp, the Bears still need to bring in another runner with pass-catching ability.
Joe McKnight
, USC
Joique Bell
, Wayne State (MI)
Andre Dixon
, Connecticut
James Starks
, Buffalo
Chris Brown
, Oklahoma
November, 16, 2009
11/16/09
12:21
PM ET
LAKE FOREST, Ill. -- The Chicago Bears made two changes on the offensive line near the conclusion of Thursday's loss to the San Francisco 49ers. Kevin Shaffer replaced Orlando Pace at left tackle -- because Pace "had the wind knocked out of him" -- and Frank Omiyale took over at left guard on the final drive for Josh Beekman.
"We just liked Frank's ability to pass block," Lovie Smith said Monday about the decision to pull Beekman. "We were in a different mind set at the end of the game when we had to pass the football. We liked Frank a little more in that situation then."
"I just got to do a little better battling big guys," Beekman said. "Olin [Kreutz] showed me some techniques today of bull rushes and things like that."
So is Beekman still the starting left guard?
"For now. Coach makes the final say, so we'll see what happens," Beekman responded.
If the Bears are eager to get Omiyale back on the field, perhaps they should consider him at tackle -- the position he expected to play when he signed here in the offseason. Just a thought.
October, 28, 2009
10/28/09
5:52
PM ET
CHICAGO -- Josh Beekman replacing Frank Omiyale at left guard is not the only personnel change made this week by Bears coach Lovie Smith. A league source confirmed Hunter Hillenmeyer will replace Nick Roach at middle linebacker, with Roach moving back over to the strong side linebacker spot.


Hillenmeyer, in his seventh NFL season, is believed to have a better grip on the mental aspects of playing in the middle. Roach struggled at times making proper checks on the field, although the coaching staff also played a role in the on-field confusion, habitually sending in calls late from the sidelines. With more experience under his belt, Hillenmeyer may be better suited to improvise in those difficult and fast-paced situations.


Roach started nine games on the strong side in 2008, and began the season as a backup to Pisa Tinoisamoa, before replacing Tinoisamoa early in the first game against Green Bay. Roach went on to start the next two weeks at strong side, before moving to the middle against the Lions on Oct. 4.
The move was first reported by the Chicago Tribune.
October, 28, 2009
10/28/09
3:31
PM ET
LAKE FOREST, Ill. -- If the Chicago Bears are planning to make any personnel moves, head coach Lovie Smith is intent on keeping that information private.
"OK, I'm not going to talk about anything personnel wise," Smith said. "That's pretty clear. So, if that's all you want to talk about, there's nothing else to talk about."
Later in the news conference, Smith was again pressed on why he doesn't reveal lineup changes.
"Just don't want to, simple as that," Smith responded. "I don't want to give the opponent an advantage. We want them to wonder what we're going to do, just like you are right now. That's how it's been throughout [my time here]. It's not like there's something new I'm coming up with right now."
A team source told ESPNChicago.com that Josh Beekman will receive first-team reps at left guard this week and will replace Frank Omiyale when the Bears face the Cleveland Browns.
Is Smith concerned such a move would be tantamount to putting all the blame on one player -- which in this case would be Omiyale?
"Can't go on what anything looks like," Smith said. "[You] do what you feel is right, period. Nothing else. Don't worry about feelings, what it looks like. It's what gives us the best chance, and we go with it."