Chicago Bears:

Josh Robinson
August, 28, 2012
8/28/12
1:15
PM ET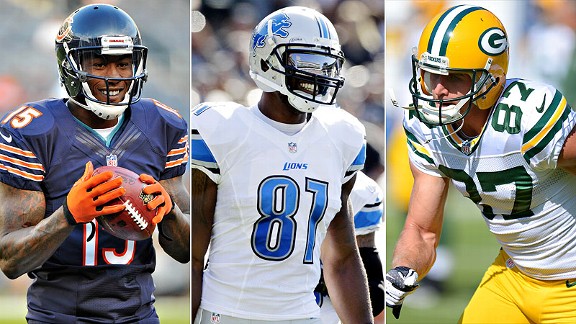 US PresswireBigger receivers like Chicago's Brandon Marshall, Detroit's Calvin Johnson and Green Bay's Jordy Nelson present unique challenges for the division's defensive backs.
You've already read half of this story. Surely you're aware of the increasing size disparity between NFL pass-catchers and cornerbacks. That train has left the station, and there's no going back.
So here's what I'm interested in: Assuming they don't plan to forfeit the season, how will NFC North cornerbacks and coaches deal with what looks like an increasingly one-sided matchup?
I spent part of
CampTour'12
asking cornerbacks, receivers and coaches a version of that question. After all, the
Chicago Bears
' acquisition of receiver
Brandon Marshall
means that each of our teams has at least one receiver taller than 6-foot-2 and one or more tight ends who stand at least 6-4. In total, the division boasts six "big" receivers and seven "big" tight ends based on those qualifications, as the first chart shows.
On the other hand, there are only three NFC North cornerbacks taller than 6-feet among the 12 expected to make up each team's primary rotation. (See second chart.) Cornerbacks don't always match up in single coverage against big receivers, and bigger safeties often take on tight ends. But at some point there is no choice. Eventually, NFC North teams will have a 5-foot-9 cornerback assigned to a 6-foot-4 receiver, a height differential of more than half a foot.
Most everyone engaged thoughtfully on the issue, and below I've categorized their thoughts in three ways. Let's take a closer look.
Muscle up or play off?
The game is football, of course, so the instinct of many cornerbacks is to get physical with big receivers -- especially at the line of scrimmage and even as the ball approaches. That approach is almost always a mistake, NFC North cornerbacks agreed.
"A guy that big, you don't want to be too aggressive with him,"
Green Bay Packers
cornerback
Tramon Williams
said. "You want to feel him, but you don't want him to feel you. As a big receiver, he wants you to be aggressive. That's his thing. He can push you off and do things like that. He can get separation and get you off your stride. So you don't want to be too aggressive with guys like that."
Instead, cornerbacks often are best served to "stalk" bigger receivers as they run downfield.
"They love for a little guy to get physical so they can body you," said
Detroit Lions
cornerback
Chris Houston
, who spends most practices matched up on 6-foot-5 receiver
Calvin Johnson
. "You've got to be smart, use your technique throughout the game. You can body them sometimes, but the majority of the time, they like for you to try to get in there. Their arms are much longer, so they can get you before you get them. You've got to be smart on your technique and stay disciplined."
The NFC North's shortest cornerback is
Antoine Winfield
of the
Minnesota Vikings
, whose reputation as a physical tackler overshadows the fact that he rarely tussles with receivers until after the ball arrives.
"I like to play off," Winfield said. "It's hard for me to be fighting with a guy who is 6-4, 6-5 at the line. He has the advantage. The first thing he is probably going to do is run at me, grab me, throw me to the side and take off."
Thinking back over his career during training camp, Marshall said "every guy plays a little differently." But Marshall could identify only one cornerback who deliberately got physical with him at the line of scrimmage: the
Denver Broncos
'
Champ Bailey
, who is just shy of 6-foot.
"A guy like that, he loves to go against big guys," Marshall said. "He trusts himself."
Everybody jump, jump
What Bailey and many other cornerbacks lack in height, however, they try to make up with timing and leaping ability. Bears coach Lovie Smith, in fact, said that vertical jumps are one of the most important attributes he seeks in defensive backs.
"Once the receiver gets off the ball," Smith said, "and he gets in position and the ball is thrown up in the air, just throwing it up high and it's a jump situation, that height and that vertical is going to come into play. And for us, most of our DBs have good verticals. They're 36-[inches] plus, 37-plus for a reason.
"If you have a good vertical, eventually if the ball is in the air, you can go out there and get it. I just don't think it's a gimmee just because you have a tall receiver and the cornerbacks are shorter. Most of the guys in the league are playing under six feet at the corner position and they're making a lot of big plays."
Indeed, the Bears employ two cornerbacks shorter than 5-10 --
Tim Jennings
and
D.J. Moore
-- among their top three. Jennings recorded a 37 1/2-inch vertical jump at his scouting combine, Moore hit 39 1/2.
Charles Tillman
, who at 6-1 1/8 is the second-tallest cornerback in the division, had a 40-inch vertical leap.
"You never concede a jump ball," said the Packers' Williams, whose vertical has been recorded at 41 inches. "I've always been confident in my jumping ability. Me, personally, I haven't had many jump balls caught on me."
Of course, big receivers watch film and usually know who the good jumpers are. Packers receiver
Jordy Nelson
said there are ways to maintain the height advantage against a cornerback who can jump.
"When we watch them, we see how they can play a deep ball," Nelson said. "If we know that so-and-so is out there, we know that you really have to attack the ball in the air. He is going to go up and get it. You've got to go compete for it. You can't let it come down and try to catch it over your shoulder. There's things like that that we watch."
In the absence of jumping ability, Vikings coach Leslie Frazier said, shorter cornerbacks must rely on extraordinary quickness and speed. The Vikings, for example, this year drafted the player who ran the fastest 40-yard dash at the 2012 scouting combine, Central Florida cornerback
Josh Robinson
(4.33 seconds). Robinson is 5-foot-9 1/2.
"What we try to find is a guy who is extremely quick," Frazier said. "Sometimes you can out-quick guys who are long striders, and they're usually better a little bit down the field. If you can offset some of that with the quickness and you are a gnat, just harassing them, that helps."
Scheme
Coaches can play an important role in equalizing the physical mismatch as well. Although it is bound to happen at some point, the least appealing way of defending a big receiver is putting him in a pure man-to-man matchup with a cornerback.
"There are things you can do where you don't get isolated in coverage," said Lions coach Jim Schwartz, whose top four cornerbacks are all shorter than 5-10. "You're playing man but you get a double team from somewhere, and so you're not playing the 'whole' man. You're not playing that whole 6-foot-3 receiver. You're only playing a portion of him. Those ways can be significant."
If you're not in position to double-team, the Bears' Smith said, zone concepts usually work better in physical mismatches. Players in man coverage usually turn their backs to chase the receiver they're assigned to, while players in zone are taught to keep receivers in front of them so they can watch the quarterback.
"It helps to play a little bit more zone," Smith said, "where you have your defensive backs with their eyes on the ball. When you're short and you're playing man-to-man and you have your back to the quarterback, there's a lot of things going against you in that situation."
So where does this leave us? When I spoke with Marshall about this topic, he smiled and said he didn't want to give up any secrets for exposing height mismatches. In truth, however, there aren't many.
Cornerbacks must play smart, both in technique and within the scheme. They need a physical attribute, especially jumping ability, that helps compensate for their height disadvantage. And they need to realize that, no matter what approach they take, NFC North teams are going to utilize their big receivers to complete plenty of passes. The defense that can best minimize the impact of those completions will put its team in position for the NFC North title.
August, 24, 2012
8/24/12
12:45
PM ET
In which we look ahead to the remainder of Week 3 in the NFC North's preseason schedule:
Chicago Bears

Opponent:
New York Giants
Location:
MetLife Stadium
Day/Time:
Friday/8 p.m. ET
Personnel notes:
After an intense
week of discussion
about linebacker
Brian Urlacher
's future, there is more reason than ever to scrutinize
Nick Roach
's play at middle linebacker. Whereas we once considered it a lock that Urlacher will be ready to start the season, there now seems at least a chance that Roach will open the year at middle linebacker. It's not his best position. … Punter
Adam Podlesh
has a hip flexor, so rookie
Ryan Quigley
will handle all of the punting duties Friday night. His performance will determine whether the Bears need to consider other options if Podlesh isn't ready to start the season. … The game will be televised nationally on CBS.
Focal point:
What else, if not for the Bears' offensive line? The Giants aren't expected to play All-Pro defensive end
Jason Pierre-Paul
because of back spasms, but they should still give the Bears' line its best test yet. The Bears would like to make a final decision on their starting left tackle, where
J'Marcus Webb
is trying to hold off
Chris Williams
, as well as at left guard.
Chris Spencer
and
Chilo Rachal
are competing for that job.
Minnesota Vikings


Opponent:
San Diego Chargers

Location:
Metrodome

Day/Time:
Friday/8 p.m. ET

Personnel notes:
Tailback
Adrian Peterson
won't play but will participate fully in pregame warmups, according to
ESPN's Chris Mortensen
. … Cornerback
Chris Cook
(concussion) and nose tackle
Letroy Guion
(knee) aren't expected to play. … The Vikings will continue to search for possibilities to replace receiver
Jerome Simpson
during his three-game suspension. Look for second-year player
Stephen Burton
, along with veterans
Michael Jenkins
and
Devin Aromashodu
, to all get long looks. … Rookie cornerback
Josh Robinson
has impressed the Vikings in training camp and could get a chance to work with the first team Friday night. … Quarterback
Charlie Whitehurst
will start for the Chargers, who don't want to risk starter
Philip Rivers
behind an injury-riddled offensive line. Tight end
Antonio Gates
will also sit out.

Focal point:
This might be middle linebacker
Jasper Brinkley
's final chance to secure the starting job. The Vikings haven't been thrilled with his tentative preseason performances, coming after a hip injury cost him the 2011 season. Another poor outing could put the team on a search for replacements.
Detroit Lions

Opponent:
Oakland Raiders
Location:
Oakland-Alameda County Coliseum
Day/Time:
Saturday/7 p.m. ET
Personnel notes:
Tailback
Mikel Leshoure
is expected to make his NFL debut, nearly 17 months after he was drafted and nearly 20 months from his last live game. Leshoure last played for Illinois on Dec. 29, 2010. He missed last season because of a ruptured Achilles and a portion of training camp this summer because of a hamstring strain. The Lions want to get him some preseason work because he'll has been suspended for the first two weeks of the regular season. ... New special teams ace
Kassim Osgood
isn't expected to play. ... Rookie
Kellen Moore
's chances of making the team increased with the release of R.J. Archer, but he still must earn a roster spot even though he is one of only three quarterbacks on the roster. The Lions could keep only two on their final 53-man roster.
Focal point:
It would be nice to see defensive tackle
Nick Fairley
have
a signature, breakout game to
reinforce projections that he will be a significant factor this season. But in reality, a game with impact would suffice.
August, 17, 2012
8/17/12
11:30
AM ET
In which we look ahead to two more nights of exciting Week 2 preseason action in the NFC North:
Detroit Lions

Opponent:
Baltimore Ravens
Location:
M&T Bank Stadium
Day/Time:
Friday/8 p.m. ET
Personnel notes:
The Lions continue to experiment with their arrangement in the defensive secondary, and
Jacob Lacey
is expected to start at cornerback with rookie
Bill Bentley
playing in nickel packages. … The first-team offense is looking to sustain some success after a scoreless preseason opener. ... Two prominent players who missed that game, receiver
Titus Young
(birth of child) and defensive end
Cliff Avril
(late camp report) are scheduled to play. … Coach Jim Schwartz grew up in Baltimore and was
tweeting cityscapes from his hotel room
Thursday evening. … The game will be televised nationally on FOX.
Focal point:
Tailback
Jahvid Best
appears likely to open the season on the physically unable to perform (PUP) list, once again placing an emphasis on depth behind
Mikel Leshoure
(hamstring) and current starter
Kevin Smith
. You would figure that
Keiland Williams
and
Joique Bell
will once again get a heavy workload.
Minnesota Vikings

Opponent:
Buffalo Bills
Location:
Metrodome
Day/Time:
Friday/8 p.m. ET
Personnel notes:
The Vikings held a number of veterans out of their preseason opener, but most of them are expected to play Friday night. The list includes defensive end
Jared Allen
, defensive tackle
Kevin Williams
, cornerback
Antoine Winfield
and receiver
Percy Harvin
. … You should also get your first look at rookie cornerback
Josh Robinson
. … Tailback
Adrian Peterson
(knee) returned to practice this week but won't play. … The Vikings are looking forward to seeing rookie place-kicker
Blair Walsh
's big leg in the still conditions of the Metrodome.
Focal point:
The most important task for the franchise is continuing to push the development of quarterback
Christian Ponder
, who made an encouraging 2012 debut last week. But almost as important is getting at least an even performance from backup
Joe Webb
, who hasn't had a good summer. The Vikings made Webb a full-time quarterback in the offseason, but if he falls short, he's too good of an athlete to cast aside.
Chicago Bears

Opponent:
Washington Redskins
Location:
Soldier Field
Day/Time:
Saturday/8 p.m. ET
Personnel notes:
Quarterback
Jay Cutler
will make his preseason debut, and the same is assumed for tailback
Matt Forte
and defensive end
Julius Peppers
. … The next installment of the Bears' left tackle drama is expected to include some first-team time for
Chris Williams
. The Bears want
J'Marcus Webb
to win the job, but at this point Cutler's safety is the primary goal.
Focal point:
Middle linebacker
Brian Urlacher
's knee surgery brings new scrutiny on the Bears' emergency plan at the position, which for the moment includes moving
Nick Roach
inside from the strong side and inserting veteran newcomer
Geno Hayes
on the strong side. Is that an arrangement the Bears could use if Urlacher is forced to miss regular-season time? Or do they need to find help from the outside?