Chicago Bears:

Joshua Moore
September, 5, 2011
9/05/11
12:16
PM ET
LAKE FOREST, Ill. -- The Chicago Bears continued making roster moves on Monday, waiving cornerback Joshua Moore while signing running back Armando Allen to the practice squad.
The move to waive Moore comes as somewhat of a surprise considering several members of the organization indicated the former fifth-round pick was one of the team's best pure cover corners.
An NFL source said the team would look to add Moore to the practice squad. But at this point, the club doesn't have an available spot, which means the team would need to release another player to make room for Moore.
Allen, meanwhile, comes to the Bears from Tampa Bay, which added him as an undrafted free agent out of Notre Dame. Allen averaged 3.5 yards per carry throughout the preseason, and also caught a 20-yard touchdown pass.
Moore played three games for the Bears last season, contributing one special-teams tackle. He made his debut on Oct. 24 in the team's 17-14 loss to the Washington Redskins.
August, 7, 2011
8/07/11
5:14
PM ET
BOURBONNAIS, Ill. -- Don't rule
Joshua Moore
out as candidate for the
Chicago Bears
starting cornerback job opposite
Charles Tillman
.
Moore, currently working on the second team, remains very much in the mix along with
Tim Jennings
and
Zack Bowman
.
Talent was never the issue with Moore, who collected six interceptions over three seasons at
Kansas State
. The problem was the coaching staff felt Moore, a 2010 fifth-round draft choice, lacked the necessary upper body strength last season to be a viable option either on defense or special teams. Moore spent his rookie year basically as a game-day inactive -- he did dress for three regular-season games -- then headed down to Miami in the offseason to try and bulk up.
"We worked on a lot of speed and quickness, so I feel like that's my advantage this year," Moore said. "I feel last year I wasn't as strong coming in. I felt like in the offseason I had to get stronger, and I did, so now I feel like I'm a better player all the way around."
The plan worked and the cornerback added 10 pounds of muscle. He weighed in last week at 189 pounds, much to the delight of the Bears.
"The coaches were happy," Moore said. "When I came in they were happy with how my body looked. I figure, now I just have to go out and make plays. This year, I already know what is expected of me. I worked hard in the offseason and came in this year with a lot more confidence. I'm ready to play. I have a lot to prove."
"I know I'm under the radar, but I just go in every day and try to prove myself. I can't worry about what other people think. All I can do is try to improve and work hard. I know by the end of training camp, I will have put myself in a good spot."
September, 2, 2010
9/02/10
8:45
PM ET
CLEVELAND -- With the preseason now in the books (mercifully), here are five things we learned from Thursday's game against the Browns:
Todd Collins is decent: Not a bad debut by Collins. The 38-year old quarterback completed 10 of 15 passes for 139 yards and a touchdown in one half of work. The Bears kept things simple for Collins, who displayed a nice passing touch, while also showing the ability to absorb a few hits. Collins did nothing to disrupt the Bears plan, which calls for the veteran to open up the regular season as the No. 2 quarterback, with Caleb Hanie sliding to No. 3. Collins is only a short-term solution, but at least he has a basic understanding of the offense, and can make a couple plays if necessary.
[+] Enlarge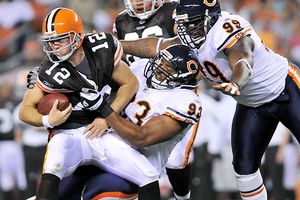 Jason Miller/US PresswireJarron Gilbert, No. 93, had his second consecutive game with a sack on Thursday.
Jarron Gilbert put up a fight:
We've seen more production from Gilbert in the past two games (two sacks) than we saw all of last year and the bulk of this training camp. Maybe it's too late, but at least Gilbert showed a pulse. Same with
Henry Melton
, who recorded a few tackles, but also got anihiliated on one memorable first half play by Cleveland tackle
Tony Pashos
.
Corey Wootton
didn't dress after coming down with a case of food poisoning earlier in the week, so this was the night for Gilbert to make his case. We'll find out quickly if it worked.
The Bears will try to hide Joshua Moore on practice squad: Moore got wiped out by a blocker on one particular run play in the first half, but the rookie out of Kansas State has quietly put together a nice preseason. Once Moore started keying on a receivers hips, and not his shoulders, the fifth-round pick dramatically improved his coverage. Moore does need to get stronger -- a reason Dave Toub probably can't use him right away on special teams -- but the cornerback has talent and potential.
Brian Iwuh is solid insurance behind Lance Briggs: Many consider me the president of the Brian Iwuh fan club, but you have to admit, Iwuh was a smart offseason aquisition. He was extremely active Thursday night, and showed impressive athleticism knifing through the gap while dropping a Browns runner for a loss. Iwuh's real impact should be felt on special teams, but if Briggs were to get hurt during the regular season, the drop off at weak side linebacker wouldn't be unbearable.
Fourth preseason game won't be missed: Not exactly a compelling watch without Jay Cutler, Brian Urlacher, Lance Briggs or Olin Kreutz suiting up in a half empty Browns Stadium. Plus, the first-team defense saw action for one play, that's it. As much as I enjoy analyzing the Dan LeFevours of the world, nobody will shed a tear when the NFL cuts the preseason to two games.
May, 3, 2010
5/03/10
11:03
AM ET
[+] Enlarge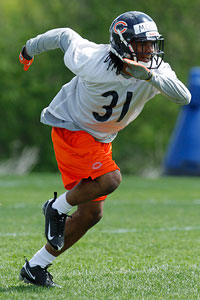 AP Photo/Nam Y. HuhBears rookie cornerback Josh Moore has better than fifth-round talent.
Now that the
Chicago Bears
' rookie minicamp is in the books, we can begin to set our sights on the veteran mini-camp scheduled from May 21-23. But before we completely move on from this past weekend, here are a few final notes and thoughts gathered during the three days at Halas Hall.
The three rookies I got a chance to pull aside after practice (Major Wright, Corey Wootton and Joshua Moore) all made very good first impressions. In the past, certain rookies tended to open their mouths and predict greatness at this event, but none fell into that trap. I expected to be impressed by Wright and Wootton, since both came with reputations of being high-character guys, but Moore was a mystery.Some draft guides listed character concerns as a negative against the cornerback, who clearly displayed better than fifth-round talent while at Kansas State. It's impossible to know someone after one meeting, but I found Moore to be honest, humble and extremely forthcoming when it came to discussing his disastrous bench press results at the NFL Combine. If Moore maintains that same attitude, he should have little trouble fitting in with the veterans at his position.
In addition to all the rookies and tryout players, a few second-year guys participated in the minicamp, one of the most notable being cornerback Woodny Turenne. He flashed some impressive skills during training camp last summer, and has continued to improve this offseason according to those present at the voluntary workouts. It's a crowded group after the Bears signed Tim Jenningsand drafted Moore, but Turenne has potential to make a contribution at some point in his career.

[+] Enlarge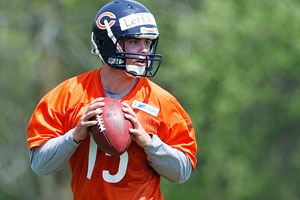 AP Photo/Nam Y. HuhBears rookie quarterback Dan LeFevour has to make the transition from a spread offense.
One of the few positions that really stands out in a minicamp setting is quarterback. It looked like Dan LeFevour threw the ball better on Sunday, but he is in the process of making a difficult transition from a spread offense."I think he made nice progress," Bears offensive coordinator Mike Martz said. "He's obviously retained things, and he's trying to do things the way we want. He gets frustrated like we all do, but he keeps trusting us as much as he can. Whatever you did in the past has no bearing on today. That's the biggest difference [between college and the NFL]. He's come here with a completely open mind. He's been terrific. He's very easy to coach, he's like a sponge trying his best to pick [it] up and do it right. He's a long ways away."

The good news for LeFevour is having the opportunity to learn under Martz, but it will take time. The best-case scenario for the Bears would be to sign a veteran quarterback, and find a way to hide LeFevour on the practice squad. It will be interesting to note LeFevour's progress at this time next year, after hopefully spending an entire year observing Martz interact with Jay Cutler, Caleb Hanie and a possible quarterback to be named later.
Hanie's growth from year one to year two was obvious during the 2009 veteran minicamp. How will he look in year three? That should be an interesting storyline when media are allowed back on the practice field in a few weeks."Very impressed with him as a passer," Martz said. "He's got some unusual skills, more skills than I thought he would have, to be honest with you. The only thing we don't know is how well he responds under pressure. If he can take this information, and if he can see things and react quickly. We'll see as much of much of Caleb as we can to kind of get a feel for where he is with these things."
Mike Tice sounds like the real deal, at least that's the word coming from veterans this offseason. When you think about it, this is a critical year for the offensive line. Tice is charged with overseeing two relatively young tackles [Chris Williams and Frank Omiyale], one veteran coming back from offseason surgery [Olin Kreutz], and a wide open competition at left guard. Of all the moves made since the end of last season, several people have pointed to Tice's hire as one that may have the most positive impact on the team.
May, 1, 2010
5/01/10
3:38
PM ET
LAKE FOREST, Ill. -- Almost immediately after the Bears selected Kansas State cornerback
Joshua Moore
in the fifth-round last Saturday, word began to circulate about Moore's struggles on the bench press at the NFL combine. The defensive back managed to do just two reps at 225 pounds, a very low mark that caused certain scouts to wonder if Moore had the necessary strength to compete at the next level.
The Bears rookie refused to blame his low test score on any extraneous circumstances when asked about the subject Saturday.
"There's no story behind it. I did it (bench press) at the combine and did two reps," Moore said after the second day of the Bears rookie mini-camp. "I was disappointed but I've moved on from that. I put that behind me. Yes, I did two reps, but I talk to the coaches and they still like me. I've put that whole thing behind me and I'm here to improve and get better. By me only doing two reps at 225 pounds, that gives me room to improve."
Read the entire story.
April, 29, 2010
4/29/10
1:11
PM ET
By
Michael Wright
| ESPNChicago.com
[+] Enlarge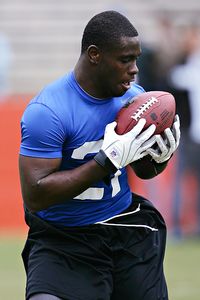 Cliff Welch/Icon SMIMajor Wright will be one to watch this weekend at the Bears' rookie minicamp.
Bears rookies shuffled into Halas Hall on Thursday in preparation for rookie minicamp, which runs from Friday through Sunday, and is open to the media, but closed to the public.

But let's put this into perspective -- it's just a series of workouts in shorts and t-shirts.

Still, there might be some things to glean from watching the Bears put the rookies through their first exposure to NFL workouts. We take a look at five things to watch during the Bears' rookie minicamp:

1. Free safety Major Wright and cornerback Joshua Moore during one-on-one and seven-on-seven drills.

Because of rules limiting contact at minicamp, it's tough to gauge how well a rookie's game would transfer over to the pro level for linemen and linebackers. But it's a different story for defensive backs, receivers and running backs, who will be able to put their speed and agility on display this weekend, despite the rules outlawing contact.

So Wright and Moore will be worth keeping a close eye on at minicamp. Their footwork, speed and ability to absorb copious amounts of information quickly will be key factors in their transition to the NFL. How well they perform during one-on-one and seven-on-seven drills should provide at least a glimpse of what is to come.

2. Defensive end Corey Wootton's explosiveness

You won't see much out of any the club's linemen during minicamp. But how well Wootton explodes out of his stance should provide an idea about where he is in terms of recovery from tearing the ACL, MCL and meniscus in his right knee during the 2008 Alamo Bowl.

Wootton admits he's not yet 100 percent, but expects to be by training camp. The staff would be wise to keep a close eye on Wootton during minicamp to prevent the defensive end from suffering any setbacks.

3. Dan Lefevour's arm

Despite his standing as one of the most productive quarterbacks in NCAA history, Lefevour slipped all the way to the sixth round because scouts were concerned about his arm strength and whether he could transition from the spread to a pro-style offense.

Lefevour gets a chance to debunk those knocks at minicamp. Lefevour said he's improved at taking direct snaps, after taking mostly shotgun snaps at Central Michigan. It's expected he'll mishandle some snaps at minicamp. What's important, though, is to keep an eye on whether Lefevour makes strides over the weekend.

4. Receiver Freddie Barnes

An undrafted free agent out of Bowling Green, Barnes didn't receive much publicity from pundits heading into the NFL draft. But you can't deny the numbers put up by this guy. Barnes pulled down an NCAA record 155 catches as a senior last season, while leading the country in receiving touchdowns (19).

Barnes' speed was a question mark going into the draft, but he found a way to get open in college. Can he do it in the NFL? We'll start to see this weekend at minicamp.

5. Tryout players

A reported, 21 players will attend rookie minicamp on a tryout basis. But will any of them be offered contracts?

The club brought in 25 tryout players last year for minicamp, and all of them departed without contracts. The odds aren't favorable for any of the tryout players being invited back.


Michael C. Wright covers the Bears for ESPNChicago.com

April, 24, 2010
4/24/10
11:40
AM ET
[+] Enlarge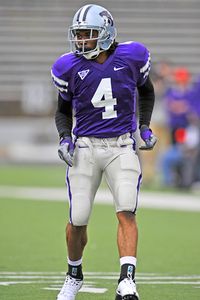 Peter G. Aiken/Getty ImagesJoshua Moore ranked second in tackles (64) at Kansas State last season.
LAKE FOREST, Ill. -- Safety wasn't the only need for the
Chicago Bears
in the secondary. Despite signing
Tim Jennings
in free agency, Lovie Smith needed another cornerback with a little size to potentially provide depth behind
Charles Tillman
,
Zack Bowman
,
Corey Graham
and perhaps
Woodny Turenne
. The Bears took cornerback D.J. Moore in the fourth round last year, but like Jennings, he probably only projects as a nickelback because of height concerns.
On the other hand, fifth-round pick
Joshua Moore
, not a giant but decently sized at 5 foot 11, might have a better chance matching up against taller receivers, even though he needs to greatly improve his upper body strength.
"[Moore] has excellent cover sense, has good zone instincts," Bears secondary coach Jon Hoke said. "He has very good man instincts, route feel. For the guys we have, he's probably a little farther ahead in man skills."
Unlike third-round pick
Major Wright
, there is no immediate need for Moore to start. However, Tillman has been ravaged by injuries over the years, so it's unclear how many more quality seasons he has left in the league. Bowman, if healthy, looks to be a fixture for years to come, while Graham's standing with the team seems to fluctuate on a weekly basis.
Once considered a tad on the slow side, Graham has impressed during voluntary offseason workouts, running with the first team because Tillman has been a no-show. Finally, Turenne turned some heads last summer, and is held in high regard by other members of the secondary.
There is talent behind the starters, but not enough for the Bears to ignore drafting another cornerback.
April, 24, 2010
4/24/10
11:38
AM ET
LAKE FOREST, Ill. -- The Chicago Bears bolstered depth at cornerback with their fifth-round pick Saturday, adding Joshua Moore of Kansas State.


A junior who declared early for the draft, Moore impressed Bears secondary coach Jon Hoke with a knack for performing his best in Kansas State's most important games. It's unclear where Moore fits among the club's current group of corners.

Read the full story.