Chicago Bears:

Ken Zampese
January, 13, 2010
1/13/10
6:46
PM ET
[+] Enlarge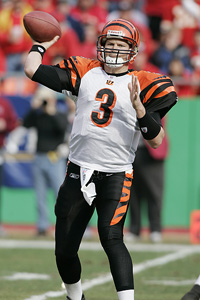 Scott Boehm/Getty ImagesJon Kitna threw for 3,591 yards and 26 touchdowns in Ken Zampese's first year as the Bengals quarterbacks coach.
CHICAGO -- Add
Jon Kitna
to the list of Ken Zampese supporters.
"He knows the game in and out," Kitna said Wednesday during a visit with the "Afternoon Saloon" on ESPN 1000. "He grew up Ernie Zampese's son, [so] he grew up around the game. He spent a few years with coach [Mike] Martz in St.Louis, and I always said you can learn a lot of football being around [Martz].
"When he came to Cincinnati in 2003, he did a great job of not only helping me, but grooming [Bengals starting quarterback]
Carson Palmer
and bringing him along. Ken is going to be a good if they get him as a coordinator, and he's somebody I talk to quite often."
Kitna echoed former teammate
Craig Krenzel
's description of Zampese as a detail-orientated coach, saying the quarterbacks were always prepared regardless of the situation. The veteran quarterback was named NFL Comeback Player of the Year in 2003, his first season with Zampese as his position coach.
"Communication-wise he's great," Kitna said. "He's a detail guy. Anybody that comes from his father and coach Martz [knows] it's all about the details of the game. If a route is supposed to be at 18 yards, then it's going to be at 18 yards. It's not going to be 17 or 19. Those details are going to be something that would probably take a lot of people by surprise early on, but they would grow to like it."
Kitna, who currently serves as
Tony Romo
's backup in Dallas, refused to take the bait when asked who he would hire if given the choice between Zampese and Martz.
"I have a lot of respect for both of the guys, having been under both of them in my career," Kitna, who played for Martz in Detroit in 2006-07, said. "I don't really think you're going to go wrong with either one of them."
January, 13, 2010
1/13/10
4:26
PM ET
[+] Enlarge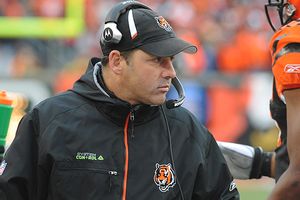 Al Messerschmidt/Getty ImagesKen Zampese has extensive knowledge of all phases of an offense, according to Craig Krenzel.
CHICAGO -- It doesn't take long for
Craig Krenzel
to return a phone call when somebody wants to discuss his former
Cincinnati Bengals
quarterbacks coach Ken Zampese.
Krenzel, a former Bears' fifth-round choice out of Ohio State in 2004, spent just one season (2005) with Zampese in Cincinnati, but says he came away with an inordinate amount of football knowledge. That, in itself, counts for something, because as most of us know, Krenzel graduated from Ohio State with a degree in molecular genetics.
Say what you want about Krenzel's professional football career (cut short by a 2006 elbow injury), his intelligence on or off-the-field should not be questioned.
"Even though Ken never played quarterback, from a preparation standpoint, you would have thought he played the position," Krenzel told ESPNChicago.com Wednesday. "His knowledge of the game, the way he prepared us allowed me to learn a ton from him, even though I was only there for a short period of time. And I don't limit that to just his understanding of the quarterback position. He understood the entire offense.
"We would talk all the time in film study about X's and O's, who needs to be blocked, what route was run, etc. He was highly involved with [Bengals offensive coordinator] Bob Bratkowski in the passing game. I consider myself a pretty knowledgeable guy, but I learned a ton being around Ken."
Krenzel considers himself lucky to have worked with two outstanding professional quarterbacks coaches: Zampese in Cincinnati and
Wade Wilson
in Chicago. Wilson was part of Lovie Smith's original staff in 2004, and somebody Krenzel respects to this day, although it's funny to hear how Wilson's coaching style differs from Zampese's.
"I loved Wade, loved the guy," Krenzel said. "Wade had that cool, laid-back Texas style of discussing things, but in the end, you always knew he came to the correct conclusion. He took a little bit of time to get there, but he knew exactly what he was talking about.
"Same thing with Ken, although personality-wise he's a lot different than Wade. Zampese is like the micro-machine guy. He moves a million miles a minute, constantly harping on details, the little things, he gets straight to the point. The guy is football 24 hours a day, 7 days a week, and 365 days a year. I always thought he'd be a good coordinator."
But Zampese has never risen above the rank of quarterbacks coach, even though he has interviewed for several coordinator positions in the past. Even a staunch Zampese supporter like Krenzel admits it's always a gamble hiring somebody with no prior play-calling experience.
"Of course, the one unknown is game-day play-calling, because that is truly an art form at the NFL level," Krenzel said. "People just don't understand everything that goes into calling plays during an NFL game. Still, even though I was only with him for a short period of time, I think he's a great coach, and certainly qualified to run an offense."
"I'm very surprised it's taken him this long to get a coordinator job."
January, 12, 2010
1/12/10
9:27
PM ET
CHICAGO -- When speaking to people about Ken Zampese, the first thing brought up is his proven track record of working with quarterbacks, having coached that position for the
Cincinnati Bengals
since 2003.
The second thing; his lack of play calling experience.
Zampese, who
reportedly interviewed
for the
Chicago Bears
offensive coordinator position, worked with Lovie Smith in St. Louis from 2001-02, and is held in high regard by those in the coaching community. In fact, Zampese had been considered for several offensive coordinator positions in the past, but for whatever reason, he didn't get the job.
Still, it might be a tough sell if the Bears hire somebody who's never been an offensive coordinator. But at this point in the search process, Zampese's name being thrown into the mix is a welcome relief and a pleasant departure from some of the other candidates speculated upon by the media.