Chicago Bears:

Kevin Payne
April, 28, 2010
4/28/10
4:30
PM ET
[+] Enlarge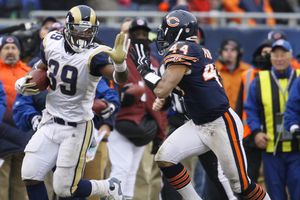 AP Photo/M. Spencer GreenKevin Payne should get a chance to compete for playing time with the St. Louis Rams.
For about half the 2008 season,
Kevin Payne
looked like the Chicago Bears' best defender.
Coming off a shoulder injury that severely cut short his rookie campaign, Payne appeared extremely comfortable playing in the box at strong safety while veteran
Mike Brown
started at free safety. But by the midway point of the season, it became apparent Brown had lost a step, so the Bears decided to flip the two players, and Payne never seemed to recover. Although he still finished his sophomore season with 129 tackles and four interceptions, Payne's limitations when dropping back in coverage became evident.
In 2009, Payne opened up the regular season as the starting free safety, then promptly lost his job after the
Green Bay Packers
'
Greg Jennings
torched Payne and
Nathan Vasher
for a game-winning 50-yard touchdown reception. The 2007 fifth-round pick ended up up starting five games, but he clearly fell out of favor with the coaching staff. Payne became even more expendable after the Bears drafted
Major Wright
and traded for
Chris Harris
within the past week.
Payne, who was traded to the
St. Louis Rams
on Wednesday, was said to be in great shape this offseason, and should be given a chance to compete for playing time with the Rams, who still need to figure things out with O.J. Atogwe. Payne is a decent player -- he can really deliver a hit –-- but St. Louis must find a way to utilize his strengths, something the Bears at times failed to do.
April, 28, 2010
4/28/10
4:12
PM ET
The Chicago Bears traded safety Kevin Payne to the St. Louis Rams on Wednesday for an undisclosed 2011 draft pick.
Read entire story.
March, 30, 2010
3/30/10
1:25
PM ET
[+] Enlarge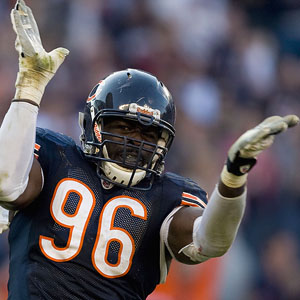 Dilip Vishwanat/Getty ImagesAlex Brown isn't a superstar, but he has been the Bears' most consistent pass rusher the past few seasons.
Q: Jeff, What is wrong with Jerry Angelo and the Bears? Just when I start to like Angelo, he pulls a move like this and gets rid of Alex Brown. I'd like your thoughts on this decision, and how much you think this will hurt the defense going forward. -- Roy S., El Paso, Texas
A:
My response is simple; it's a bad idea motivated solely by money. The defense doesn't get better without Brown, and I question any move that hurts the product on the field. Let's not kid ourselves, Brown wasn't a super-elite defensive end, but he came to play every single down, every single week, every single season. Do you know how many games Brown has missed during his NFL career? One. That absence occurred Sept. 8, 2002, the first week of Brown's rookie season. I've seen the guy play through countless injuries, and play at a high level, even though his sack totals weren't eye popping.
Frankly, I'm tired of seeing certain members of this defensive line only show up when they feel like it. Leaders like Brown and
Anthony Adams
brought/bring a type of professionalism and work ethic that has been missing from others in the post-Super Bowl years. Brown's departure in no way sinks the Bears season, but if the
Thomas Jones
trade taught us anything, it's that moving aside a proven, respected veteran isn't always the best decision. Teams like the
New England Patriots
and
Pittsburgh Steelers
can get away with it because they draft so well every year. The Bears on the other hand, are not the Patriots or Steelers.
Q: JD, this is kind of a follow up to Alex Brown being shipped out. I've read a lot of reports stating Henry Melton could be a starter next year. Is that true? Could Melton ease a loss of Brown? -- Paul, Downers Grove, Ill.
A:
This question needs to be answered in two parts. First, reports indicating the Bears -- especially Lovie Smith -- are fans of Melton are accurate. He has clearly shown them something since last fall that has the Bears convinced the former fourth-round pick can be a major contributor. However, I have to point out that I saw little from Melton last summer before he was placed on injured reserve. Maybe I was suffering from my annual case of Bourbonnais malaise, but I swore Melton was getting routinely pushed around by former Bears tight end
Fontel Mines
during practice. When I say pushed around, I mean being driven back like 7 yards, by Mines of all people -- no disrespect to Fontel.
So when I hear about these grandiose plans to move Melton inside to tackle, I have to wonder how he will hold up against bigger, stronger offensive guards. All that being said, I try to give every young player the benefit of the doubt, and I'll do the same with Melton. If the defense can get solid contributions from Melton and fellow second-year player
Jarron Gilbert
, then yes, that could ease the loss of Brown. But right now, that's kind of a big 'if'.
Q: All of you reporters keep hinting that Pisa Tinoisamoa is coming back to the Bears, but it hasn't happened. Why not? -- Morgan, Tinley Park, Ill.
A:
I'm actually surprised we haven't heard more teams around the league expressing interest in Tinoisamoa. Maybe there are questions about his durability -- he only played in two games last season -- but there shouldn't be any issues surrounding his ability. I know Bears fans didn't get a chance to see Tinoisamoa much in 2009, but trust me, this guy can play, and would be a valuable asset for the Bears this season. If you read this blog you know I'm very high on
Nick Roach
, who can do everything on the field. But bringing back Tinoisamoa only strengthens both the defense and special teams. The Bears already made Tinoisamoa a contract offer before the regular season ended, so hopefully it's just a matter of time before he's back in the fold.
Q: You clearly don't have a clue about talent evaluation if you don't consider Kevin Payne the best safety on the roster. Craig Steltz, Josh Bullocks, are you joking? Payne is the best of the group and should be a starter again next season. -- Chris, Little Rock, Ark.
A:
Payne is the best hitter of the bunch, but has limited coverage skills. There was a time in 2007 when I though Payne was going to be a star, but when he was moved to free safety, things sort of fell apart. He brings the hammer, but that's about it. Bullocks is probably the best safety on the roster, which really isn't saying much, and only illustrates how badly the Bears need to upgrade the position.
Danieal Manning
is the only guy who can cover, but he's been moved around so much it's tough to forecast his role. If you could combine Manning's speed with Payne's toughness in the box, you'd have one great safety. But this isn't a science project, it's football, so the Bears are going to have to go out and find safeties they can trust to tackle and cover. Finding the right parts is easier said than done, but it's imperative Lovie Smith finally gets some continuity at the position.
Q: I saw that Greg Olsen showed up Monday and seems to be happy, what does this mean now for other tight ends on the roster? -- Danny, Joliet, Ill.
A:
Olsen and
Brandon Manumaleuna
are locks to make the team, so if the Bears decide to only keep three tight ends, the decision comes down to
Desmond Clark
or
Kellen Davis
. If the Bears keep the best three tight ends, Clark is on the roster, but the NFL doesn't always work that way. Right now, I don't know what role Clark fills in Mike Martz's offense, and until some clarity is provided on the subject, it's safe to assume his status is shaky at best. It does seem silly the Bears would cut Clark after paying his roster bonus, but maybe the front office wanted to see how the whole Olsen thing played out before making any final determinations. If the Bears release Clark, I wouldn't expect him to stay unemployed for long, especially since ex-Bears tight ends coach Rob Boras landed in Jacksonville. Don't be surprised if the Jaguars express interest in Clark if he hits the street.
December, 30, 2009
12/30/09
4:39
PM ET
December, 23, 2009
12/23/09
4:07
PM ET
December, 6, 2009
12/06/09
5:38
PM ET
[+] Enlarge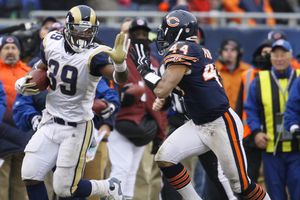 AP Photo/M. Spencer GreenKevin Payne had eight tackles Sunday in his first game back as the starting strong safety.
CHICAGO --
Kevin Payne
's return to the starting lineup at strong safety was a success, as the third-year defensive back displayed a knack for making plays in the box and in the passing game. Not only did Payne record eight tackles (second to
Jamar Williams
), he also broke up two passes and nearly had an interception late in the game.
"I'm not satisfied because there is always room for improvement," Payne said. "I just want to continue to get better, and do whatever I can to help this team win. That's always my goal. As a whole, the defense stepped up and play hard. We had a lot of success out there today."
"We felt that Kevin Payne being in the strong position and
Al Afalava
in the back would be the best combination for us to be successful today," Lovie Smith said.
He was right.
Steven Jackson
(112 yards rushing) was the only offensive threat for St. Louis, which got just 113 yards passing on 32 attempts from quarterback
Kyle Boller
. That's just terrible. For comparison sake;
Jay Cutler
threw for 143 yards on only 17 attempts.
December, 6, 2009
12/06/09
5:20
PM ET
[+] Enlarge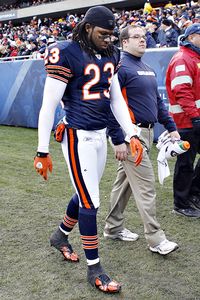 AP Photo/Nam Y. HuhDevin Hester left the game in the third quarter with a calf injury but he expects to be OK for the Packers.
CHICAGO -- It may have been an ugly game, but after losing four straight, the
Chicago Bears
will take any victory they can get -- even if it comes at the expense of the awful
St. Louis Rams
.
"It feels like it's been a long time,"
Jay Cutler
said. "It wasn't the prettiest game, but we pulled it out."
"It's amazing coming into the locker room after playing against the Rams,"
Tommie Harris
chuckled. "It's exciting to get an opportunity to get Monday off. We've been coming in the past month on a Monday and a Tuesday, so it'll be good to get a little time off."
This victory does nothing to change the plight of the organization, but at least it allows us to discuss a few positive things for the next few days --
Jamar Williams
,
Kevin Payne
,
Earl Bennett
,
Johnny Knox
and
Nick Roach
.
From a negative standpoint, the Bears made too many mistakes on special teams, especially the botched fake field goal in the second quarter."When you take a chance like that, we are looking to get more points," Lovie Smith said. "At the time, I thought our defense was playing pretty good, so if we didn't get any, at least we had them down on their end of the field."
The passing game also stalled after a promising start, likely due somewhat to Cutler re-aggravating the hand injury he initially suffered against the Eagles earlier in the season."I just dinged it a little bit," Cutler said. "I will be fine."
Devin Hester also expects to be OK after leaving the game with a calf injury he suffered on a third-quarter run play which resulted in a fumble that Hester recovered.With Hester out, Devin Aromashodu got extended playing time, but failed to record a catch.
December, 4, 2009
12/04/09
9:31
AM ET
CHICAGO -- Lovie Smith has once again changed up his secondary as the Chicago Bears prepare to face the St. Louis Rams Sunday at Soldier Field.


According to a league source, rookie Al Afalava is being switched to free safety on Sunday, while Kevin Payne is being inserted into the starting lineup at strong safety.

Read full story.