Chicago Bears:

Kevin Smith
August, 17, 2012
8/17/12
11:30
AM ET
In which we look ahead to two more nights of exciting Week 2 preseason action in the NFC North:
Detroit Lions

Opponent:
Baltimore Ravens
Location:
M&T Bank Stadium
Day/Time:
Friday/8 p.m. ET
Personnel notes:
The Lions continue to experiment with their arrangement in the defensive secondary, and
Jacob Lacey
is expected to start at cornerback with rookie
Bill Bentley
playing in nickel packages. … The first-team offense is looking to sustain some success after a scoreless preseason opener. ... Two prominent players who missed that game, receiver
Titus Young
(birth of child) and defensive end
Cliff Avril
(late camp report) are scheduled to play. … Coach Jim Schwartz grew up in Baltimore and was
tweeting cityscapes from his hotel room
Thursday evening. … The game will be televised nationally on FOX.
Focal point:
Tailback
Jahvid Best
appears likely to open the season on the physically unable to perform (PUP) list, once again placing an emphasis on depth behind
Mikel Leshoure
(hamstring) and current starter
Kevin Smith
. You would figure that
Keiland Williams
and
Joique Bell
will once again get a heavy workload.
Minnesota Vikings

Opponent:
Buffalo Bills
Location:
Metrodome
Day/Time:
Friday/8 p.m. ET
Personnel notes:
The Vikings held a number of veterans out of their preseason opener, but most of them are expected to play Friday night. The list includes defensive end
Jared Allen
, defensive tackle
Kevin Williams
, cornerback
Antoine Winfield
and receiver
Percy Harvin
. … You should also get your first look at rookie cornerback
Josh Robinson
. … Tailback
Adrian Peterson
(knee) returned to practice this week but won't play. … The Vikings are looking forward to seeing rookie place-kicker
Blair Walsh
's big leg in the still conditions of the Metrodome.
Focal point:
The most important task for the franchise is continuing to push the development of quarterback
Christian Ponder
, who made an encouraging 2012 debut last week. But almost as important is getting at least an even performance from backup
Joe Webb
, who hasn't had a good summer. The Vikings made Webb a full-time quarterback in the offseason, but if he falls short, he's too good of an athlete to cast aside.
Chicago Bears

Opponent:
Washington Redskins
Location:
Soldier Field
Day/Time:
Saturday/8 p.m. ET
Personnel notes:
Quarterback
Jay Cutler
will make his preseason debut, and the same is assumed for tailback
Matt Forte
and defensive end
Julius Peppers
. … The next installment of the Bears' left tackle drama is expected to include some first-team time for
Chris Williams
. The Bears want
J'Marcus Webb
to win the job, but at this point Cutler's safety is the primary goal.
Focal point:
Middle linebacker
Brian Urlacher
's knee surgery brings new scrutiny on the Bears' emergency plan at the position, which for the moment includes moving
Nick Roach
inside from the strong side and inserting veteran newcomer
Geno Hayes
on the strong side. Is that an arrangement the Bears could use if Urlacher is forced to miss regular-season time? Or do they need to find help from the outside?
April, 19, 2012
4/19/12
11:00
AM ET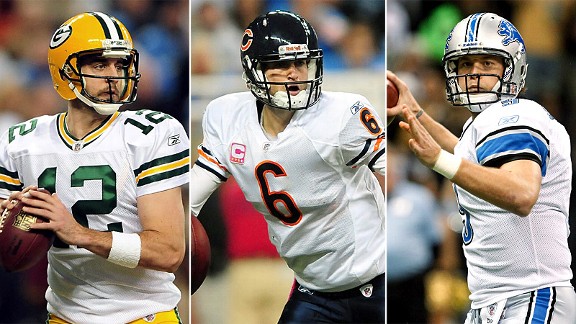 US PresswireThe NFC North is now ruled by quarterbacks Aaron Rodgers, Jay Cutler and Matthew Stafford.
Never has the NFC North's transition been more visible than on the final day of the 2011 regular season. On a snowy day at Lambeau Field, the
Green Bay Packers
and
Detroit Lions
combined for 103 passing attempts and 1,000 passing yards.
By the time the Packers
secured a 45-41 victory
, Lions quarterback
Matthew Stafford
had exceeded 5,000 yards passing for the season and Packers backup
Matt Flynn
had convinced the league he was a starting-caliber quarterback. Where once we could have expected the teams to grind out a classic Black and Blue game, they instead combined for a total of 37 carries. No running back made it to the modest total of 50 yards.
We've spent some time this offseason noting what we could politely call a tilt toward the passing game in both Detroit and Green Bay. We've discussed the
Chicago Bears'
seeming ambivalence
about signing tailback
Matt Forte
to a long-term extension, and we've pointed out the
Minnesota Vikings
'
uncertainty
as tailback
Adrian Peterson
rehabilitates his shredded knee.
If you looked at this division through a traditional lens, you could consider running back a significant draft need for at least half of the division, if not all of it. But the NFC North's frenzied quarterback acquisitions over the past few years have brought us to a precipice. Are we ready to jump off, once and for all, into the world of Air and Space? Or will our teams step away from that ledge and rebalance their personnel, if not their scheme, to double back on the running game?
As the NFL continues its push toward passing supremacy, it's hard to imagine any NFC North team making anything other than subtle changes. Why take the ball out of the hands
Aaron Rodgers
,
Jay Cutler
or Stafford? And why not give
Christian Ponder
every chance to take the next step in his development?
This offseason, we've heard the Vikings speak often about
seeking more playmakers for Ponder
. We've watched the Bears
sign
Michael Bush
as insurance against Forte's possible absence, but otherwise the Bears have worked to fortify their passing game with the acquisition of receiver
Brandon Marshall
and private meetings with many of the draft's top receivers, from
Michael Floyd
to
Stephen Hill
to
Alshon Jeffery
.
The Lions are the case study here, followed closely by the Packers. Injuries to
Jahvid Best
,
Mikel Leshoure
,
Kevin Smith
and the brain tumor of
Jerome Harrison
left them little choice but to rely on Stafford's arm last season. They finished 2011 with the second-fewest rushing attempts in the NFL, managed 71 rushing first downs (No. 29 in the league), according to ESPN Stats & Information.
Stafford told reporters this week that "everybody on our team would like to be a little more balanced than we were last year." It's reasonable to think they will be if Best and/or Leshoure are available full-time. But a serious commitment to improve would almost certainly require a draft investment. Best (concussion) has not been cleared for football work, Leshoure (Achilles) is coming back from a serious injury for a running back, and Smith has had difficulty staying healthy throughout his career.
How much do the Lions value that balance? We should find out over draft weekend. Again, most of us would look at their roster and toss question marks all over their backfield. But in 2012, how important is it to have an established and traditional No. 1 running back?
"We want to score as many points as we can," coach Jim Schwartz said at the NFL scouting combine. "Whether you do it running or passing, it doesn't matter. I think you want to try to get the ball in playmakers' hands."
In the end, the Lions might be best-served by pursuing a more modest goal: Being in position to capitalize against imbalanced defenses. Dictating a game on the ground might well be an NFC North artifact.
"If teams take the approach of playing the pass first," Schwartz said, "we should be in the position of having running backs who can make them pay for that."
Yes, there is a more than reasonable argument to be made that you don't need an elite running back when you have elite quarterbacks and receivers. A competent running back who doesn't miss the obvious yards might well suffice.
I don't know if the Lions, or the Packers for that matter, will invest a high draft pick in a running back. None of us do. But is it necessary? Probably not, at least not in our new Air and Space division. Soon we'll know how far off the cliff we've fallen.
February, 17, 2012
2/17/12
12:56
PM ET
Our friends at Football Outsiders have put together a series previewing each NFL team's offseason needs, using their unique statistical analysis to support their assertions
. Football Outsiders' work

requires an Insiders subscription to view in full, a contradiction that always elicits a giggle from
NFC East colleague Dan Graziano
. But I'm authorized to provide you a snippet from each of our teams. Herewith:

Chicago Bears:
Most everyone has the Bears pegged to pursue wide receivers in free agency and/or the draft, and Outsiders doesn't discount that possibility. But based on its analysis of the Bears' 2011 season, offensive tackle should be the Bears' top priority. Left tackle
J'Marcus Webb
allowed 10 sacks and was "among the worst [left tackles] in the league." The Bears' running game, meanwhile, was stuffed for a loss or no gain on 24.1 percent of its runs, a "catastrophic" figure blamed mostly on poor run blocking.

Detroit Lions:
Like the Bears, Outsiders thinks the Lions need to upgrade their offensive line more than anything else. Based on Outsiders statistics, the Lions had the second-worst run-blocking offensive line in the NFL in 2011. Center
Dominic Raiola
and right guard
Stephen Peterman
were particularly to blame. Outsiders' analysis suggested that running backs
Jahvid Best
and
Kevin Smith
actually had above-average seasons based on the yardage available to them.

Green Bay Packers:
We all know the Packers need more pass rush; Outsiders ranked them last in the NFL in its adjusted sack rate (ASR) in 2011. Outsiders' analysis suggests the pass rush would improve if the Packers focus their upgrade efforts along the defensive line, giving it better push up front but also opening up lanes for linebacker
Clay Matthews
.

Minnesota Vikings
: Perhaps "the worst secondary in the league." That should tell you all you need to know. Here's one of many sobering statistics from 2011: Cornerback
Cedric Griffin
allowed an average of 10.5 yards on every pass thrown in his direction, and teams had a 38 percent success rate against him. Both totals were among the bottom five of all cornerbacks in Outsiders' statistical study.