Chicago Bears:

Kyle Orton
September, 12, 2013
9/12/13
5:25
PM ET
LAKE FOREST, Ill. – Retired middle linebacker
Brian Urlacher
revealed in a
Yahoo! Sports interview
that
Chicago Bears
quarterback
Jay Cutler
was the only ex-teammate who failed to reach out to Urlacher after he retired on May 22, even though the Bears legend described himself as one of Cutler's most vocal supporters in the last several years.
"Well, I did not hear from Jay, out of all the guys I played with, but that's just – maybe we weren't as close as, like you said, as we could have been," Urlacher said. "That's just the way to let you know where you stand with people. But it's not his job to text me, maybe that's not his thing. That's fine. That's the way it is. I felt like I stood up for him more than anyone else did over the last three or four years in the media. I feel bad for the guy, he takes a lot of grief from the media too."
Cutler responded to Urlacher's comments on Thursday during his weekly press conference at Halas Hall.
"No, I haven't spoken to Brian," Cutler said. "I did not call him. I guess I'll reach out to him."
[+] Enlarge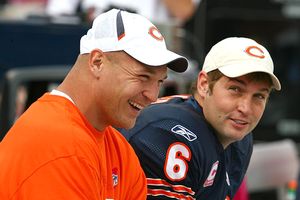 Jonathan Daniel/Getty Images"Maybe we weren't as close ... as we could have been," retired Bears linebacker Brian Urlacher (left) said of his relationship with Jay Cutler.
Denver traded Cutler to the Bears in April 2009 in exchange for a pair of first-round draft choices, a third-round pick and quarterback
Kyle Orton
.
Urlacher admitted that he initially had reservations about the club trading for Cutler because Orton had led the Bears to nine wins the previous season, throwing just 12 interceptions in 465 pass attempts.
"It was a tough situation with him coming in because we gave up two first-round picks to get him," Urlacher said. "We got rid of our quarterback at the time, Kyle Orton, who I didn't think needed to be traded in the first place. I thought he was our guy. We won games with him. He did the things as a defensive player you needed: He didn't turn the football over. He gave us a chance to play defense. So I was mad when they traded him in the first place. I didn't understand it.
"I was also excited. We got a quarterback that could possibly take us to the Super Bowl. Jay Cutler is a first-round pick, had a great arm, etcetera. It's just – he's offense, I'm defense. We didn't get a chance to interact as much as we should have, maybe."
Urlacher denied a report that he and Cutler had to be separated during an argument in 2009, the quarterback's first year in Chicago.
"No. I heard that too," Urlacher said. "That was early. That never happened. I never had an altercation with my teammates in the locker room. In practice, we fight all the time. Jay and I never fought in practice. We talked a lot just to keep practice interesting. We never had to be separated in the locker room. I don't know where that came from or who made that up. But there was never anything even close to that."
Urlacher also squashed a rumor that Cutler had played a role in the Bears' decision to break off contract talks with Urlacher in the early stages of free agency. Urlacher stated that if the Bears had made him an initial offer, instead of requiring his agent to submit a contract proposal in the exclusive negotiating window in the days leading up to the start of free agency, that he would still be on the field playing for the Bears in 2013.
"In the end, that's the Bears' decision," Urlacher said. "Phil Emery is the one who makes that decision. Phil Emery makes all personnel decisions, according to him. That's what he says. It was his decision not to bring me back. Not Jay's or anyone else's. In the end, Phil had the final say on it."
March, 12, 2012
3/12/12
8:58
AM ET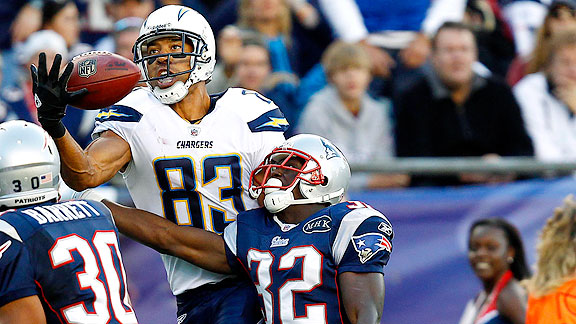 Mark L. Baer/US PresswireVincent Jackson is the big free agent prize among wide receivers. Will the Bears be big players?
Where they stand:
The
Chicago Bears
lead the NFC North in available cap room, sitting on approximately $30 million. But it's important to note that cap room shouldn't be viewed as a blank check; especially when considering the Bears would likely be looking to extend several of their core players with contracts ending in the next couple of years. While upgrades on offense seem most logical of potential Bears moves during free agency, given the need to surround quarterback
Jay Cutler
with more weapons, it's believed that coach Lovie Smith wants to revamp a defense led by four Pro Bowl players -- linebackers
Lance Briggs
and
Brian Urlacher
, cornerback
Charles Tillman
and defensive end
Julius Peppers
-- older than 30.
NEED-METER
[+] Enlarge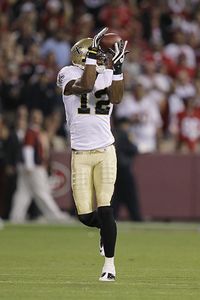 AP Photo/Marcio Jose SanchezMarques Colston is among the second tier of free agent receivers who could be options for the Bears.
Receiver:
10.
To be fair, the position didn't appear as much of an area of need when the team ripped off a 7-3 start. Obviously, Cutler played a significant role in that. Over the first 10 games, Chicago's receiving corps averaged 11 catches per outing. Once Cutler and running back
Matt Forte
suffered injuries that took them out of the lineup, the receivers' production dipped to eight catches per game.
A dominant slot receiver,
Earl Bennett
became the club's go-to option in the passing game with Cutler out of commission. Teams quickly recognized, and adjusted coverage accordingly, leading to Bennett catching one pass or fewer in five of his last six games. Johnny Knox's horrific back injury against the
Seattle Seahawks
further exposed this team's deficiencies at receiver.
So with a major need clearly defined at the position, the question now is how the team proceeds in free agency and the draft.
It's believed the Bears plan on making a run at San Diego receiver
Vincent Jackson
in free agency, and sources have confirmed as much. But if Jackson commands what several agents expect to be a salary in the $12 million-per-season range, it's unlikely new general manager Phil Emery would continue the team's pursuit, based on his stated preference of building through the draft, which signifies he's not a proponent of spending lavishly in free agency.
So surely the team has a few secondary and less-expensive options in mind, such as
New Orleans Saints
receivers
Marques Colston
and
Robert Meachem
, or
Reggie Wayne
and
Pierre Garcon
of the
Indianapolis Colts
. Given their youth and physical attributes, Meachem (just 11 dropped balls over four seasons) and Garcon would appear to be the best fits. Colston averaged just 3.2 yards after catch in 2011, according to Pro Football Focus. That doesn't necessarily jibe with the explosive passing game the Bears envision in 2012. Wayne, meanwhile, is coming off his first season since 2003 in which he didn't gain 1,000 yards receiving.
According to a source, just Wednesday, seven teams (the Bears weren't one of them) expressed interest in Meachem; a list sure to grow as free agency approaches.
December, 2, 2011
12/02/11
12:40
PM ET
»
NFC Final Word
:
East
|
West
|
North
|
South
»
AFC
:
East
|
West
|
North
|
South
Five nuggets of knowledge on Week 13:
Closing in:
The
Green Bay Packers
have a great chance to clinch a playoff spot Sunday, regardless of what happens in their game at the
New York Giants
. (It can happen with a Packers victory, or a loss by one of the following teams: the
Chicago Bears
,
Detroit Lions
or the
Atlanta Falcons
.) The Packers can also clinch the NFC North with a victory combined with a Lions loss to the
New Orleans Saints
. Even if they lose to the Giants, losses by the Lions and Bears this weekend would hand the division to the Packers. And then the real fun begins. The Packers' next goal would be to secure home-field advantage throughout the playoffs and, possibly, a 16-0 regular season.
History:
The Giants have lost three consecutive games and aren't expected to have defensive end
Osi Umenyiora
(ankle/knee) for this game. The Packers, meanwhile, have won 17 consecutive games, including the playoffs. But optimism in New York for an upset has centered, in part, on the Giants' history in such situations. On three occasions, the Giants have snapped an opponent's winning streak of 18 or more games. They beat the
New England Patriots
in 2004, the
Denver Broncos
in 1998 and the Chicago Bears in 1934. With that said, nothing has happened lately to suggest that these Giants are in position to make it a fourth time -- other than the fact that previous incarnations of their teams have pulled it off.
Must win:
Let's be blunt: If the Bears want to participate in the 2011 postseason, they'll need to beat the
Kansas City Chiefs
at Soldier Field. The Chiefs have lost four consecutive games and are expected to start quarterback
Tyler Palko
, who has thrown six interceptions in the Chiefs' past two games. The other alternative is former Bears quarterback
Kyle Orton
, who has spent a week with the team. The Bears are 5-1 and are averaging 31.3 points per game at home this season, their only loss coming in Week 3 to the Packers. There is a general assumption that quarterback
Caleb Hanie
will settle down for his second NFL start, but the Chiefs' poor perimeter run defense could help tailback
Matt Forte
gobble up yards outside the tackles. (The Chiefs are allowing 5.7 yards per rush outside the tackles.) No matter how it happens, the Bears can't afford a loss Sunday.
Tough to win:
As we noted earlier Friday
, the Lions will have their work cut out for them Sunday night in stopping the New Orleans Saints' offense, which is particularly explosive at the Superdome. To be fair, it's worth noting that the Lions have a decent opportunity to score against the Saints' risk-taking defense. The Saints are giving up the sixth-most passing yards per game in the NFL this season (253.7) and have only six interceptions, tied for the second-lowest in the league. The fractured right index finger of Lions quarterback
Matthew Stafford
has healed, and the Lions at least have the capacity to exchange blows in a shootout.
Defending Tebow:
The
Minnesota Vikings
' beleaguered secondary will get something of a break this week against Denver Broncos quarterback
Tim Tebow
. The Vikings will be without four of the top five defensive backs they opened the season with, and on Sunday rookie
Mistral Raymond
will make his first NFL start. But the Broncos rarely throw downfield with Tebow and instead focus on their option running game. The Vikings will need to pay particular attention when Tebow is in the spread formation; the Broncos are averaging 6.5 yards per rush and have five rushing touchdowns when Tebow is in the shotgun.
November, 28, 2011
11/28/11
3:57
PM ET
Embattled coach Kansas City Chief coach Todd Haley said Monday that
Tyler Palko
remains the starting quarterback, but he acknowledged that former Bear
Kyle Orton
will be given every opportunity to win the job before Sunday's game at Chicago.
Read the entire story
.
November, 28, 2011
11/28/11
1:22
PM ET
LAKE FOREST, Ill. -- Chicago Bears cornerback Charles Tillman said Monday if the Kansas City Chiefs start recently acquired quarterback Kyle Orton on Sunday at Soldier Field, it likely will be a condensed game plan and a challenge for Orton.
Read the entire story.
November, 22, 2011
11/22/11
3:10
PM ET
By
ESPN.com news services
November, 22, 2011
11/22/11
2:15
PM ET
LAKE FOREST, Ill. -- The
Denver Broncos
announced the release of quarterback
Kyle Orton
on Tuesday, and sources familiar with the situation said the
Chicago Bears
plan to put in a waiver claim to facilitate a potential reunion, adding the team is also interested in former Arizona Cardinal's third-round pick
Josh McCown
.
Read the entire story
.