Chicago Bears:

LeSean McCoy
December, 19, 2013
12/19/13
10:00
AM ET
The
Philadelphia Eagles
have found themselves in the middle of the NFC North race as much as the NFC East race over the past month. Sunday night's game against the
Chicago Bears
is their third game in a row against an opponent from the North.
Two weeks ago, the Eagles and Bears helped each other out. Chicago defeated the
Dallas Cowboys
, pushing the Eagles into first place in the East. The Eagles beat the
Detroit Lions
, opening the door for the Bears in the North.
They won't be helping each other this week. ESPN.com Bears reporter Michael C. Wright and Eagles reporter Phil Sheridan discuss some of the issues facing both teams.
Sheridan:
Like the Eagles, the Bears survived this season when a backup quarterback took over and played unexpectedly well. Unlike the Eagles, who stayed with
Nick Foles
, Chicago went back to
Jay Cutler
and sent
Josh McCown
to the sideline. So, Michael, how is that scenario playing out in the locker room, on the field and among the fans?
Wright:
The reaction is quite a bit different between the fans and the players, obviously. In the immediate aftermath of Cutler's ankle injury on Nov. 10 against Detroit, Bears coach Marc Trestman told the team and the media that Cutler would be the starter again as soon as he was medically cleared to play. The coach never wavered on that declaration, and that was apparent even among the players during McCown's incredible four-game run. In answering questions about McCown during that stretch, Trestman and the players seemed to temper the compliments regarding the backup, making it a point to state that Cutler was still the starter once he would be able to return to action. So within the locker room, the message was always that Cutler would return, but among the fan base, as McCown flourished, the call to make him the permanent starter grew louder regardless of what Trestman and the players said on the record. Cutler certainly helped himself by bouncing back from a bad start at Cleveland to throw for three touchdowns in a win, but there's certainly a segment of the Chicago fan base still calling for McCown to be the man under center.
Phil, Chicago's defense simply can't stop the run, so
LeSean McCoy
is poised to have a pretty big game if the Eagles decide to feature him. What was the deal with McCoy running the ball just eight times against the
Vikings
?
Sheridan:
That was one of the head-scratching strategies Chip Kelly deployed Sunday. It was like stepping into a time machine and watching an Andy Reid-coached game. Kelly's explanation was simple enough: The Vikings were missing four cornerbacks and the Eagles thought they could exploit the inexperienced backups. Then, he said, the Eagles fell behind and had to throw, but McCoy had run for 217 yards the week before, mostly in the second half as the Eagles staged a comeback win. Ultimately, there is no explanation or excuse for eliminating a weapon as dangerous as McCoy from your offense. That's supposed to be the defense's job.
The Eagles did a better job against
Larry Fitzgerald
and
Calvin Johnson
in recent weeks than against the Vikings' deeper, less star-studded receiving corps. How much more dangerous are the Bears now that
Alshon Jeffery
has emerged alongside
Brandon Marshall
? Is Jeffery even better at this point?
Wright:
In the past, teams focused most of their game plan on shutting down Marshall. That involved double-teams and shading coverage over to his side. Teams are now finding they can't do that anymore because if you double Marshall, you put Jeffery in one-on-one matchups that he's going to win the majority of the time. The Bears say teams are now starting to mix it up against those receivers, which makes it important for Cutler to be able to quickly recognize the coverage and distribute the ball accordingly. I wouldn't say Jeffery is the better receiver overall at this point, but I will say that he tracks the ball in the air better than anybody else on Chicago's roster, which has allowed him to make some unbelievable grabs in contested situations. I'd say one player to watch is No. 3 receiver
Earl Bennett
. With all the focus on Marshall and Jeffery, the Bears have made it a point in recent weeks to involve Bennett more in the offense. Remember, Bennett played college football with Cutler at Vanderbilt, so there's chemistry. Bennett has hauled in a touchdown in each of the past two games.
How will Philadelphia's secondary look on Sunday? I know the Eagles are banged up, causing something of a musical-chairs effect in the secondary. At this point, do you know which guys the Eagles will have available to face Marshall, Jeffery and tight end
Martellus Bennett
?
Sheridan:
We don't know yet, Michael. The larger problem is that, even when everyone is healthy, the Eagles' secondary isn't equipped to handle a receiving corps as deep and talented as the Bears' is. The Eagles have the 31st-ranked pass defense for a reason. During their five-game winning streak, they were able to give yards but minimize points allowed by forcing turnovers and playing well in the red zone. That formula fell apart in Minnesota. As for the injuries, the biggest loss would be nickel corner
Brandon Boykin
, who leads the team in interceptions and is a very good cover guy. It looks like rookie safety
Earl Wolff
will be back after missing four games with a knee injury, but it remains to be seen how effective he'll be after missing that much time. If the Bears go three or four wide, the Eagles will be hard-pressed to match up with all those weapons. Their best hope would be to pressure Cutler, but they have struggled against guys who get the ball out as quickly as he does.
There's a chance linebacker
Lance Briggs
returns Sunday night. What impact would that have on Chicago's defense? Can the Bears clamp down on the Eagles or is this thing destined to be a shootout like their win over Dallas two weeks back?
Wright:
I see this one being a shootout. I think Briggs will have an impact on the defense in terms of making sure the calls get in quickly and the defense is lined up correctly. Briggs should also be an upgrade over rookie
Khaseem Greene
, who has filled in on the weak side over the past seven games. But Briggs has been on the shelf for a month and a half, and there's no way he's in football shape yet. So you have to wonder how much he will actually be able to contribute from a physical standpoint. If Briggs plays like the Briggs we all know, then Chicago will have a much better shot at controlling Philadelphia's rushing attack, but I'm not sure he'll return as that guy. So let's count on a shootout. The team with the defense that gets that one or two key stops down the stretch will be the team that comes out on top.
Early in the season, Philadelphia's frenetic pace seemed to be the next new thing, the revolution. Now that the Eagles have basically an entire season under their belts, how have teams adjusted to their pace on offense? Is it still as big an advantage as it seemed to be early in the season?
Sheridan:
It has been an effective tactic at times. The up-tempo approach is one of the reasons Foles replaced
Michael Vick
as the No. 1 quarterback. Vick is obviously a bigger threat in the read-option, but Foles is more comfortable with the pace Kelly likes. Hard to blame Vick, who had a career's worth of offensive football to unlearn. But the pace can hurt the Eagles, too. When they have a couple of three-and-outs in a row, as they did against the Vikings, their defense is back on the field way too quickly. And when a team moves the ball as well as the Vikings did, the defense wears down. It was useless by the fourth quarter. The Eagles defense has been on the field for more plays than any team in the NFL. That is partly a side effect of Kelly's up-tempo offense.
November, 7, 2011
11/07/11
9:30
AM ET
November, 4, 2011
11/04/11
3:24
PM ET
LAKE FOREST, Ill. -- From a personnel standpoint, the 2011
Philadelphia Eagles
offense is very similar to the group the
Chicago Bears
faced last year at Soldier Field.
From a scheme standpoint, Bears' defenders have noticed a major change in the way Philadelphia conducts its running game.
[+] Enlarge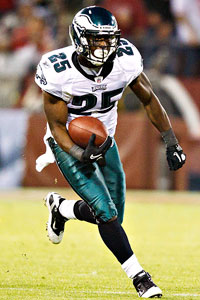 Jason O. Watson/US PresswireLeSean McCoy, who is second in the NFL with 754 yards, is averaging 5.6 yards a carry.
The Eagles' run-blocking philosophy shifted when the organization hired veteran offensive line coach Howard Mudd in early February. Mudd, who retired for one season following the 2009 campaign, spent 12 years with the
Indianapolis Colts
(1998-2009) where he developed the reputation as one of the league's top offensive line coaches.
Mudd brought the same blocking concepts to Philadelphia that he used in Indianapolis, the scheme that helped
Edgerrin James
win two rushing titles while a member of the Colts.
Before he began his coaching career, Mudd was a three-time Pro Bowl guard who played three seasons in Chicago from 1969-1971.
"They do a lot of zone type running like they used to do with Edgerrin James when he was on the Colts," Bears defensive tackle
Anthony Adams
said Friday. "They do a lot of boots off it, draws off it, and try to make everything look the same. They've had a lot of success with it lately."
The main benefactor of the Eagles transition to a zone blocking team has been tailback
LeSean McCoy
, who is second in the NFL with 754 yards on 135 carries. The Eagles come into the game on Monday night with the No. 1 rushing offense (179.9) in the NFL after seven games.
"He's more of like a cut-back runner, he'll make you miss in space," Adams said. "The key with stopping him is to get him before he can get started, before he can make a cut. You need to put a lot of guys around him, almost like a triangle, because he's probably going to make one guy miss. It's a team effort. Everybody needs to get to the football and gang tackle."
McCoy draws comparisons to
Matt Forte
because of the way both players can catch the ball out of the backfield. The Eagles' third-year back is fifth in the NFL in yards from scrimmage (892), roughly 200 yards fewer than league leader Forte (1,091). McCoy, who is averaging 5.6 yards per carry, rushed for season-high 185 yards in Philadelphia's victory over Dallas last Sunday night.
"He's got quick feet and gets to that hole fast," Bears linebacker
Lance Briggs
said. "He gets through the hole fast and gets to that second level. [He] puts his head down ... for a smaller, faster guy he puts his head down."
After surrendering large rushing gains earlier in the year to Atlanta's
Michael Turner
and Detroit's
Jahvid Best
, the Bears' run defense has improved since the Monday night loss in Detroit on Oct. 10. That aspect of the defense will no doubt be challenged against the Eagles.
"We just didn't play well [in those earlier games]," Bears middle linebacker
Brian Urlacher
said. "The last couple of games we've gotten in our gaps and tackled well. I think we were up in most of those games, too. It's hard to run the ball when you are down. The rushing attempts will naturally go down."
November, 4, 2011
11/04/11
12:30
PM ET
»
NFC Final Word
:
East
|
West
|
North
|
South
»
AFC
:
East
|
West
|
North
|
South
Five nuggets of knowledge on Week 9, which includes byes for the Detroit Lions and Minnesota Vikings:
History and matchups:
For weeks, national discussion has centered on whether the
San Diego Chargers
might serve up the
Green Bay Packers
' first loss of the season. Analysis of the matchup suggests otherwise,
as we discussed Thursday
. So does history. The Packers have never lost in San Diego, crafting a 5-0 record since the series began in 1970. Coach Mike McCarthy, meanwhile, has never lost to an AFC West team in five games. Those facts hardly make this game a lock, but they tell us that historically and recently, it's not been a shock for the Packers to play well in unfamiliar environments or against rarely faced teams. The Packers are hoping to become the third Super Bowl champion to open the following season 8-0. Three of the Chargers' four victories have come against the Vikings (2-6),
Miami Dolphins
(0-7) and
Denver Broncos
(2-5).
[+] Enlarge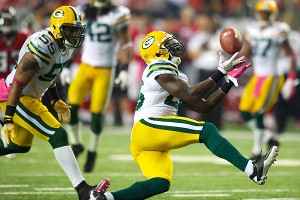 Dale Zanine/US PresswireSan Diego's Philip Rivers, who has thrown 11 interceptions, needs to be careful against the Green Bay defense, which has picked off 13 passes.
Pass defense:
Chargers quarterback
Philip Rivers
is averaging 297 yards passing per game, but he's also thrown an NFL-high 11 interceptions in seven games. That performance would seem to fit into the wheelhouse of the Packers' defense, which is giving up the second-highest average of passing yards per game (289) but is one off the league high with 13 interceptions. The Packers have intercepted at least two passes in each of their past five games, the most efficient run in the NFL over the past 10 years. Rivers likes to let it fly, but this season at least, he's not getting away with it. Nine of his 11 interceptions have come against an opponent's nickel or dime defense, which the Packers play about 75 percent of the time.
Stopping the run:
There has been
plenty of discussion
about the
Chicago Bears
' matchup against
Philadelphia Eagles
quarterback
Michael Vick
, who is 0-4 against the Bears in his career. But you wonder if Eagles running back
LeSean McCoy
isn't the Bears' biggest obstacle to victory. McCoy leads the NFL with an average of 107.7 yards per game and has scored at least one touchdown in each Eagles game this season. The Eagles crushed the
Dallas Cowboys
' otherwise stingy run defense for 239 yards last week and are the NFL's best running team through eight weeks. The Bears have had trouble stopping the run this season; opponents are averaging 5.2 yards per carry against them, the second-highest total in the league.
Road woes:
The Bears' two games this season at the home fields of opponents have been disasters. The
New Orleans Saints
ran them out of the Superdome in Week 2, and the Bears self-destructed in a Week 5 loss to the Detroit Lions. Lincoln Financial Field isn't likely to be as loud as the Superdome or Ford Field, where the Bears committed nine false start penalties, but it can still treat opponents rudely. The top candidate to be affected? Let's go with left tackle
J'Marcus Webb
, who ranks fourth in the NFL with eight penalties this season. He's been called five times for a false start, twice for holding and once for illegal formation.
Hester factor:
The Bears'
Devin Hester
has an NFL-record 16 kickoff/punt returns for touchdowns in his career. Five have come in seven career Monday night games, most recently last December at the Vikings. We're not saying anything here. We're just saying.
November, 2, 2011
11/02/11
4:16
PM ET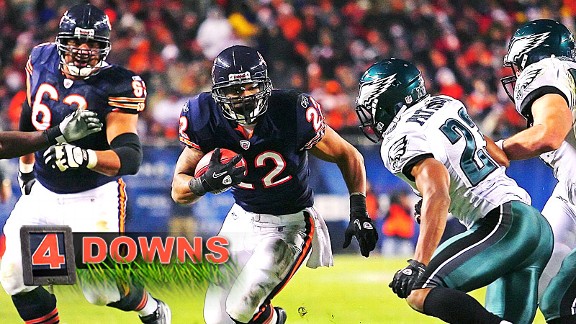 Dennis Wierzbicki/US PresswireMatt Forte has 194 rushing yards in three career contest against the Eagles.
As the Bears come off their bye week to take on the
Philadelphia Eagles
, our Four Downs panel weighs in on this week's contest and the season outlook:

Fact or Fiction: The Bears' 2011 4-3 start to the season is better than the 2010 version.
Jeff Dickerson: Fact. The 2010 Bears limped into the bye week after consecutive home defeats to Seattle and Washington, which marked the low point of the season. This year the annual bye weekend came following wins against Minnesota and Tampa. Compared to last fall at this time, the Bears appear to be in better shape. Whether or not they can rip off five consecutive post-bye wins like in 2010 remains to be seen, but the vibe around Halas Hall is much different than last year. The only real negative is the Bears 1-2 record in the NFC North, compared to 2-0 after seven games the previous season.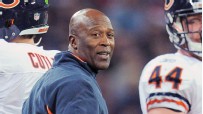 Kyle Terada/US Presswire
Michael C. Wright: Fact. The Bears limped into the bye week in 2010, losing three of four; while this year's team is on a two-game winning streak. Last season, there were questions about the run-pass ratio, and Jay Cutler's protection (he'd been sacked 19 times in three games going into the bye). Running back Matt Forte had gained 100 yards in just one of the first seven contests, and rushed for more than 50 yards just once. But none of those are concerns coming out of this year's bye. Certainly the defense hasn't performed at its normal high level, but given the group's experience and some of the adjustments made by the coaching staff, better days are on the horizon. It's also important to note that the entire roster -- for the first time all season -- is now fully healthy, which should pay dividends down the stretch.
Melissa Isaacson: Fact. Better in every major offensive category statistically, certainly that side of the football is better this season. The offensive line a little more stable (which isn't saying much); Forte exceeding the high expectations everyone had for him; and Cutler has overcome some weak protection and is generally running the offense more efficiently. Defensively, the 2010 team carried the Bears most of the season. But the Bears went into the bye this season with more momentum (two wins vs. two losses) and seemingly just as much to build upon.
Jon Greenberg: Fact. In 2010, we still didn't know what to make of the Bears. At the bye, their future was unknown. Yes, unlike this edition, the 2010 Bears started 4-1 before a two-game skid, but their offensive problems were beguiling. Those Bears straightened things out, but at the time, we just weren't sure how it would happen after the bye. These Bears, well, we don't know what to make of them either, but at least they've proved that they can beat the bad teams and the ones at their level. It's the great teams that have been the problem, a sure sign of a wild-card hopeful. We know what works with the offense, and we've already seen the worst of the offensive line. I feel more sure of what this team is capable of doing.
---

Fact or Fiction: The Bears' game plan should center around stopping LeSean McCoy, not Michael Vick.
Jeff Dickerson: Fact. Vick is a tremendous player, but the Bears historically have kept him in check. If McCoy goes off on Monday night, the Bears will have a tough time improving to 5-3. The key to stopping Vick is to keep him in the pocket and pressure him with the front four, while the safeties drop deep to eliminate the deep pass plays down the field. That strategy won't work if McCoy begins to hurt the Bears for big chunks of yards on the ground. If that happens, the safeties will be forced to pinch up, which could lead to disaster. If the Bears stop McCoy, and protect the ball on offense, they should be able to knock off Philadelphia.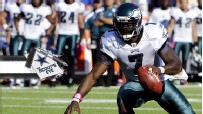 Richard Mackson/US Presswire
Michael C. Wright: Fact. The main objective for Chicago's defense -- regardless of the opponent -- is to snuff out the run first, and force a team to win the game through the air. By shutting down the run, the Bears know they can easily make teams one dimensional/predictable. Once that happens, defensive play calling is no longer a chess match for Rod Marinelli. At the same time, the defense can play faster because it's not burdened by run responsibilities because the front four is rushing the passer, while the back seven drop back in coverage.
Melissa Isaacson: Fact. It's always a good start -- run effectively and stop the run. And considering the fact that McCoy, coming off an 185-yard rushing game, has carried the ball 58 times in the Eagles' last two games for a combined 311 yards, not to mention his 107.7 yards on the ground per game and 5.6-yard average per carry, stopping him would go a long way toward stopping the Eagles. If you can contain Vick on the ground, he is capable of the bad game and the Bears have proven that.
Jon Greenberg: Fiction. Controlling Vick is the key, and the Bears know this, which is why they've had success against him. Now, especially with these starting safeties, the Bears really need to worry about Vick throwing the ball deep to Jeremy Maclin and DeSean Jackson, and down the middle to Cover-2 breaker Brent Celek. They also need to keep Vick from piling up yards. It's not an all-or-nothing with Vick and McCoy. The Bears need to gameplan for both, but it's a lot easier to stop a great running back when you've flustered the game-breaking quarterback.
---

Fact or Fiction: Jay Cutler would be a much better quarterback in the Eagles' offense.
Jeff Dickerson: Fact. Not only would Cutler have weapons like Jackson, Maclin, Celek and McCoy, he would also get to work with Reid. Say what you want about Reid's inability to win a Super Bowl, he knows offense and how to work with quarterbacks. Cutler would be in much better hands with Reid and Eagles offensive coordinator Marty Mornhinweig, than he is here in Chicago.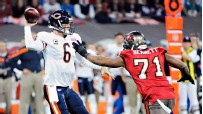 Richard Mackson/US Presswire
Michael C. Wright: Fiction. This isn't a fair hypothetical situation for Cutler, but I'll play along. If you look at the first seven games, Vick hasn't even performed at a perennial Pro Bowler's level in the Eagles' offense. So how/why would Cutler? Undoubtedly the most mobile quarterback in the NFL, Vick has been sacked 12 times, thrown eight interceptions and has fumbled eight times, losing three. Vick works with more weapons than Cutler, for sure. But if Philadelphia's offensive line can't prevent the game's most elusive quarterback from taking 12 sacks, what would it do for Cutler, who isn't as mobile? Philadelphia's scheme is better suited for Cutler's skill set than Chicago's. But several factors come into play here such as the market, team chemistry (would teammates embrace the standoffish Cutler?), potential relationship with the coaching staff (would Reid put up with Cutler cursing at a coach?) that really make this unfair to try to gauge.
Melissa Isaacson: Fiction. Why? Because the Eagles have Brent Celek at tight end, and Jackson, Maclin and Jason Avant as their receiving corps? They're a strong group, no question, but Philly's o-line has been slow to click and Michael Vick hasn't had the easiest time of it. Andy Reid has been accused of not running a balanced offense. Regardless of Cutler's talent, being a Pro Bowl quarterback isn't exactly an easy feat to pull off.
Jon Greenberg: Fact. The Eagles are the kind of team a quarterback dreams about, with Jackson and Maclin, Celek and McCoy. The offensive line has only given up 10 sacks this season, though Vick might have something to do with that. Maybe it's just age catching up with him, or bad teams, but Donovan McNabb's post-Eagles career has been a train wreck. For all his faults, Reid put McNabb into a good situation to succeed. Cutler would look great in Eagles green.
---

Fact or Fiction: I'd rather have Matt Forte than LeSean McCoy as my running back.
Jeff Dickerson: Fact. You really can't go wrong with either guy. Forte gets the nod because he's shown the ability to carry the load on offense almost entirely by himself. McCoy has the luxury of being part of an offense with proven playmakers Vick, Jackson, Maclin and Celek. That's not meant to diminish what McCoy has accomplished over two and a half seasons in Philadelphia, he's a special player, but opposing defenses are forced to worry about stopping several things when they face the Eagles. When teams play the Bears, it's about stopping Forte, which nobody has really done besides Mike Martz.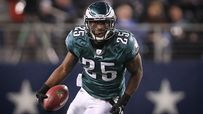 Matthew Emmons/US Presswire
Michael C. Wright: Fact. This is another difficult one to gauge. McCoy averaged 5.2 yards per carry in 2010 and 4.1 as a rookie, and has caught 68 fewer passes than Forte -- who has never averaged better than 4.5 yards per carry through an entire season -- despite playing one year less. The difference in my mind is that Forte has put forth the majority of his production without the benefit of: A). A decent run-blocking offensive line most of his career; and B). A strong supporting cast of offensive weapons. Forte has pretty much done most of his damage to defenses alone. McCoy, meanwhile, is surrounded by a bevy of dangerous weapons (Maclin, Jackson, Celek -- even Vick is falls into the "weapons" category) that take off some of the pressure and make Philadelphia's offense unpredictable. When teams face the Bears, the first two objectives are to stop Forte in the rushing game and to stop him as a receiver. But nobody has enjoyed consistent success at either, which makes Forte my running back in this debate.
Melissa Isaacson Fact. Tough one, but hard to ever argue against having Forte. Though he's a bit older than McCoy (25 to 23), he is a more polished back just coming into his prime and at this point is a better receiver. You know what you've got with Forte. McCoy does have 10 touchdowns this season to Forte's three and is no doubt an incredible talent. McCoy is also very durable and like Forte, has sure hands (neither have a fumble this season). But again, Forte has shown he is capable of carrying an offense and tough to bet against him.
Jon Greenberg: Fiction, but not by much. McCoy has more rushing yards per game (107.7-96) and grades slightly above Forte by the Football Outsiders' statistical estimations -- always a good tiebreaker when the eye tests fails to discern a true separation (they both average around 5.5 yards per game). But really, both are great. Perhaps the greatest defining factor in choosing between the two is age. McCoy is a couple years younger, which in the NFL, means a lot.