Chicago Bears:

Louis Delmas
March, 17, 2014
3/17/14
8:00
AM ET
On the eve of free agency last week, our four NFC North reporters -- Rob Demovsky (
Green Bay Packers
), Ben Goessling (
Minnesota Vikings
), Michael Rothstein (
Detroit Lions
) and Michael C. Wright (
Chicago Bears
) -- compiled a list of
the top-15 free agents
in the division.
A week has passed and nine of them already have come off the market, including six who re-signed with their old teams.
Perhaps the biggest-name free agent from the NFC North, former Bears defensive end
Julius Peppers
, did not make the original list because he was not a free agent until he was released last week. He
signed with the Packers
on Saturday.
You can follow all of the NFL free-agent moves in
Bill Polian's free-agent tracker
, but let's revisit the NFC North top 15 and see what has changed:
1.
Sam Shields, Packers CB
: Signed a four-year, $39 million contract just a few hours into the open negotiating period on March 8. His $9.75 million per year average made him the fourth-highest paid cornerback in the league behind
Darrelle Revis
($16 million),
Brandon Carr
($10 million) and
Aqib Talib
($9.8 million).
2. Brandon Pettigrew, Lions TE
: Re-signed with the Lions for four years and $16 million, including a $4 million signing bonus.
3. Jermichael Finley, Packers TE
: Remained unsigned after a visit to the
Seattle Seahawks
last week. It's not known what the Seahawks' medical staff thought of Finley's C-3/C-4 neck vertebra fusion surgery that he had last November following his season-ending neck injury.
4. Charles Tillman, Bears CB
: Signed a one-year contract to return to Chicago last Friday after missing half of last season because of a torn triceps. The deal is worth about $3.5 million.
5. B.J. Raji, Packers DT:
Less than a year after reportedly turning down a multi-year offer that averaged $8 million per season, he returned to the Packers for a one-year deal signed on Friday that was believed to be worth $4 million plus incentives.
6. Matt Cassel, Vikings QB
: Opted out of his 2014 contract after the Super Bowl but signed a new two-year, $10.5 million deal with the Vikings on March 7, just before teams could start contacting his agent and will likely head into training camp with the inside track on the starting job.
7. Willie Young, Lions DL
: Signed a three-year, $9 million contract with the Bears. Former seventh-round pick received his first extensive playing time with the Lions in 2013, becoming a full-time starter after
Jason Jones
was injured for the season in Week 3.
8. James Jones, Packers WR
: Remained unsigned after the first week of free agency and has not had any known visits even after he ranked second on the Packers last season in receptions (59) and yards (817), the latter of which was a career high despite missing nearly three full games because of a knee injury. Three years ago, coming off the NFL lockout, Jones did not draw strong interest on the free-agent market and re-signed with the Packers for three years and $9.6 million. Could the same thing happen again?
9. Jared Allen, Vikings DE
: Remained unsigned after the first week of free agency but reportedly visited the Seattle Seahawks over the weekend. After three All-Pro selections in six years, Allen's time in Minnesota is over.
10. Josh McCown, Bears QB
: Signed a two-year, $10 million contract to rejoin his old coach, Lovie Smith, with the
Tampa Bay Buccaneers
.
11. Henry Melton, Bears DL
: Coming off a torn ACL, Melton went unsigned during the first wave of free agency but has a visit scheduled with the
Dallas Cowboys
this week.
12. Devin Hester, Bears KR
: Remained unsigned more than a week after the Bears said they would not bring him back.
13. Rashean Mathis, Lions CB
: Remained unsigned after playing in 15 games and taking over as a starter early in the season last year.
14. Everson Griffen, Vikings DE
: Cashed in on March 9th by signing a five-year, $42.5 million deal that included $20 million guaranteed to return to Minnesota.
15. Louis Delmas, Lions S
: Signed a one-year, $2.25 million contract with the
Miami Dolphins
after the Lions released him with one year remaining on his contract in February, in part because of a cap number of $6.5 million in 2014.
March, 10, 2014
3/10/14
10:00
AM ET
A few deals have been signed around the NFC North in the days leading up to free agency, but plenty of valuable players are about to hit the open market.
Here is a ranking of top NFC North free agents, with information provided by ESPN.com reporters Rob Demovsky (
Green Bay Packers
), Ben Goessling (
Minnesota Vikings
), Michael Rothstein (
Detroit Lions
) and Michael C. Wright (
Chicago Bears
).
We will update this periodically throughout the next several weeks.
1.Sam Shields, Packers CB:
Emerged as the Packers' top cover cornerback last season while playing for the restricted free-agent tender of $2.023 million and was re-signed to a four-year, $39 million contract just a few hours into the open negotiating period Saturday. His 2014 total pay of $15 million makes him the NFL's second-highest-paid cornerback for next season.
2. Brandon Pettigrew, Lions TE:
The No. 20 pick in the 2009 draft out of Oklahoma State, Pettigrew spent the past five seasons as one of Detroit's primary tight ends, specifically known for the ability to both block and run routes effectively.
3. Jermichael Finley, Packers TE:
Had surgery to fuse the C3 and C4 vertebra in his neck but expects to be cleared by his doctor. Gambled two years ago in free agency, signing just a two-year, $14 million deal in the hope that he would blossom into a star and command an even bigger contract the next time around.
4. Charles Tillman, Bears CB:
The NFL's Walter Payton Man of the Year, Tillman started eight games last season before finishing on the injured reserve with a torn triceps. The Bears hope to bring back Tillman but might not be able to come up with a suitable offer.
5. B.J. Raji, Packers DT:
Reportedly turned down an $8 million per year offer from the Packers last season, which might have been a sign that he preferred to play in a system that gave defensive linemen more freedom. After a disappointing season, his value has gone down, and as of last week, he was close to signing a one-year deal to return.
Cassel
6. Matt Cassel, Vikings QB:
Opted out of his 2014 contract after the Super Bowl but signed a new two-year deal with the Vikings on Friday, just before teams could start contacting his agent. He will likely head into training camp with the inside track on the starting job.
7. Willie Young, Lions DL:
Former seventh-round pick received his first extensive playing time in 2013, becoming a full-time starter after
Jason Jones
was injured for the season in Week 3. Young turned into one of the more disruptive players up front, making 47 tackles, recovering two fumbles and recording three sacks.
8. James Jones, Packers WR:
Ranked second on the Packers last season in receptions (59) and yards (817), the latter of which was a career high despite missing nearly three full games because of a knee injury. Three years ago, coming off the NFL lockout, Jones did not draw strong interest on the free-agent market and re-signed with the Packers for three years and $9.6 million.
9. Jared Allen, Vikings DE:
After three All-Pro selections in six years, Allen's time in Minnesota is likely over. He could come back as a situational pass-rusher on a reduced salary, but after making $14 million last season, Allen might head elsewhere for a bigger role and bigger paycheck.
McCown
10. Josh McCown, Bears QB:
He proved he is capable of filling in for
Jay Cutler
in a pinch and is instrumental behind the scenes for nearly every skill player on the offense. It's not a slam dunk he will be back, and talks with the Bears haven't been especially productive.
11. Henry Melton, Bears DL:
Melton's representatives fully expect him to test the market in free agency because the Bears haven't shown a ton of interest. Coming off a torn ACL, Melton probably won't command top dollar in the first wave of free agency.
12. Devin Hester, Bears KR:
Became strictly a return specialist for the Bears last season and is still one of the league's best at his position. Probably expects a payday similar to what he's gotten in the past.
13. Rashean Mathis, Lions CB:
Mathis signed with Detroit during the 2013 preseason and became one of the team's starting cornerbacks by the third week of the season. He played in 15 games, making 47 tackles and often drawing the opponent's top wide receiver.
14. Everson Griffen, Vikings DE:
The 26-year-old cashed in on Sunday by signing a five-year, $42.5 million deal that included $20 million guaranteed to return to Minnesota. He should flourish in new coach Mike Zimmer's defensive scheme.
15. Louis Delmas, Lions S:
The 26-year-old was released by Detroit with one year remaining on his contract in February, in part because of a cap number of $6.5 million in 2014. Has played in 65 games for Detroit over five seasons, with 328 tackles, six interceptions and two forced fumbles. He also had five sacks and four fumble recoveries.
July, 24, 2013
7/24/13
12:00
PM ET
NFL players are never healthier than on the first day of training camp, or so goes conventional wisdom. As the first NFC North veterans report to training camp Wednesday --
Chicago Bears
players are headed to Bourbonnais, Ill., as we speak -- it's worth revisiting players who spent a significant portion of the offseason injured and project their status for training camp.
We'll take it team by team, of course:

Chicago Bears
Veteran report date:
Wednesday
Analysis:
Receiver
Brandon Marshall
missed almost the entire offseason program because of hip surgery, getting on the field for one day of mandatory minicamp. Place-kicker
Robbie Gould
also missed time as his surgically-repaired calf healed. Receivers
Marquess Wilson
and
Alshon Jeffery
also missed time with hamstring injuries, but there are no indications that any of them will be significantly limited when practice begins Friday.

Detroit Lions
Veteran report date:
Thursday
Analysis:
One of the biggest stories in Detroit this week will be whether safety
Louis Delmas
is ready to practice, and if so, whether the Lions let him do everything or if he is limited. Delmas missed the entire offseason because of ongoing knee issues, even after signing a contract extension that will pay him $1.715 million if he can't play this season. Receiver
Ryan Broyles
, meanwhile, is just under eight months removed from tearing his ACL. The Lions could put him on the physically unable to perform (PUP) list, or they could pass him on his physical and let him ease into practice. The assumption is that two other veterans who did little this offseason, place-kicker
David Akers
(sports hernia/hip) and running back
Mikel Leshoure
(hamstring) will be ready to practice.

Green Bay Packers
Veteran report date:
Thursday
Analysis:
Many of you have asked about offensive lineman
Derek Sherrod
, who hasn't had any football activity since suffering a gruesome leg injury in December 2011. The Packers had hoped he would be in the mix at right tackle this offseason, but that never materialized. If Sherrod still isn't ready to practice when camp opens, you wonder if he ever will be. Meanwhile, it's tough to expect defensive tackle
Jerel Worthy
to be ready anytime soon after he tore his ACL in Week 17 last season. The same goes for rookie offensive lineman
J.C. Tretter
(broken ankle). On the other hand, we're assuming that cornerback
Davon House
(shoulder) and running back
DuJuan Harris
(cyst) will be ready. The status of rookie receivers
Charles Johnson
and
Kevin Dorsey
, both of whom missed the entire offseason, is not clear.

Minnesota Vikings
Veteran report date:
Thursday
Analysis:
Center
John Sullivan
sat out the offseason after having microfracture surgery on his knee. Coach Leslie Frazier said at the end of minicamp that Sullivan was on track to be ready when camp opens. There have been no reports of a setback. Linebacker
Desmond Bishop
(hamstring) didn't participate in the Packers' offseason, but he has said he will be ready for camp. Defensive end
Jared Allen
did not participate this offseason because of surgery to repair a torn labrum but has said he will be cleared for practice. Receiver
Greg Childs
was doing light running during the offseason and is now a year removed from tearing both patellar tendons, but he could be a candidate for the PUP list. Linebacker
Chad Greenway
's minor offseason knee surgery isn't expected to slow him in training camp. Cornerback
Jacob Lacey
broke his thumb in June, and his status merits observation. Rookie linebacker
Michael Mauti
(knee) got in some light work late in the offseason, but it's worth watching whether the Vikings deem him ready for contact drills.
May, 17, 2013
5/17/13
12:00
PM ET
»
NFC Eight in the Box
:
East
|
West
|
North
|
South
»
AFC
:
East
|
West
|
North
|
South
A look at key players for each NFC North team who are coming back from injuries:

Chicago Bears:
Place-kicker
Robbie Gould
needed offseason surgery after rupturing a semitendinosus tendon in Week 15 and still hadn't been cleared to kick 13 weeks later. All indications are that Gould will be ready for training camp and should once again be the Bears' place-kicker in 2013. Since he entered the NFL in 2005, Gould has the
seventh-best percentage of conversions (85.6)
among place-kickers with at least 100 attempts, an especially notable standing considering the typically tough kicking conditions at Soldier Field. With all the other changes in the organization this offseason, the Bears need the reliability that Gould provides.

Detroit Lions:
Safety
Louis Delmas
managed to play only 41.97 percent of the Lions' defensive snaps last season because of a knee injury that required surgery in training camp. Delmas' knees have been a bothersome issue for most of his career, and there has never been any doubt about the difference in the Lions' defense when he is in or out of the lineup. The team took a cautious approach to re-signing him in free agency, offering a modest deal that would pay him six-figure incentives for every game he plays if he manages to exceed his playing time from last season. The Lions signed free agent
Glover Quin
as well, but they need Delmas on the field.

Green Bay Packers:
Two players who missed the 2012 season because of 2011 injuries could be in position to help the Packers in 2013. Offensive lineman
Derek Sherrod
had a second surgery this winter to finish repairing a leg he fractured in multiple places, and the Packers have hopes that he can compete for their open right tackle job. Tight end
Andrew Quarless
, meanwhile, is trying to get back on the field after blowing out his knee in December 2011. When healthy, Quarless might be the Packers' most balanced tight end in terms of receiving and blocking.
Jermichael Finley
is the team's top tight end, but Quarless could provide important versatility at the position.

Minnesota Vikings:
Receiver
Jerome Simpson
's disappointing season in 2012 -- he caught 26 passes and no touchdowns in 12 games -- has been attributed in part to a mysterious back injury that decreased the explosiveness in his legs. The Vikings are hoping Simpson can regain the running and leaping abilities that helped him catch 50 passes for the
Cincinnati Bengals
in 2011. Although the Vikings signed
Greg Jennings
, they still need a veteran receiver who can get downfield -- especially while rookie
Cordarrelle Patterson
is given time to develop. Simpson is the team's best option there.
March, 22, 2013
3/22/13
10:42
PM ET
»
NFC Eight in the Box
:
East
|
West
|
North
|
South
»
AFC
:
East
|
West
|
North
|
South
A look at whether each NFC North team has been a winner or a loser in free agency.

Chicago Bears:
A hot start in free agency netted left tackle
Jermon Bushrod
and tight end
Martellus Bennett
. The Bears had been trying for five years to find a genuine left tackle, and Bushrod's arrival should boost the faith of quarterback
Jay Cutler
. Bennett, meanwhile, gives the Bears the kind of pass-catching tight end they once had in
Greg Olsen
. But Bushrod and Bennett accounted for most of the salary-cap space the Bears had budgeted to use, and now they are nibbling the edges. Overall, however, the Bears improved two important positions, making them winners in free agency.

Detroit Lions:
The NFC North's most active offseason team has added three new starters in running back
Reggie Bush
, defensive end
Jason Jones
and safety
Glover Quin
. Bush will have a big impact on balancing the explosiveness in the Lions' offense, and Quin will pair with the returning
Louis Delmas
to give the Lions their best safety duo in recent memory. The Lions have improved as many positions as they could have given their tight salary-cap situation.

Green Bay Packers:
It's difficult to win when you don't play, and general manager Ted Thompson is notoriously reluctant to compete financially in the market. He allowed receiver
Greg Jennings
to sign with the
Minnesota Vikings
and didn't make a good enough offer on running back
Steven Jackson
. But the Packers have made the playoffs in four consecutive seasons by following a similar approach. These days, their focus is on saving enough salary-cap space to re-sign quarterback
Aaron Rodgers
and linebacker
Clay Matthews
. The Packers won't find two players better than that on the free-agent market.

Minnesota Vikings:
In essence, the Vikings traded receiver
Percy Harvin
for Jennings, along with a first-, third- and seventh-round draft pick. They won't replace Harvin's unique skill set, but that's not a bad recovery. The Vikings are also in a better spot at backup quarterback with
Matt Cassel
rather than
Joe Webb
. But they don't have a middle linebacker after bidding farewell to
Jasper Brinkley
, and they remain thin at cornerback after releasing
Antoine Winfield
. The Vikings remain a work in progress this offseason. They haven't won or lost yet.
February, 15, 2013
2/15/13
12:23
PM ET
»
NFC Eight in the Box
:
East
|
West
|
North
|
South
»
AFC
:
East
|
West
|
North
|
South
Welcome to "Eight in the Box," a new NFL Nation feature that will appear each Friday during the offseason. This week's topic: Which free agent is essential for each team to keep from its 2012 roster?

Chicago Bears:
In his two years as a starter,
Henry Melton
has 13 sacks -- more than all but one NFL defensive tackle over that stretch. Some argue his skills only fit certain schemes, but if that's the case, the Bears' new coaching staff should make sure it runs one that allows Melton to continue rushing the passer.

Detroit Lions:
Defensive end
Cliff Avril
has his detractors, but there are plenty of teams that would love to have a player who has collected 29 sacks in his past three seasons. Safety
Louis Delmas
is important as well, but he has trouble staying healthy while Avril has started 40 consecutive games, including playoffs.

Green Bay Packers:
The team can probably absorb the expected departure of receiver
Greg Jennings
, but there should be no debate about the value of keeping cornerback
Sam Shields
, a restricted free agent. Shields' starting-caliber play late last season means the Packers have no choice but to issue him a high enough RFA tender to prevent him from signing elsewhere.

Minnesota Vikings:
The Vikings were one of four teams to use the same starting offensive line all season, and right tackle
Phil Loadholt
was a big part of their success. He won't command elite money and wants to return, so a deal shouldn't be difficult.
December, 5, 2012
12/05/12
11:45
AM ET
We've posted quarterly Stock Watches in
October
and
November
, and now it's time for the third installment of a once-weekly feature.
FALLING
1. Christian Ponder, Minnesota Vikings quarterback:
Ponder has brought the franchise to a crossroads as it nears the end of his second season. The hope was that Ponder would demonstrate steady improvement and establish himself as a long-term starter by the end of the season. Instead, he is still turning in clunkers that are every bit as bad as his worst games as a rookie. Among many abominable numbers, here is perhaps the most eye-popping: Ponder has completed only four passes this season that traveled more than 20 yards in the air, according to ESPN Stats & Information. There are extenuating factors involved, including a weak group of wide receivers, but Ponder is also facing defenses that are aligned more often in run-stopping schemes than any quarterback in the NFL. In short, Ponder has offered no indication through 22 career starts that he can be a long-term starter. Barring an immediate turnaround, the Vikings will have a much tougher decision this offseason than they could have possibly hoped.
2. Detroit Lions drafting philosophy:
The apparent end of receiver
Titus Young
's short tenure has intensified scrutiny on the Lions' four drafts under general manager Martin Mayhew. Of the 29 players selected over that time, seven are currently starters and three more are valuable backups or special-teams players. That's not a horrendous ratio, but what stands out is that Mayhew has taken some risks that have not panned out. Young's character issues were well-known in college. The same goes for the concussion history of tailback
Jahvid Best
. Defensive tackle
Nick Fairley
is emerging as a playmaker, but not after experiencing some of the maturity issues he displayed in college. Injuries have stunted the growth of safety
Louis Delmas
, receiver
Ryan Broyles
and cornerback Dwight Bentley, and Mayhew can't be blamed for those. It should also be noted that 2012 first-round pick
Riley Reiff
appears ready to step in as a starter. But it's clear that after four years of drafting, Mayhew's roster still has some notable holes.
[+] Enlarge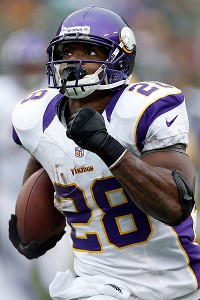 Wesley Hitt/Getty ImagesVikings running back Adrian Peterson is on pace for 1,928 yards this season.
3. Defensive nucleus, Chicago Bears:
The Bears laughed off preseason concerns that their best defensive players were too old in a collective sense, and during a 7-1 start, their defensive veterans -- most notably cornerback
Charles Tillman
and linebacker
Lance Briggs
-- were the talk of the league. The Bears were also emboldened by the emergence of two younger players, defensive tackle
Henry Melton
(six sacks) and cornerback
Tim Jennings
(eight interceptions). But their core has started to break down during a 1-3 stretch. Linebacker
Brian Urlacher
might miss the rest of the season because of a hamstring injury. Tillman has been dealing with a foot injury and has managed just one forced fumble, his specialty, in that stretch. Briggs has an ankle injury and hasn't caused a turnover in six weeks. Defensive end
Julius Peppers
, meanwhile, has two sacks in his past five games. The Bears will need to accelerate their restocking efforts this offseason.
RISING
1. Adrian Peterson, Vikings tailback:
Quite simply, Peterson is having the best season of his Hall of Fame career -- and he still hasn't reached the one-year anniversary of knee reconstruction surgery. He is on pace for 1,928 yards, a total that would put him among the
seven-best seasons for a running back in NFL history
. Given Peterson's competitiveness, you know he is gunning for a 2,000-yard season and hasn't ruled out the possibility that he could break
Eric Dickerson
's record of 2,105 yards in 16 games. To do so, he'll need to average 165 yards per game over the Vikings' final four. It sounds impossible, but what about this season has seemed probable for Peterson? He continues to run with power, averaging an NFL-high 3.2 yards per carry after first contact, which is twice the NFL average. Speed? Peterson has a league-leading 17 rushes of more than 20 yards. Only one other NFL player has double-digit runs of that length (
C.J. Spiller
of the
Buffalo Bills
).
2. Calvin Johnson, Lions receiver:
Somehow, Johnson is on pace to set an NFL record for receiving yards in a season despite playing on an offense where most of the other pass-catching threats have been injured -- and with a running game that hasn't made teams pay for ignoring it. The Lions lead the NFL with 547 passing attempts and rank No. 25 with 295 rushing attempts, and yet Johnson has caught 86 passes for 1,428 yards with four games left to play. It's true that some of those yards have come late in losses, most notably a 207-yard effort in Week 10 against the Vikings. He also has managed only five touchdowns after catching 28 in his previous two seasons combined. But for the most part, Johnson is one of the few Lions players who has maintained his performance level from last year's 10-6 team.
3. Clay Matthews, Green Bay Packers linebacker:
Yes, I know Matthews has missed the Packers' last three games because of a hamstring injury. But hopefully those three games have generated a better appreciation for his impact on the defense. The obvious concern was making up for his pass rush, but I think you've seen how important Matthews' tackling in the run game and overall playmaking is. At the time he was injured, opponents were converting 34.9 percent of third-down opportunities. Since then, they are 46.1 percent. It's also worth noting that the Packers have given up two of their three biggest games against the run with Matthews sidelined. Overall, opponents have racked up 457 rushing yards in those three games -- at 5.5 yards per rush. If you didn't know it before, you should agree that Matthews is more than a pass-rusher.
October, 25, 2012
10/25/12
4:32
PM ET
No NFC North teams appeared on
John Clayton's list of the NFL's 10 worst contracts
, and I really can't come up with an obvious nomination. There are no abominable contracts in this division at the moment, at least none any team entered by choice that will limit its flexibility moving forward.
Some of you might note the five-year, $25 million contract the
Minnesota Vikings
gave tight end
John Carlson
last spring. Carlson has played sparingly (27.2 percent of snaps), caught three passes and is currently sidelined by a concussion. But as
Tom Pelissero of 1500ESPN.com
points out, the Vikings could void his contract after this season (provided he is not still injured) for a modest $4 million cap hit.
[+] Enlarge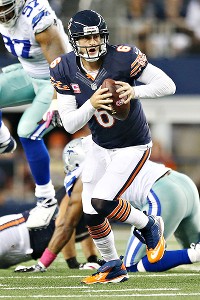 Matthew Emmons/US PresswireJay Cutler's contract is up following the 2013 season.
What Clayton's project did bring to mind is that the NFC North is primed for three monster-truck contracts that will be the types of deals that entire salary caps are structured around. For different reasons, quarterbacks
Jay Cutler
,
Aaron Rodgers
and
Matthew Stafford
are all closer to new contracts than you might have realized.
Cutler's deal with the
Chicago Bears
expires after the 2013 season. He's making $8.2 million this year and is due to make $8.9 million next season. Would the Bears go into 2013 with their franchise quarterback in a free-agent year? It wouldn't be ideal, and if they want to avoid it, they would need to address it this offseason.
We've discussed Rodgers' situation
several times.
He is signed through the 2014 season but has obviously outperformed a deal that will pay him $9.75 million in 2013 and $11 million in 2014. You would assume it's a matter of when, not if, Rodgers gets a new deal. The current benchmark is the five-year, $100 million contract the
New Orleans Saints
gave quarterback
Drew Brees
.
Stafford's situation, meanwhile, is no less urgent even though he is technically signed through 2015. The final year of his deal is voidable and, more importantly, Stafford is due to count $20.320 million against the
Detroit Lions
' 2013 salary cap after two years of renegotiations. The Lions could conceivably deal with a cap number that high, but you wonder if they'll seek an extension in order to lower his cap hit over the next few years. They will have a busy offseason given the pending free agency of seven starters: cornerback
Chris Houston
, safety
Louis Delmas
, linebacker
DeAndre Levy
, defensive tackle
Corey Williams
, right tackle
Gosder Cherilus
, linebacker
Justin Durant
and place-kicker
Jason Hanson
.
Investing in a franchise quarterback is usually a sound policy, but it'll be costly in each instance.
September, 28, 2012
9/28/12
9:30
PM ET
August, 14, 2012
8/14/12
3:15
PM ET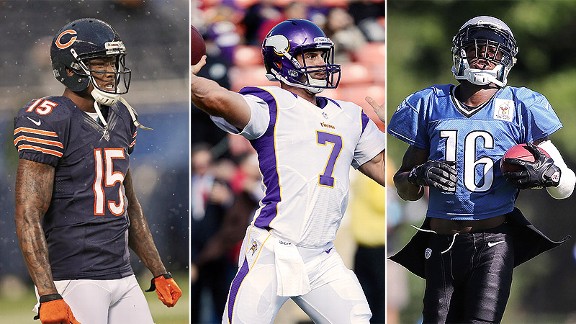 Getty ImagesFinal training camp thoughts: Chicago is excited about Brandon Marshall, Christian Ponder has started to embrace his role as a leader, and Titus Young has been a training camp star.
We came, we saw, we conquered.
Veni, vidi, vici
and all that stuff. Yes, CampTour'12 wrapped up late last week, ending a stretch of spending 11 days at four NFC North training camps over a 15-day period. I took three flights, logged 938 miles on the NFC North blogmobile and limited my Jimmy John's/Chipotle intake to an average of one ingestion per day.
You can find everything I produced on location
through this handy one-stop link
, and the four Camp Confidential posts
are all grouped here
.
This division looks every bit as tough as we thought it was before the tour began, and I figure it's going to take 12 regular-season victories (or more) to win it. With that in mind, let's wrap up CampTour'12 with, well, 12, final thoughts and semi-behind-the-scenes observations from my time abroad.
1. The Chicago Bears' risk-reward:
Our pre-camp discussion centered around the Bears' improvement and possible eclipse of the
Detroit Lions
in the standings. After seeing them in camp and in the context of the rest of the division, I still think the Bears are a really good team. But I also think they run the biggest risk of imploding among our top three teams. Already, two offseason decisions to stand part have left them vulnerable. Left tackle
J'Marcus Webb
has not yet demonstrated the progress expected of him, and middle linebacker
Brian Urlacher
's now surgically-repaired knee has drawn genuine concerns about his health over a 16-game season. Those are two huge positions on this team, and neither have a credible alternative at this point.
2. Genuine excitement:
It was fascinating to watch longtime Bears employees and observers during receiver
Brandon Marshall
's first full-pads practice Aug. 1. Marshall made the kinds of plays that only a true No. 1 receiver makes, including some fancy sideline footwork at the end of a 35-yard pass from
Jay Cutler
. Several people gushed that Marshall will prove the team's best skill-position player since Walter Payton. A glance at recent Bears history suggests that's a sound judgment by default. I didn't see Marshall do anything that we haven't seen, say,
Calvin Johnson
do in this division. But it's been forever since the Bears have had someone do it in their uniform.
[+] Enlarge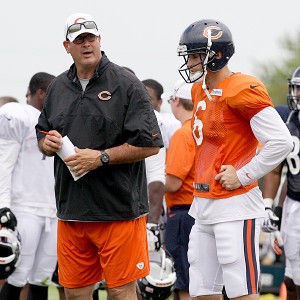 AP Photo/Nam Y. HuhMike Tice seems more relaxed with the Bears than when he was at the helm in Minnesota.
3. Tice games:
I told Bears offensive coordinator Mike Tice that he seemed less frantic and more chill than he was during his time as the
Minnesota Vikings
' head coach. "I still have my moments," Tice said in words that proved prophetic. Since then, he has reached deep into his bag of tricks to cajole better play from Webb, putting him in a yo-yo personnel rotation and playing him for almost all of the preseason opener. When he was the Vikings' coach, Tice once pulled fans into a non-contact drill to demonstrate mistakes to starting linemen. On another occasion, he required linemen to practice with their hands tied together to emphasize footwork. Sometimes those tactics work. Sometimes they don't.
4. Concussion impact:
I wouldn't be surprised if we look back at this summer as the moment concussion treatment -- not just concussions themselves -- began impacting the game. Already, we've seen the Lions and
Green Bay Packers
acknowledge they are taking a much more deliberate approach to putting players back on the field after they've been concussed or if they are even suspected to have suffered a concussion. Front-line players including
Greg Jennings
,
Marshall Newhouse
and
Amari Spievey
missed the preseason opener because of them.
5. Traffic nightmare:
Would you believe that the worst traffic in the NFC North is in the NFL's smallest market? Some of the key roads surrounding Lambeau Field have been torn up for months, including Oneida St. and Hwy. 41 near Lombardi Ave.. I pray to the construction gods that everything is finished by next month. Based on the amount of holes, gravel roads and lane closures I saw, I'm not optimistic. All I can say is to arrive early and often.
6. Camp routine:
Because of the new collective bargaining agreement, players were on the field once a day in three of our locales. The only team coming close to two-a-day practices were the Vikings, whose first workout was a 60-minute, half-speed walk-through. Veterans like the Packers'
Jeff Saturday
were thrilled with the reduced wear-and-tear. Privately, others noted that coaches filled the time once set aside for a second practice with additional meetings. "Some really tedious days," one player said. Said another: "Sometimes the grass is not always greener, you know?"
7. Imagination movers:
The Packers lead the division with unique drills and sideline gizmos. For years, they've had sideline speakers set up to broadcast the ravings of special teams coordinator Shawn Slocum. This year, they added a set of red and green lights that flash exactly 2.5 seconds after the ball is snapped in team drills. In essence, they are designed to simulate the quarterback's head clock. I also saw offensive linemen catching passes from a JUGS machine and tight ends doing a basketball-like drill where they weaved the ball around their ankles and through their legs.
8. Ponder charisma:
Vikings quarterback
Christian Ponder
seems to have made some strides as a pocket passer. But I can say without a shred of doubt that Ponder has mastered the more ethereal parts of NFL quarterbacking. He has taken ownership of a young roster and moves easily between the inevitable cliques that develop. He is just as likely to share a laugh with fellow second-year player Kyle Rudoph as he is veteran receiver
Jerome Simpson
, a newly-signed free agent. I watched him call team staffers by name and treat them with genuine respect. Ponder has some work to do on the field, but he has the makings of a franchise pillar off of it.
9. Defensive dilemma:
Much of the camp discussion surrounding the Vikings has centered around Ponder and the changes they've made to the offense. But the Vikings have just as much, if not more, work to do on defense. There are at least four positions -- nose tackle, middle linebacker and both safety spots -- where the presumed starter remains completely unproven. The
San Francisco 49ers
gashed them for 260 rushing yards in the preseason opener.
10. Eye-opening:
Someone asked me along the trail to name the best NFC North player no one has heard of. The first two names to come to mind are both on the Lions' roster. You've no doubt heard of receiver
Titus Young
, but probably for the wrong reasons after his offseason fight with safety
Louis Delmas
. Young has been a training camp star, twisting and turning over defensive backs in every drill I watched. From a physical standpoint, Young can be a star. The other was defensive end
Willie Young
, who got elevated reps because of
Cliff Avril
's holdout and
Kyle Vanden Bosch
's knee injury. Willie Young is a high-energy, full-effort pass-rusher who has to get on the field more substantially this season.
11. Redshirt season?:
Perhaps the most notable sign of the Lions' roster strength is that their top two draft picks might get a quasi-redshirt season, assuming the players in front of them stay healthy. Offensive lineman
Riley Reiff
isn't going to beat out left tackle
Jeff Backus
and probably not right tackle
Gosder Cherilus
, either. And receiver
Ryan Broyles
has been limited all summer because of residual soreness from knee surgery. At best, he will be the Lions' No. 4 receiver when he does get on the field.
12. Serious bid'niss:
I realized how serious this NFC North race would be shortly after returning from CampTour'12. Check out
this photo tweeted by Chris Jenkins of The Associated Press
. It shows Saturday,
Cedric Benson
and
Reggie Wells
in Packers uniforms. These three are the kind of veteran free agents the Packers turned away from for years under general manager Ted Thompson. This season, Thompson has loaded up on a relative scale. In this division, this year, there is no time to wait for development. Answers are needed now.
December, 23, 2011
12/23/11
12:33
PM ET
»
NFC Final Word
:
East
|
West
|
North
|
South
»
AFC
:
East
|
West
|
North
|
South
Five nuggets of knowledge on Week 16:
Busted rivalry:
When the NFL released its schedule this spring, many of us had high expectations for a late-December matchup between the
Green Bay Packers
and
Chicago Bears
. Instead, an injury-devastated Bears team will limp north
as a (deserved) 13-point underdog
. It's possible the Packers will have clinched home-field advantage even before taking the field Sunday night, if the
San Francisco 49ers
lose Saturday at the
Seattle Seahawks
. If not, the Packers will attempt to secure it against a team playing without quarterback
Jay Cutler
, running backs
Matt Forte
and
Marion Barber
, and receiver
Johnny Knox
. Third-string running back
Kahlil Bell
is expected to start, pairing with third-string quarterback
Josh McCown
-- who has a history of helping the Packers' playoff positioning. (See:
Noooooooooooooooo!
) One other interesting bit of history: The Packers are one of five teams in NFL history to open a season 13-0 and then lose in their 14th game. All four of the other teams lost their 15th game, too. That list includes the 2009 and 2005
Indianapolis Colts
, the 2009
New Orleans Saints
and the 1998
Denver Broncos
.
[+] Enlarge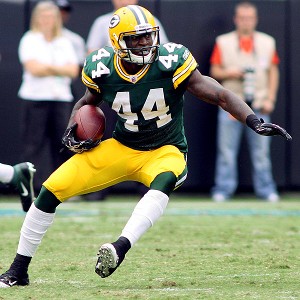 Jeremy Brevard/US PresswireGreen Bay's James Starks is expected to play Sunday against the Bears.
Packers' run game:
For several reasons, Sunday night's game would be an obvious target for the Packers to try to enhance their running game.
James Starks
(ankle) and
Brandon Saine
(concussion) are expected to return. The Packers will start a makeshift offensive line that likely will include
T.J. Lang
at right tackle and
Evan Dietrich-Smith
at left guard; the best way for offensive linemen to get comfortable is via run blocking. And it's also worth repeating that the Bears historically have done a good job limiting Packers quarterback
Aaron Rodgers
' downfield opportunities. According to ESPN Stats & Information, Rodgers has completed only five of 26 attempts on throws against the Bears that traveled in the air 21 yards or more. He's thrown for one touchdown, a game-winner to receiver
Greg Jennings
in 2009, and two interceptions on those passes.
Detroit's challenge:
The
Detroit Lions
will clinch a playoff spot Saturday if they beat the
San Diego Chargers
in what will likely be a raucous atmosphere at Ford Field. (There are also several scenarios to clinch this weekend even if they lose.
They're noted in this post
.) Hopefully everyone knows the Chargers are on one of their annual December rolls. They've won three consecutive games after a six-game losing streak. Since Norv Turner took the head coaching job in 2007, the Chargers are 20-2 in December. This will be no cakewalk.
Big targets:
Chargers quarterback
Philip Rivers
struggled earlier this season, but he has been the NFL's most efficient quarterback over the past three weeks based on Total Quarterback Rating. Rivers has hit a groove with a pair of 6-foot-5 receivers that will pose significant matchup problems for the Lions.
Malcom Floyd
has 11 receptions for 233 yards and two touchdowns over the past two games, while
Vincent Jackson
has caught 12 passes for 211 yards and a touchdown. Jackson has been sidelined in practice this week by a groin injury. Lions cornerback
Chris Houston
(knee) clearly wasn't 100 percent last week against the
Oakland Raiders
, and the team re-signed
Brandon McDonald
this week for extra depth. Safety
Louis Delmas
(knee) also remains sidelined, and backup
Chris Harris
was cleared Thursday to practice following a concussion.
Make it stop:
If you're a big-picture observer, you see ample motivation for the
Minnesota Vikings
to lose Sunday at the
Washington Redskins
. One more victory by the Indianapolis Colts, in conjunction with two more Vikings defeats, would give the Vikings an excellent chance to secure the No. 1 overall pick of the 2012 draft. A loss to the Redskins would extend the Vikings' losing streak to seven games, tying a franchise record set in their expansion season of 1961. But I'm not sure what would be worse: tying that record or extending their NFL record of games without an interception, which stands at nine. Redskins quarterback
Rex Grossman
has thrown at least one interception in his past 10 starts, and he is tied for the second-most interceptions in the NFL (18) despite missing three games this season. Something's got to give.
September, 23, 2011
9/23/11
4:27
PM ET
We're Black and Blue All Over:
Here's something that might catch you by surprise: Green Bay Packers receiver Jordy Nelson is on an extraordinarily productive run dating back to Week 16 of last season.

As
Tyler Dunne of the Milwaukee Journal Sentinel
notes, Nelson has caught 34 passes for 610 yards and five touchdowns over the Packers' past eight games, including the playoffs. Greg Jennings is the only receiver who has caught more passes for more yards over that span, but Nelson has him beat by a touchdown.
Consider this development another example of where the Packers' purported starting lineup doesn't necessarily correlate to playing time or production. Already, backup tailback James Starks is getting substantially more playing time than starter Ryan Grant. And by the numbers, at least, Nelson is the Packers' No. 2 receiver next to Jennings.
Nelson isn't getting more playing time than other receivers; according to Dunne, he was on the field for 33 of 58 plays last Sunday against the Carolina Panthers. But he is capitalizing on the opportunities he does get, and opposing defenses would be well advised to catch on.
Continuing around the NFC North:
July, 8, 2010
7/08/10
12:57
PM ET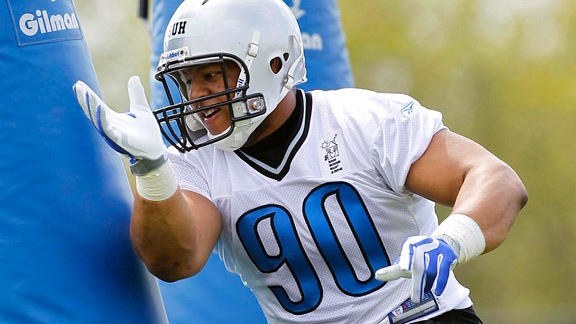 Leon Halip/US PresswireThe Lions are expecting big things out of rookie defensive tackle Ndamukong Suh.
John Niyo of the Detroit News
takes a little time out to discuss the
Detroit Lions
for Day 3 of our NFC North beat reporters series.
We've already covered the
Vikings
, and
Packers
, and plan on getting to the Bears on Friday.
Five things the Lions need to worry about
1. The secondary:
It's still a huge question mark. Another offseason overhaul means three new starters among the defensive backs. Although they have upgraded speed at the corners, are these guys really going to be able to play more press coverage? And is anybody capable of filling that starting strong safety spot next to
Louis Delmas
? Trust me, opponents are going to test them to find out.
2. Middle linebacker:
Revamping the D-line was a primary goal this offseason, and there's no doubt they did that by adding
Ndamukong Suh
,
Corey Williams
and
Kyle Vanden Bosch
. But for the moment, it's a second-year guy, Deandre Levy, starting at middle linebacker. Another of last year's rookies,
Zack Follett
, a guy who started 2009 on the practice squad, is starting on the weak side. You can cover up a linebacker easier than some other positions, but obviously they're putting a lot of trust in Levy.
[+] Enlarge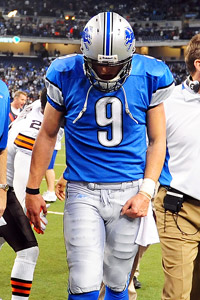 Andrew Weber/US PresswireMatthew Stafford missed some time last year due to injury and he's been limited in early workouts this offseason.
3. Matthew Stafford:
Can Stafford stay healthy? He went down with a dislocated kneecap in Week 4 as a rookie, and then went down for the count with a separated shoulder late in the season. He looks to be healthy again this offseason, but without him -- and honestly,
Shaun Hill
's an upgrade over last year at the backup quarterback spot -- the Lions' offense isn't going anywhere.
4. Offensive line depth:
A bad offensive line isn't what got Stafford beat up last season. But an o-line that's probably average at best did get beat up by injuries, and an offense that couldn't generate enough big plays. They've added weapons like
Jahvid Best
and
Tony Scheffler
and
Nate Burleson
to try to solve that last part. But the O-line depth remains a big concern.
5. Possible slow start:
It's hard to look at the Lions' schedule and find a lot of wins. This is a team that's 3-37 the last two-plus seasons. But after an offseason that has people thinking optimistically again, an 0-4 start would be tough to handle. Still, they start with three division games and Philly, and three of those first four are on the road.
Five things not to worry about
1. Scoring:
This offense is going to score some points. Stafford's struggles as a rookie -- and really, his numbers were nearly identical to
Mark Sanchez
's as a rookie -- had as much to do with the lack of talent around him as much as his own mistakes last season. Receivers couldn't get open and running backs couldn't break off big gains -- they had just five runs of 20-plus yards all season. But they've added a big-play back in Jahvid Best, who they can get creative with, a No. 2 receiver in Burleson, who can take some pressure off
Calvin Johnson
, and maybe most important, another big pass-catching tight end in Scheffler. Expect to see a lot of two-tight end sets with Scheffler and
Brandon Pettigrew
. Then watch them move Best all over the place to create some mismatches.
2. Ndamukong Suh:
He won't be a bust. Sure, rookie defensive tackles historically struggle in the NFL, and many haven't proven worthy of their draft status. Almost any scout will tell you Suh is a rare specimen. And maybe one of the more underrated offseason moves -- the Lions' trade for Corey Williams -- should give the No. 2 pick a pretty good tag-team partner inside.
3. Free-agent addition Vanden Bosch:
He won't be a bust, either. A lot of people seem to think Vanden Bosch can't get it done anymore. But there's a reason coach Jim Schwartz showed up on his doorstep at the stroke of midnight the first day of free agency. He knows he's got a right-side anchor who knows this scheme, and a guy who will bring it every play, which is what this team has lacked for too long.
4. Calvin Johnson:
He's going to make the Pro Bowl this season, provided he stays healthy, which I suppose might be something to worry about. Johnson and Stafford barely got to know each other on the field last season due to their injuries. But they've had a full offseason together, and I'll be shocked if it doesn't show on Sundays. Burleson is a guy who can play the role
Bryant Johnson
couldn't last season, and with teams forced to respect Best's speed out of the backfield, Johnson's going to get his chances to shine. Finally.
5. The fans:
After all they've been through, they're still here. This franchise has gone 33-111 since the start of Matt Millen's reign of terror, and this city and state have gotten clobbered economically. Yet I'll be surprised if the Lions don't sell out all but a couple of games this season. I don't know that they'll get a winner this year -- I'm thinking 5-11 or 6-10 -- but they certainly deserve one.