Chicago Bears:

Marcus Harrison
August, 30, 2011
8/30/11
1:56
PM ET
[+] Enlarge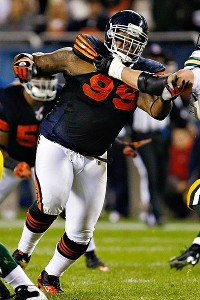 Scott Boehm/Getty ImagesFormer third-round pick Marcus Harrison got off to a rough start when he reported to training camp overweight.
LAKE FOREST, Ill. --
Marcus Harrison
understands his time in Chicago could be coming to an end. As final cuts loom at the end of the week, the Bears' 2008 third-round draft pick might get caught up in the numbers game at defensive tackle, a position the club recently addressed in free agency and in the draft.
"If it happens, it happens," Harrison said Tuesday. "We have a lot of good guys here, so I can't do nothing but practice hard every day and make it tough on the coaches. If they decide to go with me, they do. If they don't, they don't. I just can't do anything but practice hard every day, and that's what I'm doing."
Complicating Harrison's situation is the fact he reported to training camp overweight, which kept him off the practice field the first week of camp. The defensive tackle only dressed for five games in 2010, after starting a career-high nine games in 2009. Harrison recorded a career-high two sacks and two tackles for a loss in his rookie campaign.
Harrison's final chance to make an impression of the coaching staff likely is Thursday night in the Bears' preseason finale against the
Cleveland Browns
.
"For me, I just feel like I need to be consistent," Harrison said. "I think that's what [defensive coordinator] Rod [Marinelli] wants to see out of me, as far as small things like technique and foot work. Just going out there trying to be dominant and making plays. I'm just pretty much trying to go out there and put it on film because that's what tells the truth here."
August, 6, 2011
8/06/11
11:35
AM ET
August, 4, 2011
8/04/11
2:13
PM ET
By
Marcus Harrison
| ESPNChicago.com
BOURBONNAIS, Ill. -- Chicago Bears defensive tackle Marcus Harrison doesn't expect to participate in Thursday night's practice session, when the whole team -- barring any hiccups with ratifying the new CBA -- finally takes the field.
Read the entire story.
February, 26, 2011
2/26/11
11:11
AM ET
INDIANAPOLIS -- The general rule in the NFL is to wait three full seasons before evaluating a draft class. With that in mind, let's take a quick look at the Bears 2008 draft and the contributions made by the first seven players selected that year by Bears general manager Jerry Angelo.


Round 1 (No. 14); Chris Williams, OT, Vanderbilt: Drafted as the Bears' left tackle of the future, Williams has bounced around from right tackle, left tackle and left guard the past three years. Entering 2011, his role on the offensive line is unknown. The Bears insist they want to put the five best offensive linemen on the field next season, but is Williams in the top five? The former first-round pick missed the first seven games of his rookie campaign with a back injury that flared up almost right after Williams signed his contract and reported for training camp. Ironically, that pre-existing injury caused Williams to sit out only a handful of practices in college. It was a bad stroke of luck for the Bears, who flipped Williams to the right side in 2009, moved him back to left tackle to start 2010, only to slide him inside after he returned from an early-season injury. Confused yet? Think how the Bears feel when discussing Williams' future.
[+] Enlarge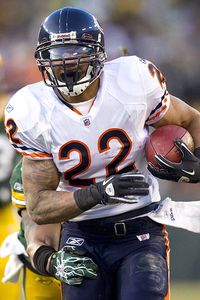 Jeff Hanisch/US PresswireMatt Forte was the Bears' best draft pick in 2008.
Round 2 (No. 44); Matt Forte, RB, Tulane:
An excellent pick by the Bears, Forte became the first player in franchise history with at least 1,400 scrimmage yards in each of his first three NFL seasons. He also joined Hall of Famer Walter Payton as the only players in franchise history with multiple seasons with 1,600 scrimmage yards. Heading into the final year of his rookie contract, Forte is in line for a serious raise, probably around the tune of $20 million in guarantees.
Round 3 (No. 70); Earl Bennett, WR, Vanderbilt: Bennett failed to see the field as a rookie, but he has developed as a dependable and tough receiver the past two seasons. He's not flashy, but Bennett runs excellent routes, possesses great hands, and has a nose for finding the first-down marker. The Bears tend to shy away from selecting receivers in the early rounds -- Angelo did take Mark Bradley in the second round in 2005 -- and this year's crop of wideouts isn't considered all that strong. However, if the Bears can find a Bennett-type in the mid or late rounds, that would be a strong addition to the roster. Overall, Bennett is looking like a very solid selection.
Round 3 (No. 90); Marcus Harrison, DT, Arkansas: Not good. Harrison battled weight issues the past two years, and was inactive 11 times in 2010. The odds of him making the roster appear to be slim. People raved about Harrison's first-round talent leading up to the draft -- an off-the-field incident contributed to the defensive tackle falling to the third round -- but the Bears haven't seen much productivity from the tackle.
[+] Enlarge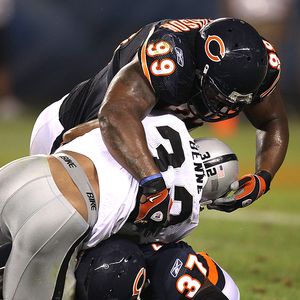 Jonathan Daniel/Getty ImagesMarcus Harrison hasn't panned out as expected.
Round 4 (No. 120); Craig Steltz, S, LSU:
A hard worker with an excellent attitude who excels on special teams, Steltz was given a few opportunities to win a starting job in the secondary, but it just never worked out. With the emergence of
Major Wright
and the signing last year of
Chris Harris
, it'll be tough for Steltz to see the field in 2011. The Bears, however, could be losing several key guys on special teams (
Corey Graham
,
Garrett Wolfe
,
Nick Roach
,
Danieal Manning
,
Pisa Tinoisamoa
and
Rashied Davis
) so it might be a good idea to keep Steltz (signed thru 2011) in the mix for another season.
Round 5 (No. 142); Zack Bowman, CB, Nebraska: 2011 will be a really big year for Bowman. After leading the team with six interceptions in 2009, Bowman fell out of favor with Bears head coach Lovie Smith and was replaced in the starting lineup by Tim Jennings in Week 4. A lingering foot injury seemed to put Bowman deeper in Smith's doghouse as the year progressed. Clearly, the Bears aren't sold on the idea of Jennings starting at cornerback in 2011, but the organization is very high on former fifth-round pick Joshua Moore. Even though Bowman has the best combination of size and speed at the position, there is no guarantee he'll be allowed to fairly compete for the job in training camp. If that's the case, what's the point of him being in Chicago?
Round 5 (No. 158); Kellen Davis, TE, Michigan State: Davis' effort was a little spotty early in his career, but after rededicating himself last summer, the tight end has become a pretty nice player. His role on offense could increase next year, but if nothing else, Davis is a valuable contributor on special teams.
Later selections in the 2008 draft included: Ervin Baldwin, DE, Michigan State; Chester Adams, G, Georgia; Joey LaRocque, LB, Oregon State; Kirk Barton, T, Ohio State; and Marcus Monk, WR, Arkansas.
Analysis: It's debatable whether or not Williams will be a long-term fixture on the Bears' offensive line. His murky status lowers the overall grade of this particular draft class, but Forte almost makes up for it. On the heels of the Cedric Benson debacle, the Bears had to hit on a running back in the 2008 draft, and they did just that with Forte. Bennett is one of the best receivers on the team, Davis and Steltz are dependable special teamers, and Bowman did show flashes of brilliance in 2009. The selection of Harrison hurts the class for obvious reasons.
Grade: B-
November, 16, 2010
11/16/10
4:18
PM ET
LAKE FOREST, Ill. -- Chicago Bears defensive tackle Marcus Harrison will be active for Thursday night's game against the Miami Dolphins.
Read the entire story.
September, 15, 2010
9/15/10
12:40
PM ET
LAKE FOREST, Ill. -- The
Chicago Bears
' decision to leave defensive tackle
Marcus Harrison
inactive for the season opener caught many by surprise.
After all, Harrison -- a 2008 third-round draft choice -- started nine games for the Bears last season.
"To be honest, I wasn't that surprised," Harrison said Wednesday. "It was me or [
Henry Melton
]. I guess they were deciding on as to who was going to be that seventh guy [on the defensive line]. I guess right now Henry can bring more to the table because he's able to play end as well as tackle, and he's also able to play special teams. You know you're not going to see me running down there on kickoff. I can't cover that much ground."
Harrison feels his demotion last weekend could be temporary. The defensive tackle hinted he may dress for the Bears' upcoming road matchup against the Cowboys.
"I don't know what it's going to be like next week, but from what I heard, I'm going to be [active]," Harrison said. "I just got to go out and practice. It is what it is. I'm ready to go."
September, 12, 2010
9/12/10
10:15
AM ET
August, 3, 2010
8/03/10
2:19
PM ET
BOURBONNAIS, Ill. --
Chicago Bears
wide receiver
Juaquin Iglesias
was sidelined for a third consecutive day Tuesday after suffering a quad injury on Saturday.
"It wasn't serious at all," Iglesias said before lunch. "I knew it was just going to be a couple of days. I just tried to catch it before it started to get into the season.
"The day before [on Friday], I felt it a little bit, so when I took off running the next day I could tell it was kind of bothering me. I don't really know how it happened, but I just wanted to catch it early."
Iglesias, a 2009 third-round selection, was active for only one game his rookie year. He is currently fighting for a roster spot at wide receiver.
Other players not practicing Tuesday were:
Major Wright
(groin injury);
Harvey Unga
(hamstring injury);
Chris Harris
(sprained back);
Hunter Hillenmeyer
(undisclosed reasons) and
Marcus Harrison
(dehydration).
July, 27, 2010
7/27/10
9:27
PM ET
[+] Enlarge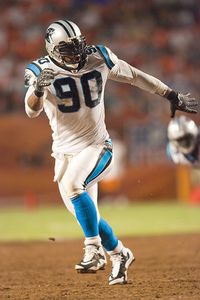 Michael DeHoog/Getty ImagesJulius Peppers has recorded double-digit sack numbers in six of his eight NFL seasons, but he can't be expected to do it all by himself for the Bears.
Prized free-agent defensive end Julius Peppers (81 career regular-season sacks) instantly improves the Bears' pass rush. That much is certain. It's the rest of the defensive line that remains somewhat of a question mark entering the 2010 season.


In the three years since Super Bowl 41, one of the Bears' biggest problems has been their inability to consistently harass the quarterback. Everything about the defense is predicated on the ability of the front four to generate pressure, and when it fails to happen, things tend to fall apart.


The Bears made it a point to revamp the defensive end position this offseason, signing Peppers while saying good-bye to veterans Alex Brown and Adewale Ogunleye. Last year, the two former starters combined for 12.5 sacks, only two more than Peppers tallied by himself during his final campaign in Carolina.


But at the other defensive end spot, new starter Mark Anderson registered only 3.5 sacks, a far cry from his breakout rookie year in 2006 when he had 12. To further complicate matters, Anderson has been in this position before. He was elevated to first string in 2007, but was unable to effectively play both the pass and run, and eventually lost to starting position back to Brown. What has Anderson done to restore the Bears' faith in him? Why was Brown deemed expendable? These are question only Anderson can answer by his performance on the field. The Bears do have plenty of depth at defensive end in the form of Israel Idonije, Jarron Gilbert and rookie Corey Wootton, but it may be unfair to expect any of the reserves to put up high sack totals.


Conventional wisdom suggests Peppers' arrival should loosen things up inside for tackles Tommie Harris, Anthony Adams and Marcus Harrison. At least that's the hope. Adams is a dependable interior lineman, but he's much more proficient at stopping the run as opposed to taking down the quarterback. Harris and Harrison are supposed to be the difference makers. Although Harris didn't play poorly last year, he hasn't been a consistent disruptive force since 2007, the season before he signed a four-year extension. Harrison is extremely talented, but sidetracked by personal issues and illness the last two offseasons.


If Harris, surgery-free this offseason for the first time in recent memory, and Harrison find a way to put it all together, the Bears should be dangerous up front. And if the Bears get after the quarterback, the defense will regain its swagger. But if they don't, Peppers can't possibly be expected to do it all by himself. We've all seen firsthand the effects of a below average pass rush.


It's no longer a cliche when Lovie Smith says "it all starts up front." That could be the theme for 2010.
May, 17, 2010
5/17/10
2:52
PM ET
1. Jay Cutler's progress learning the new offense:
Should Cutler fail to rebound from throwing a league-high 26 interceptions last season, the
Chicago Bears
could be doomed to miss the postseason for a fourth consecutive season. It's safe to say nearly everything offensively hinges on Cutler's ability to properly run Mike Martz's offense -- the quarterback's third offensive system in three years. Early reports indicate promise between Cutler and Martz. The two appear to have an excellent working relationship, mainly because Cutler respects the new offensive coordinator. If the bond between them remains strong, Cutler's second year in Chicago should be dramatically different than Year 1, when the former Pro Bowler posted a career-low 76.8 quarterback rating.
Unlike offensive and defensive linemen, it's easier to evaluate quarterback play during a non-padded minicamp. This weekend marks the first time Cutler will be on display working with his receivers as they run Martz's precise patterns. We may also get a glimpse at how the Bears plan to utilize tight end
Greg Olsen
. But for all the attention this offseason paid to tight ends, receivers, and Cutler's protection up front, the Bears' offense will sink or swim based on the quarterback's fortunes.
2. Is Brian Urlacher fully recovered?
Soon to be 32, Urlacher, a six-time Pro Bowl middle linebacker, underwent neck surgery to treat an arthritic back in 2008, before undergoing a procedure in 2009 to repair a dislocated wrist suffered against the
Green Bay Packers
in Week 1. Because of injuries, Urlacher hasn't been the same dominant player he has been during the first seven years of an illustrious career. Like Cutler on offense, the fate of the defense rests largely on Urlacher's ability to stay healthy and direct teammates from the ultra-important middle linebacker spot.
Hunter Hillenmeyer
and
Nick Roach
did their best trying to fill in for Urlacher last season. But nobody can replicate the impact Urlacher -- when healthy --makes on a week-to-week basis.
True to his style, Urlacher stayed fairly quiet this offseason. But all reports regarding Urlacher's voluntary workouts have been positive. When Urlacher takes the field Friday, it will be the first time anybody outside of Halas Hall has seen the middle linebacker in action in eight months.
3. The new-look defensive line:
One of the main culprits behind the Bears' demise since 2006 has been the failure to generate a pass rush. The Bears feel they have addressed the issue by signing defensive end
Julius Peppers
, who has recorded double-digit sack numbers in six of his eight seasons with the
Carolina Panthers
. The addition of Peppers, plus the departures of
Adewale Ogunleye
and
Alex Brown
leave the Bears with two new starters at defensive end. The hope is that
Mark Anderson
, now in his second year working with Rod Marinelli, recaptures some of his magic from 2006 (12 sacks). But it's been three years since Anderson made any kind of noise, mainly because people around the league view the former fifth-round pick as purely a situational pass rusher, not an every-down defensive end.
There also appears to be some uncertainty at defensive tackle, where
Tommie Harris
is enjoying his first surgery-free offseason in recent memory. Harris remains a major wildcard in this whole equation, considering he's shown: the ability to dominate games from his under-tackle position and the ability to completely disappear from time to time. If Harris can get his mind and body right, he and Peppers could form a scary duo. The Bears would also benefit from a playmaker at nose tackle. Veteran
Anthony Adams
is a hard-working, dependable leader, but
Marcus Harrison
needs to take that next step. Up to this point, conditioning issues have prevented Harrison from living up to his full potential. It'll be interesting to see how Harrison looks and moves this weekend, because he possesses the athletic ability to dominate inside, but only if/when he remedies the bad habits.
4. The combinations at safety:
Call this situation the ultimate precursor to what should develop into an interesting battle at training camp. Bears coach Lovie Smith used five different combinations at the position in 2009 alone, so now it's time for stability. Has the club progressed any toward developing it during the early stages of the offseason? We'll surely catch the first glimpses at minicamp.
Chicago drafted
Major Wright
(third round) and brought back
Chris Harris
in a trade to add to a talent mix that includes
Danieal Manning
,
Craig Steltz
,
Al Afalava
and
Josh Bullocks
. Efficient play at safety is one of the key factors to success in a Cover-2 based scheme. Although the roster appears to contain the required individual talent to achieve strong play at the position, the club needs to find the perfect combination at safety, which isn't always easy.
Manning and Steltz worked with the first team during voluntary offseason workouts, but it's likely the Bears will roll out several combinations at the position during minicamp. It's believed that the Bears envision using Manning mostly at strong safety this season, which would mean Harris, Wright and Steltz could be fighting for the open spot at free safety. But based on the depth of the position on paper, some of the safeties could be used solely in situational roles.
5. How the receivers progress in Martz's system:
Despite all but one of the receivers (
Rashied Davis
) having accrued less than five years of NFL experience, the Bears claim to be pleased with the current personnel at the position. Perhaps we'll get to see why at minicamp. How the receivers perform at minicamp will likely factor into whether the club makes a play for a veteran receiver prior to the start of training camp.
As it stands, the Bears receivers are certainly an explosive group with speedsters such as
Devin Hester
and
Johnny Knox
in the mix along with
Devin Aromashodu
,
Earl Bennett
,
Juaquin Iglesias
and Davis. But they're young. Martz's intricate system relies on timing and route precision, traits seen mostly in veteran receivers. The club shouldn't have a problem with coaxing such attributes out of the current group. The concern would be whether the Bears can get the receivers to gel quickly enough for the club to take advantage of their immense athleticism paired with Cutler's strong arm by Week 1.
Veteran minicamp will provide at least some indication as to how far the group has progressed. Given the collective talent at the position and Martz's fast-break system, Chicago's receivers -- if they can pick up the system quickly -- could be primed for a banner year.