Chicago Bears:

Martez Wilson
March, 10, 2011
3/10/11
1:17
PM ET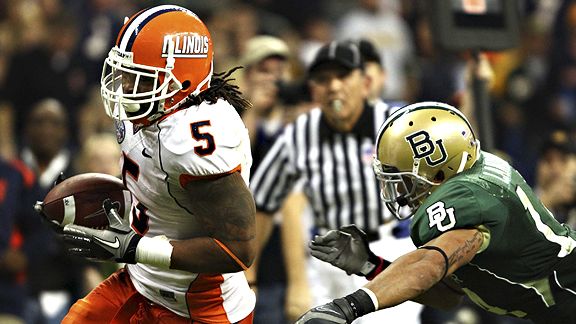 Thomas Campbell/US PresswireMikel Leshoure may be the second-best every-down back in the draft behind Mark Ingram.
ESPN draft analyst Mel Kiper figures that by the end of the second round three Illinois juniors could be off the board.
That's a product of former Fighting Illini defensive tackle
Corey Liuget
, running back Mikel LeShoure and linebacker
Martez Wilson
all getting "hot at the right time," Kiper said, with strong workouts last month at the NFL Combine.
"They're all guys that are hot right now," Kiper said. "LeShoure is getting a lot of positive commentary, Liuget's been hot through the process, and certainly Wilson has as well. They're all kind of peaking at the right time in terms of the interest and the momentum they're gaining.
"So when the second round has ended, three players from the Fighting Illini are gonna be off the board."
Liuget is projected to go first, followed by LeShoure, who is considered a late-first to early-second-round prospect, and Wilson -- a Simeon grad and second-round prospect -- who is considered the best of what Kiper called "a bad inside-linebacker group".
Liuget compares favorably to former Bears defensive tackle Tommie Harris because of his quick, penetrating style of play, and he finished his three-year career at Illinois with 125 tackles -- including 25.5 for lost yardage -- and 8 1/2 sacks.
"A lot of people like this kid for good reason: He's got a ton of talent," Kiper said. "He's a guy right now [who as the] 14[th pick] to St. Louis would make sense."
Kiper considers LeShoure to be the second-best every-down running back of the 2011 draft class behind Alabama's
Mark Ingram
. LeShoure set school records for points (122) and touchdowns (20) in a season, and broke Illinois' single-game rushing record with a 330-yard effort against Northwestern at Wrigley Field.
Leshoure also tied for sixth in career rushing (2,557 yards) at Illinois ahead of former Illini stars Pierre Thomas and Rashard Mendenhall. Kiper doesn't think Leshoure is as talented as Mendenhall, but still worthy of a look in the first round.
"I like Leshoure, but I like him as a late 1, early-to-mid 2," Kiper said. "I think he's a borderline first-round pick specifically after the workout. I think Leshoure is no worst than a two."
Wilson, meanwhile, is considered the best among a weak 2011 class of inside linebackers "by a significant margin," Kiper said.
Wilson ran the fastest time (4.49 seconds) in the 40-yard dash among linebackers at the NFL Combine, and is coming off a junior season in which he finally justified all the hype thrust upon him coming out of high school.
After underperforming his first two seasons and suffering a neck injury in 2009, Wilson rebounded in 2010 to post 112 tackles (including 11.5 for lost yardage), and four sacks in addition to forcing three fumbles, deflecting four passes and blocking a kick.
"He really stepped forward this year," Kiper said. "He had all that hype coming out of high school. Then finally this year, I thought he really took it to a new level after being a relative disappointment early on. He had the injury, and then he comes back from it and he's playing lights-out football, and he's had great workouts. He's got a chance to be an early-to-mid second-round pick."
February, 26, 2011
2/26/11
7:05
PM ET
INDIANAPOLIS --
Martez Wilson
fantasizes about taking the
Derrick Rose
route.
Like Rose, Wilson attended Chicago Simeon. Like his basketball counterpart, Wilson sees himself starting a professional sports career in his home town of Chicago.
"If I could, that would be great to play for a team I grew up rooting for," Wilson said. "But no matter who drafts me, I'll be happy."
[+] Enlarge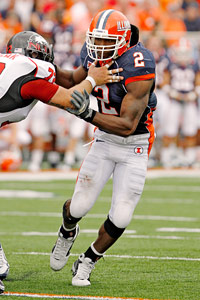 Chuck Rydlewski/Icon SMIMartez Wilson hopes to match the NFL success of so many Illinois linebackers before him.
A standout linebacker at
Illinois
and one of the country's most highly-coveted recruits coming out of high school, Wilson spent Saturday at the NFL Combine at Lucas Oil Stadium explaining to reporters what he's probably telling coaches, scouts and general managers around the league when addressing concerns about his character, injury history and mostly-underachieving career in college.
Wilson missed most of the 2009 season after undergoing neck surgery, but returned last season to lead the Illini in tackles, in addition to posting four sacks and an interception to go with 11.5 tackles for lost yardage. It was the type of season Illinois expected from Wilson when he arrived on campus in 2007, but he never seemed to deliver.
"It was very much-needed," said Wilson, a junior who gave up his final year of eligibility. "Just having that moment [after] coming off neck surgery; most people wouldn't want to play football again after an injury of that nature. It was important to come out like that. To have a great season like I did was wonderful. I loved every minute of it. It was precious."
What probably isn't as cherished an experience, though, is all the poking, prodding and interviewing with Wilson going on behind closed doors here at the combine.
In addition to having to answer questions about injury concerns, Wilson will have to address questions about character. Wilson was stabbed prior to the 2009 season while reportedly helping a former teammate during a fight outside a bar.
Wilson's underachieving college career will also become a topic of conversation. He posted 112 tackles in 2010 to go with four sacks, after generating a combined 102 tackles and five sacks over his first two seasons.
"I was told for the past two months that it's a job interview, so give as much information as they need and want, and be up front and honest with them," Wilson said. "So that's what I've been doing so far."
He's also showcasing his confidence in meetings with teams.
Scouts like Wilson's upside and quickness, but question his instincts. They also express concerns about why Wilson never lived up to all the hype coming out of high school.
Wilson, meanwhile, says he has "the potential to be one of the best ever."
"I'm very confident in my game, and as you can see, I don't show [any] shyness" Wilson said. "I want [scouts and coaches] to know this kid really loves the game and plays with passion. If I do everything well that I need to do here and continue to improve even after the combine and impress scouts, impress coaches and general managers, I think my chances are very high. I'm confident in myself and I'll be working very hard. The sky is the limit."
Wilson is considered a potential first-round talent by some, and a raw third- or fourth-round prospect by others. Illinois sports a talent-rich tradition of linebackers that went on to stellar NFL careers, and Wilson wants to become the latest addition to the group.
When a reporter mentioned former Illinois greats Dick Butkus and Ray Nitschke, Wilson countered quickly.
"And
Dana Howard
,
Simeon Rice
, the list goes on," Wilson said. "The coach said if you want to be one of those great guys, you have to do what's needed to be great. You have to do what people aren't doing. You've got to watch more film, exercise more, stretch more, things like that. I take [note of] everything and I do those things."