Chicago Bears:

Martin Mayhew
April, 29, 2013
4/29/13
11:05
AM ET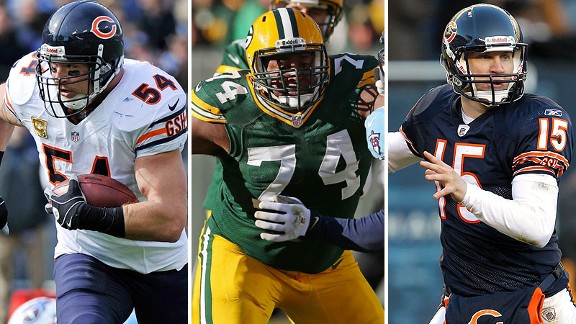 Getty ImagesFollowing the 2013 NFL draft, the futures for Brian Urlacher, Marshall Newhouse and Josh McCown appear unclear.
NFC North teams added dozens of intriguing young players over the weekend. They filled glaring holes and added to already-established strengths. Some areas remain weak, of course, while other selections created new storylines we hadn't anticipated.
So here's my post-draft plan. We'll use this post to lay out the unfilled holes and new storylines and then circle back over the next days and weeks as needed. I'll also sprinkle in some interesting and/or offbeat stories that emerged from the draft but would have been buried if I had posted them over the weekend.
Issue:
The
Green Bay Packers
continued signaling potential change at left tackle.
Analysis:
Coach Mike McCarthy said in March that the team needed better play from its left tackle position, manned last season by
Marshall Newhouse
. Then the Packers went out and drafted Colorado's
David Bakhtiari
and Cornell's
J.C. Tretter
in the fourth round. Bakhtiari has played left and right tackle; Tretter played tackle as well but might project as a guard. Saturday, McCarthy left all options open at the position -- including moving right tackle
Bryan Bulaga
back to the position he played at Iowa. McCarthy also said
he is "really counting"
on
Derek Sherrod
, the Packers' top pick in 2011 who hasn't played since breaking his leg late that season, to compete for the job.
Don Barclay
, who started four games last season at right tackle (plus another two in the playoffs), is also in the mix. Suddenly, the Packers have six legitimate possibilities to compete for the left and right tackle spots if they want. Moving Bulaga isn't as easy as it sounds, and there is something to be said for leaving him at a position he has excelled at. But it's telling that the Packers are even considering it.
Issue:
The Packers drafted 11 players, but none of them were safeties.
Analysis:
General manager Ted Thompson said afterwards that he has faith in incumbents
M.D. Jennings
and
Jerron McMillian
, who will compete to play alongside
Morgan Burnett
. We'll see if the Packers feel compelled to kick the tires on a veteran.
Among those available
are
Quintin Mikell
,
Kerry Rhodes
and
Gerald Sensabaugh
. Historically, the Packers' approach has been to evaluate younger incumbents first before seeking veteran replacements elsewhere.
Issue:
None of the
Minnesota Vikings
' nine draft choices play middle linebacker.
Analysis:
We should note that the Vikings used a seventh-round pick on Penn State's
Michael Mauti
, who has been projected as a middle/inside linebacker by some. But Mauti is recovering from his third career ACL tear and can't be counted on to fill any sort of significant role. Internal candidates include
Erin Henderson
, the strong-side linebacker whom the Vikings have said could play inside if needed, and 2012 seventh-round pick
Audie Cole
. The elephant in the room is veteran
Brian Urlacher
, who was reported at one point this spring to have
had conversations with Vikings officials
. Urlacher isn't
anything close to the profile of the player
general manager Rick Spielman typically brings in, but this is an extenuating circumstance. Remember, the Vikings
used their nickel defense on 58.9 percent of their snaps last season.
Whomever plays middle linebacker for the Vikings could be off the field for two of every five snaps.
Issue:
The Vikings used a fifth-round pick to make
Jeff Locke
the first punter drafted.
Analysis:
In the past five years, four punters have been selected with a fifth-round pick or higher. All four became their team's primary punters in their rookie seasons. There is every reason to believe the Vikings plan for Locke to replace veteran
Chris Kluwe
, perhaps as soon as they get a look at him during their rookie minicamp this summer. I know that Spielman said Locke was
brought in "to compete" for the job
, but that competition will be short and one-sided. NFL teams don't use draft picks on specialists unless they are certain they want to make a change.
Issue:
The
Detroit Lions
didn't draft an offensive tackle after the departure of both 2012 starters.
Analysis:
Riley Reiff
, the Lions' top draft choice in 2012,
will start at left tackle
. The Lions' right tackle could be
Jason Fox
or
Corey Hilliard
. That still leaves the Lions thin along the line, especially at right guard if rookie
Larry Warford
isn't ready to step in right away. Regardless, Lions general manager
Martin Mayhew
made clear the Lions need to add more depth. "We're really young there so we'll look at some veteran guys there I think over the next few weeks."
Issue:
The Lions didn't draft a receiver until the sixth round (Virginia Tech's
Corey Fuller
), but they almost….
Analysis:
According to
Ian Rapoport of the NFL Network
, the Lions told Michigan's
Denard Robinson
that they planned to draft him with the No. 136 overall pick. Mayhew had spoken before the draft about Robinson's potential as a "slash" player from the backfield and/or slot receiver position. Robinson, however, was selected at No. 135 by the
Jacksonville Jaguars
. Eventually the Lions used the No. 166 overall pick to select Notre Dame's
Theo Riddick
, who is not as explosive as Robinson but is a good receiver out of the backfield in his own right. Ultimately, the Lions finished this draft thin at the traditional receiver position given the injury rehabilitations of
Nate Burleson
and
Ryan Broyles
.
Issue:
The
Chicago Bears
did not draft a quarterback, seemingly leaving
Josh McCown
as the primary backup to
Jay Cutler
.
Analysis:
The Bears
figured to be a candidate to draft a quarterback
in part because of coach Marc Trestman's expertise in developing them and in part to end the cycle of searching for a veteran backup each year. In the end, the Bears couldn't justify drafting one given their limited number of picks. (They started with five and through trades finished with six.) Said general manager Phil Emery: "Things would have to line up perfect to take a quarterback with five picks." McCown was relatively impressive during a two-start stint to end the 2011 season, but overall he has played in a total of six games over the past five seasons. I wouldn't call this the Bears' most pressing need, and the Bears signaled as much with their draft results.
Issue:
The Bears feel better about their tight end situation than most draft pundits.
Analysis:
Many draft analysts
thought the Bears would draft
Notre Dame tight end
Tyler Eifert
if they had a chance, but they passed him up Thursday night in favor of offensive lineman
Kyle Long
. Eifert went one pick later to the
Cincinnati Bengals
. It's true that Eifert would have been a luxury pick given the free-agent acquisition of tight end
Martellus Bennett
, but in the larger sense he would have been another weapon for quarterback Jay Cutler's make-or-break season.
January, 22, 2013
1/22/13
5:02
PM ET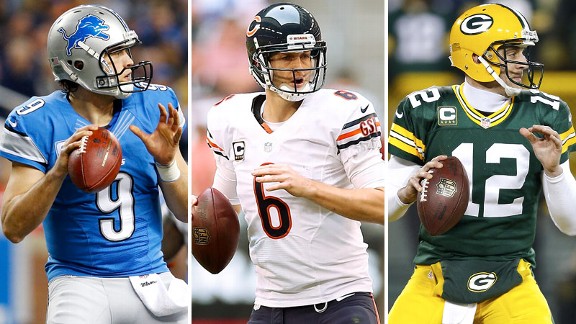 Getty ImagesMatthew Stafford, Jay Cutler and Aaron Rodgers all
could
have new contracts for the 2013 season.
First in a series of important offseason issues facing NFC North teams:
Quarterbacks are the most important players in the game. They're also, on average, the highest paid. Those undeniable facts could make for a significant offseason of contract news in the NFC North.
As we discussed in the fall,
and as the chart documents, three of our starting quarterbacks are nearing the expiration of their contracts. I would classify two of the situations as urgent, albeit for different reasons. The third is the most undervalued of the bunch.
Could
Aaron Rodgers
,
Jay Cutler
and
Matthew Stafford
all sign new contracts before the start of the 2013 season? I wouldn't rule it out and, no matter how you look at it, all three must have new contract parameters -- even if it means a franchise tag -- over the next 26 months.
I've tried to minimize the focus on contract issues in recent years because, for the most part, teams have kept the players they wanted most. The cash matters only to the owners, players and agents. As third-party observers, financial specifics are relevant only if they present a unique challenge to the salary cap.
The sheer size of contracts for starting quarterbacks, combined with a projected flat cap during much of this collective bargaining agreement, makes these situations quite relevant. Stafford and Cutler are in urgent situations, requiring franchise-altering decisions to be made perhaps before they throw their next pass, while Rodgers' contract is so outdated that his annual average is about half of what the
New Orleans Saints
paid
Drew Brees
last summer.
We'll start with Stafford, who was drafted No. 1 overall in 2009 -- two years before the NFL dramatically lowered the ceiling on rookie contracts. The
Detroit Lions
have already renegotiated his original six-year, $72 million deal twice to delay the accompanying salary-cap headache, but it probably will come to a head this offseason.
Stafford is projected to count at least $20.32 million against the Lions' 2013 cap, close to the figure that forced the Lions to give receiver
Calvin Johnson
a record-breaking extension last spring to relieve the cap hit. Lions general manager Martin Mayhew is
already on record
saying he would like to get Stafford extended as well, and the question is how much of a premium the Lions will have to pay.
Stafford's rookie contract averaged $12 million annually and included $41.7 million in guarantees. Regardless of the CBA changes, agent Tom Condon will want to build on the original deal. Considering that Stafford will turn 25 next month, you wonder if he will finish his career with more on-field earnings than any player in NFL history. Even if he signs a six-year contract this offseason, he'll be only 31 when it expires. Brees was 33 when the Saints signed him to his five-year, $100 million deal.
Brees' deal will serve as the benchmark for Rodgers, who just turned 29. Rodgers' contract runs through the 2014 season, and he has expressed a desire to sign one more contract before he retires. His situation isn't exactly comparable to Brees, whom the Saints made their franchise player prior to the agreement, but a $20-million annual average isn't out of the question if the sides hold discussions this spring.
Rodgers is due to earn $9.75 million in 2013 and $11 million in 2014. From the
Green Bay Packers
' perspective, the only urgency is the assumption of a rising price tag over time. The longer they wait, the more expensive the deal probably will be.
The Bears, meanwhile, can't wait too much longer on Cutler. Usually a team doesn't want to enter the season with an established quarterback entering his final contract year, but Cutler's situation is complicated by the arrival of new coach Marc Trestman -- who will make Cutler better and more expensive if he is the quarterback guru the Bears believe he is.
In that sense, it might make sense for Cutler to be patient for a deal in hopes an improved 2013 season enhances his value. The Bears, in turn, might want to see how the Cutler-Trestman dynamic plays out before making a long-term decision.
At some point -- maybe in a few months, definitely with two years -- the futures of all three quarterbacks will be addressed decisively. We'll be waiting.
December, 5, 2012
12/05/12
11:45
AM ET
We've posted quarterly Stock Watches in
October
and
November
, and now it's time for the third installment of a once-weekly feature.
FALLING
1. Christian Ponder, Minnesota Vikings quarterback:
Ponder has brought the franchise to a crossroads as it nears the end of his second season. The hope was that Ponder would demonstrate steady improvement and establish himself as a long-term starter by the end of the season. Instead, he is still turning in clunkers that are every bit as bad as his worst games as a rookie. Among many abominable numbers, here is perhaps the most eye-popping: Ponder has completed only four passes this season that traveled more than 20 yards in the air, according to ESPN Stats & Information. There are extenuating factors involved, including a weak group of wide receivers, but Ponder is also facing defenses that are aligned more often in run-stopping schemes than any quarterback in the NFL. In short, Ponder has offered no indication through 22 career starts that he can be a long-term starter. Barring an immediate turnaround, the Vikings will have a much tougher decision this offseason than they could have possibly hoped.
2. Detroit Lions drafting philosophy:
The apparent end of receiver
Titus Young
's short tenure has intensified scrutiny on the Lions' four drafts under general manager Martin Mayhew. Of the 29 players selected over that time, seven are currently starters and three more are valuable backups or special-teams players. That's not a horrendous ratio, but what stands out is that Mayhew has taken some risks that have not panned out. Young's character issues were well-known in college. The same goes for the concussion history of tailback
Jahvid Best
. Defensive tackle
Nick Fairley
is emerging as a playmaker, but not after experiencing some of the maturity issues he displayed in college. Injuries have stunted the growth of safety
Louis Delmas
, receiver
Ryan Broyles
and cornerback Dwight Bentley, and Mayhew can't be blamed for those. It should also be noted that 2012 first-round pick
Riley Reiff
appears ready to step in as a starter. But it's clear that after four years of drafting, Mayhew's roster still has some notable holes.
[+] Enlarge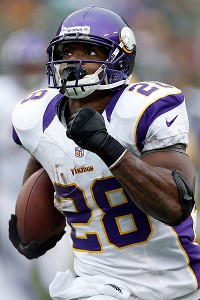 Wesley Hitt/Getty ImagesVikings running back Adrian Peterson is on pace for 1,928 yards this season.
3. Defensive nucleus, Chicago Bears:
The Bears laughed off preseason concerns that their best defensive players were too old in a collective sense, and during a 7-1 start, their defensive veterans -- most notably cornerback
Charles Tillman
and linebacker
Lance Briggs
-- were the talk of the league. The Bears were also emboldened by the emergence of two younger players, defensive tackle
Henry Melton
(six sacks) and cornerback
Tim Jennings
(eight interceptions). But their core has started to break down during a 1-3 stretch. Linebacker
Brian Urlacher
might miss the rest of the season because of a hamstring injury. Tillman has been dealing with a foot injury and has managed just one forced fumble, his specialty, in that stretch. Briggs has an ankle injury and hasn't caused a turnover in six weeks. Defensive end
Julius Peppers
, meanwhile, has two sacks in his past five games. The Bears will need to accelerate their restocking efforts this offseason.
RISING
1. Adrian Peterson, Vikings tailback:
Quite simply, Peterson is having the best season of his Hall of Fame career -- and he still hasn't reached the one-year anniversary of knee reconstruction surgery. He is on pace for 1,928 yards, a total that would put him among the
seven-best seasons for a running back in NFL history
. Given Peterson's competitiveness, you know he is gunning for a 2,000-yard season and hasn't ruled out the possibility that he could break
Eric Dickerson
's record of 2,105 yards in 16 games. To do so, he'll need to average 165 yards per game over the Vikings' final four. It sounds impossible, but what about this season has seemed probable for Peterson? He continues to run with power, averaging an NFL-high 3.2 yards per carry after first contact, which is twice the NFL average. Speed? Peterson has a league-leading 17 rushes of more than 20 yards. Only one other NFL player has double-digit runs of that length (
C.J. Spiller
of the
Buffalo Bills
).
2. Calvin Johnson, Lions receiver:
Somehow, Johnson is on pace to set an NFL record for receiving yards in a season despite playing on an offense where most of the other pass-catching threats have been injured -- and with a running game that hasn't made teams pay for ignoring it. The Lions lead the NFL with 547 passing attempts and rank No. 25 with 295 rushing attempts, and yet Johnson has caught 86 passes for 1,428 yards with four games left to play. It's true that some of those yards have come late in losses, most notably a 207-yard effort in Week 10 against the Vikings. He also has managed only five touchdowns after catching 28 in his previous two seasons combined. But for the most part, Johnson is one of the few Lions players who has maintained his performance level from last year's 10-6 team.
3. Clay Matthews, Green Bay Packers linebacker:
Yes, I know Matthews has missed the Packers' last three games because of a hamstring injury. But hopefully those three games have generated a better appreciation for his impact on the defense. The obvious concern was making up for his pass rush, but I think you've seen how important Matthews' tackling in the run game and overall playmaking is. At the time he was injured, opponents were converting 34.9 percent of third-down opportunities. Since then, they are 46.1 percent. It's also worth noting that the Packers have given up two of their three biggest games against the run with Matthews sidelined. Overall, opponents have racked up 457 rushing yards in those three games -- at 5.5 yards per rush. If you didn't know it before, you should agree that Matthews is more than a pass-rusher.