Chicago Bears:

Matt Cavanaugh
November, 19, 2014
11/19/14
3:10
PM ET
LAKE FOREST, Ill. --
Tampa Bay Buccaneers
quarterback
Josh McCown
remains in contact with Jay Cutler, but with both players' teams struggling, their relationship has been one of encouragement.
McCown spent the 2011 and 2013 seasons working alongside Cutler as a backup quarterback in Chicago prior to joining the Bucs.
McCown
Cutler
"Obviously we have a great relationship," McCown said. "So we stay in contact for sure. I'm involved in my own season, so it's hard to really pay attention to what another guy is doing because we're engulfed in what we've got going on. With our situation and our [2-8] record, our focus is here and we check in more on how families are doing and stuff like that. We do talk a little ball every now and then. But we both, I think would say our teams aren't where we want them to be, and we've both been able to encourage each other in those areas."
In fact, Cutler offered McCown words of support after the latter tossed a couple of interceptions in a 27-17 loss Nov. 9 to the
Atlanta Falcons
. McCown held back tears during an emotional postgame news conference.
"Yeah, we talk about every week," Cutler said Monday during the "Jay Cutler Show" on ESPN 1000. "I really didn't get into the details about it. I just tried to be supportive to him; try to help him out if I can. He's always there. Josh is a great guy. He's still got a lot of relationships and connections here in Chicago. He cares for a lot of guys on this team."
McCown and Cutler developed a synergy in the team's quarterback room last season, which allowed both to perform at high levels. Starting five games for the Chicago Bears last season, McCown passed for 13 touchdowns and one interception with a passer rating of 109.0, which registered as third best in the NFL.
Meanwhile, Cutler produced a career-high passer rating of 89.2 last season, leading to the team rewarding him with a seven-year contract worth $126.7 million.
McCown attributed the synergy in the quarterbacks room last year to quarterbacks coach Matt Cavanaugh and head coach Marc Trestman.
"I think it started with Marc and Matt in the room, and just us understanding the importance of that position, and what we wanted to get out of it. And I think the place I was in my life and where he is, it worked. So I was excited about helping him kind of take that next step, help him continue to play good football. I was ready to do that. He was ready for that to happen in his career and excited about that. So I just think it was a perfect mix of guys who had opportunity to do things they were passionate about. With Matt and Marc passionate about playing that position at a high level and being efficient, me passionate about helping a young player, any young player play better, and Jay wanted to play better. So all of us together it was a good room."
October, 14, 2013
10/14/13
7:30
AM ET
We're back at it after a weekend off from giving you the Bears Essentials.
The Bears snapped a two-game skid Thursday night with a victory over the New York Giants and received a much-needed minibreak to heal up some of the nagging injuries to players such as cornerback Charles Tillman, defensive tackle Stephen Paea and linebacker James Anderson.
The club begins preparations Monday at Halas Hall to face the Washington Redskins on Sunday, before receiving a week off leading into a Nov. 4 matchup at Green Bay.
Let's get into some Bears links.
-- The NFL will fine receiver Brandon Marshall $5,250 sometime this week for a uniform violation due to the lime green shoes he wore during Thursday night's win over the Giants,
according to ESPN NFL Insider Adam Schefter
. So in all, it will likely cost Marshall a total of $10,500.
Marshall expected all along to receive a fine for wearing the shoes in honor of Mental Health Awareness week, and plans to pay that, in addition to matching it with a donation to charity. Marshall, coincidentally, wore the shoes during a time when many NFL players wear pink to support breast cancer awareness and caught nine passes for 87 yards and two touchdowns during a 27-21 victory.
In addition to paying the fine and matching it with a charitable donation, Marshall will also be auctioning off the shoes he wore in the game in support of his foundation. At the time of this posting, the auction was already up to $2,150, and closes at the conclusion of the Monday night game between the Colts and Chargers.
You can
take a look at the shoes here
, and perhaps even make a bid if you're so inclined.
-- The situation, especially on defense, has forced many of the younger players into the limelight. The key now, however, is for them to deliver. The Chicago Sun-Times
examines the situation
.
-- This Jon Greenberg column is a little dated, but I figured it was worth revisiting because he
perfectly captured the scene in the locker room
after Thursday night's game.
Greenberg writes: "So when Lance Briggs said he was happy, naturally, after the Chicago Bears' 27-21 victory over the New York Giants, you believe him.
"But really he just looked exhausted.
"Briggs was the last starting linebacker standing by the end of the game. He's the survivalist on a fading defense trying to subsist on a steady diet of interceptions and blind faith that it will rise to the occasion at the end of every game. Man cannot live on bread alone, but the Bears sure can survive on interceptions."
-- In case you missed them, here are
grades
from the game from ESPNChicago.com's Jeff Dickerson.
-- The Chicago Tribune takes a look at the
relationship
between quarterbacks coach Matt Cavanaugh and Jay Cutler. The two seem to be an ideal pairing, one that head coach Marc Trestman calls "a good match."
I spoke to Cavanaugh last month about his relationship with Cutler, and here's why he thinks they seem to click:
"I don't think either one of us are really outgoing. I think we're maybe contemplative before we speak. I've noticed that about Jay, and I love that about him. He doesn't just talk the talk. He's usually thought something out, and that's whether you ask him a question or he's got a question for you, he puts a lot of thought into it. He's a little introspective that way, and I think I am, too. I'd rather listen first than just pop out an answer if I'm not sure what I'm saying. So I think it allows us to communicate pretty well, and sometimes, it's quiet around the two of us. We're not saying a whole lot, but we're both thinking."
September, 25, 2013
9/25/13
2:22
PM ET
LAKE FOREST, Ill. --
Chicago Bears
quarterback
Jay Cutler
moved up a spot from No. 6 to fifth on the
MVP Watch list
of ESPN.com
New York Giants
reporter Dan Graziano, and is certainly deserving of the recognition, considering he currently ranks No. 3 in the NFL in total QBR.
You can rank the candidates
here
.
Cutler has led two comeback victories, and stepped up to make game-clinching plays during a clutch situation Sunday to put away the
Pittsburgh Steelers
.
Here's what Graziano had to say about Cutler: "This is the same guy who got called all kinds of unflattering names for standing on the sideline during the NFC Championship Game a few years back? This guy who lowers his (throwing!) shoulder at the end of a critical run play instead of sliding, leveling a defender in crunch time against the Steelers? Marc Trestman hasn't just turned Cutler into a more efficient passer, he's turned him into a superhero. It's the Adventures of Surly-Man!"
Trestman deserves recognition for Cutler finally starting to realize his seemingly unlimited potential as a passer, but new quarterbacks coach Matt Cavanaugh has also been a major contributor to the signal-caller's success.
[+] Enlarge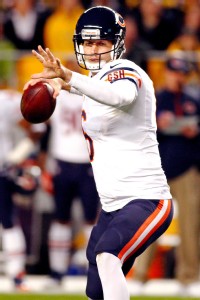 Justin K. Aller/Getty ImagesJay Cutler has helped lead the Bears to a 3-0 start.
Cutler spoke last week about his relationship with Cavanaugh, who joined Chicago after working as quarterbacks coach of the
New York Jets
from 2009-12, and admitted it's easier to accept the coaching at this stage of his career, because he's "older, a little bit more mature."
"He's a grinder, he's a guy that comes in every single day, and he's looking to help me get better," Cutler said of Cavanaugh. "And, like on Wednesday's, it's hard, I don't really want to do that, I'm tired, you know. But he pushes you through it. He does a good job. There's some give and take there. In my younger days there might have been a little bit more rocky (of a relationship) than it is right now, but it's going real well right now."
Cavanaugh agrees, and called Cutler a willing pupil.
"He makes it easy [to coach]," Cavanaugh said. "He's a talent. He works hard. He's committed. He's focused. He wants what we want: He wants the Bears to be successful. If you've got those things going for you, it's hard not to have fun."
Cutler said he and Cavanaugh share "some similarities," and joked he doesn't "know if the guy sleeps." Cavanaugh, meanwhile, acknowledged the connection between himself and Cutler, before providing insight into the quarterback's personality.
Head coach Marc Trestman called the pairing of Cutler and Cavanaugh "a good match."
"I don't think either one of us are really outgoing," Cavanaugh explained about Cutler. "I think we're maybe contemplative before we speak. I've noticed that about Jay, and I love that about him. He doesn't just talk the talk. He's usually thought something out, and that's whether you ask him a question or he's got a question for you. He puts a lot of thought into it. He's a little introspective that way, and I think I am, too. I'd rather listen first than just pop out an answer if I'm not sure what I'm saying. So I think it allows us to communicate pretty well, and sometimes, it's quiet around the two of us. We're not saying a whole lot, but we're both thinking."
Then come Sundays, they're both doing.
September, 16, 2013
9/16/13
12:00
PM ET
An examination of four hot issues from the Bears' 31-30 win over the Vikings:
[+] Enlarge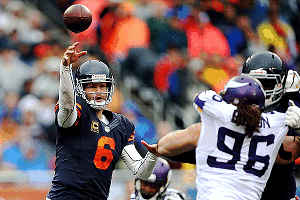 Jerry Lai/USA TODAY SportsKeeping his cool has helped Jay Cutler rally Chicago during critical times this season.
Cutler's comebacks:
In crunch time,
Jay Cutler
has been more composed than in past performances, which is why he was able to recover from three turnovers and rally the team for the second consecutive week. Cutler believes in the system and the coaches, and that's paid dividends. It's also a reason the normally fiery Cutler, according to teammates, has been the calmest player in the huddle during critical situations.
On the sideline, Cutler's sounding board is quarterbacks coach Matt Cavanaugh.
"Nothing really rattles him," Cutler said. "He just taps the bench and says come over and sit down. We talk it out. If I've got to vent, he lets me get it off my chest and moves straight to the pictures. He's a calming influence."
Pass rush still lacking:
The Bears forced three turnovers, which is pretty standard for the defense, but the club still hasn't generated consistent pressure on opposing quarterbacks. The Bears go into Week 3 with just two sacks. At this point last season, the team had racked up eight.
"Early on last year, we started off with a bunch more sacks," defensive end
Corey Wootton
said. "I don't think we played up to our caliber with the arsenal we have up front."
The front four's highest-paid defenders,
Julius Peppers
and
Henry Melton
, have combined for five tackles with zero sacks. With them earning a combined $18.35 million in base salary this season, they're making a combined $458,750 per tackle so far, by my math.
Dual-threat Forte:
Matt Forte
touched the ball 30 times and finished with 161 yards from scrimmage, way above his average of 102 yards per game going into the season. Forte has recorded 150 yards or more from scrimmage in 13 career games.
What's more, Cutler targeted Forte more than go-to receiver
Brandon Marshall
for the first time since last season's Week 2 loss at Green Bay. The change stems from the way the club now deploys Forte in the passing game, and provides Cutler another weapon when teams take away options such as Marshall,
Alshon Jeffery
and
Martellus Bennett
.
"We've got some guys that want the ball," Cutler said. "Whenever we give them opportunities, they make plays."
Cracks in special teams:
Cordarrelle Patterson
's 105-yard TD return on the opening kickoff marked the first time the Bears gave up a kickoff-return touchdown since Sept. 30, 2007, against Detroit. Although the Bears immediately responded with a 76-yard return by
Devin Hester
, there appear to be weaknesses in Chicago's coverage units.
"I saw a big hole. No way I could've missed it," Patterson said.
In the opener, the punt-coverage unit surrendered a 50-yard return by
Adam Jones
on the team's first punt of the day, but it was nullified by an illegal block above the waist.
"It's hard to be minus-2 in turnovers and get a kick return for a touchdown and win the game," Bears coach Marc Trestman said.
February, 14, 2013
2/14/13
5:10
PM ET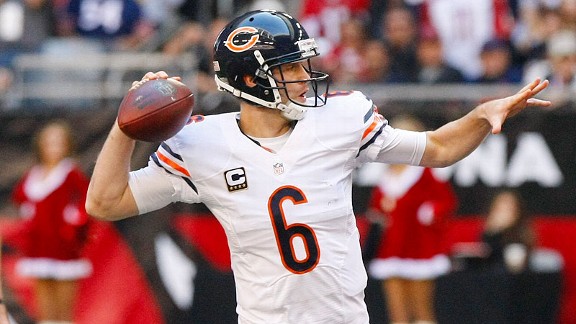 AP Photo/Rick ScuteriJay Cutler met with new QB coach Matt Cavanaugh for a "social conversation" recently but did not get into much football.
LAKE FOREST, Ill. -- The new coaching staff of the
Chicago Bears
continued to hear the inevitable five-word question regarding quarterback
Jay Cutler
.
Is he a franchise quarterback?
Like new head coach Marc Trestman did in his initial press conference, recently-hired quarterbacks coach Matt Cavanaugh eluded that inquiry Thursday at the Walter Payton Center, preferring to take a wait-and-see approach before offering proclamations.
"I think anybody that's starting in this league you hope they're a franchise quarterback," Cavanaugh said. "I think he's got all the ability. But let us spend some time (with him). I've seen him from afar. I want to see him up close. I want to be able to talk to him. I want to be able to work with him. I think he's got a ton of talent, and I know you can win a lot of games with it."