Chicago Bears:

Mike McCoy
January, 13, 2013
1/13/13
9:21
PM ET
Chicago Bears
general manager Phil Emery acknowledged Jan. 1 that in his search for a new head coach "the playoffs are a consideration," but that potential roadblock appears to have come down Sunday with the conclusion of the divisional round of the postseason.
[+] Enlarge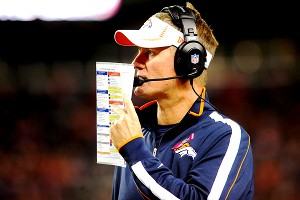 Byron Hetzler/US PRESSWIREDenver's Mike McCoy is one of four offensive coordinators whose season ended this weekend, opening the door for the Bears to move forward in their coaching search.
Of the known candidates, four coached for teams that lost in the divisional round, a group consisting of four offensive coordinators: Seattle's Darrell Bevell, Houston's Rick Dennison, Green Bay's Tom Clements and
Mike McCoy
of the
Denver Broncos
. The losses by the Seahawks, Texans, Packers and Broncos open up availability for those coaches to talk more in the coming days, with Emery expected to move into the next phase of the process. He'll probably pick two to three finalists for second interviews that will also involve team president Ted Phillips and Bears chairman George McCaskey.
"There may be a candidate that's in the playoffs and may be unavailable to us (that) we may have to wait out," Emery said. "After we're at the point where we feel good (that) we have quality candidates to select two or three as finalists, we will either have them come to us or go to them so we can have an opportunity for them to talk to George or to talk to Ted and that George and Ted can interact with them and get a feel for them. At the end, the final decision will be mine."
The timeline for Emery making the choice seems now to be a little less difficult.
January, 13, 2013
1/13/13
11:53
AM ET
By the end of Sunday, it's possible the
Chicago Bears
will have concluded their first round of interviews in what has already been an epic coaching search.
Indianapolis Colts
offensive coordinator Bruce Arians was scheduled to be the 13th known candidate to speak with general manager Phil Emery. If there are more first-round interviews scheduled, they haven't been reported.
My educated guess is that some interviews have been completed in secrecy, so I wouldn't be surprised if Emery has spoken with 15 or more candidates.
We've discussed the possibility
that Emery is using this opportunity to pick the brains of as many smart assistant coaches as he can, but I think we have also seen an undeniable quality emerge as well.
Here's how
Tennessee Titans
general manger Ruston Webster put it last week during an interview with my AFC South colleague Paul Kuharsky on 104.5-FM in Nashville: "I know Phil Emery, and Phil Emery is about as thorough of a human being as I've ever known."
Meanwhile,
according to ESPN's Adam Schefter
, two of the coaches Emery has spoken with said "they never have interviewed with anyone as prepared and detailed" as him.
So before we try to ascribe some kind of ulterior motive to Emery's approach, and rather than conclude he is flailing blindly in the night, perhaps this search is best viewed as a physical extension of Emery's meticulous personality. Where and when it ends remains anyone's guess. Former NFL coach Jimmy Johnson tweeted that Emery favored his former assistant, current Montreal Alouettes coach Marc Trestman, but
nothing more has come
of what appears to be Johnson's personal view.
For the record, here are the Bears' Lucky 13 to this point:
Arians
Atlanta Falcons special teams coordinator Keith Armstrong
Seattle Seahawks offensive coordinator Darrell Bevell
New Orleans Saints offensive coordinator Pete Carmichael Jr.
Green Bay Packers offensive coordinator Tom Clements
Dallas Cowboys special teams coordinator Joe DeCamillis
Houston Texans offensive coordinator Rick Dennison
Denver Broncos offensive coordinator Mike McCoy
Minnesota Vikings special teams coordinator Mike Priefer
Vikings special assistant to the head coach Mike Singletary.
Tampa Bay Buccaneers offensive coordinator Mike Sullivan
Trestman
Bears special teams coordinator Dave Toub
January, 9, 2013
1/09/13
2:40
PM ET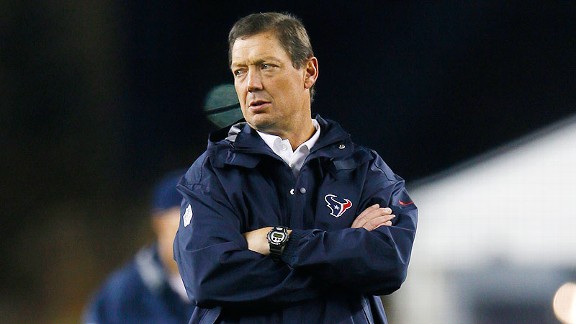 AP Photo/Damian StrohmeyerJay Cutler believes Texans offensive coordinator Rick Dennison will be a head coach in the NFL someday.
Chicago Bears
quarterback
Jay Cutler
provided a glimpse Wednesday into three of the candidates in the club's search for a new head coach to replace Lovie Smith, based on prior experience with the trio of Denver offensive coordinator
Mike McCoy
, Montreal Alouettes head coach Marc Trestman and Houston offensive coordinator Rick Dennison.
Expressing confidence in general manager Phil Emery's ability to get "the right candidates in there," Cutler indicated during "The Jay Cutler Show" on ESPN 1000 that he liked the idea of getting "as much information as possible" during this search that now includes a known
13 potential head coaches.
"The list is long, but like I was thinking about this morning: This is a billion-dollar industry," Cutler said. "Why not get as much information as possible and find the best candidates, talk to as many people as you can. At the end of the day, whomever Phil hires, that's his responsibility. If it doesn't work out, they're gonna turn to Phil and say, 'Hey, why did we hire this guy?'"
Having worked with three of the candidates -- briefly in two instances -- Cutler broke down McCoy, Dennison and Trestman. The Bears interviewed McCoy in Denver on Sunday and plan to meet with Trestman.
December, 31, 2012
12/31/12
2:41
PM ET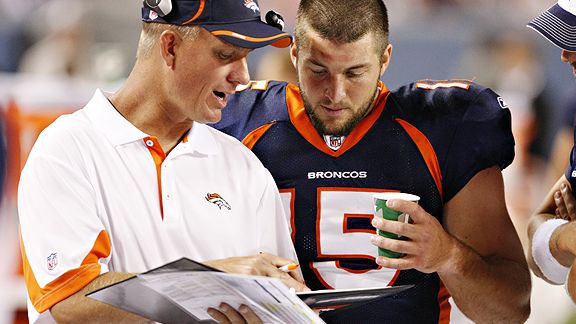 Eric Lars Bakke/AP PhotoThe Bears have already asked for permission to talk with Denver offensive coordinator Mike McCoy, a source told ESPN's Adam Schefter.
LAKE FOREST, Ill. -- The
Chicago Bears
announced Monday their decision to go a different direction at the head coaching position, thus ending Lovie Smith's tenure with the club after nine seasons.
Immediately, speculation begins regarding potential Smith successors. Offensive-minded coach? Defensive-minded coach? Nobody knows. Even when general manager Phil Emery speaks Tuesday morning, it's unlikely he'll shed any real light on the club's plans entering this coaching search.
The speedy decision to fire Smith indicates Emery might already know what he wants in a new coach.
Bears quarterback
Jay Cutler
declined to divulge his preference in coaches Monday during "The Jay Cutler Show" on ESPN 1000.
"I've had both (offensive and defensive head coaches)," Cutler said. "There's pluses and minuses to argue each case. I'm not going to give a preference on what I want, what I don't want because I don't really know at this point. I trust Phil and management and George (McCaskey) and those guys to make the best call. They're going to get the best possible head coach and assistant coaches and coordinators they can. So you've got to trust in that."
Chances are the Bears won't look in the direction of former Broncos head coach and current Patriots offensive coordinator Josh McDaniels, who has been linked to the Chicago job and has a past with Cutler. When McDaniels took over as head coach at Denver, he played a role in facilitating Cutler's trade to the Bears.
"That would be awkward," Cutler said. "He's a good coach, and I think it was interesting how it unfolded in Denver. It's in the past. I'm sure he's going to get a shot at it with all the vacancies this year, and how well they've done in New England."
Here's a list of 16 potential candidates for Bears coach: